« Pennsylvania Court Voids School Mask Mandate
|
Main
|
White House "Surprised" and Disappointed By Record Levels of Inflation, Manchin Calls Pause to #BuildBackBrandon »
November 11, 2021
A Classic Column From CNN on This Veterans Day
Alex the Chick tells me this is not from Veterans Day, but from August 3, 2018.
But this is what the media thinks: They, not the veterans who risk their lives to defend this country, are The Real Heroes Here.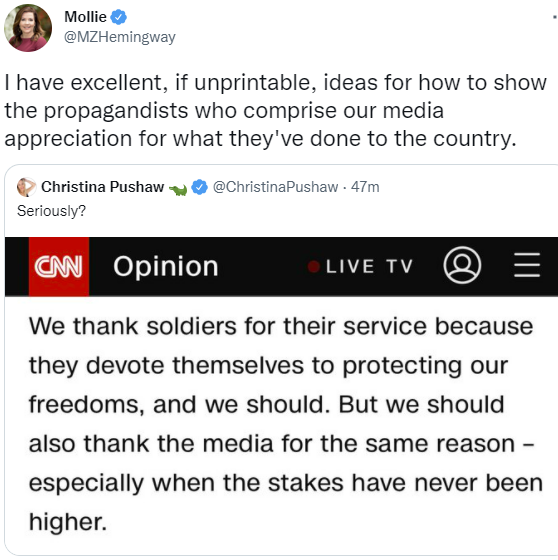 And it's not just that they think it -- it's that they're stupid enough and narcissistic enough to actually admit they think it.
Note that I originally posted that this was published today, then corrected that it was published Veterans Day 2018. It wasn't. It's from August 3, 2018. It's a real column, but was not published on Veterans Day. I wrongly assumed that, even though neither Chrstian Pashaw nor Mollie Hemingway said that.

posted by Ace at
03:24 PM
|
Access Comments