« The Washington Post: The Danchenko Indictment Casts Some Slight Doubt On Some Previous Media Reporting on Russiagate
|
Main
|
Biden Administration Now Attacking Reporters For Asking Questions About Biden's Jackpot Payouts to Illegal Aliens, Calling Them "Disrespectful"
Polling Is Toxic, 67% Disapproving, 56% Strongly Disapproving »
November 08, 2021
Loudoun County School Teacher Accused of, Of Course, F***ing a Student, In an Incident Apparently Covered Up From May
Glenn Youngkin and AG-elect Myarles promised to investigate this nest of criminals. I can't wait.
More phony trumped-up fake outrage culture war.
A Loudoun County Public Schools counselor is facing criminal charges for having what the sheriff's office describes as an "inappropriate relationship" with a student.

The sheriff's office charged 42-year-old Ann Barrett of Ashburn with taking indecent liberties with a child by a custodian.

They don't mean that the student was molested by a custodian, i.e., a janitor. They mean the teacher was in a custodian relationship to the child.
That might mean the student was above the age of consent (whatever it is in Virginia) but the age of consent is raised if the person having sex with child is in a custodial relationship with her. Not sure.
The investigation began after the school district learned of the allegations in May 2021.

Investigators say the relationship persisted between 2013 and 2015 when the victim was a student at Freedom High School, where Barrett served as a school counselor.
Nah, dog: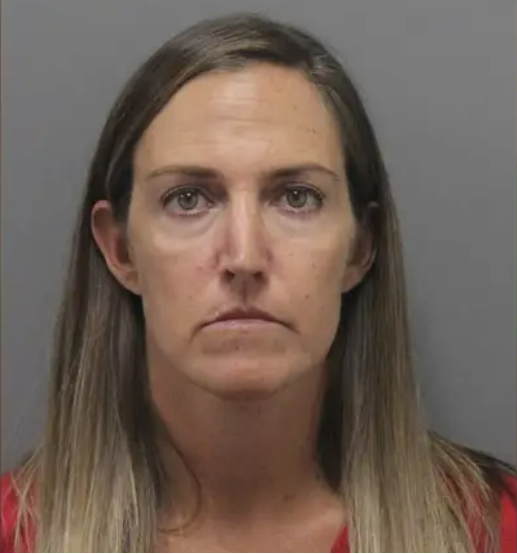 I notice they're avoiding the pronouns of the student.
In a newly-reported incident, a parent whose daughter formerly attended Loudoun school -- now she sends her daughter to an expensive private school -- told the school board her daughter was taught "she was born evil because she was a white person."
But there's no CRT in schools. It's all a QAnon lie.
CNN interviewed four white suburban women who had voted for Biden but voted for Youngkin. Note they all claim they voted against McAuliffe based on school closings and "not feeling heard," and all say their vote had nothing to CRT.
But...
But notice they say they were angered by Obama coming in and demeaning concerns about a "trumped up fake outrage culture war."
That doesn't describe school closings.
That does describe the fight over CRT -- at least, it describes what the left says about it.
If these women weren't bothered by CRT, why did Obama's dismissal of concerns about CRT bother them? It can't be that they just wanted to be "heard" -- they're claiming they had no opinions about CRT to be "heard" about.
I think it's pretty obvious. Suburban white women, especially liberal-leaning suburban white women who voted for Biden, are fairly "woke" themselves and do not want to be thought of as racist like those Dirty Deplorables. So of course they will not admit to being bothered by their children being taught that their white parents are oppressors.
But I think secretly White Suburban Karen found her breaking point.
Megyn Kelly gave me hope before the November election when she reported all her liberal and wealthy Republican female friends would of course publicly say that they hated Trump and were voting for Biden, but behind closed doors, when it was just a couple of girfriends talking, they admitted their intent to vote for Trump.
From this I conclude: Megyn Kelly doesn't have enough female friends.
A certain breed of "respectability"-craving, status-conscious upper-middle-class woman is never going to admit to any thought that the status-conferring institutions tell them strips status from them.
Meanwhile, leftwing teachers Democrats reveal their true feelings about parents who criticize their education policies: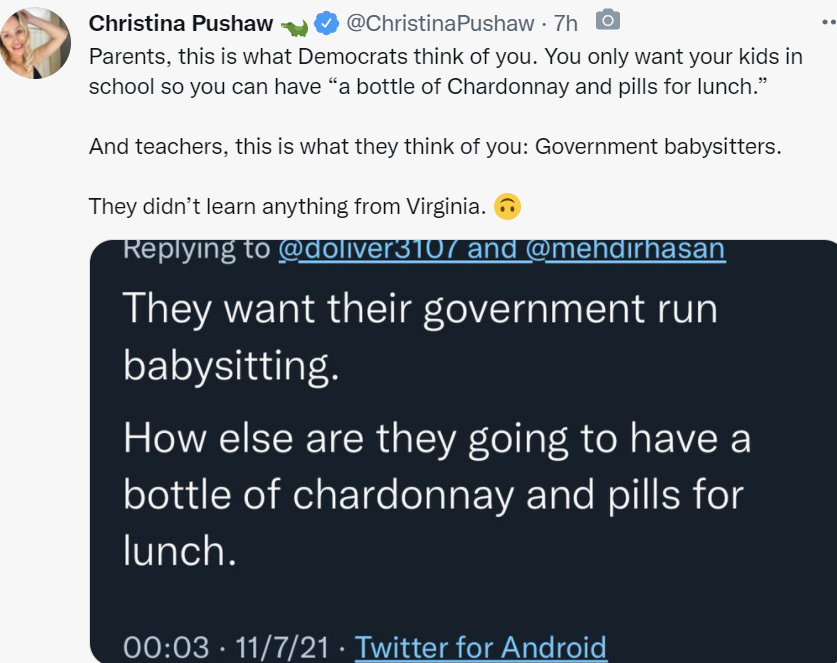 Even Trump-deranged Andrew Sullivan can see the CRT scam the Democrats and the teachers are pulling.
[W]hen the Democrats and the mainstream media insist that CRT is not being taught in high schools, they're being way too cute. Of course K-12 kids in Virginia's public schools are not explicitly reading the collected works of Derrick Bell or Richard Delgado -- no more than Catholic school kids in third grade are studying critiques of Aquinas. But they are being taught in a school system now thoroughly committed to the ideology and worldview of CRT, by teachers who have been marinated in it, and whose unions have championed it.

And in Virginia, this is very much the case. The state's Department of Education embraced CRT in 2015, arguing for the need to "re-engineer attitudes and belief systems" in education. In 2019, the department sent out a memo that explicitly endorsed critical race and queer theory as essential tools for teaching high school. Check out the VA DOE's "Road Map to Equity," where it argues that "courageous conversation" on "social justice, systemic inequity, disparate student outcomes and racism in our school communities is our responsibility and professional obligation. Now is the time to double down on equity strategies." Check out the Youtube site for Virginia's virtual 2020 summit on equity in education, where Governor Northam endorsed "antiracist school communities," using [race huckster and CRT Entrepreneur Ibram X.] Kendi's language.

Matt Taibbi found Virginia voters miffed by "the existence of a closed Facebook group -- the 'Anti-Racist Parents of Loudoun County' -- that contains six school board members and apparently compiled a list of parents deemed insufficiently supportive of 'racial equity efforts.'" He found Indian and South Asian parents worried about the abolition of testing standards, as well they might be. And at school board meetings, in a fraught Covid era of kids-at-home, parents have been treated with, at best, condescension; and at worst, contempt. Remember how the National School Boards Association wanted the feds to designate some protests from these angry parents as "a form of domestic terrorism and hate crimes" --and then withdrew that request?

And during Covid, with nerves frayed by zoom-schooling, many parents have had their eyes opened about teachers' unions. No surprise that one of the last campaigners for McAuliffe was Randi Weingarten, head of the American Federation of Teachers. At the AFT 2021 Conference, guess who was the keynote speaker? Ibram X Kendi! The other big teachers' union, the National Education Association, has explicitly called for teaching children CRT, pledging to publicize "an already-created, in-depth study that critiques white supremacy, anti-Blackness, anti-Indigeneity, racism, patriarchy... capitalism... and other forms of power and oppression." They back The 1619 Project as a teaching tool. So all the unions, the governor, the Virginia education department, the paper of record, and the federal government think CRT is obligatory for teaching children. But absolutely none of that ever, ever reaches into the classroom. Please.

Of course it does. To use a term the woke might understand, it is, in fact, structural. In Virginia, the goal is not to make obscure CRT texts mandatory in a course curriculum; it is to filter all education first and foremost through the CRT lens of race and identity; to "interrogate" mathematics, literature, philosophy, and science not as fields of study, but as suspect products of "white supremacy"; to remember "positionality" before you even speak; to grade and discipline so as to remove any group differences; to abolish standardized tests, because there are different group outcomes; to end gifted education, because it's allegedly racist; to hire and fire on identity grounds; to teach children that sex is not binary and can be chosen; to open restrooms and locker rooms to both sexes; and, most of all, to keep parents at bay and in the dark about all of it.

What has happened this past week, I suspect, is that the woke revolution has finally met its match: educated parents. People can tolerate sitting through compulsory "social justice" seminars, struggle sessions, pronoun rituals, and the rest as adults, if they have to as a condition of employment. But when they see this ideology being foisted on their children as young as six, they draw a line.

And when the public authorities try to disguise this, when a governor says that parents should not decide what is taught in public schools, when the parents are scorned as "white supremacists" for wanting their children to be taught math that doesn't take a position on racism, and when the media reflexively calls them liars, they are going to get mad enough to vote Republican again. I don't blame them.
By the way, "positionality" is their term for your position, your rank, on the oppression matrix. (They always have to make up jargon for simple ideas to give very simple ideas the veneer of complexity and thus academic rigor and seriousness.)
You are always supposed to defer and genuflect to someone who ranks higher on the oppression matrix.
Thus the demand that people announce their race, sex, and gender before making a comment or answering a question -- this is demanded in order to establish their supposed "position" in the White Supremacy/Patriarchy/Cisgender Hierarchy, so that teachers can then invert that position of "power" and treat them as inferiors so they can know what it is like to be "marginalized," "de-centered," or "oppressed."
If you are "privileged" out in the world, you will be marginalized in the classroom.

On Friday, I wrote a post about the left and teachers constantly lying about teaching CRT in the schools. Read it if you missed it.
I wrote there:
Whenever someone says that you have "privilege," that you should "check your privilege," or that you are "oblivious to your privilege," or that you are "punching down," they are employing the language of critical theory, and using the "toolbox" of critical theory, to deconstruct the oppressive systems of society, and to illuminate the "invisible chains" that oppress the oppressed classes.

THAT IS A CONCEPT DERIVED DIRECTLY FROM CRITICAL RACE THEORY. THAT IS CRITICAL RACE THEORY IN ACTION.

Whenever a teacher tells your kid that he is privileged due to his skin color (or sex, or sexual preference, or able-bodiedness) that teacher IS doing Critical Race Theory. He is teaching your child Critical Race Theory. He is indoctrinating your child in Critical Race Theory concepts.

...

It's that simple....

[T]here is part of a field the academics call praxis, the practice of a theory, the implementation of a theory into action; in stupid critical theory terms, categorizing children into groups according to their "privilege" or "marginalization" is the praxis of critical theory. That is critical theory in action.

Academic papers exploring exciting new frontiers in the expanding horizons of marginalization and "decentering" are the theoretical part of critical race theory, but telling nine year olds that that their race makes them toxic is the praxis.

That's the Applied Critical Race Theory.

So right there, enough of the lies, when teachers tell kids to list the ways in which they are privileged, and which privileges they have because the privileged categories they fall into, that is an exercise in critical race theory deconstruction of power dynamics and illumination of invisible structures of oppression and privilege.
When I wrote that, I thought, hey, I'm smart, I just added something to the discussion.
Ummm... no.

I listened this Michael Malice interview with James Lindsey -- who has read all of the Critical Race Theory texts, all of them -- and he talked about all of that.
He even specifically gets to the "praxis" point in a discussion starting around 39:00. He mentions what teachers are doing as being critical race praxis at around 46:00.
He has an amusing proposal: If they're going to play this sematic game of saying "Nyah-nyah, we're not teaching critical race theory, we're doing critical race action and praxis, then maybe we should just call it "CRAP Theory."
This point is by now so well-established they're making memes about it: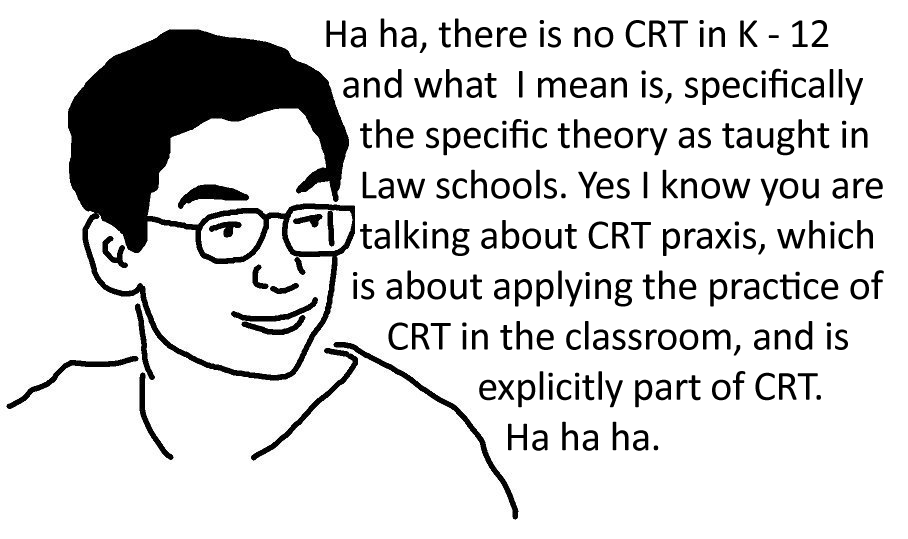 Another point Lindsey makes: While teachers, teachers unions, and education activists claim that they know nothing of this "CRT" of which you speak, it turns out that several of the foundational texts of Critical Race Theory in education were commissioned by...
wait for it...
wait...
...for...
...it...
the NEA. The National Education Association. The largest teachers union in the country.
They commissioned these Little Red Books of indoctrinating children into race-based Marxism, and now they claim you're filthy running-dog capitalist liars when you say they're teaching from the books they commissioned to be written.

posted by Ace at
04:43 PM
|
Access Comments