« Loudoun County School Teacher Accused of, Of Course, F***ing a Student, In an Incident Apparently Covered Up From May
|
Main
|
Democrat Party Melting Down Over Fundamental Question: Stay Woke and Alienate 90% of Independents, Or Break from Wokeness and Alienate the Democrat Base of Wealthy White College Students, Guilty Wealthy White Suburban Professionals, and Minority Activists »
November 08, 2021
Biden Administration Now Attacking Reporters For Asking Questions About Biden's Jackpot Payouts to Illegal Aliens, Calling Them "Disrespectful"
Polling Is Toxic, 67% Disapproving, 56% Strongly Disapproving
189 20 million illegals shout out in unison

"I lost my baby!!!!"

Posted by: Cicero Kaboom! Kid.
F. Joe Biden had previously claimed it was "garbage" to say the US would be paying illegal aliens $450,000 per person for "separation" at the border (actually required by US rules) for illegals.
Now that he's been forced to admit that will be happening -- it's just that the dollar amount hasn't been determined yet, but could be $450,000 per person (or more!), the Biden Administration is taking a new tack in response to questions about this newest lawless policy: Snapping at reporters who dare to ask questions about it.
RealClearPolitics: Biden "snaps" at reporter for pointing out he previously lied and called reports of huge cash payments to illegals "garbage."
Biden told FNC's David Spunt on Saturday that when he said the WSJ's report was "garbage" he was referring to the figure of $450,000.

"Let's get it straight. You said everybody coming across the border gets $450,000. The number I was referring to."


"Now here's the thing," Biden said. "If, in fact, because of the outrageous behavior of the last administration, you were coming across the border, whether it was legal or illegal, and you lost your child. You lost your child, [your child] is gone, you deserve some kind of compensation! No matter what the circumstances."

"What that will be? I have no idea."
Video at the link.
This must be the the White House position -- as far as "tone" -- because White House Senior Puppet Handler Cedric Richmond snapped at Fox News, railing at them for their "disrespectful questions" (!!!) about payments to illegals for breaking the laws. (Or, now: the "laws.")
Bill Hemmer pointed out Biden's, erm, confusion on the issue, and then noted the ACLU, which is suing on behalf of the illegals, said that Biden "might not have been fully briefed" on the lawsuit.
This prompted Hemmer to ask the obvious question: Well, was President Poopypants briefed? Was he "in the loop"? Or just "in the poop"?
HEMMER: So, within an hour of that comment, the ACLU said, quote, President Biden may not have been fully briefed about the actions of his very own Justice Department, and went on from there.

Was he in the loop to begin with?

CEDRIC RICHMOND, BIDEN ADMINISTRATION: The president is in the loop. But the president said at the beginning of his administration, on the campaign trail, that he would have an independent Department of Justice, that he would not direct the Department of Justice what to do.

And if you go back to the question, the question was from a FOX reporter asking about whether compensation for being separated and losing a child would be an incentive to come to America. And what he was saying was that was an absurd question from the beginning. No one is coming somewhere to lose their child, to be separated from their loved one.

And the question is so insensitive, disrespectful, that that's what he's commenting too.

And I would ask a question of you whether you support that. I mean, at some point, we cannot with a straight face say that parents are willing to separate from a child for a dollar amount. That's just not true. And we should not talk like that.

We keep saying we're better than that, but we're not acting like that.

HEMMER: If the amount is not forwarded $450,000, what amount is it?

RICHMOND: That's for the Justice Department to decide. If it shows that it saves taxpayers money, if it rights a wrong and the Justice Department determines that there is compensation that should be paid, that is an independent Justice Department.
Via RedState, this might explain Biden's anger over the issue: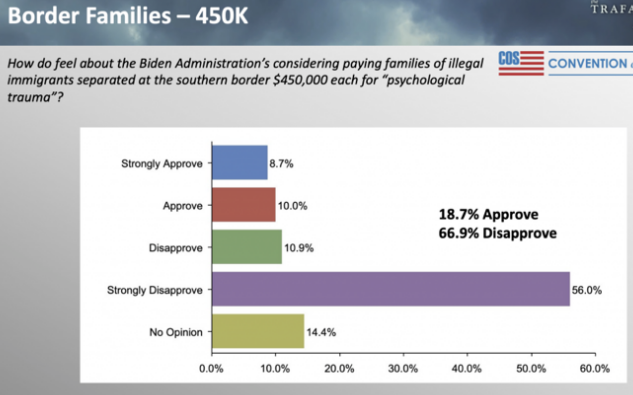 Meanwhile, Ron DeSantis, the President of Free America, says that over 70 secret Darkflights have infiltrated illegals aliens into Florida.
The US has sent over 70 flights of migrants from the Mexican border to Jacksonville, Florida since the summer -- but the Biden administration has not disclosed any information about the clandestine transports, Gov. Ron DeSantis' office claimed.

The alleged flights -- which landed in overnight hours -- come as officials struggle to deal with overcrowding at border facilities, according to The Washington Examiner.

"Over 70 air charter flights [on] jetliner airliners coming from the southwest border have landed at Jacksonville International Airport," Larry Keefe, the Republican governor's public safety czar, told the outlet.

"On average, there's 36 passengers on each of these flights. And that has been going on over the course of the summer through September."

Neither the Department of Justice, Department of Homeland Security, nor Department of Health and Human Services would disclose any information to Florida officials regarding the flights, Keefe told the paper.
Those darkflights and their stealth illegals now have allegedly claimed at least one American life.
...


The concern from the Florida statehouse came after a 24-year-old undocumented immigrant from Honduras, who posed as a 17-year-old and gave officials a fake name, allegedly killed the Jacksonville man who took him in and gave him a job last month.

The victim's daughter said she believed the murder suspect arrived on one of the secret flights.
This leads to a good question DeSantis, and any Republican actually loyal to America and his fellow Americans, should demand of Biden:
If Biden will be paying illegal alien criminals for harms due to US policy, will the Biden Regime be making Jackpot Payouts to Americans raped, killed, injured, maimed or crippled by illegal aliens it allows to remain in the country?
If not, why not? Seems to me that murders, rapes, and the permanent injuries inflicted by drunk drivers are far worse harms caused by US government policies than kids being separated from their parents for a few hours or days while officials attempt to determine if the kid really is related to the adult in any way, or is merely being used by an adult for entry or is being sexually trafficked by that adult.