« Election Watch Thread/
Brand Shiny New Flag Patch Cafe
|
Main
|
YOUNGKIN WINS; LEFT AND NEVERTRUMP (BUT I REPEAT MYSELF) IN FULL FAT EMO SELF-CUTTING MODE »
November 02, 2021
Decision Desk, Redistrict Call Virginia for Youngkin

DecisionDesk is a bit aggressive in making calls, but they're usually right.
CBS News has shifted its race predictor from "toss up" to "lean Republican."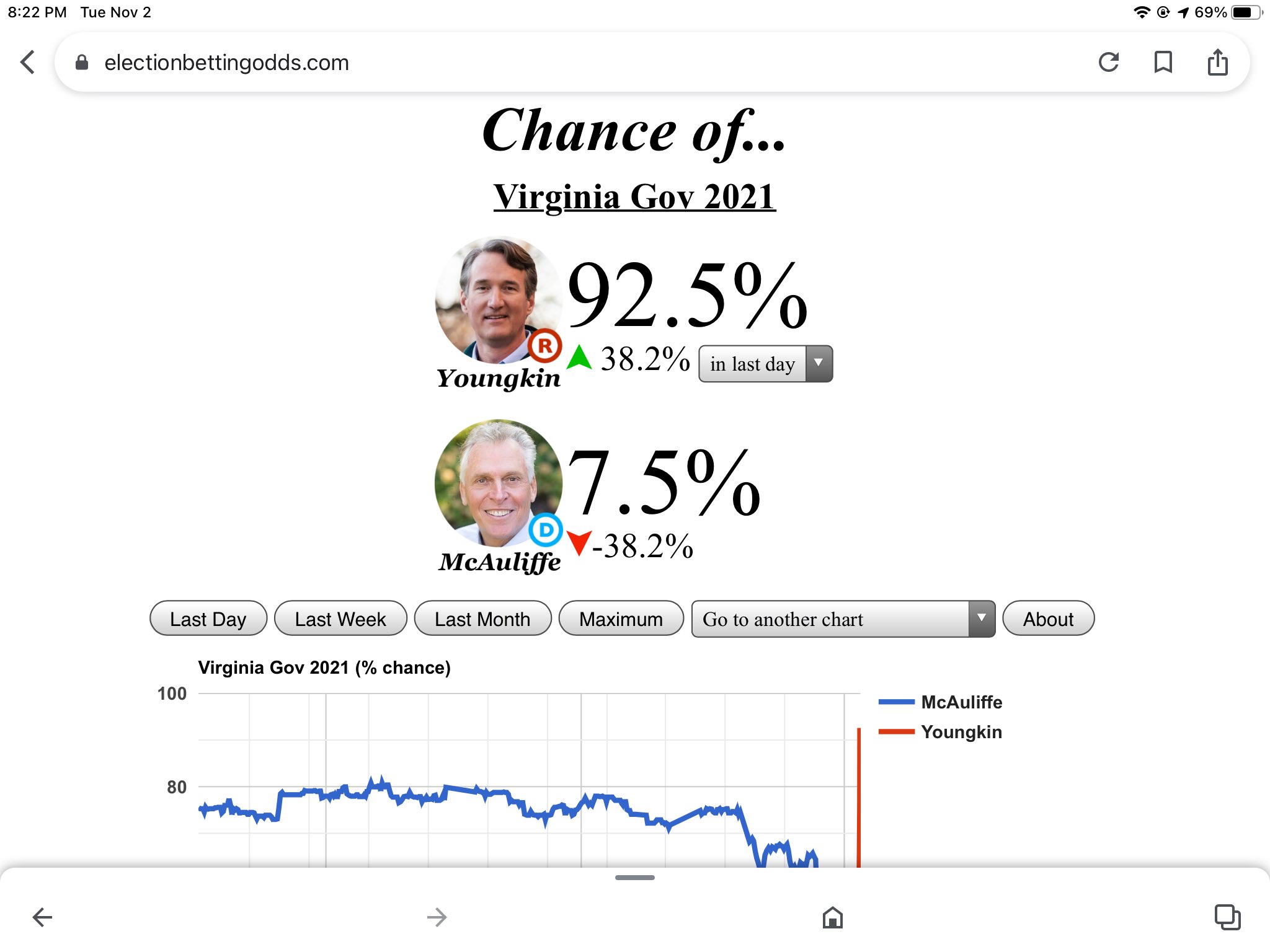 Fairfax might be deciding "Don't Cheat."

Shock! A heavily leftwing county is going to delay its reporting of votes. For as long as it takes.
Reid J. Epstein @reidepstein


Some news from Virginia: Fairfax County is delayed in counting and reporting its early vote totals, which the county had promised to make public by 8pm. Unclear how late they will be.
That means the numbers are incomplete. It also means that Fairfax can turn in as many votes as it turns out are needed, when they decide to finally count them.
The Partyman @PartymanRandy Just like when they paused the count on election night 2020, everyone knows what's happening, but within a few weeks everyone will pretend it was nothing.

Fairfax county is waiting to see if the race is close enough to steal. Right now it looks like it might not be.
Exactly my thought. They are calculating how much they will need to cheat to win. If it's too much, they risk detection and possible incarceration.
I'm not sure if I'm rooting for "Cheat" or "Don't Cheat" right now. I'd love to see the scab ripped off this festering, corrupt wound.
Update: Harmeet K. Dillon says they're not cheating.
277 Harmeet K. Dhillon@pnjaban 1m

Folks, heard from a TOP GOP lawyer in VA tonight that the Fairfax County thing had to do with an out of date/defective memory card. Both sides signed off on re-scan &it was witnessed by GOP lawyers in the room the whole time. Ain't over till its over, but looks good for Youngkin!

On the other hand, CNN's exit polling indicates a Youngkin win.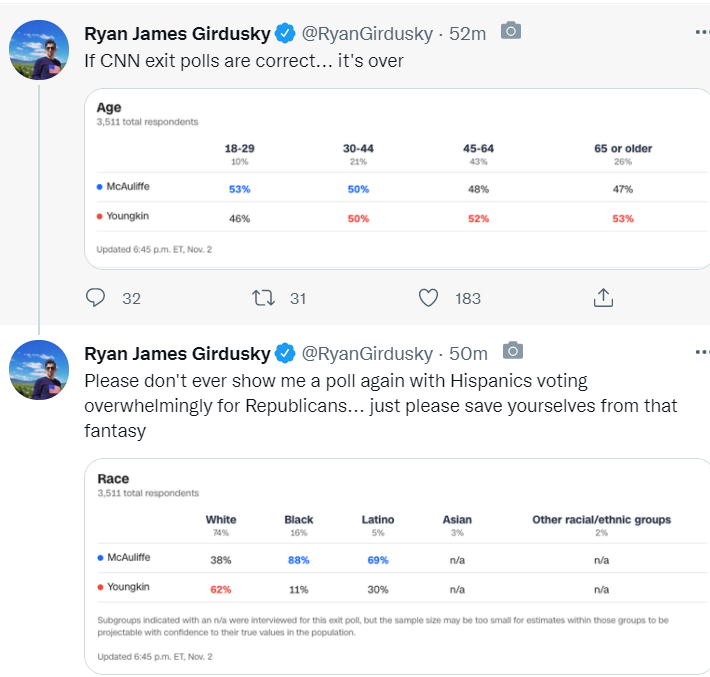 Currently, McAuliffe is winning Loudoun County 52-47.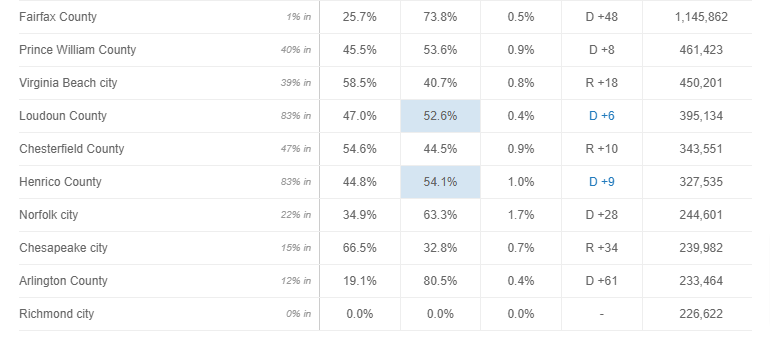 Note that in 2020, Loudoun went for Biden 61 to 36.
So while this is certainly not the complete vote yet, McAuliffe is in a big hole here as regards one of his important counties. (His most important are Arlington and Fairfax, which are both very large and very Democrat. And Fairfax is currently experiencing a mysterious counting delay. I've seen this movie before.)
But the Democrats didn't care about who got the most votes in 2020. I don't think they'll care now.
Nathaniel Rakich @baseballot


Democrats may be in danger of losing their majority in the Virginia House of Delegates. Republicans lead in 14 Dem-held districts right now. It's still early, of course, but they only need 6 to flip.
Virginia statewide results here, at the official government website.
Here's the NYT website for NJ results. Polls close at 8.