« Democrats Suppressing Republican Vote in Virginia By Illegally Turning Away Voters For Not Wearing Masks
|
Main
|
Quick Hits »
November 02, 2021
NBC's RussiaGate Hoaxer "Fusion Ken" Dilanian Calls Secret Service to Report a "Let's Go Brandon" Meme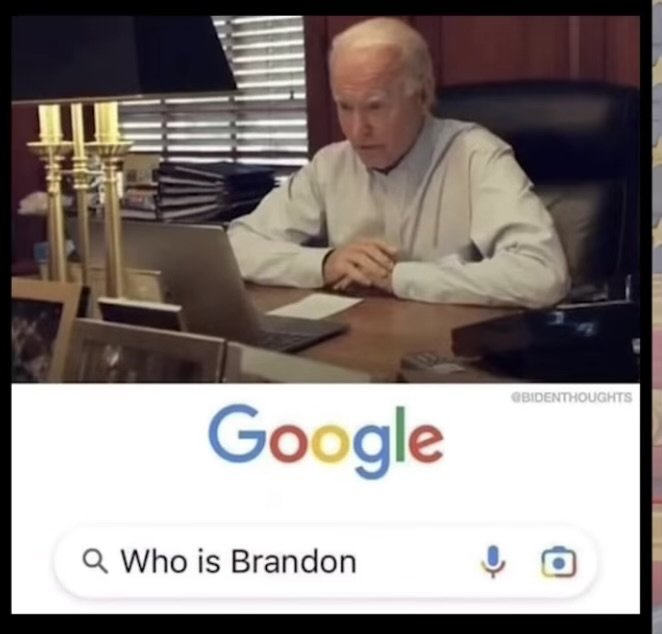 Mike Wallace -- father of disgraceful liberal hack Chris Wallace, who, like his communist dad, dips his head in soy sauce -- used to brag that if he knew that the enemy were about to ambush the American troops he was embedded with, he would say nothing, and let the men he'd grown to know and who'd he'd depended on to keep him safe get wiped out.
Due to "journalistic neutrality."
People said that was unamerican.
People also suspected that if the people about to die were not people the left despised, like American soldiers, but, say, leftwing terrorists, Mike Wallace would warn them about, say, a police ambush.
"Fusion Ken" Dilanian, a ready and willing conduit for any FusionGPS confabulation or any lie the IC Deep State wants to deceive the American public with, proves that latter suspicion correct by reporting the Let's Go Brandon meme to the Secret Service as a "threat" on Biden's life.
A company stamped a lower receiver with "Let's Go," and the not-at-all-journalistically-neutral Fusion Ken decided he had to be Hall Monitor Karen and reporter the dangerous memester.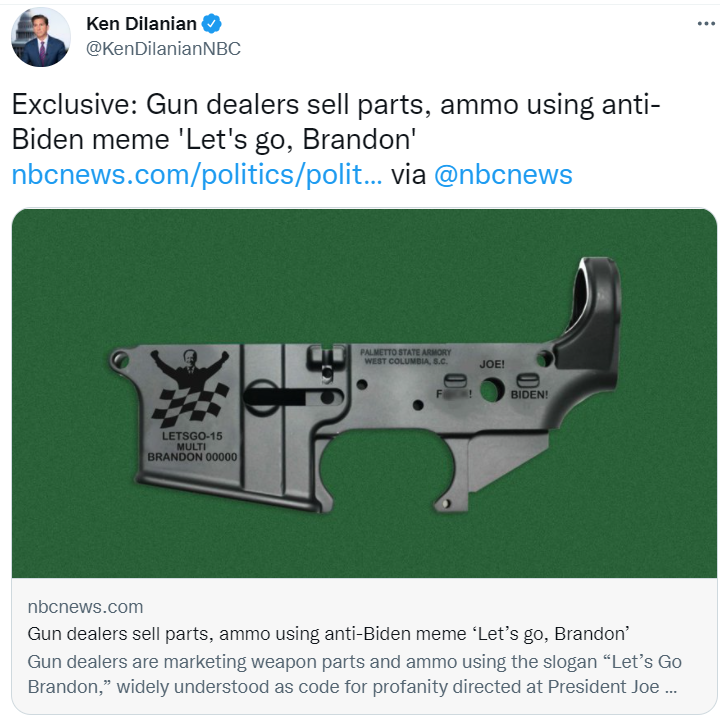 Ken Dilanian @KenDilanianNBC

I called the Secret Service about this. They had no comment.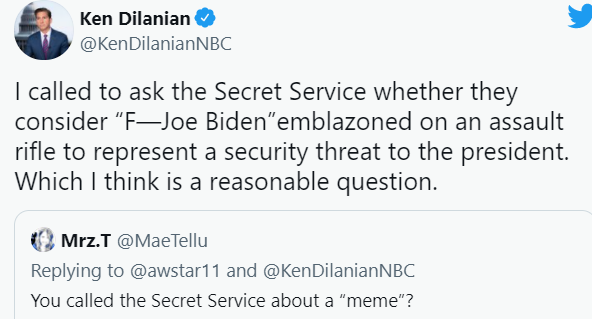 Michael Malice @michaelmalice

Replying to
@KenDilanianNBC


Corporate journalists are jihadis without testosterone
And he's hardly the only "journalist" whose toxic Karen head has come apart over this terrible, vulgar meme. CNN's former Obama State Department flack Jim Sciutto wants you to consider the children when you utter the vulgar expression Let's Go Brandon.
im Sciutto @jimsciutto

Think about the lesson is the "Let's go, Brandon" crowd is teaching their children.
I covered lots of examples of the media celebrating people saying "F*** Trump" publicly -- no cute euphemism, just straight up F*** Trump -- yesterday.
But Twitchy notes these additional stories via Newsbusters, which I'd forgotten about: the bicyclist who gave the middle finger to Trump's motorcade, who CNN treated as a hero, and two schoolgirls who gave the finger to anti-mask protesters, who CNN lauded as future Socialist Influencers.
How adorable! Why those precious little scamps!
More examples of children carrying "F*** Trump" and "F*** the Police" signs -- without any known condemnation by CNN or former Obama official Jim Sciutto -- at Twitchy.
Think of the children, CNN!
Fusilli Spock @awstar11

The absolute staggering hypocrisy and gaslighting the way the Left/media are having the vapors over "Let's go Brandon" after four years of the most vile and profane insults directed at Trump that none of them batted an eye over.
J.R. Holmsted @JHolmsted

People that took kids to marches wearing vagina hats amidst "p***y grabs back" & "fuck Trump" signs, proudly shouted their abortions, cheered "Impeach the MF" merch from a congresswoman as badass & brave, etc etc etc expect me to believe "Let's Go Brandon" is just too vulgar. Okay.
Meanwhile, not one but two CNN "analysts" are demanding the firing -- for starters -- of the Southwest Airlines pilot who reportedly said "Let's Go Brandon."
Both of them are, intriguingly, national security Deep Staters.
CNN's "national security analyst" Juliette Kayyam wants every single passenger on that Southwestern Airlines flight to file a complaint with the FAA, to force Southwest to fire a man for saying something amusing.
Juliette Kayyem @juliettekayyem

If @SouthwestAir doesn't do anything, every passenger on that flight has standing to file a complaint with the @FAANews and they should do so. Southwest will then be compelled to investigate or defend him. Have fun with that. No messing around in the air. Bright line rule.
She then claimed she wasn't calling for his firing. "No messing around in the air." Um sure Karen.
Juliette Kayyem @juliettekayyem

Unlike some of you, I'm not saying he should fired. Only that there should be investigation. For all we know he was making fun of it. Either way-- bad joke or asshole -- it cannot go unaddressed lest it opens up other pilots to harangue passengers.
So we don't fire him if it turns out he was making fun of the expression.
"Harrangue passengers" equals "a guy said three words (literally) I didn't like."
Boy the left sure does some amazing volte face regarding the appropriateness of injecting divisive political messaging into non-political forums, huh?
That guy I like with the funny face (I mean that as a compliment, he immediately puts me into a comedy mood) said last night on Gutfeld, "I don't like seeing divisive political statements like Let's Go Brandon on airplanes or at football games... politics should be kept where they belong, at award ceremonies and in public schools."
Meanwhile, CNN's Asha Rangappa and former FBI diversity hire -- the most incompetent, uninformed pig-ignorant diversity hire I've ever seen from the FBI -- expressed her opinion that saying "Let's Go Brandon" was... like ISIS.
Oh and she demands he be fired, of course.
Asha Rangappa @AshaRangappa_

As an experiment, I'd love for an @SouthwestAir pilot to say "Long live ISIS" before taking off. My guess is that 1) the plane would be immediately grounded; 2) the pilot fired; and 3) a statement issued by the airline within a matter of hours
This FBI diversity hire formally had the power to restrict US citizens' rights and had some responsibility for fighting terrorists. She apparently doesn't think Muslim terrorism is very threatening, but does think that memes that bother the Karen Ruling Class are felonies.

But not all Karens are female. Some are male -- at least biologically. They're very much female psychologically, but a genetic test would say, misleadingly, that they're fully male.
Under-cerebrated schlub and former Clinton spokesman Joe Lockhart is very much like a TikTok influencer who wants attention, meaning he's brainless, needy, and has big hanging tits:
You know who also had coded statements like Brandon? ISIS, the Klan, Nazi's...beginning to get the point?

-- Joe Lockhart (@joelockhart)
Thanks, Joe. I agree; the ISIS comparisons were a touch too subtle and "Ivory Tower." Thanks for bringing this down to a level where more common intellects, like your own, would feel comfortable.
And speaking of Karens that fail to see much daylight between Muslim terrorism and the "Let's Go Brandon" jibe, the AP "journalist" -- of course it was a "journalist," and white woman leftist at that -- who started this latest White Leftist Woman Moral Panic actually banged on the cockpit door demanding entry, much like Mohammad Atta did on 9/11.
This seemed, to this unhinged hysterical Karen, to be a perfectly proportionate and reasonable response to hearing three words she didn't approve of.
Maybe just a little bit, Karen.
Note the additional context here that Southwest Airlines has long encouraged pilots to say funny little things in their addresses to the cabin. This was more partisan than most comments, of course, but the Karen Kollective are absolutely determined to make steal the livelihood from another law-abiding American for merely saying something they don't like.
John Hayward/@Doc_0 writes this about the hysterical leftist overreaction over "Let's Go Brandon."
One reason Dems are so comically furious over "Let's Go Brandon" is they understand it's the kind of thing that triggers preference cascades - a moment when people look around and realize that huge numbers of their neighbors share what the ruling party claims is a fringe opinion.

The Left expends a huge amount of effort on making its adversaries feel marginalized. They mastered the dark art of making the majority FEEL like a fringe minority. The demoralization-destabilization-subversion strategy of the Left is designed to make normal people feel abnormal.

"Let's Go Brandon" is a moment when vast numbers of Americans who have been told Joe Biden won a sweeping election victory, and has a mystical mandate to destroy and rebuild America, look around and realize most of the country severely dislikes him and distrusts his media.

That's not a fringe or minority opinion. It's not extremism. It's the truth - and it's not an unreasonable opinion. Biden has been a huge failure in every way that matters. People are still angry about Afghanistan even though his media has "moved on." They see how feeble he is.

Biden's horrifying economy is hitting people right in the face, every damn day - every time they visit a gas station or buy groceries. It's obvious and visceral. No amount of media spin can hide it. The Biden administration's excuses are hilariously obvious and stupid lies.

But the big reason Let's Go Brandon caught fire is that Biden and his handlers are so hostile toward the American middle class. Their lies drip with contempt. They can't conceal the loathing they feel toward the common man. Their policies are aggressively attacking your life.

The media is stunned and panicked over this because they still think they control the national memory bank. They don't realize people are still thinking and talking about words and deeds the media has deemed irrelevant, archaic, and forgotten.

Afghanistan is the obvious example, but I'll bet most DNC Media types would be shocked to learn how many people are thinking about Joe Biden's energy policies, like killing Keystone, every time they watch those prices tick up at the pump. The media forgot, but we haven't.

Reporters live on social media these days, and they know how lefty astroturf operations work - they're willing participants in so many of them! - so they assume everything is an orchestrated political op, but Let's Go Brandon (and its more vulgar predecessor) are real grassroots.

So now they're going to try to control the preference cascade by shaming and bullying people out of saying Let's Go Brandon. Back to the old playbook - trick the majority into feeling like a minority, make a popular position feel like fringe extremism, demoralize, destabilize.


It might work, or the moment could pass, although little about Biden's performance to date suggests he is able or willing to reverse the trend. Biden and his handlers would snarl with rage at the suggestion they should reach out to the growing number of Americans who dislike him.

But as Biden's loyalists climb on their high horses, purge their memories of everything the Left said about GOP presidents, and shriek about civility, just remember: BIDEN STARTED THIS. He and his party said F-you to a big chunk of America long before they said F-you back. /end
He adds this thought as a coda. On the topic, again, of the remorseless gaslighting of the left on vulgarity and civility.
Right now, people with dusty Handmaid's Tale costumes and pussy hats stuffed into cardboard boxes in their closets are on social media howling about the unprecedented rudeness and incivility of Let's Go Brandon.
The Karen Hysteria over this has so possessed the deranged left that I'm frankly shocked that AllahPundit isn't all over this.
I don't think the obese potato Brian Stelter will be covering the media's jawdropping partisan double standards on his media criticism stalwart defense show.
This is almost completely 100 percent true: I put together this whole long post just as a table-setter for the below video.
Enjoy.

posted by Ace at
04:37 PM
|
Access Comments