« National School Board Association: Okay Maybe We Shouldn't Have Called Parents Domestic Terrorists
|
Main
|
Absentee Secretary of Transportation Pete Bootyjudge Hits the Talk Show Circuit to Discuss the Shipping Crisis.
No Just Kidding, He Wants to Be Applauded for Ghosting His Job During a Crisis. »
October 25, 2021
With the Border Still in Crisis, Border Czarina Kamala Harris Announces a Huge Victory -- A "National Gender Strategy!"

America is burning down but they finally announced a National Gender Strategy.
The Biden-Harris Administration issues first-ever national gender strategy to advance the full participation of all people -- including women and girls -- in the United States and around the world.

...

This moment demands that we build back better. It requires that we acknowledge and address longstanding gender discrimination and the systemic barriers to full participation that have held back women and girls.

***

The strategy identifies ten interconnected priorities: 1) economic security; 2) gender-based violence; 3) health; 4) education; 5) justice and immigration; 6) human rights and equality under the law; 7) security and humanitarian relief; 8) climate change; 9) science and technology; and 10) democracy, participation, and leadership. These priorities are inherently linked and must be tackled in concert.

...

[We will] address sexual violence in conflict settings; the elevated risk of violence facing women human rights defenders, activists, and politicians; human trafficking both at home and abroad; and the crisis of missing and murdered Indigenous people.
Say, does that include the sexual attacks on women illegally migrating to the US, and being encouraged to do so by the Harris-Biden Administration?
Does that include the young girls being trafficked across the border?
Well, yes it does:
[We will] Promote the safety and fair treatment of all people in the justice and immigration systems.
But what will be their policy on getting girls to study things they don't want to study, like STEM fields?!
I wonder if they'll encourage girls to go into STEM for the millionth time?!
[We will] Promote the leadership of women and girls in addressing the challenge of climate change and seek to close gender gaps in STEM fields so that women and girls can shape the workforce of the future.


***

Realizing this bold vision is a government-wide responsibility...
Bold vision!!!
So bold! So Stunning and Brave!

And this boldness starts with... promoting abortion. Or as Kumala puts it: Ending the "Global Gag Rule" and re-starting funding of organizations that advocate for abortion:

To advance women's health around the world, the Biden-Harris Administration has revoked the Global Gag Rule and reinstated funding to the UNFPA. In the United States, the Administration has called for historic investments to respond to the maternal mortality crisis. The President also launched a whole-of-government effort to respond to the recent Texas law which blatantly violates women's constitutional right to a safe and legal abortion under Roe v. Wade.

Women's health starts with children's deaths.
Here's some more bureaucratese filler language to suggest that talk and "consultations" are actions:
***

To inform our ongoing and future efforts to advance gender equity and equality at home and abroad, the strategy calls for continued accountability, consultation, and engagement as we work towards our collective vision for gender equity and equality at home and abroad.
This follows last week's Great Foreign Policy Victory: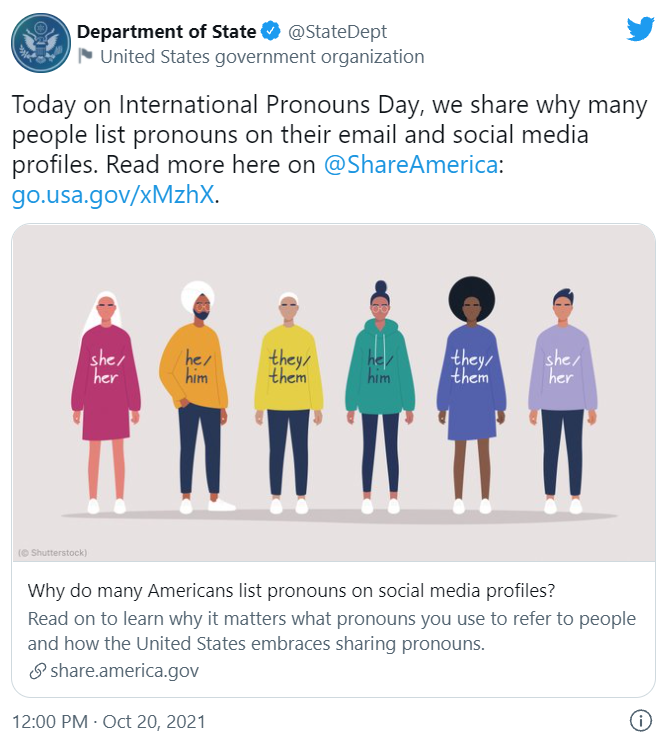 Meanwhile, the next wave of "migrants" have declared "We are ready for war" if anyone tries to stop them.
From October 6th:
"We are leaving in 20 days," activist Irineo Mujica said Tuesday on social media. "We prefer to march with (travel) papers. [...] And this time, with papers or without papers, we are ready for war. If the National Guard comes and they are cowardly enough to beat women and children, let them prepare because God's hand is with us."
It's now 20 days later. And true to their word, they just battered their way through a cordon of Mexican police and security forces.
En route to the uncontrolled US border.
Here's how the leftwing open borders plutocrat propaganda outfit the Washington Post put this violent assault on police:
Tired of waiting for asylum in southern Mexico, thousands of migrants march north
They "marched."
Say, did the January 6th protesters merely "march" on the Capitol?
I seem to remember the clashes with police getting a lot of attention there.
Meanwhile, The Regime is admitting that over two million illegals have crossed the border in the past year.
That's a record.
The last 12 months saw a record total of over 2 million illegal aliens come across the southern border, Breitbart reports.

The total amount of illegals for Fiscal Year 2021 consists of about 1.66 million who were successfully apprehended by Border Patrol before ultimately being released, and around 400,000 "gotaways," who managed to evade authorities and sneak into the country undetected.
Last week, a DHS insider blew the whistle to Project Veritas about Biden policies that permit sex traffickers and drug cartels to operate in the US with impunity.
A new policy proposal, he said, will "rubberstamp" the "credible fear" loophole that bad actors exploit to run criminal operations in the U.S.

"This is gonna be the biggest change to immigration policy in my lifetime. It's being done without anybody knowing what's going on about it and there's been no coverage for the American people to know what's going on," Stevenson said. "There's no brakes on the car."

According to the whistleblower, the Director of USCIS sent out an email notifying employees about a rule change that will shift the adjudicative authority of defensive asylum away from immigration judges to USCIS asylum.
...

"If the asylum officers get this ability, I will say it's going to be a rubber stamp of immediately getting 'credible fear' or 'reasonable fear' [asylum seekers] to be able to stay in the country if they're going to be deported...also their path to citizenship," Stevenson said. All criminal aliens have to do is lie about having a "credible fear" of being mistreated in their home country, and United States will take them at their word.

He said that the new shift in policy enables the unaccountable USCIS to adjudicate these asylum claims rather than immigration judges. Known child traffickers, Stevenson said, exploit this loophole to stay in the country.


But at least we have a National Gender Strategy.

posted by Ace at
01:42 PM
|
Access Comments