« Now We Have A Silicon Shortage – Another Economic Debacle Brought To Us By Principled Free Traders™
|
Main
|
Quick Hits »
October 12, 2021
Mollie Hemigway's New Book Rigged Details How Clinton Crony Marc Elias Not Only Paid for the Russiagate Hoax Dossier, But Then Worked to Change Election Rules In Time for 2020
Byron York talks about Mollie Hemingway's new book on the rigged election, which is beinv released today.
He notes that Hillary Clinton's "lawyer" Marc Elias was not only central in creating the Russiagate hoax, but a key henchman in changing election rules, often in violation of constitutional procedures, to further rig the election.
I'm sorry -- I meant to further "fortify" the election.
The dossier was one of the most successful dirty tricks ever. Elias, working on behalf of the Hillary Clinton campaign and the Democratic National Committee, paid the oppo/attack firm Fusion GPS to enlist former British spy Christopher Steele to compile a list of false and slanderous allegations about then-candidate Trump.

...

Then came 2020. "As damaging as the dossier and larger Russia collusion hoax were to foreign relations, national security, and domestic tranquility," writes Hemingway, "Elias's real passion had long been helping Democrats win elections by changing voting laws." The Covid pandemic gave him the opportunity of a lifetime. Elias had long been pushing to weaken verification requirements for mail-in ballot signatures. He had been pushing to make mail-in voting the law everywhere, with no excuses required. He had been working to push states to accept mail-in ballots long after the polls closed. He had been pushing for more "ballot harvesting." He wanted voters to be able to leave their ballots in unattended drop boxes. To vote on weekends. To not be excluded if they show up at the wrong precinct. And more.

Led by Elias, Democrats filed lawsuits and pushed election boards, secretaries of state, legislatures, and others to make the changes. They did it with hundreds of millions of dollars from secret donors around the country. One expert told Fox News that Elias's dark money network, still very much in existence today, means he "will have access to nearly unlimited funding to file lawsuits across the country." And just as the dossier began in secrecy, nobody will know who is funding Elias's election operation. "It was a sea change to the American electoral system, and Elias was the man responsible for much of it," writes Hemingway.

The changes Elias and Democrats wrought almost certainly ensured the election of Joe Biden. Even today, Republicans don't quite know how to deal with the situation. Several states with GOP-controlled legislatures have passed or are considering election reform laws that would undo some of the Elias-driven changes. But other Republicans are working on ways to win in the new electoral world. If winning depends on mail-in voting, early voting, ballot harvesting, and more -- then Republicans will have to get with it. They're living in Elias's world.

You can order Mollie Hemingway's book at Amazon.
It's got quite the list of endorsers!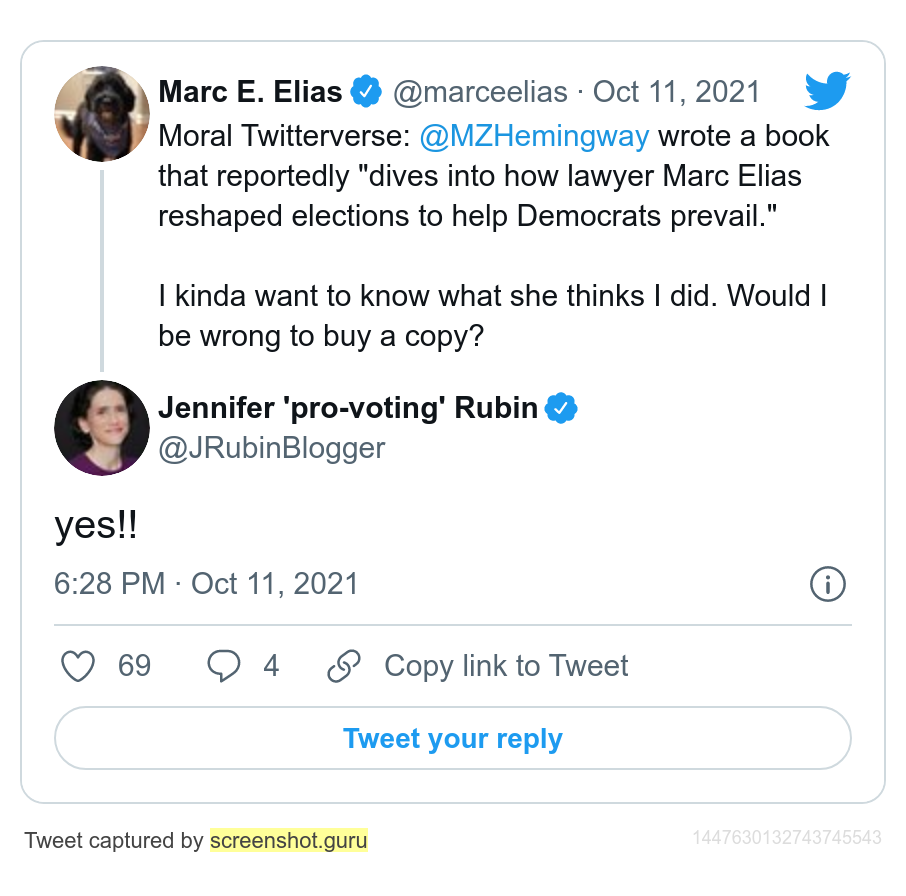 posted by Ace at
04:33 PM
|
Access Comments