« Parent: A "Boy In a Skirt" Sexually Assaulted My Daughter In the Bathroom -- and Then the Loudoun County School Board Covered It Up
|
Main
|
Mollie Hemigway's New Book Rigged Details How Clinton Crony Marc Elias Not Only Paid for the Russiagate Hoax Dossier, But Then Worked to Change Election Rules In Time for 2020 »
October 12, 2021
Now We Have A Silicon Shortage – Another Economic Debacle Brought To Us By Principled Free Traders™
Here we go again, with yet another global supply chain crisis, blindsiding those brilliant Principled Free Traders™ who never once considered that outsourcing every possible manufacturing job and mining operation could ever lead to empty shelves or lost economic activity.
This time it's silicon, that amazingly abundant element that is at the heart of modern technology. There's a shortage of it. And you'll never believe this, China is overwhelmingly the world's largest producer, at around 67% of global silicon production. The 5.4 million metric tons it produced in 2020 was more than 18 times as much silicon as the United States produced, which – shocker – has been dramatically reducing the amount of silicon it produces. But of course. Why produce critical materials in the USA if you can outsource them to communist China?
Russia is the second largest silicon producer. So, under the leadership of our best and brightest people, the western world is now relying on China and Russia for about 75% of global silicon production. Great job, smart people!
So just what is going on? Silicon's 300% Surge Throws Another Price Shock at the World
The shortage in silicon metal, sparked by a production cut in China, has sent prices up 300% in less than two months. It's the latest in a litany of disruptions, from snarled supply chains to a power crunch, that are creating a destructive mix for companies and consumers. The slashing of output in China, far and away the world's biggest silicon producer, is the result of efforts to reduce power consumption.
And just what is silicon needed for? Just about everything.
It's used in everything from computer chips and concrete, to glass and car parts. It can be purified into the ultra-conductive material that helps convert sunlight into electricity in solar panels. And it's the raw material for silicone -- a water- and heat-resistant compound used widely in medical implants, caulk, deodorants, oven mitts and more.
With silicon being such a critical material, what has US production looked like? It declined 28% in 2019 compared to 2018, and further declined in 2020.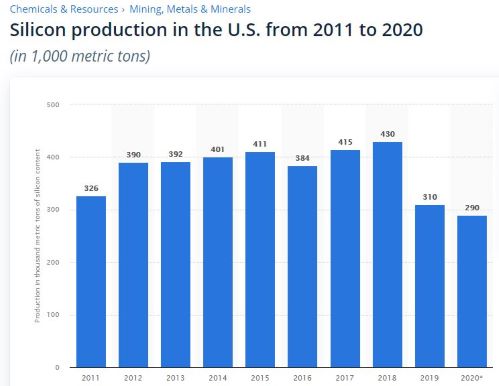 For something as important as silicon, you'd think there'd be a push to increase US production. Well, you might think that if you were a normal patriotic American. But if you're a Principled Free Trader™, your highest priority is destroying American jobs, because not only does offshoring mean abundant cheap labor, but as a bonus you get to mock and sneer at the blue-collar workers you put out of work.
And speaking of that cheap foreign labor…
"Hoshine Silicon recruits and employs Uyghurs and other minorities via state labor programs that aim to place them in factories. Researchers say these programs are a form of forced labor for residents who, faced with the threat of detention or other punishment, cannot refuse."
Now to be fair, Principled Free Traders™ are quite open about their passion for the cheapest possible foreign labor, and there is nothing cheaper than slave labor. They just never considered that energy disruptions, or shipping bottlenecks, or pandemics, or political instability, etc might ever come in to play.
So here we are. Is there any good news in all this? Here's a silver lining:
Solar Power May Be The Next Victim Of China's Coal Shortage
Prices of silicon metal, used to make the material that comprises solar panels, have surged about 300% since the start of August after a top-producing province ordered production be slashed amid a power crunch. China dominates global solar production, with its coal generators powering many of the factories that make clean energy equipment.
Wait. What? There's a silicon shortage, because of a coal shortage, which is resulting in a solar panel shortage, because it all relies on the burning of coal to make "clean energy" equipment.
A whole bunch of destructive economic fads embraced by our elites are falling apart because they rely on coal-fired energy from a communist country that uses slave labor. The only future role that is appropriate for the ruling class that got us into this mess is for them to be the subject of constant mockery and ridicule. In the meantime, let's bring home manufacturing and mining operations, and let's never let our national security be compromised again by Principled Free Traders™ and their political bedmates
[buck.throckmorton at protonmail dot com]


posted by Buck Throckmorton at
03:33 PM
|
Access Comments