« Mollie Hemigway's New Book Rigged Details How Clinton Crony Marc Elias Not Only Paid for the Russiagate Hoax Dossier, But Then Worked to Change Election Rules In Time for 2020
|
Main
|
Australian Cops Now Going Door to Door to Interrogate Citizens About Six Month Old Social Media Posts About Protests »
October 12, 2021
Quick Hits
A Gadsden flag was spotted hanging outside the window of a grounded Southwest Airline plane.
Ron DeSantis' snarky social media manager wonders about this.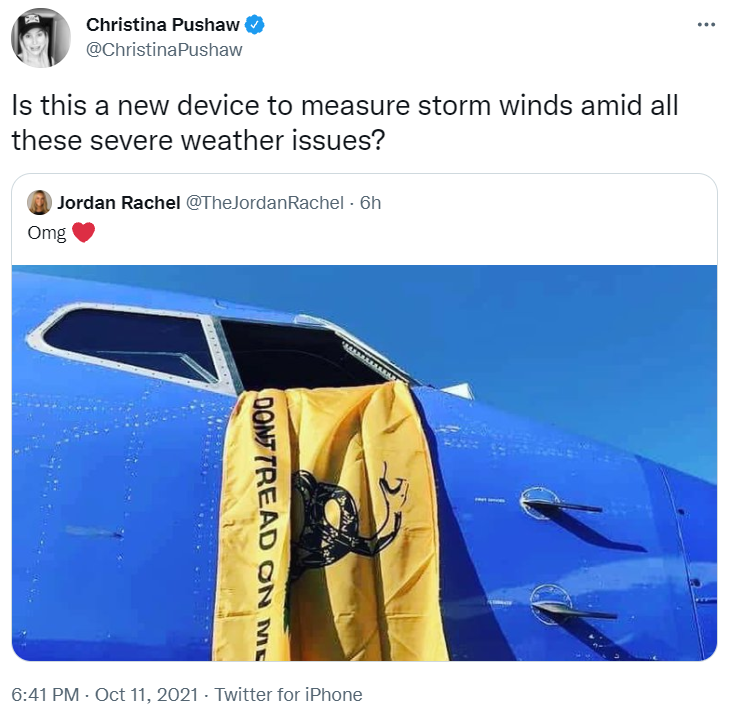 Greg Abbot banned vaccine mandates "by any entity."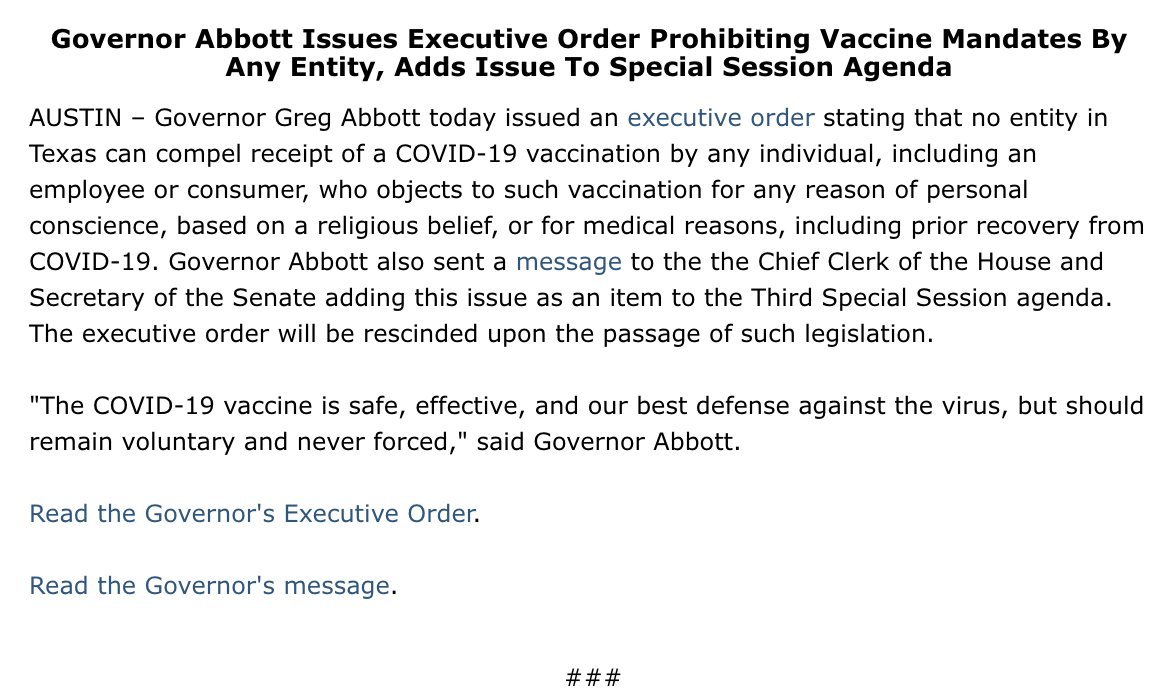 Noted Health and Fitness Influencer Jonah Goldberg has lots and lots and lots of thoughts about other people's health choices, as he so obviously should: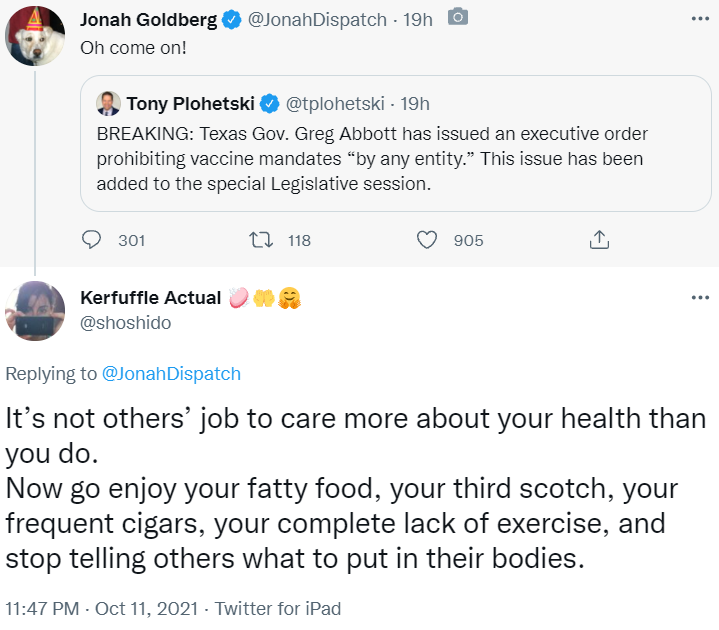 Jonah's very upset that some Americans aren't as strict as he is about diet, exercise, and longevity, but the Department of Agriculture released a finding which is sure to delight him:

Reportedly, Trump has banned Corey Lewandowski from his properties and has instructed his staff to report Lewandowski if he tries to enter.
Ex-Trump campaign manager Corey Lewandowski is barred from Trump properties, The Daily Beast said. The ban came directly from former President Donald Trump, The Daily Beast reported. A high-profile Republican donor accused Lewandowski of stalking and grabbing her in Las Vegas. Corey Lewandowski, a campaign manager for Donald Trump's 2016 presidential run, is barred from Trump's properties and events, The Daily Beast reported.

According to the report, the request came at the behest of Trump himself after a Republican Party donor, Trashelle Odom, publicly alleged that Lewandowski "stalked" her and grabbed her "legs and buttocks."

If Lewandowski is seen at a MAGA event or Trump property, Trump associates are supposed to alert security or personally shoo him away, The Daily Beast reported.

In text messages and an email, Trump confidants were told to "remove Lewandowski (at least for now) from invitations and emails for upcoming GOP and MAGA festivities," according to the report.

North Carolina Lt. Governor Mark Robinson -- who is black, and also Republican -- defends his prior comments decrying public schools for teaching kids about transgenderism, homosexuality, and other "filth."
North Carolina Lt. Gov. Mark Robinson has doubled down after his comments calling transgenderism and homosexuality "filth" drew widespread rebukes and calls for him to resign.

Robinson, a Republican, made the comments in June at the Asbury Baptist church in Seagrove.

"There's no reason anybody anywhere in America should be telling any child about transgenderism, homosexuality, any of that filth," he told the audience. "And yes, I called it filth. And if you don't like it that I called it filth, come see me and I'll explain it to you."

...

But Robinson is standing by his words. When asked by WRAL in an interview last week if he would use a different word besides "filth," he said, "Absolutely not."

In defending his comments, he argued he was specifically discussing the teaching of LGBTQ issues in public schools.

"That is in reference to introducing it to children in the classroom," Robinson told WRAL, adding that "in our public schools, it has no place."
Sadly, the media will not be able to run video of his speech, because they don't want to show that he's black. But do expect a lot of talking heads talking about the unseen Mark Robinson.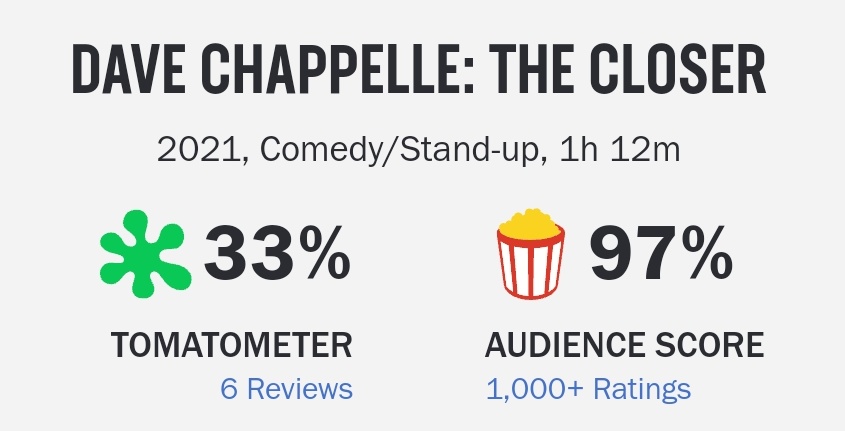 Superman is Gay: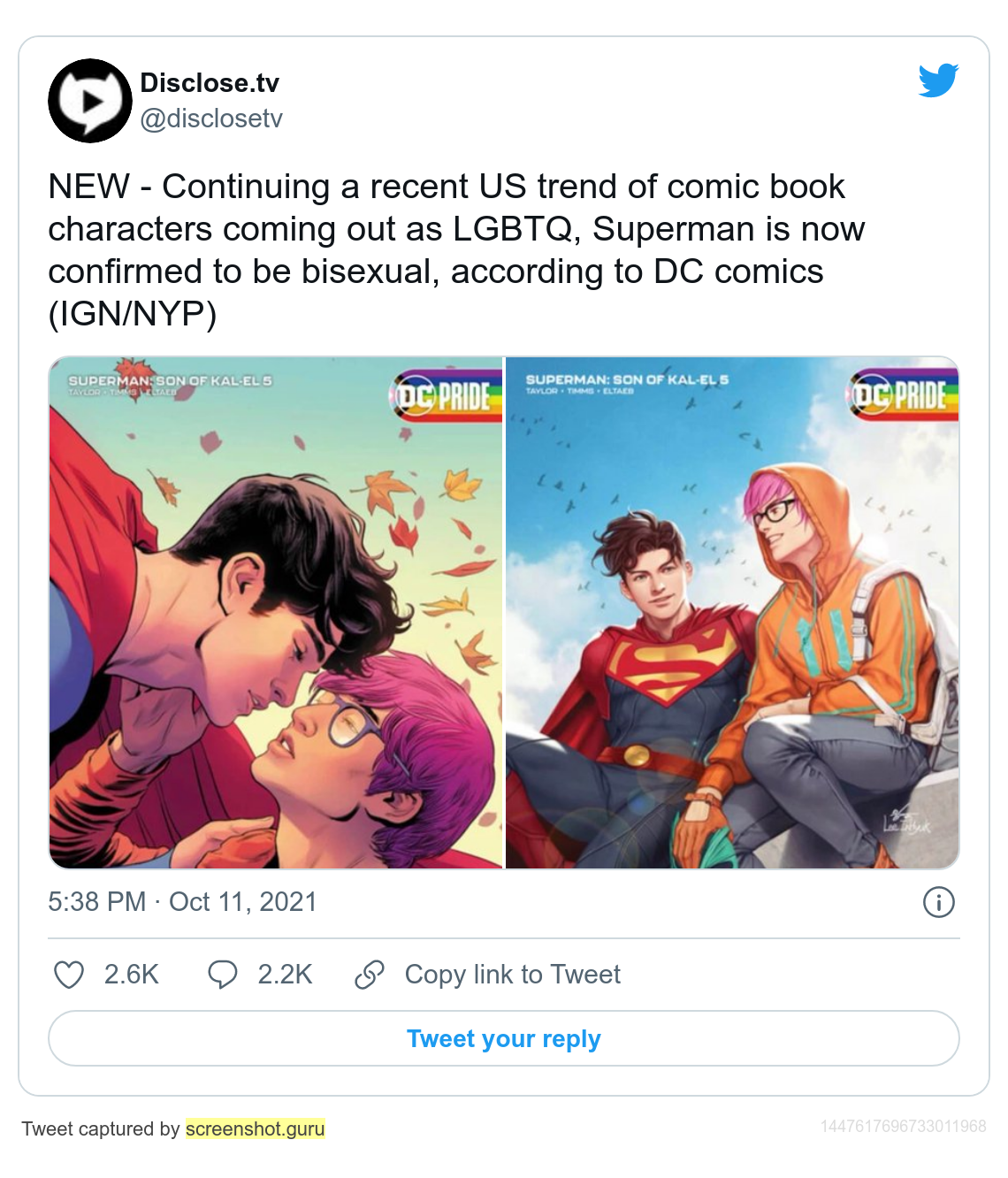 Fox News has confirmed it is keeping on Democrat partisan Arnon Miskin as their top election projection analyst, even after calling Arizona early (and wrong).
Bret Baier, the Clown Prince of Fox News:

posted by Ace at
05:31 PM
|
Access Comments