ę Southwest Airlines Cancels Thousands of Flights; Rumored to be Due to Pilots Refusing the Vaccine Mandate; Stock Price Falls
|
Main
|
James Bond Movie "No Time to Die" Flops in US Ľ
October 11, 2021
Politico: "The president's decline is alarming"
Glad the propaganda press finally admitted Biden's cognitive decline.
Oh wait, they mean his polling decline.
Still. Probably related.
In a focus group last week, Pennsylvania Democrats one after another articulated the issue vexing top White House aides, party operatives in Virginia and voters in Georgia: Why isn't President Joe Biden's diminished job rating rebounding?

All nine participants from Tuesdayís session gave Biden C- grades or lower. And their answers circled back to a similar point: The pandemic and the many ways it continues to hinder normal life is souring their views of Biden.

One woman said she wanted to buy a car but supply chain issues were delaying new shipments to the dealership. A man complained about understaffed restaurants.

"There is a malaise," said Sarah Longwell, a moderate Republican strategist who became a vocal supporter of Biden in 2020, and led the focus group of Democratic voters. "People donít feel like their lives have been improved. They did sort of feel that promises arenít being kept."
This is the fat huge liberal lesbian that is part of every Bill Kristol grift. Bill Kristol can't wipe his ass without also wiping Sarah Longwell's cheek.
She has Liar's Remorse. Sad!
[B]iden's standing with Americans has plummeted, with his average approval rating plunging by nearly 15 points since late June. He's seen a drop among Democrats and even more with Republicans, but the decline has been particularly steep among independent voters.

...

Biden's job has been complicated by some Republicans, including former President Donald Trump, who have spread anti-vaccine conspiracies and rejected vaccine and mask-wearing requirements in predominantly red counties.
Donald Trump has been spreading anti-vaccine conspiracies?
Really?
He brags about his role in bringing it to market every chance he gets.
Say didn't F. Joe Biden and Kumala push anti-vax sentiment before the election?
And isn't it true that the Democrats' most lockstep constituency -- and Biden's major backers in both the primary and general election -- are the most unvaccinated group in the country?
Shouldn't F. Joe Biden and Kumala take some responsibility for encouraging conspiracy theories about vaccines among blacks?
Shouldn't they own their role in this and apologize?
Nah, let's go with the media's favorite lie: Everything that Democrats are doing is really Trump's work. All the attacks on Asians by blacks are really being perpetrated by MAGA supporters.
...

For the president and his allies, there's only one clear way out: Reports from leading party operatives, some shared with the White House and Democratic committees, and polling provided to POLITICO, all point to Biden needing to get a handle on the virus to claw his way out of the muddle.
Ed Morrissey actually -- surprisingly -- had a good point about this.
F. Joe Biden has lost a lot of support with independents. He's lost some support with Democrats -- but a large amount of support from independents.
Yet the Democrat focus groups only ask Democrats what F. Joe Biden can do better.
And, unsurprisingly, the Mask Karen Leftwing Neurotics of the Democrat Party tell him You have to be more Karen-ish with masks and vaccines.
Have they bothered asking independents what they think? Or do they just not care?
Answer: No, and no. They don't care. The F. Joe Biden Fake Presidency is not only concerned solely with Democrats, but only concerned with the most militant and mentally-ill of Democrats.
In one widely circulated memo, Democratic strategist Simon Rosenberg argued that Biden's steep drop-off can only be explained by the public's perception of his uneven handling of the pandemic and a belief he is not prioritizing it. Rosenberg, who has been in touch with White House and party committee officials, contends that the tens of millions of dollars being spent to sell Bidenís Build Back Better agenda is "reminding" voters that the president isn't focused on the virus. Even passing both bills wonít be enough to significantly improve Bidenís standing without Democrats first establishing they are the party responsible for defeating Covid, he said.

"The president's decline is alarming. It's serious," Rosenberg said. "But it also can be reversed. And it isn't going to be reversed by passing these two bills alone. He has to get Covid under control."
They also demand more trillions of welfare.
In short, the socialist totalitarians' only hope is more socialist totalitarianism.
Oddly enough!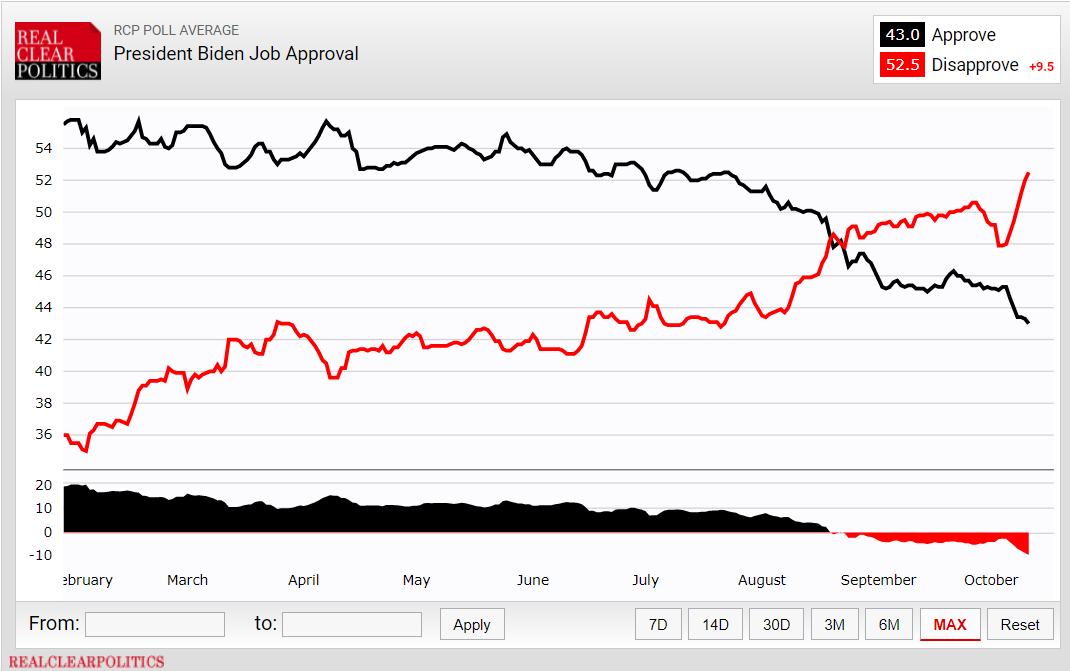 Could the polls be wrong?
Yes, they could be wrong.
They could be overstating Democrat support, as usual.
Yet while Democrats are bracing themselves for a wipeout at the ballot box next year, they may not know the true extent of their loss of support among voters. Polling before last yearís election, in which Biden only prevailed by fewer than 43,000 votes in three swing states, was the least accurate in 40 years.

Postmortem assessments are complicated and, largely, inconclusive. But several point to the likelihood that both Republican and Democratic polls -- almost all of which favored Biden over President Trump -- were off by an average of four percentage points; that most surveys likely oversampled liberal Democrats; that a surge of new voters could have contributed to the polling errors; and that Trump supporters were less likely to respond to pollsters because Trump repeatedly characterized them as "fake" or "suppression polls." While 2022 will not be a presidential year, a study of 2020 polls by the American Association of Public Opinion Research found that "[t]he overstatement of the Democratic-Republican margin in polls was larger on average in senatorial and gubernatorial races compared to the Presidential contest. Last year Democrats poured record sums into Senate races in red states like Montana, South Carolina, Kentucky, Kansas and Iowa because the polling looked so promising -- only to lose them all."

Jen Psaki agrees with the Mask Karen Covid Hysterics -- Biden's terrible polling is only due to... the unvaccinated.
AKA: The Democrat Base.
Oh but wait, that's right, we're pretending the problem is just DeSantis and some MAGA people in South Dakota.
It's about time we formally declared war on the unvaccinated, no?


posted by Ace at
03:31 PM
|
Access Comments