« Happy Indigenous Peoples Day!
|
Main
|
Politico: "The president's decline is alarming" »
October 11, 2021
Southwest Airlines Cancels Thousands of Flights; Rumored to be Due to Pilots Refusing the Vaccine Mandate; Stock Price Falls
Have they caught the totalitarianism flu?
Southwest Airlines stock slipped in early trading, after the carrier canceled more than 1,800 flights over the weekend and the problems spilled over into Monday.

The Dallas-based airline (ticker: LUV) canceled more than 1,100 flights on Sunday alone, or 30% of its schedule, according to data from flight tracker FlightAware. The problems continued into Monday, with a further 360 flights canceled and 600 delayed as of 3:50 p.m. ET. The airline's stock was 1.2% lower in late morning trading, recovering from a steeper initial drop.

The company blamed bad weather and air-traffic control conditions in Florida for the cancellations. Severe weather led to the Federal Aviation Administration (FAA) imposing an air-traffic management program on Friday, leading to cancellations and stranded passengers and crew members.
That's the official claim. The rumor is that the pilots are staging an unofficial strike -- they're not allowed to strike -- and calling in "sick."
Alex Berenson claims:
URGENT: A Southwest Airlines pilot explains why you will not hear anything about vaccine mandates from his union -- and why Southwest has more flexibility than it admits to stand up to the White House

The pilot emailed following the first Southwest post today (and provided his SWA ID to prove his identity). He asked that I paraphrase the email.

Essentially, the union cannot organize or even acknowledge the sickout, because doing so would make it an illegal job action. Years ago, Southwest and its pilots had a rough negotiation, and the union would not even let the pilots internally discuss the possibility of working-to-rule (which would have slowed Southwest to a crawl).

But at the moment the pilots don't even have to talk to each other about what they're doing. The anger internally - not just among pilots but other Southwest workers - is enormous. The tough prior negotiations notwithstanding, Southwest has a history of decent labor relations, and workers believe the company should stand up for them against the mandate. Telling pilots in particular to comply or face termination has backfired.
Some Republicans seem to believe the rumor, and are supporting the sick-out unofficial strike.
Reports of Southwest cancelling nearly 2,000 flights on Saturday and Sunday--disruptions the airline blamed on bad weather and air traffic control issues--immediately sparked speculation from Republicans about the role of the company's new vaccine mandate, which had already sparked some internal opposition.

Sen. Ted Cruz (R-Tex.) took to Twitter on Sunday night to declare the cancellations the result of "Joe Biden's illegal vaccine mandate at work," referencing the federal government's requirement that major airlines get workers vaccinated or risk losing lucrative contracts.

Fellow Texas Republican Rep. Chip Roy went a step further, proclaiming himself "100% behind" employees at the Dallas-based company, which he called on his colleagues in the House and Senate to boycott

Sen. Ron Johnson (R-Wisc.) and Rep. Andy Biggs (R-Ariz.) similarly took up the cause of Southwest employees, with Biggs saying he stands with what he described as a fight for "freedom."

"Shut them down," wrote Roy. "And when they come begging for bailout -- not one [Republican in the House] or [Senate] should support them."
Ohio candidate for Senate JD Vance also seemed to signal support of the unofficial strike:
@JDVance1

Great to see workers all across America defying vax mandates.
Finally. It's time to show Aunty Entity who runs Bartertown. It is time to disobey.
The pilots are in court seeking to enjoin Southwest's vaccine coercion.
And a lot of them are maybe just sitting at home. Being "sick."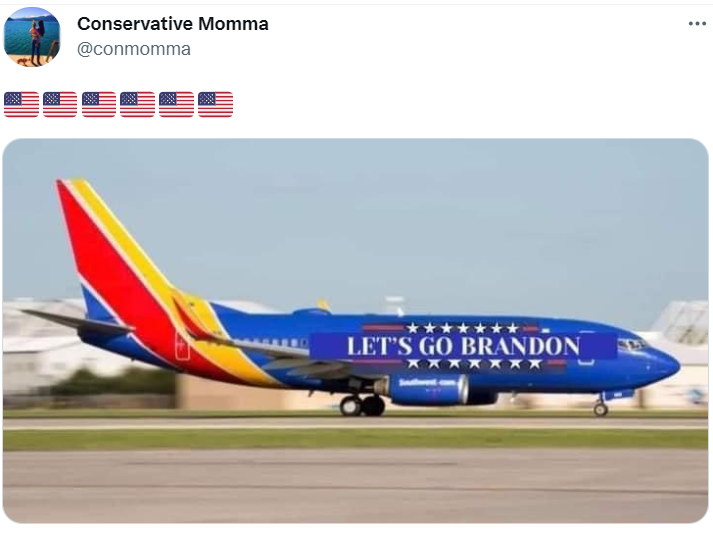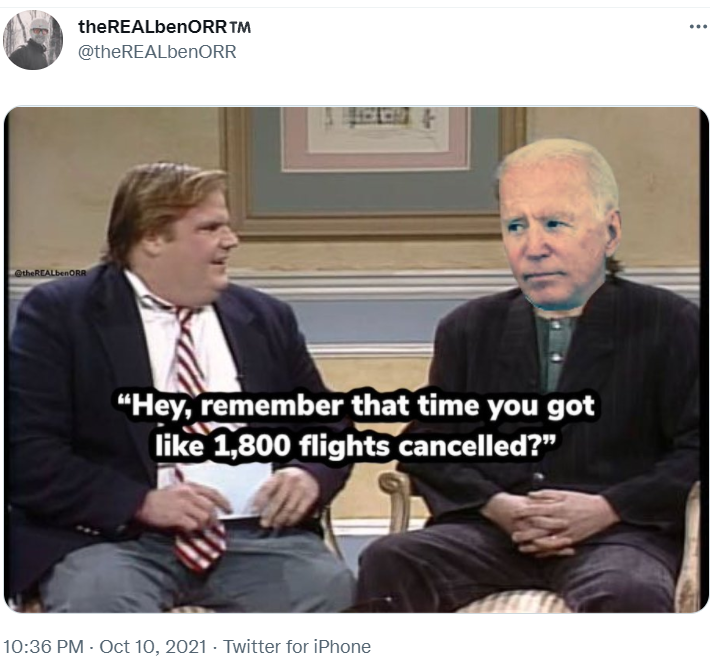 posted by Ace at
01:49 PM
|
Access Comments