« Politico: "The president's decline is alarming"
|
Main
|
Quick Hits »
October 11, 2021
James Bond Movie "No Time to Die" Flops in US
Goldfinger couldn't kill Bond, but relentless Woke Marketing did the job.
Some reviewers have said the movie isn't as woke as the marketing campaign, interview blitz, and early trailers (featuring Bond being disrespected by a WOC 007) promised.
Okay.
So why did they promise that in the first place?
Long-awaited James Bond movie No Time To Die makes a disappointing $56m in its opening weekend in the US - compared to $35m in the UK (which has five times fewer people and no vaccine or mask mandates)

No Time to Die scored $56 million in the box office opening weekend, despite being delayed over a year and Daniel Craig's last role as the title character

But it brought in $35 million in the UK – which has about five times fewer people and no requirements for guests to be vaccinated or wear masks

It also flopped in comparison to the four previous films starring Craig as Bond
Venom 2 was the biggest box office success of the pandemic and scored $80 million in its first weekend earlier this month

...

No Time To Die had been predicted to make up to $60m in the US in its opening weekend, with its disappointing total falling far short of the $80m post-COVID record set by Venom 2 last week.

By comparison, No Time To Die made $35m during its opening weekend in the United Kingdom after being released there on September 30.

...

The United States' most populous city, New York, requires all moviegoers to show proof of vaccination, although they don't have to wear masks inside.

New Orleans and San Francisco have also ordered moviegoers to show proof of vaccination.

Meanwhile, Los Angeles - home to the US entertainment industry, and an avid population of cinemagoers - has ordered people to mask-up indoors regardless of vaccination status, making the classic moviegoing experience far less relaxed than usual. LA will also enforce a vaccination mandate from November 4.
lol.
Related: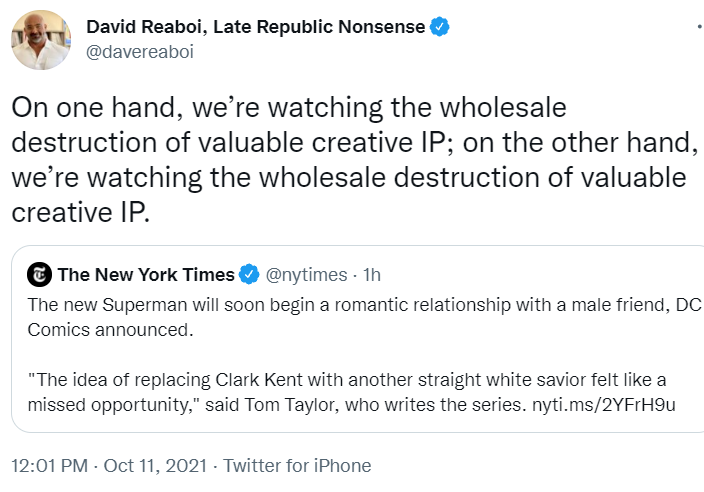 The entertainment industry has cartelized on this point, reasoning: "If we make every male entertainment property woke, disgusting conservative-leaning men (spit) will have to give us money for it, because they'll have no choice!"
Won't we though?
Meanwhile, Hollywood cannot stop itself from building one woke bomb after another. Watch the trailer below and count how many ways it annoys you.

Let's check in with Grace Randolph, who summarizes my feelings about Jessica Chastain:

posted by Ace at
04:46 PM
|
Access Comments