« What does "post-progressive" mean? Imagine the possibilities
|
Main
|
Ace of Spades Pet Thread »
October 16, 2021
Saturday Gardening and Puttering Thread, October 16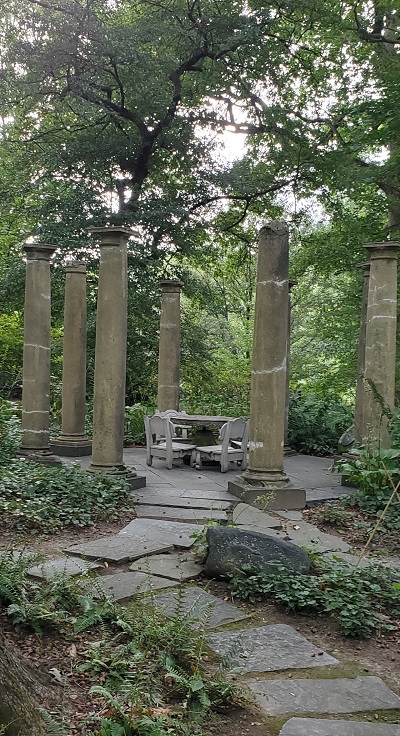 Groovy Girl recently visited the gardens at Winterthur:
Just wow imho. So romantic. As I recall this is part of the Enchanted Woods section of the estate's 77 acres.
More: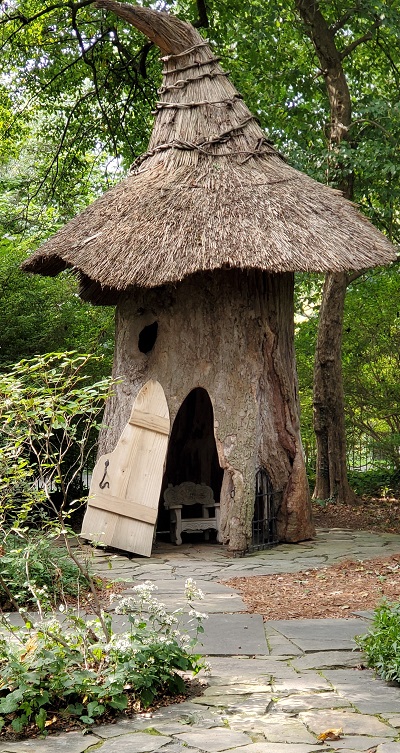 This small "cottage" is magical. In the Enchanted Woods. If others want to visit the website has a garden map that can be downloaded.
A nice thing for a place like Winterthur Gardens. Would it work in your yard?
Here is one of several pics from our late September visit to Winterthur. These lovely crocuses (crocii?) are fall bloomers. Lovely to define this meadow view and I bet they self-sow.
They are poisonous. But rodents don't eat them, like most of the true crocuses that bloom in spring.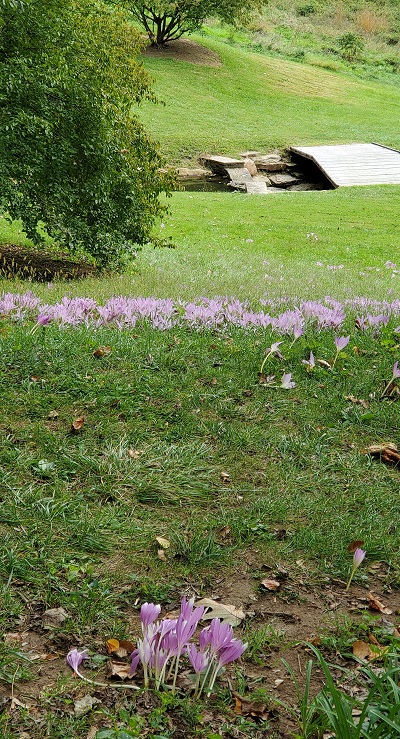 This group of beauty berry bushes (calicarpa) are outstanding. We have several of these on the river bank that we had to stabilize after tornado damage in late 2018. These bushes come in white or purple berry versions and I have seen them grow wild too here in VA. We love them as they provide fall color and are fairly low maintenance.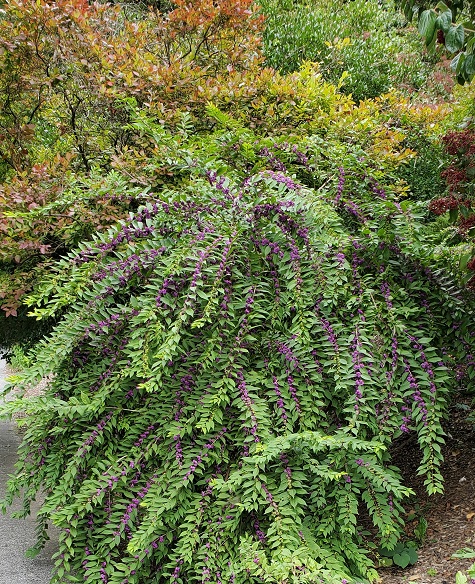 More photos later.
Spiders for October
A common yellow garden spider living in my mexican hat rudebeckia most of the summer. I tried to not disturb it while watering and deadheading. And a smiley jumping spider.

S.Lynn
Wilder, ID.

P.S. I do keep in touch with Pat of Treasure Valley. She has lots going on. Fun to hear from her. Thanks.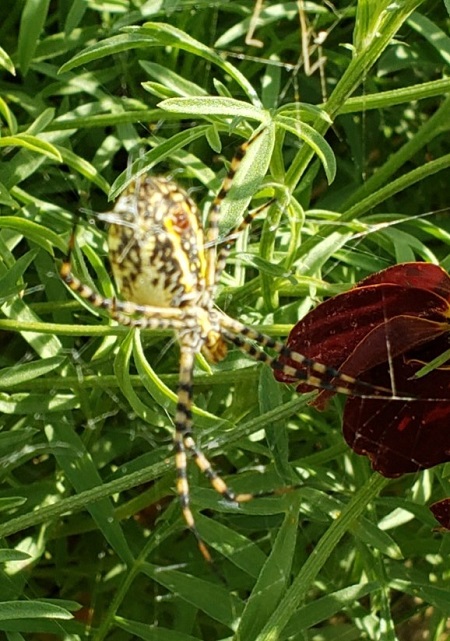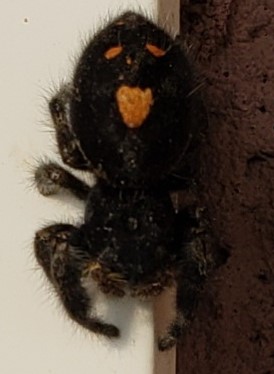 Awwww . . . .
From Dr. Varno, a Spider of Concern:
The Joro spider is from Asia-- new to the US and Northeast Georgia in particular.

Probably came off a truck somewhere off I-85.

In Japanese mythology, the spider is described as a "whore spider" and "entangling or binding bride." This is because it is known to transform into a seductive woman to allure men first and subsequently devour them.

They build giant 3-D golden webs that are about 3-4 feet wide, with the supporting strands reaching out another 7-12 feet.

(I didn't even see the tiny male at the top when I took the photo.)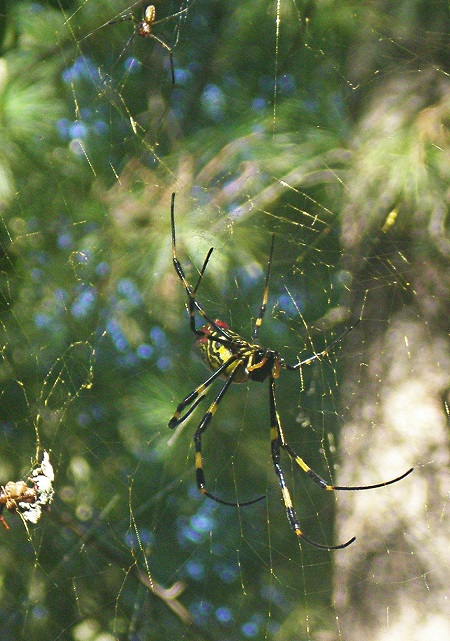 A few weeks ago, we had a series of spider love story comments, in which male spiders did not seem to enjoy a long love life.
Is This Puttering or Preparedness?
Thought about Building a Safe Room?
It could save your life.
Edible Gardening
This has been a great year for potatoes in our Ontario garden. Enclosed is a photo of a Purple Viking potato I pulled up this morning. It measures 6" x 4.5", and weighs 28 ozs!

Dr. Mabusette - Ottawa, Ontario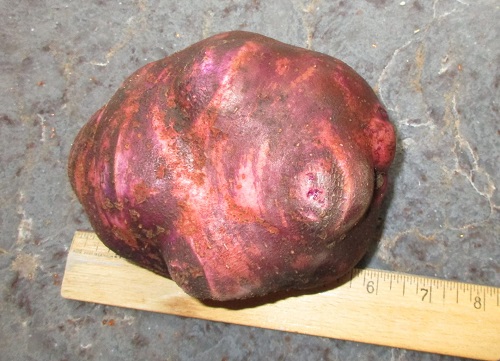 Impressive! Are you harvesting or eating anything from your garden?
Gardens of The Horde
For those who didn't check back on the comment thread later in the weekend, the famous Pat* had an interesting Quirk of the Week along with her detailed gardening report:
Husband mowed Sun. 3rd - found a girl's shoe out back. Belonged to neighbors. Maybe a magpie's fault?
Here is a story about magpies in Idaho that seems a little extreme to us today:
I've been having a great time compiling the history of the Avimor area through personal interviews and reading lots of books. Recently I was able to spend the afternoon at the Boise Library researching local periodicals. I spent four hours on one 1927 microfilm of "The Idaho Daily Statesman" gleaning articles related to the murder mystery of bachelor Frank Starr. . . You can imagine that stories related to birds also stole my attention.

One particular brief entry got me to wondering. . . It was about prizes awarded for a Magpie-killing event in Glenn's Ferry, Idaho. One line mentioned the "predatory" nature of magpies to justify the slaughter. The winner had killed more than 3400 and had the heads and eggs to prove it. The runners-up had killed well more than 2000 each. I was surprised by how many birds were taken.
I have always known Magpies to be scavenger birds feeding on carrion. Curious about the "predatory" comment in the article, I looked up info on Magpies and I read that they will occasionally eat eggs and nestlings from other bird's nests, but that is only a tiny portion of their diet. I also just read the magpies will eat the ticks off of livestock and will even cache dead and alive ticks for food storage.
Bet you didn't know that. I didn't. Several questions remain. One about European starlings.
This blog has some great photos and facts about the Black-billed Magpie. A Mischief of Magpies.
Here's one now.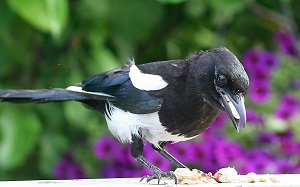 Do you have a story about Magpie Mischief?
From badgerwx:
Before we get to the fall-blooming plants, here's another end of summer rose. Sunny Knockout isn't the most impressive-looking flower (it's a single like the original Knockout) but it's the only Knockout rose with any fragrance. I planted mine next to the screen porch.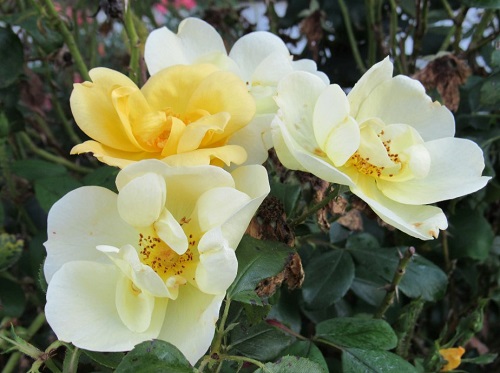 Says "happy" to me.
If you want a fall bloomer that isn't an aster or mum, Montauk (Nippon) Daisy is a kind of shrubby-looking full-sun perennial. The yellow coneflower peeking out behind it is a newly-planted Echinacea 'Cheyenne Spirit' - it's supposed to get different shades of yellow & orange blooms on a single plant. This is why I have to stay away from garden centers. I went to buy some garlic to plant & walked out with the garlic, a swamp milkweed & this coneflower too.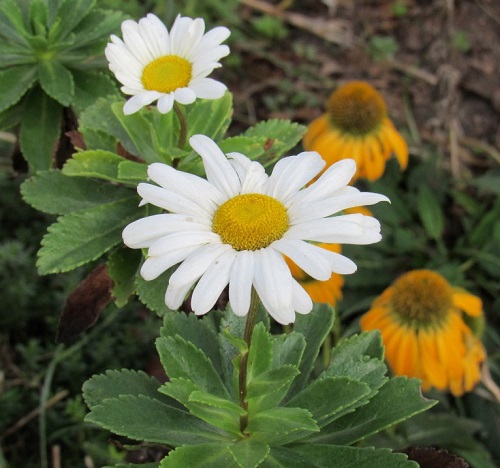 Garden centers are dangerous.
I was able to get a close-up of one of my pink anemones that sprouted close to my fence. And there are also dwarf windflowers like this 'Pretty Lady Maria', if you don't have a big space for a big aggressive plant.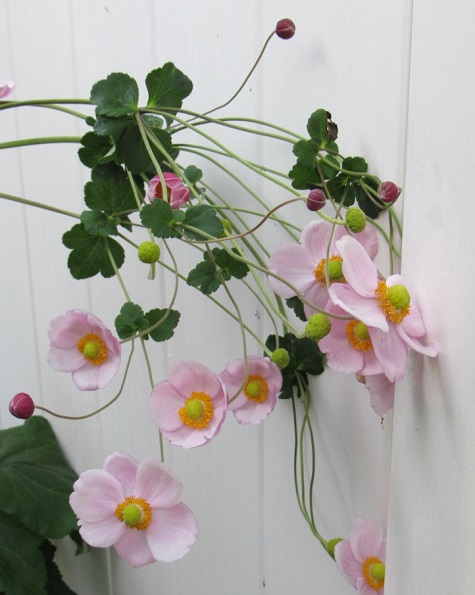 This beautiful flower just came up by itself? I like the dwarf ones, too.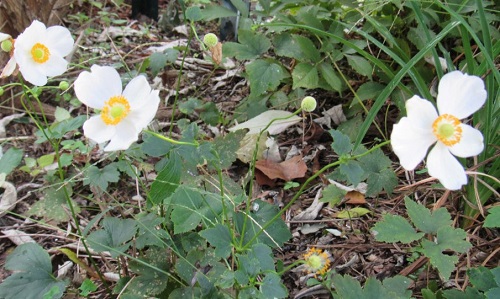 Finally here is a fall aster - a blue wood aster. It can handle part-sun as well as full sun. It's a tall plant but I think mine is leggy & droopy because it only gets a few hours of morning sun.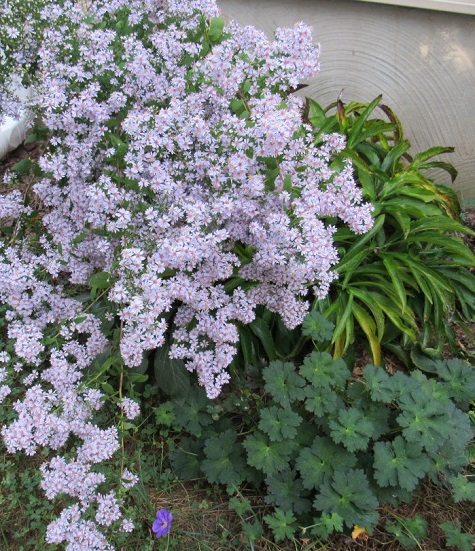 If you would like to send information and/or photos for the Saturday Gardening Thread, the address is:
ktinthegarden
at that g mail dot com place
Include the nic by which you wish to be known when you comment at AoSHQ,
unless you want to remain a lurker.

posted by K.T. at
01:20 PM
|
Access Comments