« Saturday Morning Coffee Break
|
Main
|
Saturday Gardening and Puttering Thread, October 16 »
October 16, 2021
What does "post-progressive" mean? Imagine the possibilities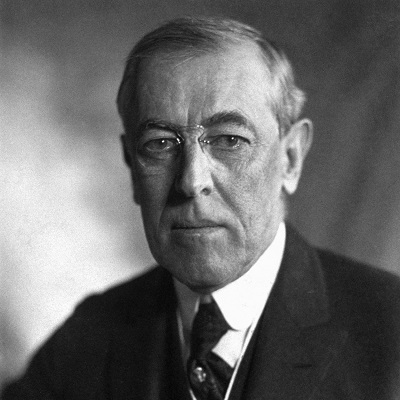 Woodrow Wilson, a leader of the Progressive Movement, was the 28th President of the United States (1913-1921). After a policy of neutrality at the outbreak of World War I, Wilson led America into war in order to "make the world safe for democracy."
How Mad Men Explains Woodrow Wilson -- And How Not To Pick Leaders
After years of debate Princeton University has voted to remove Woodrow Wilson's name from its school of Public Policy because of his extreme racism. Wilson's views and actions were abhorrent even by the standards of his era. He discouraged Black students from attending Princeton and segregated the (previously integrated) federal workforce. You can imagine an African American student at Princeton, knowing his or her school was honoring this figure (or crossing the Potomac's Woodrow Wilson Bridge), telling themselves that he is being honored for his other achievements - despite his racism, not because of it. After all, Wilson was President of Princeton, Governor of New Jersey, and the President of the United States who led America to victory in the First World War. If anyone's achievements are large enough that they should be honored despite their racism, Wilson seems like an excellent candidate.
"People tell us who they are, but we ignore it because we want them to be who we want them to be." - Don Draper, Mad Men Season 5
Who did people want Joe Biden to be?
VDH: The Left got what it wanted -- So now what?
Gallup: Americans Revert to Favoring Reduced Government Role
Seems kinda late for that, IMHO.
Post-progressivism?
I ran across an appeal for people to join the cause of post-progressivism this week.
"Join the alliance".
Why now, I wonder?
The newly emerging perspective of cultural intelligence is post-progressive because, while it affirms progressive values, it also recognizes the legitimacy and ongoing necessity of modernist values and traditional values as well.

Cultural intelligence can see how each worldview's values are an integral part of America's overall cultural ecosystem. And like a biological ecosystem, these different parts of our cultural ecosystem are interdependent.
They have graphics. With the typical stereotypes. And a blog, educational materials, etc.
Traditionalism's negatives . . . include: racism, sexism, and homophobia. Traditionalists also have authoritarian tendencies. Yet like modernity, traditional culture needn't be eliminated, we can carry forward the best, while pruning away the worst.
Good thing Woodrow Wilson wasn't a "Traditionalist"! He could have been even more racist and authoritarian!
Post-progressive.org, meet Thomas Sowell:
Radical Traditionalism or Radical Leftism?
This is interesting. From the New York Sun:
To those stunned by Attorney General Merrick Garland's plan to use the USA Patriot Act* against parents protesting school curriculums, we commend the dissent by Justice Clarence Thomas in a case called Brown v. Entertainment Merchants. It will reassure you that you are not alone. There is at least one justice who comprehends the constitutional standing of parents in respect of their own children.

Brown v. Entertainment Merchants was decided by the Supreme Court in 2011. The court cashiered an attempt by California to prohibit the direct sale of violent video games to minors. The court reckoned the law was afoul of the First Amendment's freedom of speech clause. Justice Thomas' opinion is one of those dissents that, in the long haul, could well prove to be more important than the majority opinion.

That's because Justice Thomas's dissent is one of the most radical statements in the Himalayas of our Supreme Court jurisprudence on the constitutional prerogatives of parents. . .
Brown v. Entertainment Merchants arose after California passed a law banning the sale of violent video games to persons under the age of 18. California was promptly sued by, in Entertainment Mercahnts, a trade association. They were opposed by the governor, Edmund Brown, and the state attorney general, one -- remember this -- Kamala Harris. At the Supreme Court, the state of California lost.
Justice Breyer concluded that the law did comport with the First Amendment. Justice Thomas, though, came in from deep right field. "The founding generation," he wrote, "would not have considered it an abridgment of 'the freedom of speech' to support parental authority by restricting speech that bypasses minors' parents." He referenced, among others, the Puritan settlers and their view of the authority of the parents.

. . . After going through history over the centuries, Justice Thomas summed up with words that, we'd like to think, protesting parents might find encouraging.

"'The freedom of speech,' as originally understood, does not include a right to speak to minors without going through the minors' parents or guardians," Justice Thomas concluded. It would no doubt be an error to make too much of those words. Justice Thomas was, after all, alone in his dissent. However, it would not be an error, in our view, for America's beleaguered parents to take heart from what Justice Thomas wrote.
There is a "Dogs As Supreme Court Justices" video at the link. Really.
At the opposite side of the spectrum, Teen Vogue is now providing educational materials to schools.
America's education system has fallen to No. 22 in the world, but don't worry - They're from Teen Vogue, and they're here to help.

Teen Vogue has graduated from articles promoting communism, Marxism, and countless Democratic Party talking points. And now they're creating classroom content.

The magazine published an article headlined, "In Session: The Teen Vogue Lesson Plan," which seeks to mend what it calls a "patchwork education system" that exists thanks to a lack of a national curriculum, which would make it easier to steamroll states objecting to specific material and teaching methods.
Without intervention from Teen Vogue, teachers would continue depriving their students of don't miss topics such as "Tear Gas and Pepper Spray: What to Do If You're Exposed" and "What Is Environmental Racism? 10 Facts About How It Works."

There are several subjects that are likely already included in curricula - such as how a labor union works. But it's not enough unless they teach it the Teen Vogue way. . .
Meanwhile, during the pandemic, they have been promoting sexting.
And before that, there was this:
The once-trusted fashion and beauty teen publication of Conde Nast, Teen Vogue is now a parent's worst nightmare. Its editors have repeatedly ignored public pleas to stop posting and remove sexualized content targeting its "teen" demographic of 13-19 year olds, including the 46,000 concerned citizens who signed Enough Is Enough's (EIE) 2017 "Say No to Teen Vogue" petition launched in response to its article, "Anal Sex: What You Need to Know/How to Do it the Right Way."

The graphic, jaw-dropping "guide" told its young readers "This is anal 101, for teens, beginners, and all inquisitive folk," failed to mention the use of protection and neglected any warning of the health risks associated with anal sex, including the risk of transmitting HIV, according to the CDC.

The publication stressed to female "non-prostate owners": "Many vagina owners love anal play ... You don't need to have a prostate to enjoy anal sex ..." The guide also had a special section on "The appeal of anal sex when you have a prostate."
So now girls and women can be referred to in government documents as "non-prostate owners". YAY!
Though "owners" sounds sort of capitalistic. Get it together, Teen Vogue.
Music
We got a request last week for Moar Real Tango.
This is the Thread before the Gardening Thread.
Serving your mid-day open thread needs
Hope you have something nice planned for the weekend.

posted by K.T. at
11:15 AM
|
Access Comments