« Saturday Gardening and Puttering Thread, October 16
|
Main
|
Saturday Afternoon Chess thread 10-16-2021 »
October 16, 2021
Ace of Spades Pet Thread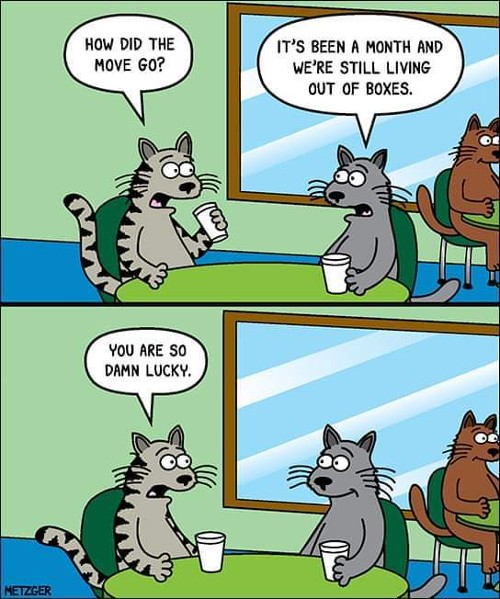 (H/T Legally Sufficient)
***

Good afternoon and welcome to the almost world famous Ace of Spades Pet Thread, take a break from those chores. Kick back and enjoy the world of animals.

***
A Little of This. A Little of That.

Submitted for your entertainment:
Darn yarn!(H/T redc1c4)
It's the little things. (H/T Hrothgar via Ace)
***
Meet The Pet Morons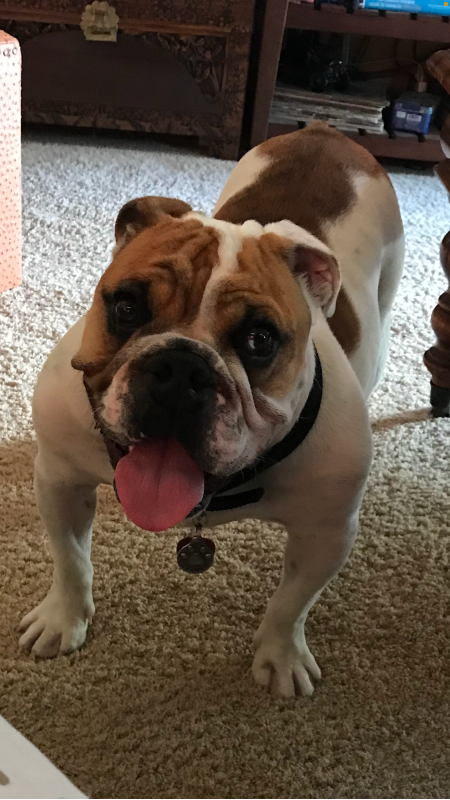 Hello Ace of Spades! This is Oliver and he loves to help with gardening and rearranging furniture. He especially enjoys looking at the pictures of his friends on the almost world famous pet thread. He is mostly a very good boy.

Thank you for all you do Ace and let's go Brandon!
Stefanie
Thanks for Oliver's stunning photo and a quick biography of the lad. He certainly appears to be eager to please.
***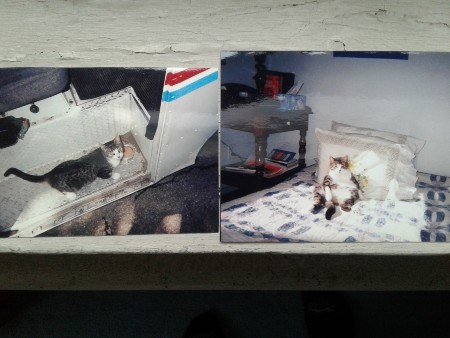 This is Skippy who was rescued on my mail route along with two kittens. She was diagnosed with feline aids and I managed to keep her going for 8 years. Her son Monkey unfortunately was sickly and passed after 3 months but her daughter Peekaboo lived 16 years. - Eric
My what a big heart you have to take on 3 of God's creatures who were behind the proverbial 8 ball. It sounds as if they had a wonderful life once you became part of theirs. Thanks for sharing today.
***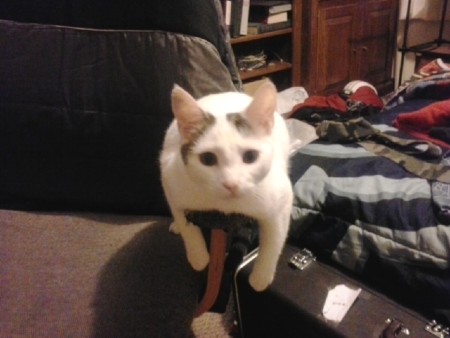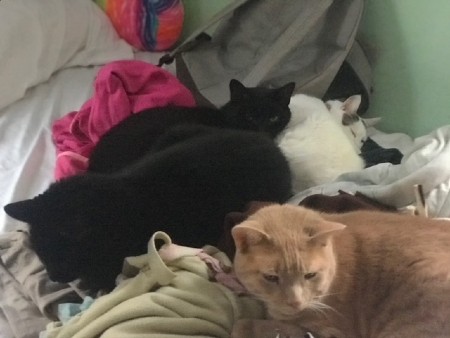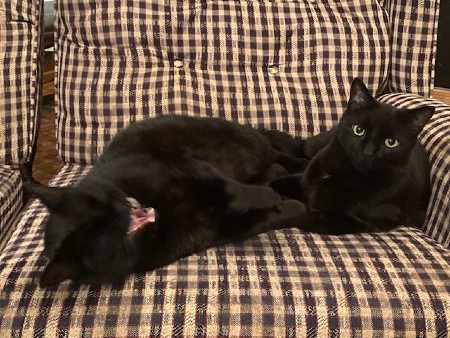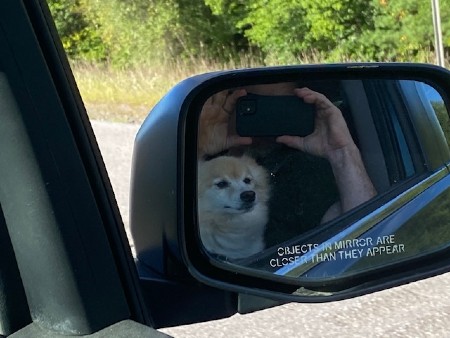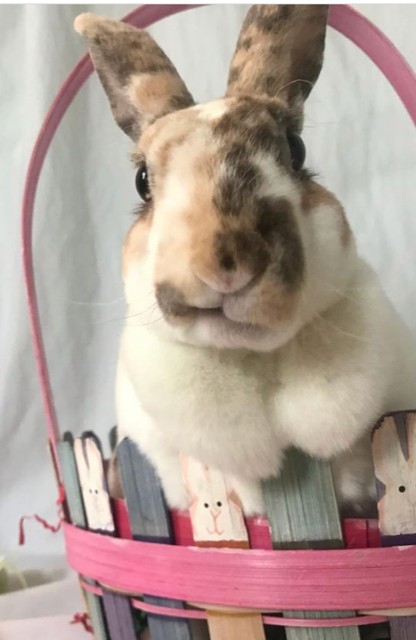 Mis Hum,

Here are my pet morons

First there's Peanut. He's about 5 years old and was a farm cat that we adopted from PA when he was 3 months old (hence his name "Peanut"). The poor thing was the runt of the litter and turned out to have a host of problems like upper respiratory infection, worms, and epilepsy. Looking at him today you'd never know it - he certainly is no runt (we should have called him Coconut and not Peanut), he overcame his illnesses, and grew out of the epilepsy. His favorite things is eating, sleeping, and beating the crap out of another one of our cats, Spooky (more later).


Next is Mackeral. She was adopted locally and is the smallest of all our cats. She is kind of shy but will warm up to you. She has the softest fur - like a rabbit. Her and Peanut became good friends, but since he's shooting blanks, doesn't make any moves on her. Her favorite things are posing in unique positions and chasing phantoms under the blanket.

Finally there are our two brothers from another mother black cats, Johnny Cat (the "Cat in Black") and Spooky. We got both From the same farm that we got Peanut.

Spooky, who we affectionately call asshole can really be one at times, which is why I really love the guy. The way Spooky came to us was that we had our car door open and my wife was sitting in the seat with an open box of leftover ribs that she was eating. Spooky promptly jumped on her lap and started snacking on those ribs as if they were his. He has been with us ever since. His favorite activities are getting into mischief, making unwanted advances towards Mackeral, and getting his ass kicked by Johnny then going over and getting his ass kicked by peanut. The funny way that he gets his ass kicked by peanut is that first he completely invades peanuts personal space and then he lifts up his paw as if he is trying to do some kind of Star Wars force choke on peanut to which peanut says your Jedi mind tricks do not work on me fool and then promptly hands spooky his ass.

Johnny is Spooky's little brother from another mother. He's one of the most chill cats that we have. He's named Johnny "The Cat In Black" Cat after Johnny Cash. We originally thought he was a girl so was originally named June Cat Cash, but he's most certainly a guy. As you can see, Johnny rarely skips a meal. He also looks like he's a vampire with those fangs if his. His favorite things are belly rubs, cuddling up with me, food, insistently nudging your hand so you will pet him, and getting kisses from me.

We also have a few other morons:

Cookie my daughter's floofy rabbit.

Mittens & Snickerdoodle, my son's gerbils (who we have to hide from our cats for obvious reasons). - sorry no picks as of yet.

And Fred, our dog- I'm not find if dogs and especially not if him so I'll leave it there - but he makes my wife and daughter happy, so there's that. - Joe
OK Joe, I hope I got all of your PetMoron photos in today. Quite the household you have there. The feed bill must be Yuuge. Thanks for sharing.
***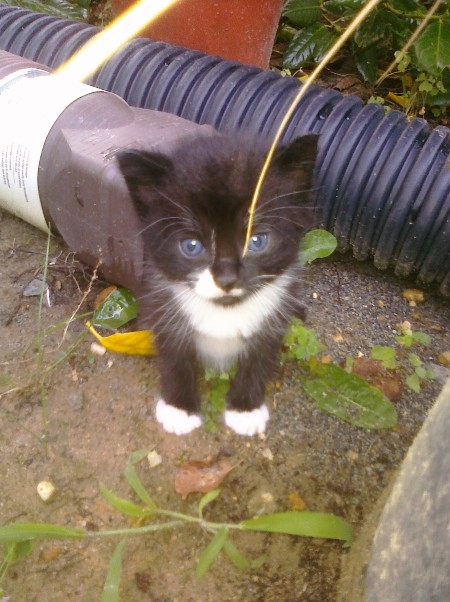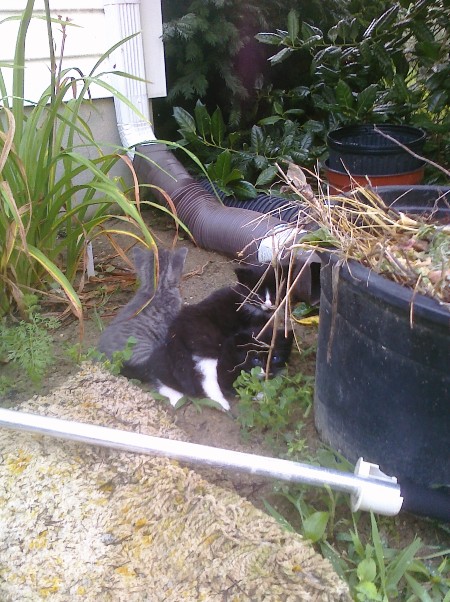 I had to help my Silas kitty over the rainbow bridge today. He was a 25lb beast of a cat, but it took its toll on his kidneys. We called him the mechanical cat because he would never meow, only purr, chatter and squeak. He didn't have an angry bone in his body and I can't remember him ever growling or hissing in anger, even when Cutie kitten wrapped her arms around his neck and nibbled his ears. I have included a picture of the moment I found him. He was attached to me from that moment on. Also pictured is brother Snarf, who still graces our home with hairballs. - T
It is amazing how such a tiny little fur ball can fill our lives and leave a large hole in our hearts when they pass. Silas had a wonderful life as does Snarf. Hopefully sharing today will help heal.
***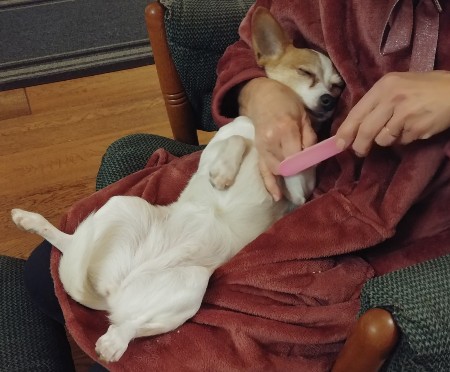 Our little Maggie has appeared with the Pet Morons in the past. She's an 8 pound PappiJack (Papillon/Jack Russell mix), feisty & cute. She's equally at home having her nails done at Chez PointyHairedBoss. - PointyHairedBoss
Well you certainly have Maggie trained properly in the paw treatment area. No way could you do that to K9 Misanthropes. She looks very relaxed there. Thanks for sharing with us.
***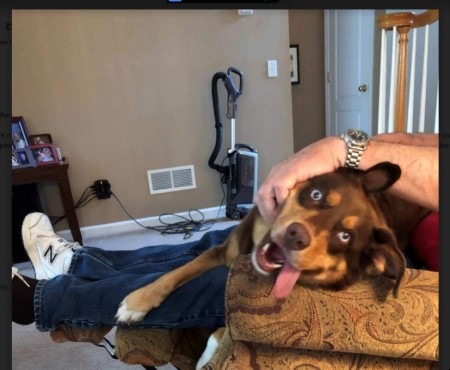 This is Dora.

Been meaning to send this pic of our 9 year old Husky mix after one of her runs.

She's at the age where she makes, what our kid used to call old people sounds when she lays down.

But sometimes she gets wound up and runs around the yard several times like she's wired for 480 volts.

The pic is her after three trips around yard and then in my lap.

She's just a big loveable goofball.

Thanks for the weekly Pet Thread.

We enjoy all the pics and stories.- T
Well I certainly agree that she is a big lovable goofball. Wonderful pose there. Her eyes are stunning. It sounds like she really fills your home. We appreciate getting to know her today.
***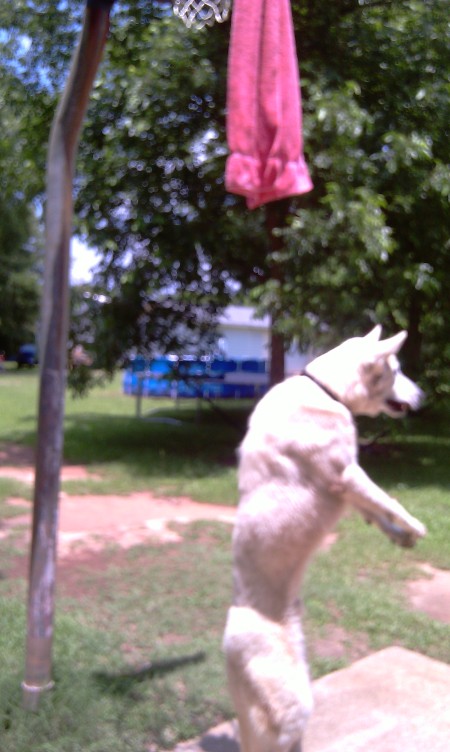 There wolf!

My old GSD Kasper doing his Werewolf impression. Creepy huh? - f'd
Well I don't know if it's creepy, how many SNAX did you use for that photo? It sure is an interesting one. Thanks for the submission.
***
Thank you one and all for today's content. We really appreciate looking at your pets and hearing a little bit about them. And thanks to the H/T folks.
Have something you wish to share? We can reached here at petmorons at gmail dot com.
Have a great week!


posted by Misanthropic Humanitarian at
03:00 PM
|
Access Comments