« The special relationship between Ibram X. Kendi and Jack of Twitter
|
Main
|
Ace of Spades Pet Thread »
September 25, 2021
Saturday Gardening and Puttering Thread, September 25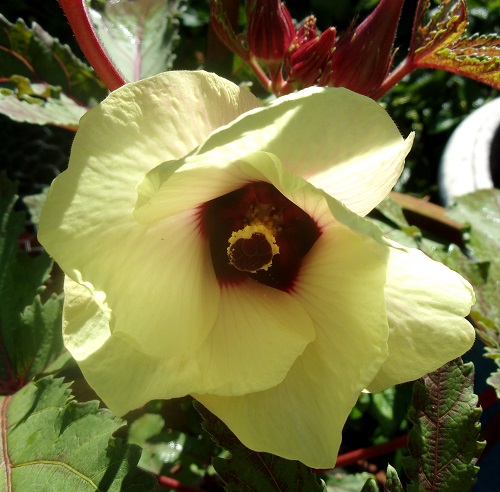 Hi KT,

Managed to capture an Okra flower for you. They are quite pretty I think. I am not sure if regular okra has the same color of flower, but these are a lovely shade of yellow. Found a recipe for grilled okra that I am going to try on the next ones that ripen. It says that if you grill them they aren't slimy. I will let you know.

Wee Kreek Farm Girl
Well, I happen to have a photo of the flower from a green okra plant growing in Japan, along with some other veggies: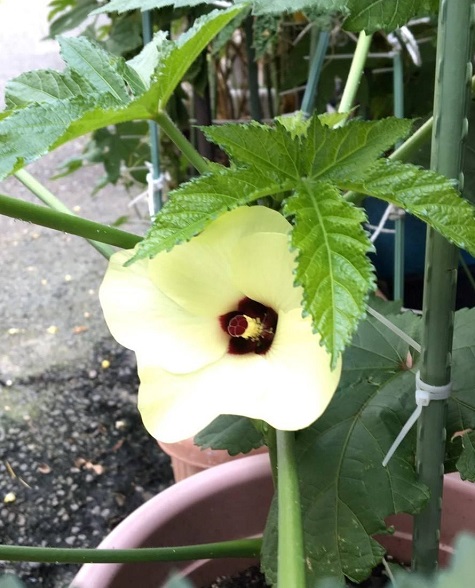 Tomatoes, pretty much like they grow here: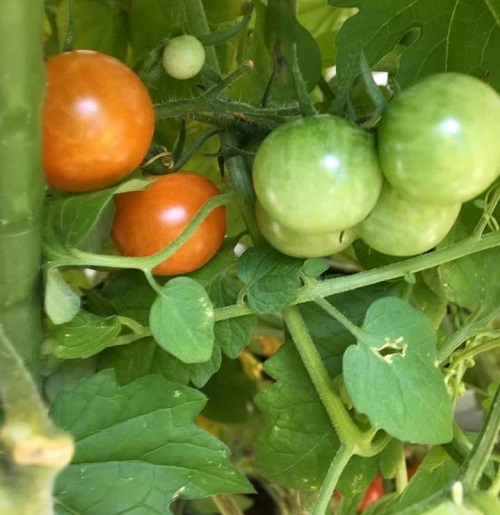 Edamame soybeans: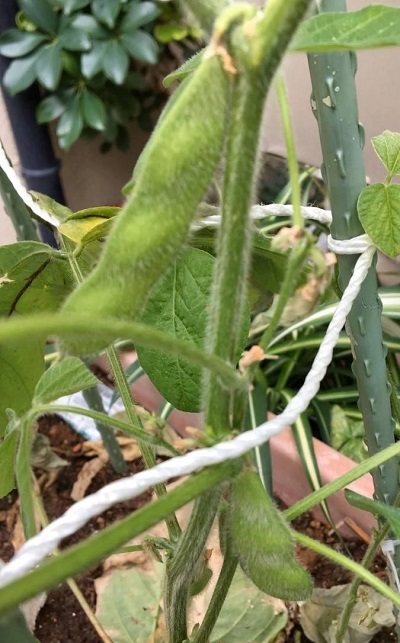 Plants in pots, featuring bitter gourd: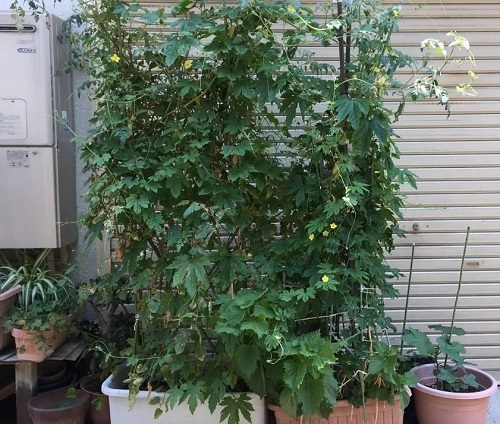 Looks like this one didn't get fully pollinated: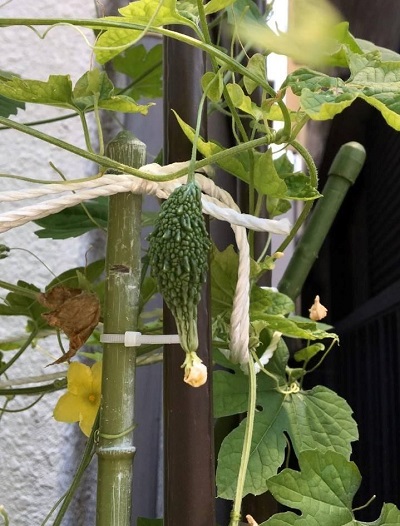 The bitter gourd (nigauri/goya) is used much like we use squash, except it has a bitter flavor. So you don't tend to pile it on the way you would in a squash casserole, and you tend to combine it with other things that complement or mediate the bitter flavor -- meats, fish, various leafy vegetables, . . .
Bitter gourds making faces in the kitchen: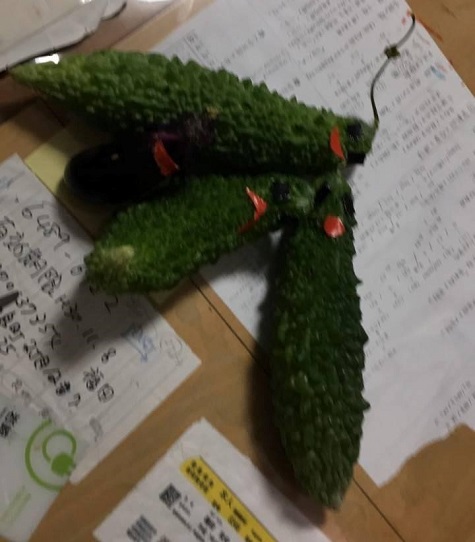 Best Days from the Farmers Almanac
Cut Hair to Slow Growth,

Quit Smoking,

Wash Wooden Floors,

Kill Plant Pests, like lanternflies

Mow to Slow Growth,

Buy a Car,

Host a Party,

Write
Maybe on Tuesday, you could brew beer, can fruits and vegetables or get married.
By-Tor has a recipe for us. You can also use home-grown beets:
Pickled beets. Easy and delicious. 2 cans of sliced or whole beets

1/2 cup of some any kind of vinegar

1/2 cup of sugar

Cloves and or allspice

Drain juice of beets into saucepan. Add vinegar and sugar and bring to boil. Adjust vinegar and sugar to your liking. Sprinkle in some whole cloves or allspice if you like.

Add a couple peeled hard boiled eggs for pickled eggs.

These will stay good in the fridge for a couple weeks but you'll probably eat them before that.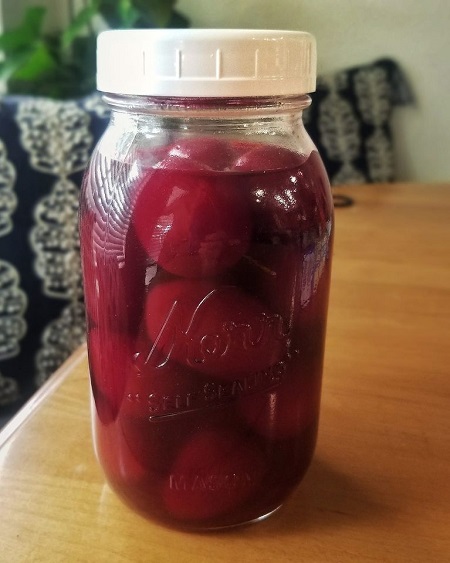 Small-ish Wildlife
When you know an entomologist:
"Murder Hornets" must be the most misunderstood creatures on earth! This one is so gentle and docile. You may even call her photogenic? No, she's not trying to sting me. She's completely relaxed! Just chilling on my finger.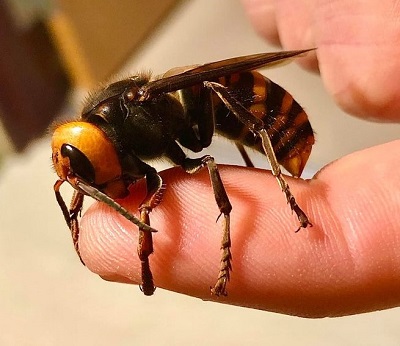 Media came up with the term murder hornets. Their scientifically accepted common name is Asian giant hornets. They are no more dangerous to people really than other hornets, just bigger. The reason this individual is so chill is because she just came from the freezer. She's dead.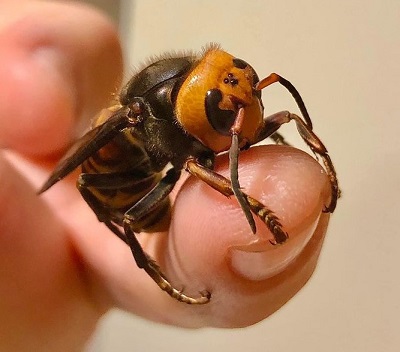 Don't they kill other bees just to be dominant?
No, they kill them for food. They will ravage a colony of bees, killing hundreds upon hundreds, and then cart some of them off to their own nest to feed the brood.
Japanese bees kill these hornets with heat.
Any idea what the sting would be like, if she decided you were a threat?
One guy described it as having a hot tack driven into your flesh. Fortunately, dead wasps can't decide much of anything.
Moron Robbie is kind of tired of scary spiders like black widows. Enjoy your pre-Halloween reprieve, Moron Robbie:
We've got a green lynx spider in our front porch area. Don't look it up if you dislike spiders. Imagine a bright green orb weaver, except a huntress that doesn't make webs.

First one I've ever seen, and that is the norm since they're usually on plants and not using webs.

Gorgeous spider.
Here's a spider video with some nice, soothing meditative music:
Houseplants
You may remember from the end of July when I wrote about a houseplant disaster, and my attempts to recover some life from it.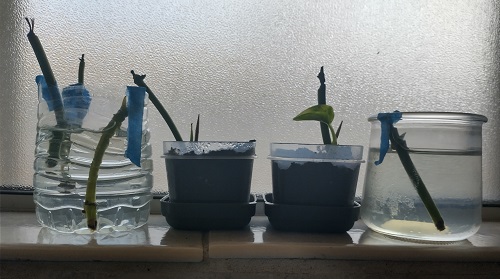 Well, where there is life, there is hope.
The start in the jar on the right above didn't make it. Couldn't seem to get any root growth.
But we have have several survivors after two months. Now you have to look hard to see the toothpicks that stabilized the stems in the first two plant-outs from water: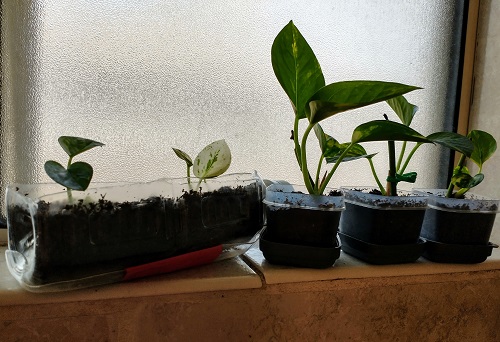 I think we have two varieties of Pothos there, a yellow-variegated one and a slower-growing white-variegated one. The white-variegated one was planted on its side to avoid burying a leaf that emerged at the same leaf node as a root. And to avoid detaching a larger leaf from the root.
And yes, that is red duct tape. Boo-boo while slicing the bottle apart.
How are your houseplants doing? Your plastic plants?
Weather
It's been cooling off at night around here. When it seems overcast but the forecast says "sunny", it's from smoke. How's your weather?
My cousin and his wife are in Alaska. Healy, Alaska on Sept 20: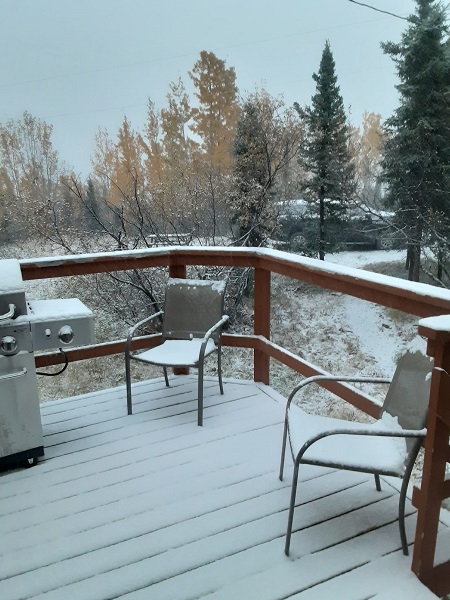 Alaskan Husky Sled Pup. These are National Park Service working dogs. Park Service Rangers switch from vehicles to dog sleds in the winter.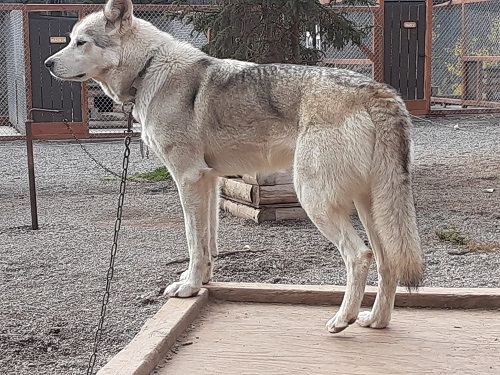 The seasons are changing.
If you would like to send information and/or photos for the Saturday Gardening Thread, the address is:
ktinthegarden
at that g mail dot com place
Include the nic by which you wish to be known when you comment at AoSHQ,
unless you want to remain a lurker.

posted by K.T. at
01:10 PM
|
Access Comments