« Saturday Morning Coffee Break
|
Main
|
Saturday Gardening and Puttering Thread, September 25 »
September 25, 2021
The special relationship between Ibram X. Kendi and Jack of Twitter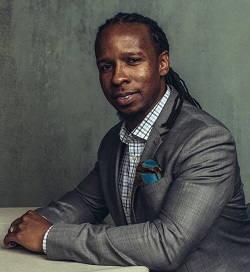 Kendi Speaks
One of Ace's Quick Hits yesterday focused on education:
Two white kids were kicked out of a "multicultural space" at ASU Tempe for wearing Police Lives Matter buttons.

So I guess the space is not, in fact, "multicultural." They just mean anti-white.
But this part of the story is particularly pertinent to the teachings of Dr. Ibram X. Kendi:
"You think that whiteness is a culture?!" the black Karen racist shrieks.
Kendi maintains a position that the dominant white culture is always racist when it produces disparate racial outcomes. Jack Dorsey of Twitter donated 10 million dollars to Kendi's center for antiracist research. No strings attached. But Kendi has gotten some special treatment on Twitter.
Back to the ASU story for a moment. Here's an update: Bizarre statements from 3 campus organizations behind the "multicultural center" at ASU.
This is fine. "Did not vote for Biden" is apparently a "white supremacist slogan" now. It is forbidden to sit at a table studying while displaying this violent slogan of white supremacy. This apparently contributes to "safety concerns".
Sounds to me like the complainants think there is a "culture" involved.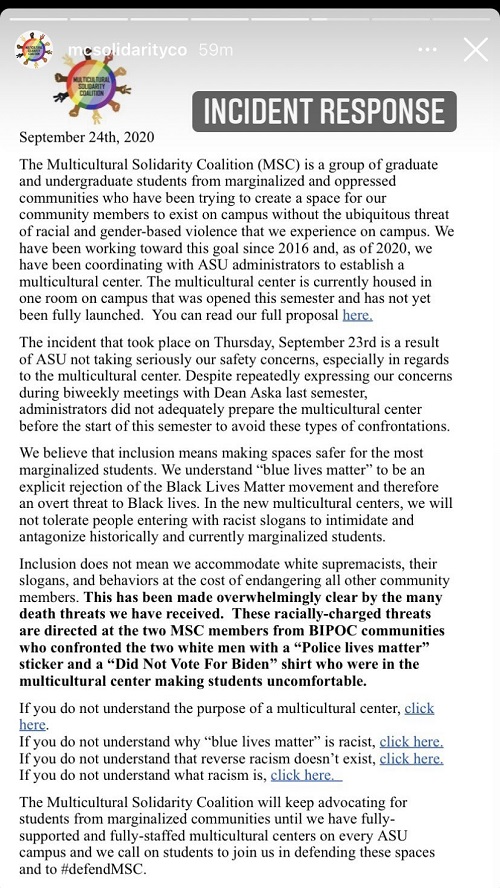 Now, Kendi and Twitter: Mythinformed MKE posted clips from a conversation with Kendi on Twitter, and had their account temporarily suspended pending deletion.
"Mythinformed bought tickets to an Ibram X Kendi speaking engagement at the University of Wisconsin, where they recorded the event's question and answer period. They adhered wholly to the posted rules of the venue."
MythinformedMKE said that Kendi responded "by misrepresenting CRT" and he suggested that "school districts should find loopholes still to teach 'anti-racist' Critical Race Theory curriculum."
Kendi also suggested that the vaccine mandates are not racist.
But what I will say is, to me, the actual problem isn't the vaccine mandates. The actual problem is when you actually study those, particularly black and Latinx people who aren't vaccinated, you actually talk to them. We're finding that a lack of accessibility to the vaccine for a whole host of reasons is actually leading to them having a lower rate. At the same time, with white Americans, it's more or less the result of their political ideology.
Now THAT is a bunch of malarkey.
We would not want Kendi's words at a university to be recorded for the general public to hear and analyze on Twitter, now would we?
Some people are pushing back on Twitter, using Dr. Kendi's own ideology.
Nice quote from Chloe S. Valdary:
I just realized that the problem I have w/ the 1619 project is not only that it defines the birth of America as the year it brought over slaves but that by doing so, it defines the birth of my identity as an African-American in that same vein. It's a double bind y'all. Hot damn.

Like girl, I'm not a slave, "I am the dream and the hope of the slave." Maya, come on now.
Related Post at Chicago Boyz
This week, Michael Kennedy put up a post on the development of the current campaign against whiteness in universities:
Back in the days before "Black Lives Matter" there was a phenomenon called "acting white" that applied to black kids who tried to study and do well in school. Quite a few succeeded in spite of it. It has been replaced by a new theme of "White Supremacy" that attributes certain behavior to "Whiteness." An example is "Whiteness as a problem." This is actually a college course.

A class to be taught next semester at the University of Wisconsin Madison called "The Problem of Whiteness" aims to "understand how whiteness is socially constructed and experienced in order to help dismantle white supremacy," the course description states.
Now, what is the problem of "Whiteness?"

One example is Stanford's new program of Physics for "people of color."

Is there a branch of Physics restricted to those "of color?"
It's short. Maybe you should read it. Check out the comments, too:
The sad thing is, Africans used to be tops at math:

White folks was in the caves while we was building empires . . . taught philosophy and astrology and mathematics before Socrates and them Greek homos ever got around to it.

Reverend Al Sharpton (1994)
Music
Sixteen Tons, written by Merle Travis. Southern Raised performs. White folks in the caves, as Rev. Al might say.
Juares de Mira, Arranged by The Platters. Cultural Appropriation. Heh.
I kinda like it. It projects sincerity.
Hope you have something nice planned for the weekend.
This is the Thread before the Gardening Thread.
Serving your mid-day open thread needs

posted by K.T. at
11:21 AM
|
Access Comments