« Reason and Science or Alchemy?
|
Main
|
Ace of Spades Pet Thread »
September 18, 2021
Saturday Gardening and Puttering Thread, September 18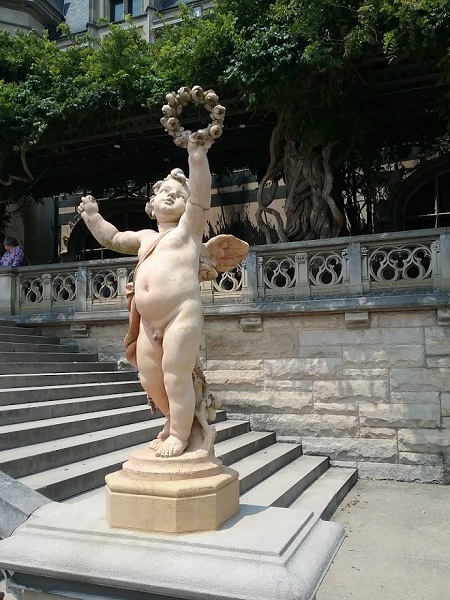 Hello, everyone! Welcome to the garden! We're starting off with a travel segment today.
From Rodent:
Mrs. B and I went to Asheville NC a few weeks ago and visited the Biltmore mansion. Highly recommend it. The mansion is unbelievable. Apologies if you've posted pictures from there before.

A couple pictures (1 and 2) of the knarly trees off the courtyard.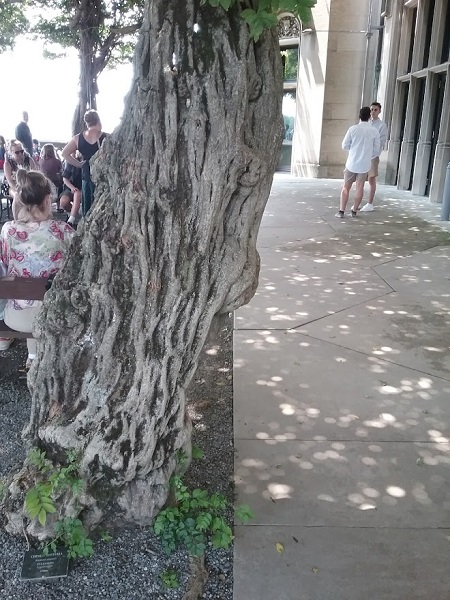 A couple pictures (1 and 2) of the knarly trees off the courtyard. The gardens (3 to 6) were a little out of season when we went but still beautiful. My pictures don't do it justice. No clue what any of the trees/plants are...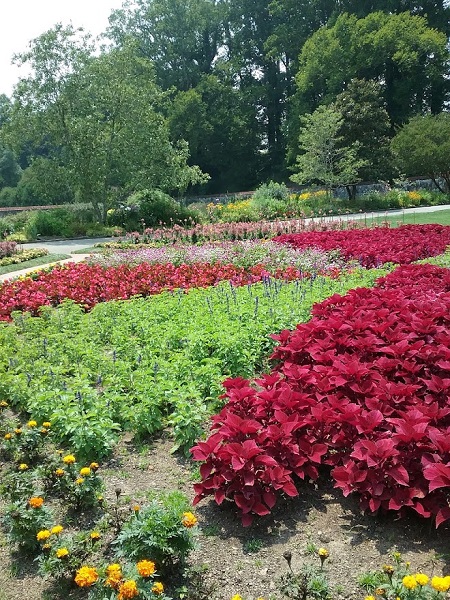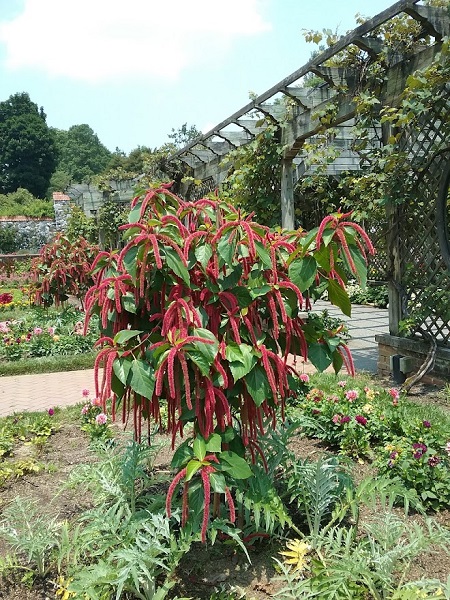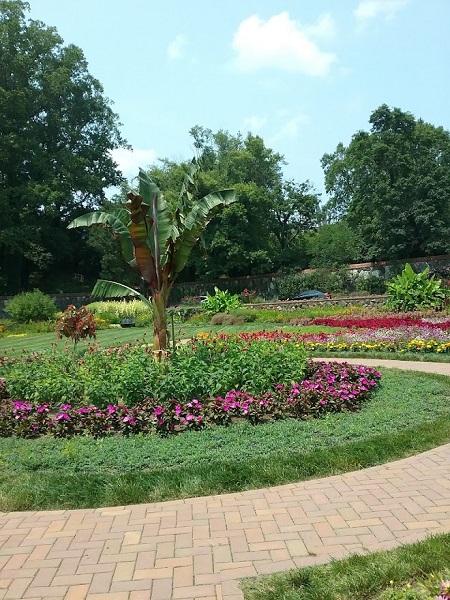 Glorious. We can maybe do some plant identificatins.
The last two pictures are from my yard in Southeast New Hampshire a couple weeks ago. Concord grapes (I think?) and milkweed. Over the years we've had monarch butterflies on them but nothing in the past few years.

Thanks for all the beautiful garden pictures. I do my best to mow my lawn weekly so that's something...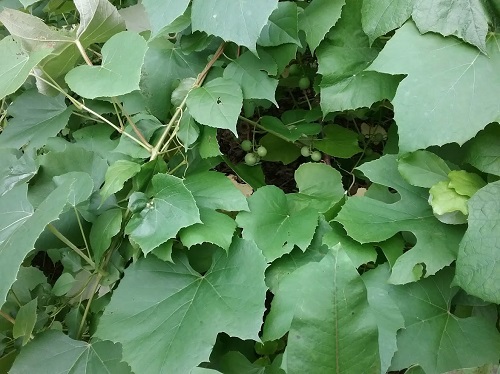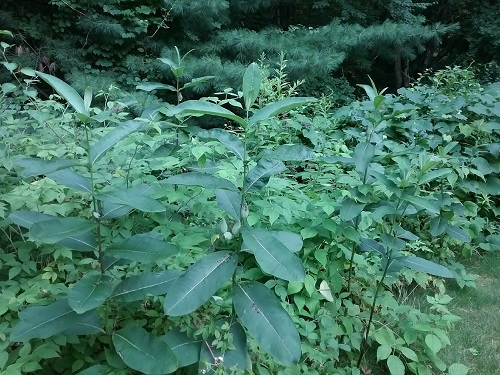 Vigorous. I understand that the milkweed has pink flowers when it blooms.
Putting things by
Last week, we learned about making spaghetti sauce from tomatoes purchased at an Amish auction. So fascinating.
This week, we have directions for salsa from By-Tor:
An easy canning project today after several weeks of major presure canning of tomato sauce, chili, etc.

This is chili verde sauce made from green tomatillos I got at the Mexican market for 33 cents a pound. Six pounds yielded 4 pints. Easy to make and I did a simple water bath canning.

6lbs tomatillos, husked and quartered
1 onion, rough chopped
2 jalapeno peppers, rough chopped
handful of chopped cilantro
1/3 C lemon or lime juice
1T salt
Simmer all ingredients for about 1/2 hour. Puree with immersion blender or in a regular blender or food processor.

This will keep in your fridge for a couple of weeks, like regular salsa (after opening or if not canned).

It's good on roast pork, tacos, breakfast eggs or with chips.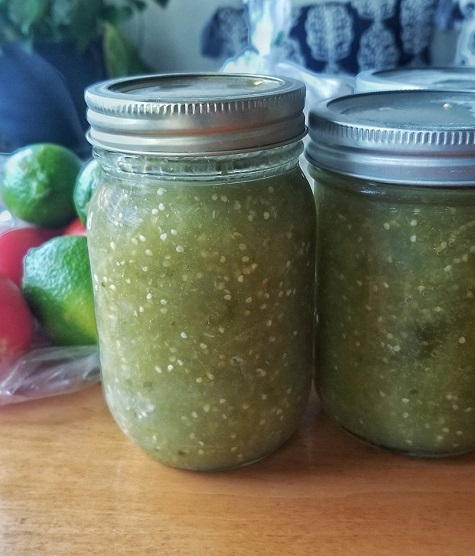 Other ideas that came up in discussion:
"Chicken Stock, Cumin, Oregano, diced Poblanos and pork with that makes a decent Green Chile."

"I am almost out of my last batch. Making another this coming weekend and going to make Chile Rellenos again. I think I will smoke the Pork butt and the Salsa Verde ingredients at the same time."

Garlic mentioned . . .
Got other ideas?
Scary Storm Video
Last week, Duke Lowell broke the news to us that a storm had taken out his big tree, which took out his favorite magnolia. Here's some of the actual storm action:
I've attached a video of what we now believe was a tornado taking down one of our big trees. When it fell, it also took out the teacup magnolia you featured in the gardening thread a couple of years ago. That was my favorite tree! No one was hurt and it didn't land on the house so I have that going for me. Which is nice. Feel free to use this in the gardening thread if you like.
That video is kinda scary!
Scary Little Wild Things
Found this girl in my mailbox.

-- Dr. Varno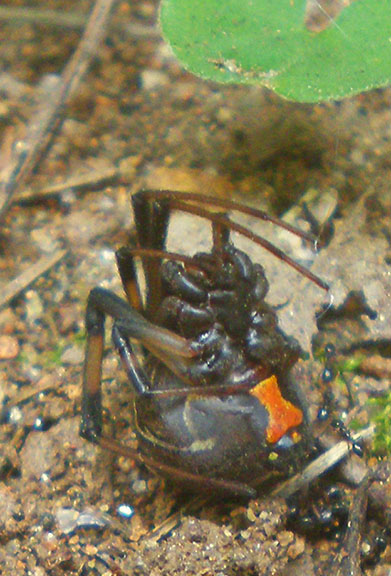 I noticed a little color other than black on the side of the abdomen. Wondered if it were the last of the spider's adolescent coloring. Photos of brown and black widows at various stages of development here.
The bite of a brown widow is generally less sever than the black widow Dr. Varno found.
Its abdomen was no bigger than a pea. Had to break out the old digital camera set on macro.

Good thing there was no mail at the time or I might not have seen it.
And here's one from TANSTAAFL
These pics are of a wee beastie I spotted on my front steps. This thing was dragging a spider that looked to mass about 4 times its body weight.

It was a pretty little thing, tho.

The funny part is that I was putting my camera closer and closer to try and get a good shot, and it flew straight at me, trying to drive me off. Twice.

Turns out it is a Rusty Spider Wasp.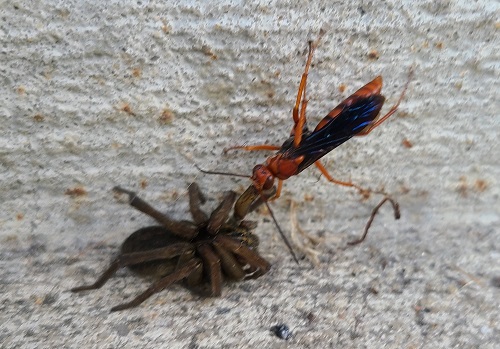 And I went to Wikipedia to check that I was right with the name and there was a pic of my friend. From Texas! (The one with the grass in the shot)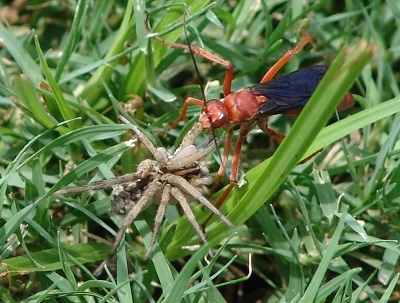 Not so scary little wild things
Red Spotted Purple Butterflies from Illiniwek, in his grapes: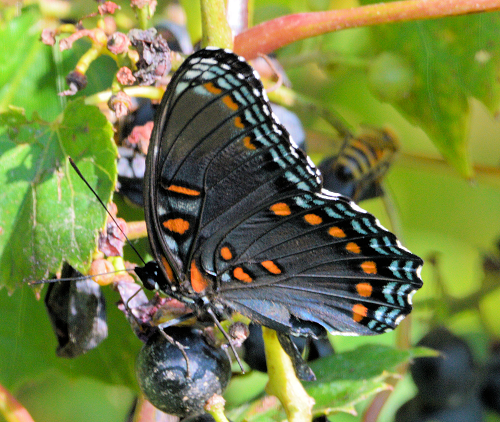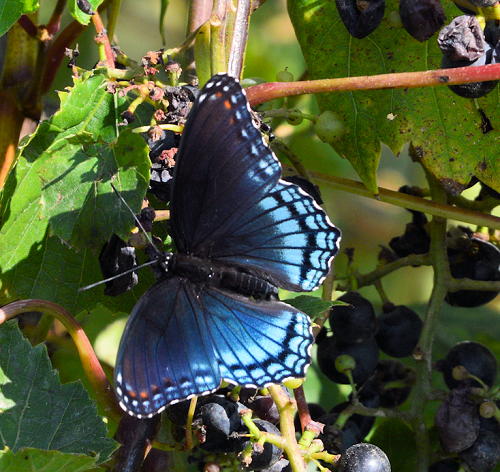 If you would like to send information and/or photos for the Saturday Gardening Thread, the address is:
ktinthegarden
at that g mail dot com place
Include the nic by which you wish to be known when you comment at AoSHQ,
unless you want to remain a lurker.

posted by K.T. at
01:17 PM
|
Access Comments