ę Report: Military Set To Admit That No Terrorists and No ISIS Fighters Were Killed in Biden's Cynical and Murderous Narrative-Changing Drone Strike, Just Innocent Civilians
|
Main
|
Quick Hits: America is Back, Baby (Again)! Edition Ľ
September 17, 2021
Biden Administration Slashes Florida's Supplies of Monoclonal Antibodies To Punish State for Lower-Than-Average Vaccination Rate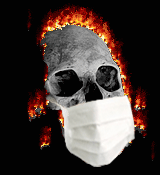 Now they've proceeded to the "take affirmative actions to literally murder those who do not follow orders" phase.
Florida Gov. Ron DeSantis ripped the Biden administration's decision to take control of the distribution of monoclonal antibody treatments for COVID-19 -- replacing the system under which several Republican states, including his, took up most of the supply.

The US Department of Health and Human Services announced Monday that it has "transitioned from a direct ordering process to a state/territory-coordinated distribution system," saying the change will provide "health departments maximum flexibility to get these critical drugs where they are needed most."

Seven Southern states -- including Florida -- took up 70 percent of the orders of monoclonal antibodies in early September, according to Politico. As a result, the Biden administration reallocated some 158,000 doses this week.

...

Jen Psaki on Thursday said the federal government has to look at the nationwide picture after the HSS said it was acting to ensure availability for current and future patients.
In other words, she's taking it from red states that actually need the treatment right now in order to stockpile it for blue states which might need it in the future.
The governor fumed that Florida was being punished for disseminating the treatment before the White House while the highly transmissible Delta variant began to spread in Southern states.

"I think we could have averted, in this country, a lot of people going to the hospital. I think it would have saved a lot of lives," DeSantis added, Politico reported

...

"Our role as the government overseeing the entire country is to be equitable in how we distribute, we're not going to give a greater percentage to Florida over Oklahoma," she added.
"We're not going to give it to red states that need the treatment, we're going to send it to blue states that don't."

DeSantis pointed out that out of the people in Florida treated with monoclonal antibodies, more than 50% were vaccinated.
Not unvaccinated. Vaccinated. (This is both emphasis and a correction of my earlier typo.)
So the Biden Administration is attempting a show of force against the unvaccinated -- but it's the vaccinated, who are having breakthrough cases of covid due to the vaccines being, um, rather meh, who are using the bulk of the treatment.
Doesn't matter. Our Rapist President wants to fight an enemy he can actually kill without repercussion.
As MartyrMade grimly predicted during the Afghanistan collapse: The Biden Administration, humiliated abroad, will come home spoiling to attack domestic enemies like a broken man drunkenly staggering home to punch his wife in the face and beat his children.
...

Meanwhile, US Sen. Marco Rubio (R-Fla.) was even more scathing in his attack on Team Biden for controlling the monoclonal antibody treatments, which cost $2,100 a dose and are paid for by the federal government.

"This is ridiculous. This is outrageous. People see it for what it is," he said in a video he posted to Twitter. "These people are completely out of out of control.... This stuff needs to stop. These people are bordering on tyranny. And it's outrageous. It has to stop."

Jen Psaki admits that she's cutting the supplies of monoclonal antibodies -- a proven treatment which is used mostly to treat the vaccinated who have a breakthrough covid infection (yes, mostly the vaccinated) -- to punish Florida for not having the higher vaccination rates Biden demands.

And, one can surmise, because DeSantis is resisting the illegal federal vaccine mandates.
So: Those who need this life-saving treatment will not get it. Biden will literally kill American citizens to impose his will on them.
And note, again, that blacks and Hispanics are the most unvaccinated groups in the country. Biden is killing blacks and Hispanics to win a tribal political fight.
Videos below.
Related: Byron York writes that Biden is politicizing vaccines.
Two leading House Republicans, Reps. Steve Scalise and James Comer, are asking the Food and Drug Administration for documents that might relate to GOP suspicions that President Biden has politicized the process of administering vaccines during the COVID-19 pandemic.

In a letter to FDA Acting Commissioner Dr. Janet Woodcock, Scalise and Comer point to Bidenís Aug. 18 announcement that vaccine booster shots would be available nationwide the week of Sept. 20. "This shot will boost your immune response," Biden said, as anxiety mounted over the delta variant. "It will increase your protection from COVID-19. And itís the best way to protect ourselves from new variants that could arise."

Within moments, a number of experts began to wonder whether Biden had jumped the gun. Indeed he had; in fact, the president made the announcement before the vaccine makers had even submitted the needed data to the FDA. That led to turmoil inside the agency, where, according to an Aug. 31 report in Politico, officials "scrambled to collect and analyze data that clearly demonstrate the boosters' benefits before the administrationís Sept. 20 deadline for rolling them out to most adults." In other words, the FDA raced to find something to support the presidentís announcement.
Say, remember all the furor over Trump's speculations about possible treatments for covid?
And now here's Biden, making up his own "Science" to support a third booster.
No one in the media says jackshit, except for people in the so-called conservative media.
It was a clear demonstration that for Biden, who had boasted of his ability to handle the pandemic but then found himself under pressure for his unsure handling of the delta problem, the politics came before the data. By early September, Woodcock told the White House to "scale back" the booster plan, "saying that regulators need more time to collect and review all the necessary data," according to The New York Times. Two top FDA vaccine officials announced they were leaving their jobs.

Now comes a new report that boosters might not be needed at all. "None of the data on coronavirus vaccines so far provides credible evidence in support of boosters for the general population," the Times reported, citing a new review published by a group of scientists, including the two who left the FDA.

That was too much for Reps. Scalise and Comer. "President Biden, instead of following the science, is attempting to distract from his numerous crises by playing politics and moving out ahead of the FDA and Centers for Disease Control when it comes to the science on coronavirus vaccine booster shots," the lawmakers wrote in that letter to Woodcock.

...

So now we have the FDA being pushed to approve a booster shot, without making sure that it is safe and effective, due to political pressure from President Biden and the White House. Congress needs to find out what happened.

Indeed, the FDA has now issued a guidance recommending a third booster shot only to those 65 or older, or at high risk of death due to covid infection.
In fact, the first headline of this NYTimes article stated that the FDA did not recommend a booster to those 16 or older:
F.D.A. Panel Recommends Against Pfizer Boosters for People Over 16
They've now changed the headline to accentuate the positive, that is, the recommendation of a booster only for those at greatest risk from covid.
They buried the lead that the FDA was now specifically repudiating President Rapist's non-science recommendation of boosters for everyone.
But they already published that lede, and they were caught doing so.
Here's the archive.is version of the article showing the first headline, noting that the FDA "recommended against Pfizer boosters for people over 16."