« First-World Problems...
|
Main
|
Gun Thread: Sunday Evening Edition! »
September 19, 2021
Food Thread: Cheap Ice Cream And Expensive Soup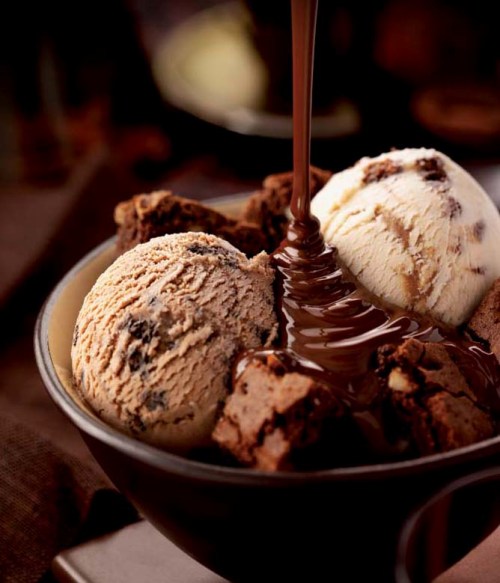 Visit any half-way decent supermarket and you will see a huge number of ice cream brands, running from the least expensive half-gallons of mostly air, to the super-premium pints that can be ridiculously expensive. And while I think the really inexpensive ice creams are so-so, the relationship between price and quality is not perfect. I have had some pretty good store brands and regional brands, and some of the most expensive pints have been disappointing.
I recently became fixated on the flying saucers of my youth, and we even chatted about them in a recent Food Thread. We used to go to the Carvel in town (Tom Carvel lived in town!) on hot summer nights and eat tons of those flying saucers and huge cake cones of the custardy soft-serve that they specialized in.
Fast forward a few years and I saw in a sort-of local market that they have flying saucers in vanilla, chocolate AND vanilla-chocolate swirl! How cool is that! And because I am a traditionalist I served them for Rosh Hashanah dinner, and they were well received. Apparently I am not the only person to enjoy revisiting the foods of my youth.
But the best part was a few days later when one of the brats asked for a container of the plain ice cream, and I picked up a quart of their chocolate ice cream (custard maybe?). Damn. It was great. I will usually eat a small scoop of whatever is served and enjoy it, but this stuff was creamy and dense and wonderfully chocolaty and just fine eating.
And I have no idea why. So Horde...or at least the ice cream making contingent...enlighten me!
******
At the risk of beating a very dead and smelly horse, I have been getting more and more exercised by the main premise of the planet/climate/environment hysterics, that we must make do with less to save Gaia. Less of everything!
I reject that. With careful management of our agricultural infrastructure we can improve the quality and quantity of the food we grow, and that means more animal protein for the poor, not less for everyone. It is disingenuous in the extreme for the planet alarmists to force their clearly false axiom on an unsuspecting audience. They lie to get what they want, which is a socialist paradise (for certain definitions of paradise) on earth, and it is incumbent upon us, the normies, to push back on every assumption they try to force into the public consciousnesses.

******
It's official: Misanthropic Humanitarian is trolling me.
Azafrán Soup With Spinach Greens and Yellow Cornmeal Dumplings
Yeah...I have no idea what that Azafrán is, and the recipe is in all other respects pretty straightforward. But one of the comments mentions that the ingredients were "only $28." So Azafrán costs about $22 for enough for that recipe? No thanks.

******
A few days ago my wife mentioned that she had always enjoyed the arancini I used to pick up at a local Italian deli, where I also got some pretty good (but not Vito's of Hoboken quality) sandwiches. I was a little taken aback. What...you like someone else's cooking?
So I am going to make them. Why not. It's not complicated, and I will not be shown up! Arancini with Tomato and Mozzarella.

******
I am confident that this photo will elicit only two reactions. The first one will be similar to my own, which was, "Hey! I'd eat that!" And the second of course is, "Gross!"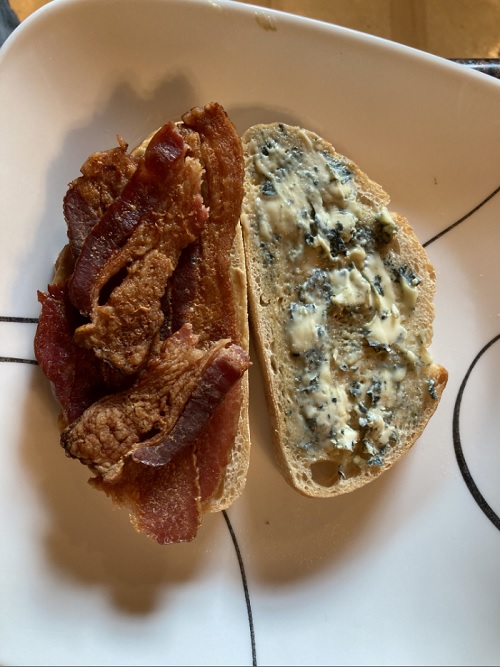 I recently bought some French bleu cheese at Costco. I had no intention or need for bleu cheese, but could not resist the free sample. It was so good I turned around and bought it.

So looking for uses, I invented (maybe too strong a word, perhaps perfected would be better) what I now think is the ultimate simple breakfast sandwich side dish.

Two slices of fresh sourdough bread, toasted lightly, Boar's Head Honey Mustard with Pale Ale on one slice, bleu cheese slathered on the other slice, and thick sliced bacon, straight from the skillet drained, folded to fit.

An addictive sammich if ever there was one. I am thinking about adding tomato slices, but so far have not tried that upgrade.
-- Hrothgar
He assures me that the sourdough was freshly baked and homemade! Good for him. And no maple syrup, which is another bonus.
I am fascinated by combinations of ingredients that at first glance seem to be discordant, but when actually tried taste pretty damned good!

******
There is very little wrong with a
fried chicken sandwich
, especially when it is dressed with something a little spicy and it is on a good bun. Not too much other stuff though...I dislike when places overload the sandwich with too much tomato or lettuce or pickles and it drowns out the glory of fried chicken. But if the chicken is dry just toss it in the garbage. That is truly awful eating.
Oh...thigh meat is the secret of a perfect fried chicken...um...anything.

******
Uh oh...commenter "Blake" is in the kitchen! Apparently his wife has a death wish and has allowed him one more opportunity to cook something edible before she takes away his knives and replaces them with safety scissors.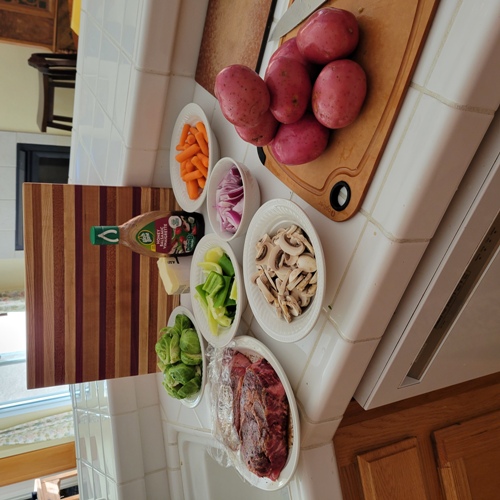 So...what is he making? It's an interesting collection of ingredients. Guess correctly and you don't have to eat it!
Hopefully Blake will be around to judge the contest.

******
Avocados sans thumbprints, beef short ribs that have meat on them (not the stupid little sliver of bone they sneak into the packages), carrots that don't taste like stalky chalk, spare bottles of Van Winkle Special Reserve 12 Year Old Bourbon, an herb garden that actually produces herbs (but no basil!), well-marbled NY strip steaks and elk backstrap to:
cbd dot aoshq at gmail dot com.
And don't think that you are off the hook with maple syrup and French Toast: I'm watching you...all of you! And I am watching you perverts who shake Manhattans and keeping a list for the Burning Times.

posted by CBD at
04:00 PM
|
Access Comments