« Gun Thread: 9/12 Edition
|
Main
|
Daily Tech News 13 September 2021 »
September 12, 2021
Sunday Overnight Open Thread (9/12/21)
(H/T Floun der)
Quote I

"The mystery of human existence lies not in just staying alive, but in finding something to live for." Fyodor Dostoyevsky
Quote II

"i see the u.s. is having it's dumb little annual pity party again" Professor Jonathan Weisberg
Quote III

There's one REAL victim's group whose needs have never been addressed: those of us who lived, who escaped the horror, and have had to deal with a laundry list of problems that came with survival:

The Guilt.

The Shame.

The Mental Illness.

The Addictions.

The Unidentified Health Problems.
Matthew Noto
Quote IV

"I want to make sure that this recognition of this solemn moment is not lost in this conversation… I know that there are many cultural issues or concerns, but when I think of 9/11 what stands out most in my mind is people who didn't just think of themselves." Fairfax County Public School board member Karen Keys-Gamarra
Quote V

I think privacy is an even bigger problem today, especially given the amount of data on Americans that is available in so many ways, commercially, social media, and you talk about the prospect of foreign governments getting it!Sen. Ron Wyden (D-OR)
Quote VI

"My hope would be that every religious group in the world would work avidly to convince their members that you cannot be a truly godly person unless you have respect for every path to God," Monsignor Jim Lisante
Quote VII

"Here's my conundrum. My school employs me to be an authority on the subject of ethics. I hold a Ph.D. in ethics and ancient philosophy and I'm here to tell you, it's ethically wrong to coerce someone to take a vaccine. If it happens to you, you don't have to do it. If you don't want a COVID vaccine, don't take one. End of discussion. It's your own business." Dr. Julie Ponesse is an ethics professor at Ontario's Huron University College,
The Comment of The Week

***

This family probably would not make good CSI employees.


CAT-ASH-TROPHE Family cremate dead cat thinking it's theirs — only for it to turn up on doorstep

A FAMILY cremated a dead cat thinking it was theirs — only for it to turn up on the doorstep hours later.

Freddy and Sinead O'Cleirigh's moggy Simba had been missing overnight.
***

From Last Meals to Last Words, What Can Death Row Prisoners Request Before They Die? As a Texas man sues for his pastor to touch him during his execution, a guide to rights for the condemned.

John Henry Ramirez does not want to die alone. The Texas prisoner knows that at his execution, scheduled for Wednesday evening, he will be able to see witnesses through a pane of glass. A stoic prison official will probably be standing near his head. But Ramirez also wants his Baptist pastor to lay a hand on him as he dies."It's part of my faith –- there's so much about the power of touch," Ramirez told The Marshall Project during an interview last week. "You bless someone at the time of their most spiritual need."
***

Having lived in smaller communities most of my life, I can see how this would happen.
Kimberling City, Missouri is currently without a police force and several other key employees.
The small town of Kimberling City, Missouri, which is nestled in the heart of the Ozarks a stone's throw away from the wholesome attractions of Branson, is soon to be without a police department after every single member of the force resigned within a matter of weeks.

Granted, the entire force of the small town, which has a population of roughly 2,400, is comprised of five people, but it does appear that their having all resigned within the same period of time was no coincidence.

Kimberling City Mayor Bob Fritz told Branson Tri Lake News that the department is normally staffed with six officers, but a detective retired in July.
***

Women's rights? Why would you need rights when you are treated as personal property?

Afghan women wearing full face veils sat in rows at a Kabul university lecture theatre Saturday, pledging commitment to the Taliban's hardline policies on gender segregation.

About 300 women -- covered head-to-toe in accordance with strict new dress policies for education -- waved Taliban flags as speakers railed against the West and expressed support for the Islamists' policies.

A handful wore blue burqas, which have only a small mesh window to see from, but most wore black niqabs covering most of the face apart from the eyes.
***
It is bad enough that Subway uses Megan Rapinoe in their commercials. What seems worse is how they treat their employees sammich artists.

'They do not want corporate to know': Subway worker suspended after footage of her fighting off armed robber goes viral (updated)
'I hope you get compensated for your pain and suffering.'
***

This secret ingredient is finger licking good and addictive.

A Chinese food stall owner was recently arrested after admitting to adding poppy husk powder to his dishes to get patrons hooked on them.

In late August of this year, the Lunan Police Station in Lianyungang City, China's Jiangsu Province, received information that a local hot noodle stall owner might be using illegal ingredients to make his food more appetizing and more addictive. Apparently, the anonymous whistleblower had recently watched public safety warning videos about shady businessmen lacing their food with poppy husks to make them seem more appetizing, and wondered if the food stall that made the delicious hot noodles he loved so much was doing the same thing. As it turned out, they were in fact adding poppy husk powder to the noodles, to make them literally addictive, as a way to boost business.
***

Opinions are like assholes. Everybody has one. The worst tourist traps around the world. Or are they?
***
The ONT Musical Interlude
Born on this day, September 12, 1952 - Neil Peart
Neil Peart, drummer, Rush, (1980 UK No.13 single 'Spirit Of Radio' 1982 US No. 21 single 'New World Man'). Peart was made an Officer of the Order of Canada on May 9, 1996. The trio was the first rock band to be so honored, as a group. Peart died on 7 January 2020 age 67 after battling brain cancer for three years. via thisdayinmusic.com
&&&
Died on this day: September 12, 2003 - Johnny Cash
US singer songwriter Johnny Cash died of respiratory failure aged 71. One of the most influential musicians of the 20th century, known as "The Man in Black." He traditionally started his concerts by saying, "Hello, I'm Johnny Cash." Had the 1969 US No.2 & UK No.4 single 'A Boy Named Sue', plus 11 other US Top 40 singles. Cash also had his own US TV show in late 60s early 70s. via thisdayinmusic.com
***

The search for the Elixir of Life yields a Genius Award.

SEPTEMBER 10--A Florida Woman who had to be pulled from the cab of a fire engine that she tried to steal denied being under the influence of the usual street potions, but said that she had taken the "Elixir of Life" before trying to boost the emergency vehicle, according to court records.

Responding to a call about a woman acting erratically on the beach in St. Augustine Beach, cops and fire rescue workers late last month discovered Kailani Jo Kroll, 39, in distress.

Kroll, who lives two blocks from the beach, said she needed CPR and other treatment. But while being escorted to an ambulance, Kroll began running back and forth.

"Due to no crime being committed at this point...I had no reason to chase her," Officer Brandon Hand reported.

But as police and firemen began entering their vehicles to depart the scene, someone yelled, "She's stealing the truck!" Kroll, investigators allege, had opened the door of an unsecured fire engine and got in the driver's seat. St. Johns County Fire Rescue personnel responded by pulling her from the cab.

Witness Jessica Benton told police that, "I thought she was fixin' to drive off."
***

What a wonderful couple and Tonight's Feel Good Story of The Day. (H/T SandyCheeks)

The Fitters have dedicated their lives and their marriage to caring for those in need.

An elderly couple has retired from fostering after welcoming over 600 children into their home over the last 56 years.

Pauline and Roger Fitter, both in their 80s, actually started fostering when they'd been married for just three months. This was due to a vow Mrs Fitter made when she was working as a nurse in a residential nursery caring for young children waiting to be adopted:

"It really hurt me to see these babies becoming institutionalized and I promised myself at the age of 19 that when I married I would foster," she shared with the BBC.
***
Weekly commenter stats for week of 9-12-2021

Top 10 commenters:
1 [505 comments] 'rhennigantx' [71.31 posts/day]
2 [432 comments] 'qdpsteve (L2ZTs)'
3 [406 comments] 'TheJamesMadison, nihilism is all fun and games with a Carpenter leading the way'
4 [382 comments] 'Skip '
5 [375 comments] 'Miklos'
6 [335 comments] 'Joe Mannix (Not a cop!)'
7 [316 comments] 'Sponge - Michael Byrd MURDERED Ashli Babbitt'
8 [316 comments] 'JT'
9 [311 comments] 'rickb223'
10 [296 comments] 'Tonypete'
Top 10 sockpuppeteers:
1 [370 names] 'Miklos' [52.25 unique names/day]
2 [45 names] 'Cicero (@cicero43)'
3 [41 names] 'Duncanthrax'
4 [35 names] 'Count de Monet, unvaccinated American'
5 [35 names] 'pookysgirl, with fingers crossed'
6 [34 names] 'Helena Handbasket'
7 [29 names] '18-1'
8 [25 names] 'Bete'
9 [22 names] 'Joe Mannix (Not a cop!)'
10 [20 names] 'banana Dream'
***

Tonight's ONT has been brought to you by Boat Landing Impediments.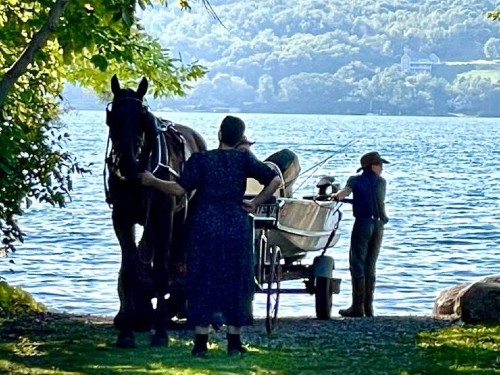 Notice: Posted with permission by the Ace Media Empire and AceCorp, LLC. ONT Tips, loose change, drink tokens and burner phones to petmorons at gmail dot com. Complaints, Pissing and moaning to a family member.

posted by Misanthropic Humanitarian at
09:48 PM
|
Access Comments