« Incredible: Kumala Makes the Case for "My Body, My Choice" The Very Same Day That Biden Imposes Medical Tyranny On the Country
|
Main
|
Marjorie Taylor Greene Rips GOP in Rant »
September 10, 2021
Governor Ralph Northam -- The Blackface Enthusiast -- Further Vandalizes the Robert E. Lee Monument By Digging Up a Time Capsule from 1887 and Replacing It With Tawdry Woke Crap from Current Year
This reads like a Babylon Bee parody, but it's real.
Governor Blackface took down the Robert E. Lee statue and then decided to vandalize the time capsule buried under it, taking out objects, and replacing it with ones from this trivial but evil age: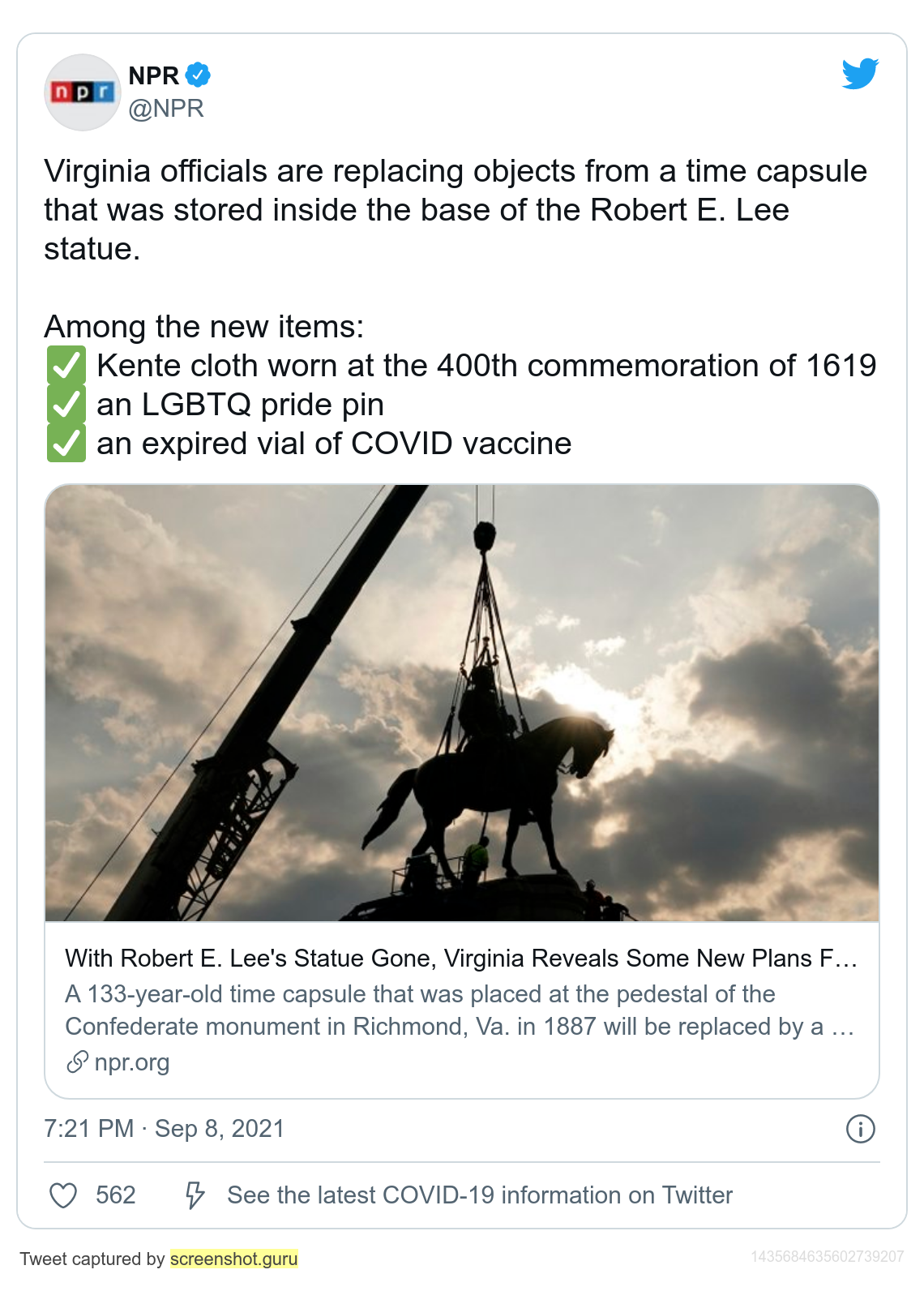 They're going to remove a 133-year-old copper time capsule inside the pedestal and replace it with one that they say will reflect the current cultural climate in Virginia.

"The past 18 months have seen historic change, from the pandemic to protests for racial justice that led to the removal of these monuments to a lost cause," Virginia Gov. Ralph Northam said in a news release. "It is fitting that we replace the old time capsule with a new one that tells that story."

In June 2020, just days after the murder of George Floyd, Northam announced the decision to remove the Lee statue. Floyd's death sparked protests over police brutality and racism across the United States.

The Commonwealth removed the 12 ton Lee statue on Wednesday, more than 130 years after it was first installed.

The original time capsule was placed in the pedestal of the Confederate monument on Oct. 27, 1887, according to Virginia historians.

In a statement from Northam's office, officials said records from the Library of Virginia show that the people of Richmond contributed approximately 60 artifacts featured inside of the capsule.

Some of the objects of the old capsule are believed to have ties to the Confederacy, the governor's office said.
"Believed to." Meaning, some woke college students made some guesses and that now becomes official state policy.
"This monument and its time capsule reflected Virginia in 1890--and it's time to remove both so that our public spaces better reflect who we are as a people in 2021," Northam said.

When the capsule is removed on Thursday, state officials said the original capsule will be given to the Virginia Department of Historic Resources -- making room for the Commonwealth's new capsule in its place.

...

According to the governor's office, a group of historians, educators, artists and state officials worked together to select nearly 40 submissions to be placed inside the new time capsule.

Some of the items include a photo of a Black ballerina taken by a local Richmond photographer in front of the statue, Kente cloth worn at the 400th commemoration of 1619, a "Black Lives Matter" sticker, "Stop Asian Hate" fliers, an LGBTQ pride pin, and an expired vial of Pfizer's COVID-19 vaccine.
Governor Blackface is doing this. Governor Blackface.
"Coonman."
I hope Youngkin wins the gubernatorial race down there and immediately digs this piece of shit time capsule up and sends it off to a dump.

posted by Ace at
02:34 PM
|
Access Comments