« NPR Poll: Biden Hits New Low... of 43%
|
Main
|
Wrenching Pivot to Domestic Policy Cafe: Getting Your Ducks All in a Row Edition »
September 02, 2021
Quick Hits: Sundown Joe Remembers That Time He Visited the Tree of Life Synagogue After a Shooting.
The Tree of Life Synagogue's Staff Doesn't Remember Him Ever Coming.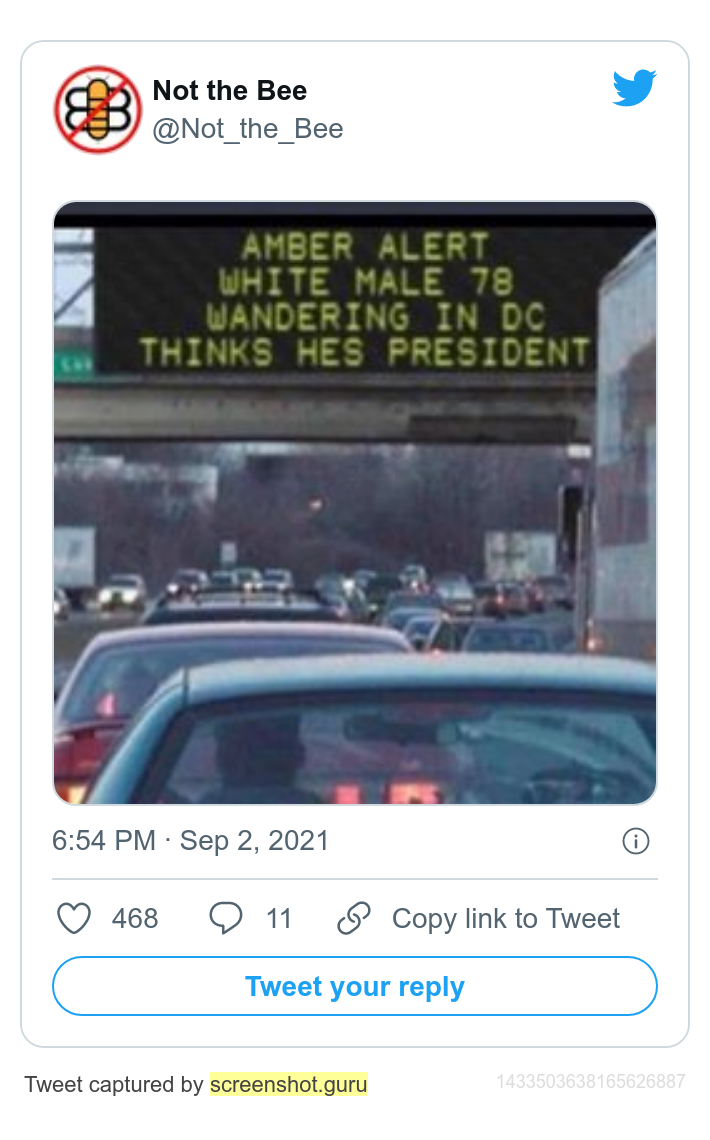 Sundown Joe confabulates another resume-padding event that simply never happened.
Must have been his hippocampus stuttering again.
President Biden on Thursday told Jewish leaders that he spent time at the Tree of Life synagogue in Pittsburgh after the October 2018 mass murder of 11 people there -- but the synagogue told The Post he never visited.

"I remember spending time at the, you know, going to the, you know, the Tree of Life synagogue, speaking with them," Biden said in a 16-minute virtual address ahead of the Jewish holidays Rosh Hashanah and Yom Kippur.

Barb Feige, executive director of the Tree of Life, said that Biden did not visit the synagogue in the nearly three years since the anti-Semitic attack.

In a phone interview, Feige, executive director since July 2019, said firmly that "no" Biden didn't visit, even before taking office when he had a lower public profile as a former vice president and then-Democratic presidential candidate.

The White House refused comment.
Hey NeverTrump -- does "the truth still matter" or nah?
Video of Sundown's latest demented confabulation. Though, to be fair, he's been lying and bullshitting his way through life since at least his early 30s.
Tucker Carlson blasts Lindsey Graham, another Southern Democrat pretending to be a conservative, as a prime conduit for the foreign policy blob's endless lies.
The remnants of Hurricane Ida hit New York, flooding the subways.
Another flooded subway.
Flooding leaves cars and buses stranded in the middle of the streets.
Joe Biden and the left have unleashed chaos and cataclysm upon the country, but at least we'll have interesting video to look at.
Amazing drone footage of the Dallas Cowboys' "Star" campus (practice fields and gyms). Fan or not, this drone footage is amazing. A lot of Just-Showing-Off maneuvers.
John Ekdahl dunks on former National Review reporter and Biden supporter Tim Alberta (gee it's almost as if Conservative, Inc. gatekeeps who can work in the "conservative" media and keeps the staff reliably pro-corporate but socially center-left):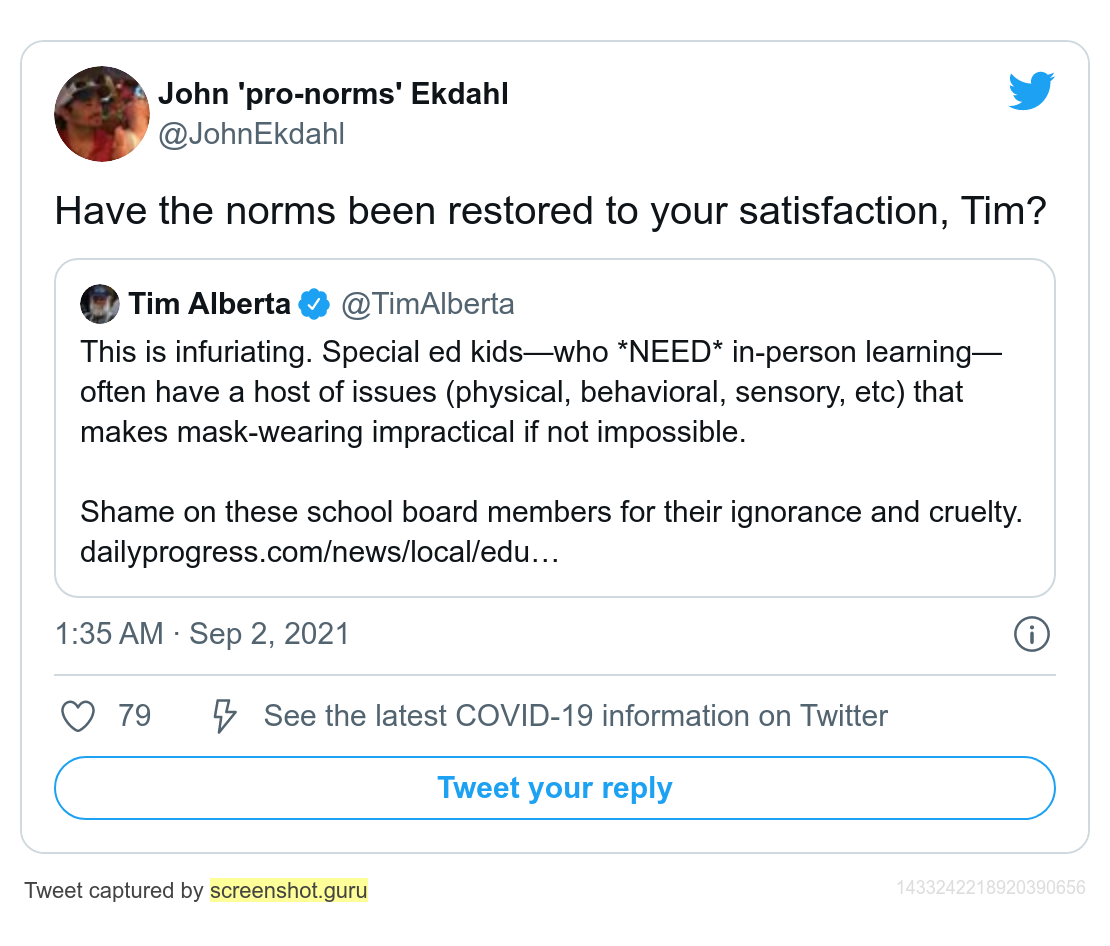 Then he dunks on deranged alcoholic shut-in AllahPundit: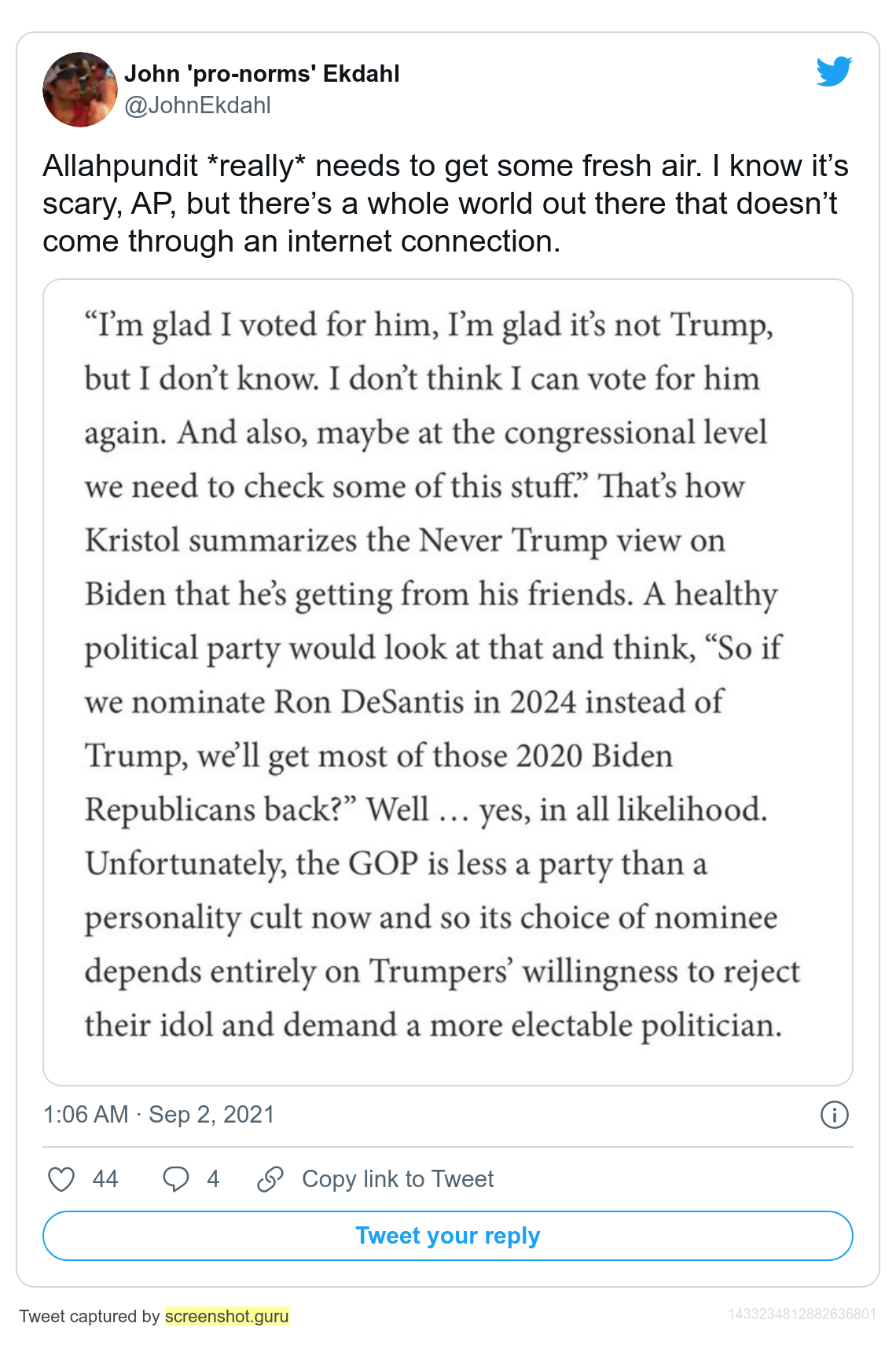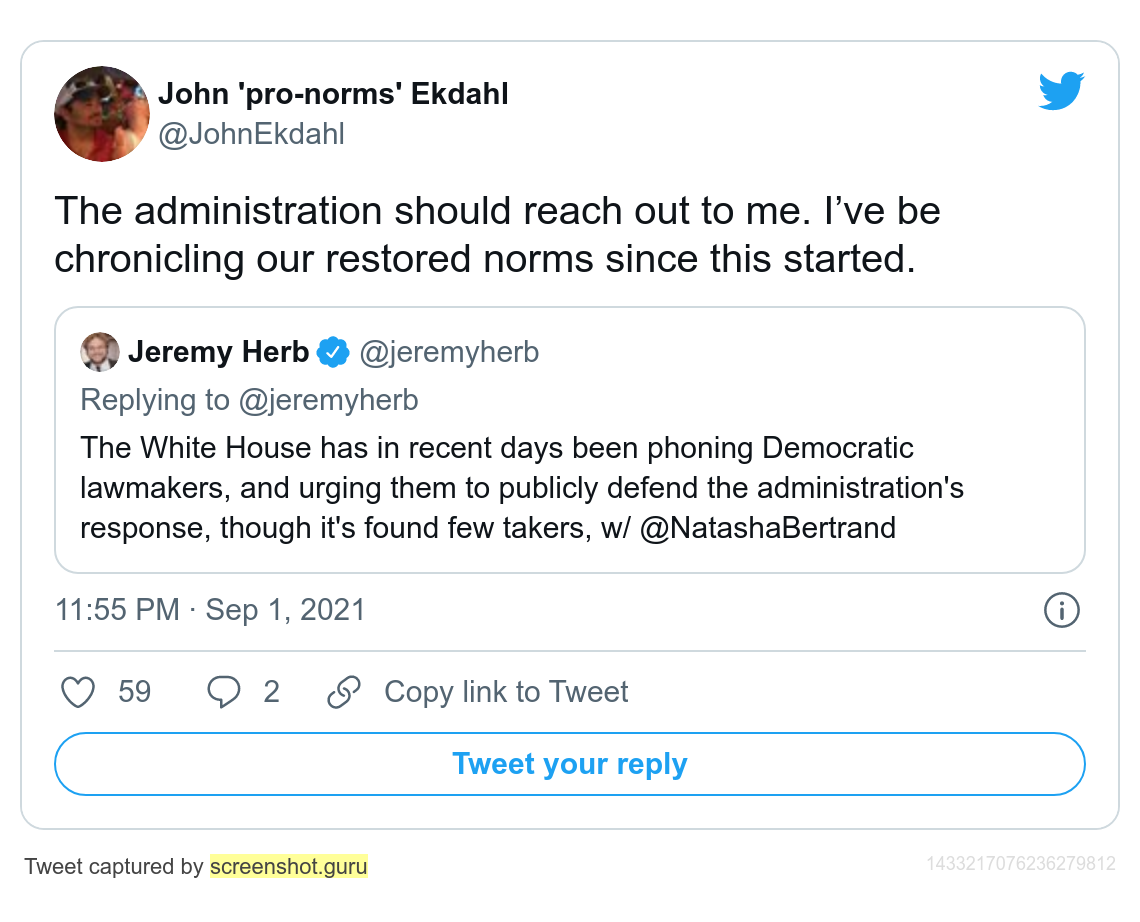 John "pro-norms" Ekdahl is the tireless chronicler of all the norms being restored.
At least on Twitter. I'd like to think I'm a Major Thinkfluencer and Chronicler of Restored Norms too, just not on Twitter.
Meanwhile, the Taliban is restoring some norms in the Pansjir Valley: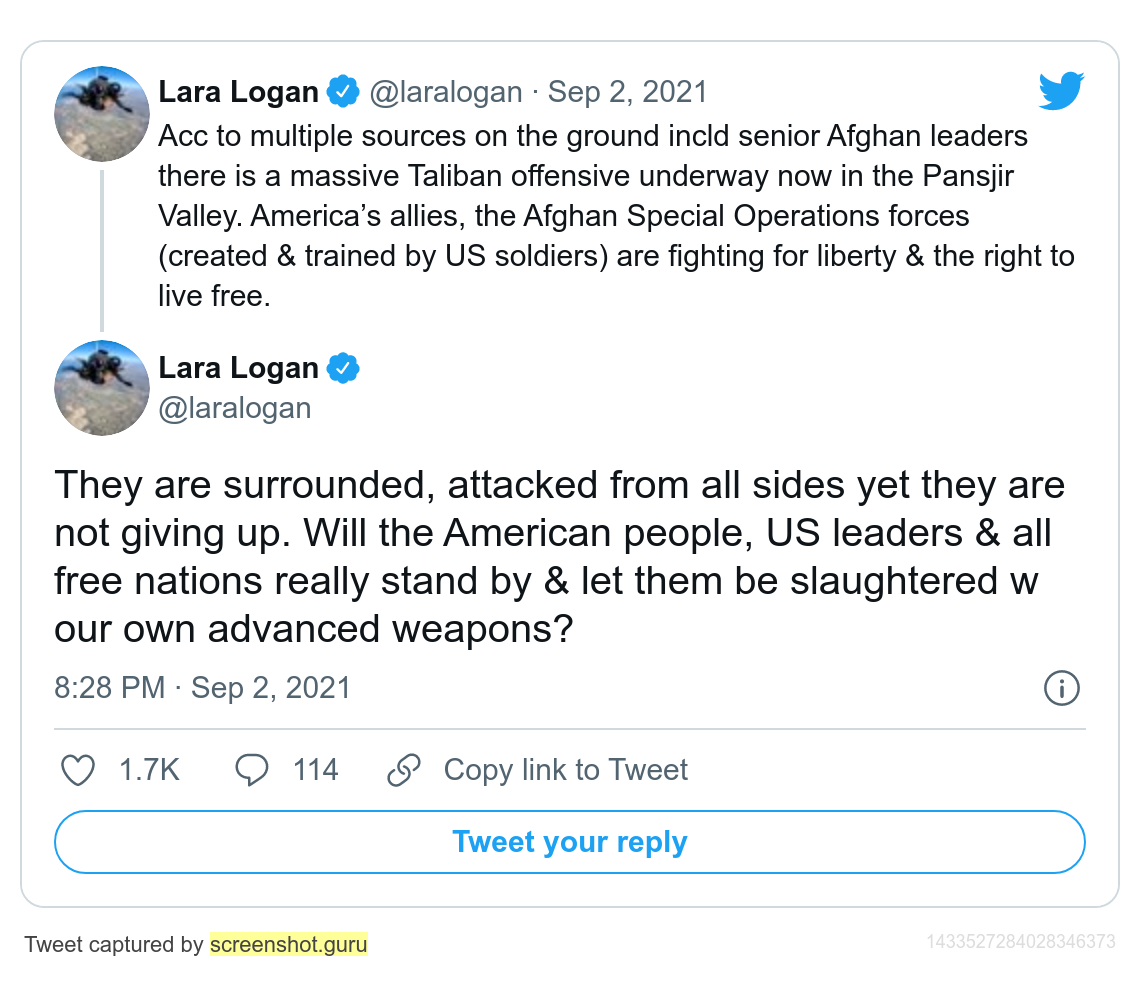 David Frum, True Conservative, conserving conservatism: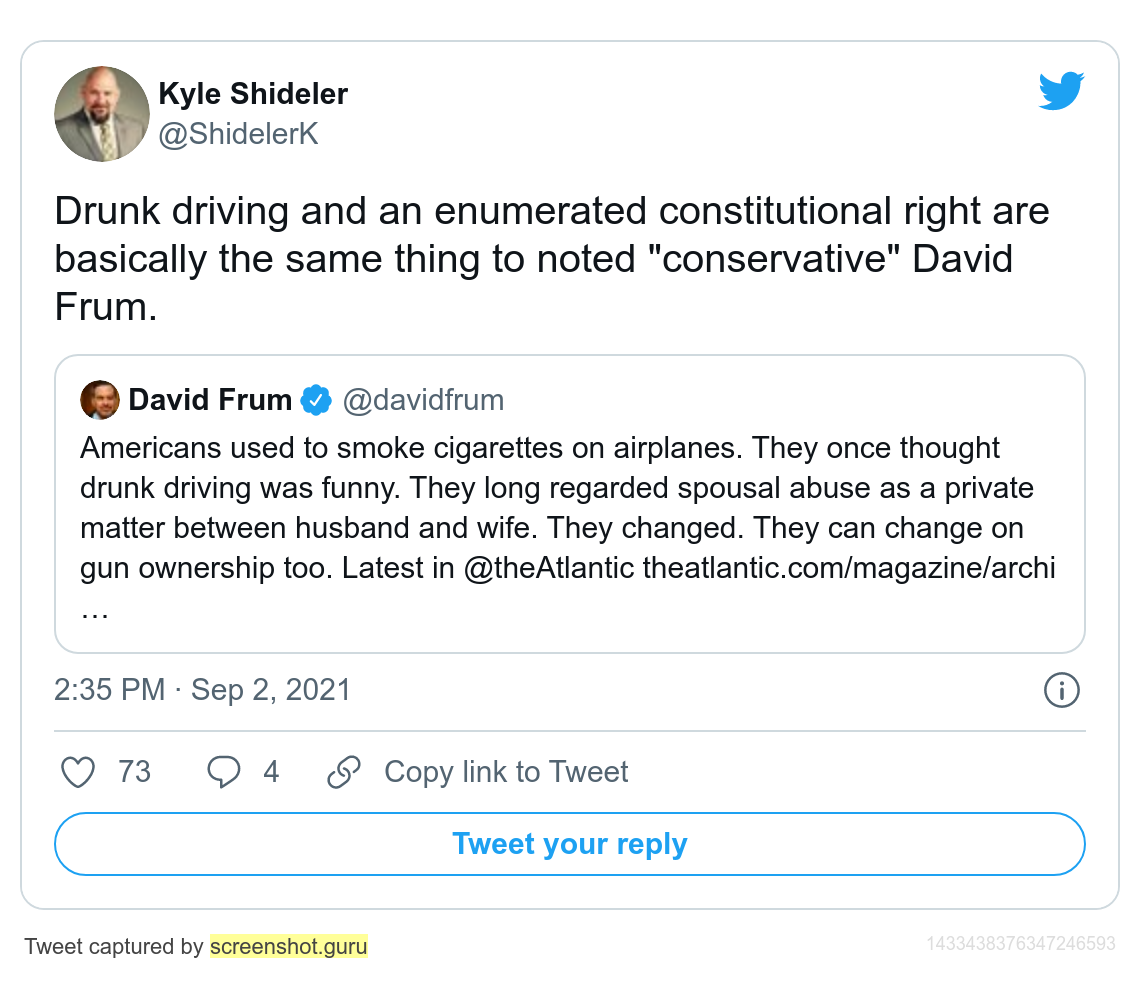 It's just extraordinary how many left-wing social agenda points these True Conservatives of NeverTrump all agree with, passionately!
Joe Biden hosts a trivia game show, which I'll call Sundown! The game where Biden provides the garbled, unintelligible gibberish, and you provide both the answer and the question!
BTW, good of Ryan Phillipe to appear there, a right-skewing comedy show making fun of Biden.
I get a good feeling from this guy.


posted by Ace at
05:37 PM
|
Access Comments