« Saturday Afternoon Chess thread 08-28-2021
|
Main
|
Saturday Overnight Open Thread (8/28/21) Limited Content Edition »
August 28, 2021
A Fishing Story
It's been a while since we've had a fishing thread on a Saturday, so how about doing one tonight?
Although it's always fun to read about the zen of fly-fishing or the strategies of bass fishing, I am just a lowly bait-chucker. My fishing ideal is to put a shrimp on a hook, throw it out into a salt-water bay, and then sit and wait to see what (if anything) takes the bait.
One of the interesting aspects of fishing off of a pier or a jetty is the other people there around you. Some may become a friend for that one day. Some are simply entertaining to observe. Some might even be a little scary. The story below is true. I typed up the dialogue as best I remembered it after returning from this fishing trip. Feel free to read it and comment.
Or feel free not to read it, but I'd love to hear your own stories about:
- Characters you've met while fishing.
- Any "junk fish" that you've eaten. (Have any of y'all ever eaten a hardhead catfish?)
- A fishing trip that went seriously awry.

*****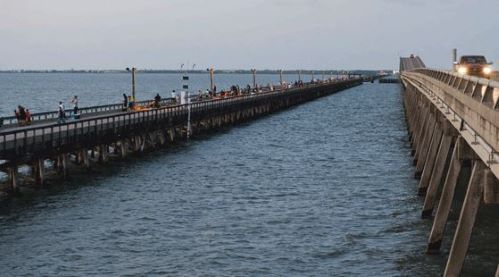 Hardhead Catfish & An Ex-Con
Back in the 1990s, not too long after my college days were over, I often made the couple-hour drive to the Texas coast to do some bay fishing. Sometimes I went with friends, but sometimes alone. The Copano Bay State Fishing Pier was my favorite destination, as it was a repurposed highway bridge that spanned the entire mouth of Copano Bay (except for a section in the middle that was removed to allow boat traffic.) Any fish that swam into or out of Copano Bay swam under that pier.
On this fishing trip I was alone. I set-up my poles and chair under a light and had a successful night of fishing for speckled sea trout. In the wee hours I returned to my car, pointed it east, reclined the driver's seat for a few hours sleep, and with the rising sun I returned to the pier for a little more fishing before I planned to drive home.
The fish were no longer biting, so I kept moving further out on the now-empty pier. I settled in at the end and soon found myself lost in thought when I was surprised by a big strike. While reeling in, I realized that I now had company. A weathered man of indeterminable age was watching me. The fish turned out to be a hardhead catfish, a junk fish that steals bait and is armed with a wicked dorsal fin. I threw the fish back into the bay.
"Why'd you throw it back?" the stranger asked.
"Just a hardhead," I replied.
"What's wrong with a hardhead?"
"Lousy eating."
"Ever ate one?
"No."
"Then how can you know? Shouldn't you try one first?"
I laughed and told him I probably should try one someday, but for now I'd keep pursuing trout and flounder. Still serious, he asked me, "Ever gone hungry?"
"No," I replied, to which he didn't respond.
He then returned to his poles which were leaning against the rails behind me and down the pier a little way. Not too long thereafter I hooked another hardhead. The stranger was watching me. I was not going to keep this fish, but it seemed that offering a hardhead catfish to him was a pathetic form of charity. I'd rather have caught a respectable fish, or just given him a trout from the cooler in my car.
"Want it?" I asked. He took it and thanked me as he dropped it in his bucket.
"One more and my dad and I will have enough for supper."
"Here with your dad, are you?" I asked.
"Yeah."
"Left the women behind?" I tried to joke.
"Not exactly. Mom's dead and my ex-wife left me a long time ago."
"Where are you staying?" I followed, trying to make pleasant conversation.
"We got us a trailer in Fulton. Dad's sleepin' in."
About then I caught another hardhead and again offered it to the stranger. He took it and then asked if he could throw his line on my side of the pier. I was happy to oblige, since catching hardheads wasn't providing me any satisfaction.
"Where're you from?" he asked.
"Austin," I answered. "How about you?"
"All over I guess. Huntsville for most of my adult life."
(Huntsville is home to the Texas State Penitentiary.)
"Work at the prison?" I asked.
"No. I was in the prison."
At that moment I realized it would not only be tacky to pursue the line of conversation ("So, what were you in for?") but I also did not want to discuss a criminal's record, alone with him at the end of a long empty pier. By not knowing whether he was a car thief or a murderer, I could assume the best, quickly concede that the trout just weren't biting, and pack up and go. It now felt creepy that I had slept in my car at the pier.
The quiet was a little awkward and he spoke. "Did you go to college there in Austin?"
"Sure did," I replied. He made an expression of acknowledgement but didn't respond.
"Don't hold college against me," I joked.
He now responded, "Hell, you were smart to get an education. The third time they sent me to Huntsville I didn't know if I was ever coming back out. I decided to use their library and either I'd die in prison a smart old man or I'd learn enough to get by on the outside if I was ever released."
"I suppose there's plenty of time for reading." ("Third time?!" I was thinking.)
"Time for lots of stuff if you put your mind to it. The last time I decided to set some goals for myself while I was there."
"Goals for life after prison?"
"Yeah. And in prison."
"Like what?"
"I didn't want to be just another drug dealer staring at TV."
("…just another drug dealer," I thought. Whew.)
"What were your goals then?" I asked.
"Learn the law. Learn who helps the guys who want to stay clean after prison. Help those guys avoid coming back. Keep myself away from the gangs and the really bad guys. Make friends with guys who'd look out for me. Guys who study do OK in prison. I got by OK."
I was no longer afraid of him and he was comfortable talking about prison, so I was now curious to learn a little more about him. "So, you thought you might not get out this last time?"
"Three drug convictions was a life sentence in the '70s. All I sold was marijuana."
"How'd you get caught?"
"Bein' stupid." He felt no need to elaborate beyond that.
I thought about how devastating it would be to be locked up for so many years of early adulthood. "Does it make you bitter?" I asked.
"Sometimes I want to, but you can't let it. It'll eat at you like a cancer. And you know what…the law was clear back then and I broke the law. I may not have agreed with it but I understood the consequences. Had I not gone to prison I might even be dead now. Who knows."
"What do you do now?" I asked.
"I mow lawns, some handyman jobs, but mainly I just look out for my dad. We can live pretty cheap."
He went back to fishing and caught himself a hardhead. He threw it in his bucket then started packing up to leave the pier.
"You know," he said, "my biggest regret isn't those lost years. It's how it hurt my folks. They had to always try to avoid talking about family. They became less social. It hurts to have to say, 'My boy is in prison in Huntsville.' Mom died while I was in prison and I missed her funeral. I've paid my debt to society. I think I've overpaid. By looking out for dad I can try to repay a more important debt."
As he started to walk back toward land, he smiled at me and said, "If you're ever hungry, you oughtta try a hardhead."
I've caught a lot of hardhead catfish since then. And I've thrown every one back. But catching a hardhead always causes me to recall the wisdom of a decent ex-convict whose path in life briefly intersected with mine one morning on a South Texas pier.
(buck.throckmorton at protonmail dot com)


posted by Buck Throckmorton at
07:29 PM
|
Access Comments