« China, Inc. Was Another Overhyped And Destructive Management Fad
|
Main
|
Kabul Collapse Cafe: I Want My MTV Edition »
August 27, 2021
Quick Hits: Time's Up for Time's Up Head Tina Tchen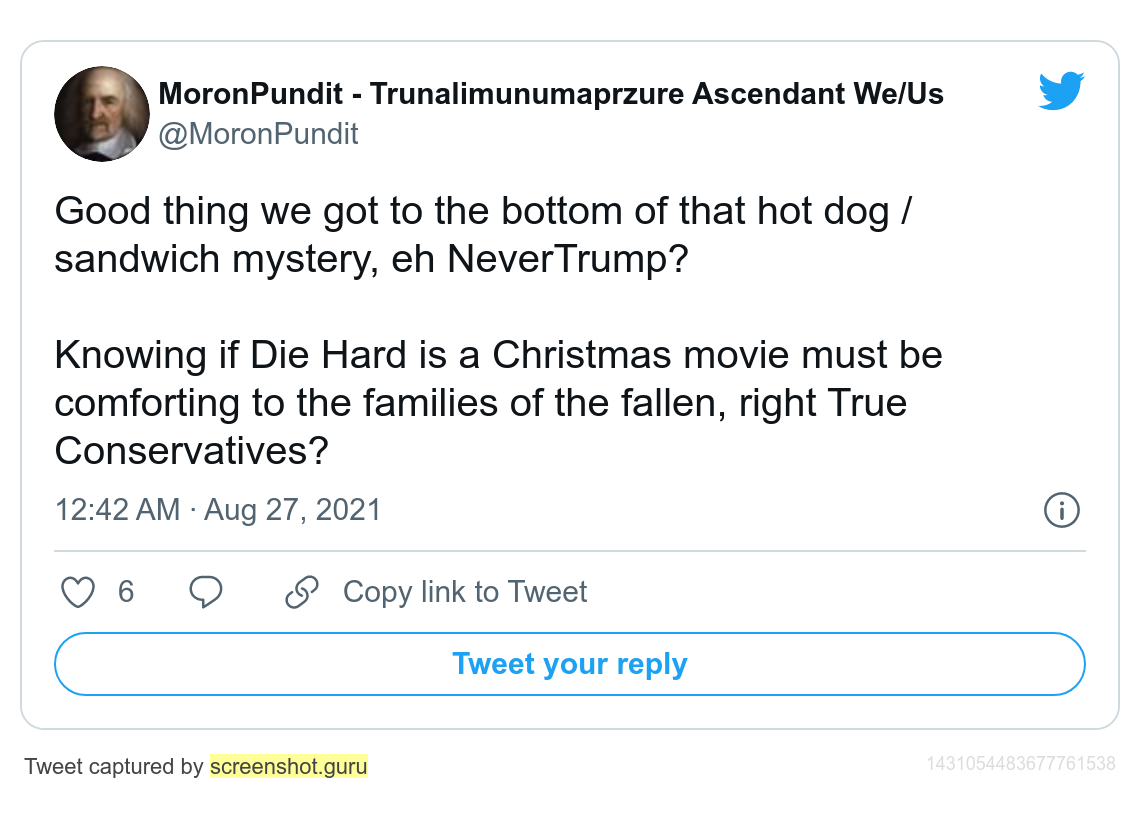 It's not just that they are frivolous people -- many people are frivolous.
It's not just that they are stupid people -- many people are stupid, and many of them are good and valuable.
It's that they're evil people. Evil people who use frivolity to push evil onto the world.
...
The mastermind behind a terrorist bombing in Bloomington, Indiana now says that he's a woman and that gender dysphoria, along with reading "conservative blogs," prompted the attack.
Given that he bombed a mosque, am I allowed to call him by his correct gender?
...
The head of Time's Up, Tina Tchen, has been forced to resign after the revelation that the head of an organization supposedly established to "Believe All Women" and hold their harassers to account actually told her organization to "stand down" with respect to accusations against Andrew Cuomo -- that is, ignore the allegations in order to support Cuomo.
A Washington Post story published yesterday revealed that Time's Up, the group founded to fight harassment against women in the wake of the Harvey Weinstein scandal, had held its tongue when an accuser came forward with allegations about Gov. Andrew Cuomo.

Text messages show that Time's Up chief executive Tina Tchen told her colleagues to "stand down" from a plan to release a public statement supporting Cuomo's first accuser, Lindsey Boylan, after two people connected to the group spoke with Melissa DeRosa, the governor's longtime adviser.

...


Eventually the Post story reveals that the decision not to support Boylan came in conjunction with advice from a board member who is part of a Democratic PR firm. The concern was that a statement supporting Boylan would give Fox News an excuse to run a story that might catch on. Defending abusers to own the cons.
That board member? Democrat flack Hilary Rosen, of the Democrat-aligned crisis communications/PR firm SKDK, which represents Democrats in trouble or those seeking publicity. Like Sandra Flook.
If the name Tina Tchen seems familiar -- well, it should. I put off mentioning this to let your memories recall where you last heard the name.
In addition to being Michelle Obama's former Chief of Staff, Tina Tchen seems to have become an all-around sleazy fixer for Democrats in trouble with the law. It was she who helped put the fix in for Jussie Smollett, by putting corrupt Chicago DA Kim Foxx in touch with Smollett's well-connected relatives.
In 2019, Tchen reached out to Cook County State's Attorney Kim Foxx to put her in touch with actor Jussie Smollett's family after Smollett reported that he was a victim of an attack in River North.

Tchen passed Foxx's number to a relative of the actor, and the ensuing conversations with the family member were cited as to why Foxx recused herself from Smollett's prosecution when he was initially charged.
Foxx did not recuse herself; she pretended to recuse herself.
So that's your filthy-dirty, favor-trading, political fixing Democrat Party.
They care so much about women. And racism. And everything.
How many minutes do you think will pass until she's guaranteed her next well-paid sinecure at her next Democrat front organization?
I bet it wasn't even 60 minutes. They won't announce she's the new head of Democrat Front Group #239 until she's had time to cool down as far as bad publicity, but I would bet any amount of money that her next job has already been taken care of for her.
...
Via Mis. Hum. in the sidebar -- RFK's assassin Sirhan Sirhan has been released from prison -- after two of RFK's children asked for his release.
I will not condemn them. But society has been turned upside-down by the left. Law-abiding citizens are harassed by the government, and assassins that changed the course of history (at least for a while) are free to do as they will.
Douglas Kennedy, who was a toddler when his father was gunned down in 1968, said he was moved to tears by Sirhan Sirhan's remorse during a parole hearing that prosecutors didn't attend.

"I'm overwhelmed just by being able to view Mr. Sirhan face to face," he said.

"I think I've lived my life both in fear of him and his name in one way or another. And I am grateful today to see him as a human being worthy of compassion and love."
I've changed my mind. I think I will condemn them.
Robert F. Kennedy Jr., who has spoken in favor of Sirhan's release in the past, also wrote in favor of paroling Sirhan.

Sirhan --who smiled as Kennedy spoke -- told members of the California Parole Board that he'd learned to control his anger.
Well that's just terrific.
...

Shockingly, Twitter omnipresence and sanctimonious social media scold S.E. Cupp has anxiety issues.
For the past week I've been stuck in a deep black hole of anxiety, a kind I've never felt before. It's been exhausting.
You're exhausting. You exhaust the people around you. People like you vomit your craziness and anger and stress on to everyone around you.
Before I continue, let me say at the outset that I am getting treatment. I'm taking steps to limit my exposure to triggers. I have not yet asked my employers for time off, but I very well may.

I've always been a worrier -- the kind Woody Allen movies and Larry David sitcoms affectionately portray as "neurotic," or as go-getters might spin as "Type A."
I'm going with, "Hysterical Karen looking for things to be upset about in order to feel alive."
She's come down with anxiety because she has so much empathy that she takes the world's pain unto herself. Kind of like Jesus, if Jesus had a little-watched show on CNN and preached to his flock through Sick Twitter Burnz.
I also started obsessively transferring the pain of others onto myself. It wasn't hard to find subject matter -- I covered things like war, genocide, oppression. It wasn't long before every child victim of the Syrian war was my child. Every mother fleeing Myanmar was me. Every family separated at the border was mine.

That can be useful -- I'm not embarrassed or ashamed of empathy. But at times it could be debilitating. I leaned on friends who also worked in those difficult spaces, and attempted to compartmentalize.
Did you apologize to those around you for splashing your manic anxiety on them?
Nah, right?
The increasing divisiveness of American politics was also disorienting and traumatic. Once friends were now political foes; the things I thought we all cared about were no longer important to many; things like facts and truth and science were perverted purely as an exercise in manipulation and political gain; institutions have been and continue to be attacked and eroded by the very people charged with protecting them.
Yes it's everyone else's fault that you turned friends into foes. See, they just "stopped caring about 'truth' and 'science.'"
Then, in the midst of a deadly pandemic, worrying about things we once took for granted -- going outside, going back to school, traveling -- now had a proper purpose. Indulging my anxieties during Covid felt good and appropriate.

I'll bet it did, Karen.
Worrying about my job, my kid, my parents, my town, my community, my country all felt totally deserved. I leaned in.

But suddenly, the anxiety I nurtured and cultivated over the years became an absolute monster during this perfect storm -- pandemic, politics, problems.

...

In the past week, simple things have become impossible. Making a decision, from what to buy at the grocery store to which words to use in a conversation, is agonizingly difficult. Racing thoughts make sleep impossible. A video of a boy on a ventilator sparked a panic attack while running errands. I am simultaneously overwhelmed with emotion and completely disassociated from my body.
She cares too much, guys.
While I knew instinctively to limit my news and social media intake, it's my job to pay attention. So as I prepared to write this morning, the headlines were assaulting:

"COVID-19 cases among kids keep rising."

"Wildfires ravage California and Greece."

"Cuomo report triggering emotions for other sexual harassment victims."
...


Asking anyone to function amidst a steady diet of this kind of news is a heavy lift. Today, I could barely manage to click on the links.
Look, I had an anxiety-related disorder -- panic. It was a debilitating thing and I wouldn't wish it on anyone.
But...
I find it hard to generate too much sympathy for someone whose plight is, "I get triggered from Twitter but I can't stop checking Twitter because I use it to feel my unearned sense of superiority and my unbearable moral sanctimony."
Turn off Twitter, then.
I know what she'd say. In fact, she's already said it: "But I HAVE TO look at twitter for my woorrrrk!"
Um how did people "do their jobs" before Twitter?
Addicts always have a list of reasons why they have to continue taking the drug they're addicted to.
And: I mean, the cliches here. Stick-up-her-ass wealthy white woman gets triggered by her social media addiction and uses it an excuse to lash out at others and bask in her asserted superiority.
It's less a mental condition than a carefully-curated identity.
How many other NeverTrumpers do you think have this exact same type of neurotic/hysterical personality disorder? 75%? 90%? 100%?
Turn off twitter. Power down the phone. Talk to human beings, and not only via texts. (That's not "talking." Communicating yes, but not talking.)
Go outside. Go for a walk. See the sun through your eyelids. Be present in the world. The real world. Not the fake Twitter/FaceBook world.
Do anything in which success or failure is not measured by retweets or likes or "ratios."
Whatever. JUST STOP WITH THE TWITTER ALREADY FOR THE LOVE OF EVERYTHING HOLY.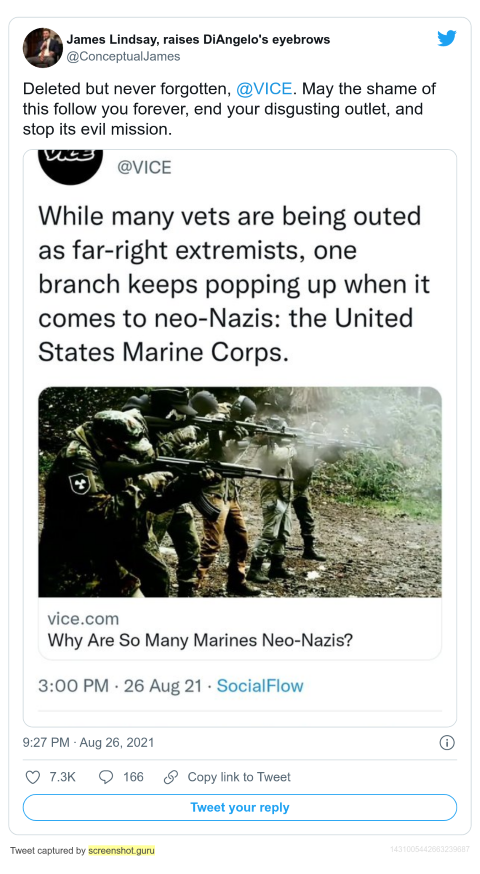 Flashback to when Nancy Pelosi said we cannot require people to be vaccinated, and also cannot demand they present vaccination papers, because people's health matters are protected from disclosure by laws of medical privacy.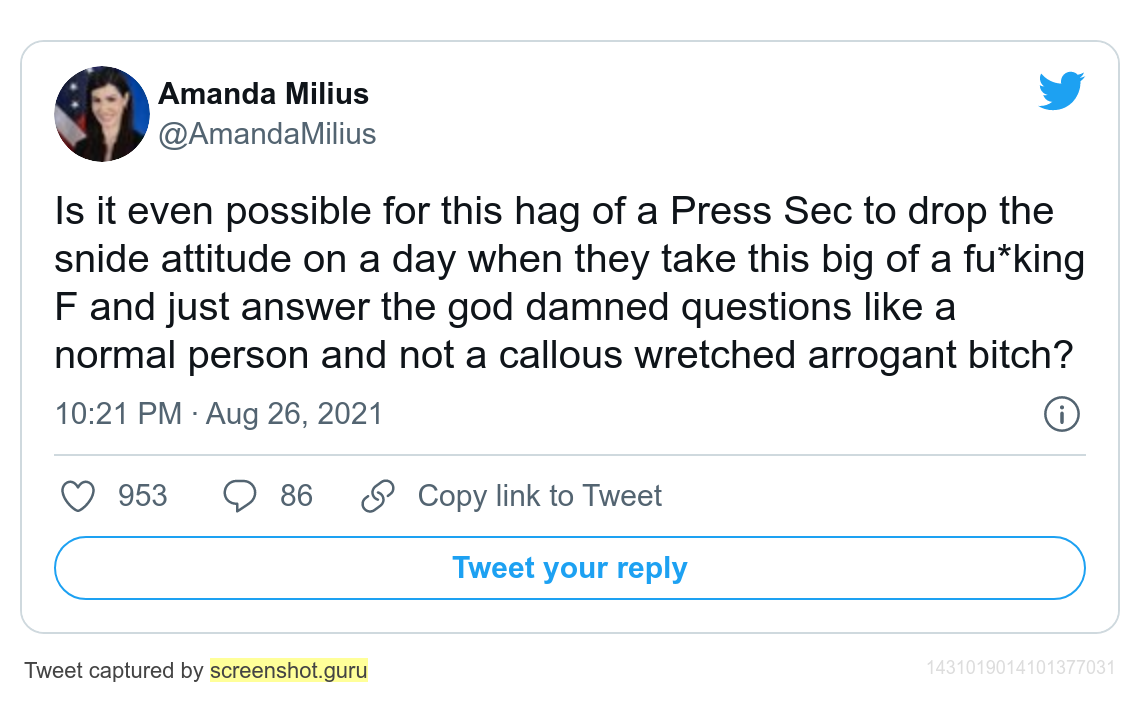 Is she not baking fresh cookies for the press any longer?
Content warning: Me-Again McCain like you've never seen her before. Thanks to Yudhishthira's Dice.

posted by Ace at
06:33 PM
|
Access Comments