« Kumala Lays Flowers At... the Vietnam Memorial Celebrating the Heroic Shoot-Down of John McCain
|
Main
|
Lester Holt Will Present the Defense for Ashli Babbit's Executioner »
August 25, 2021
Quick Hits: Seizing and Pouncing Edition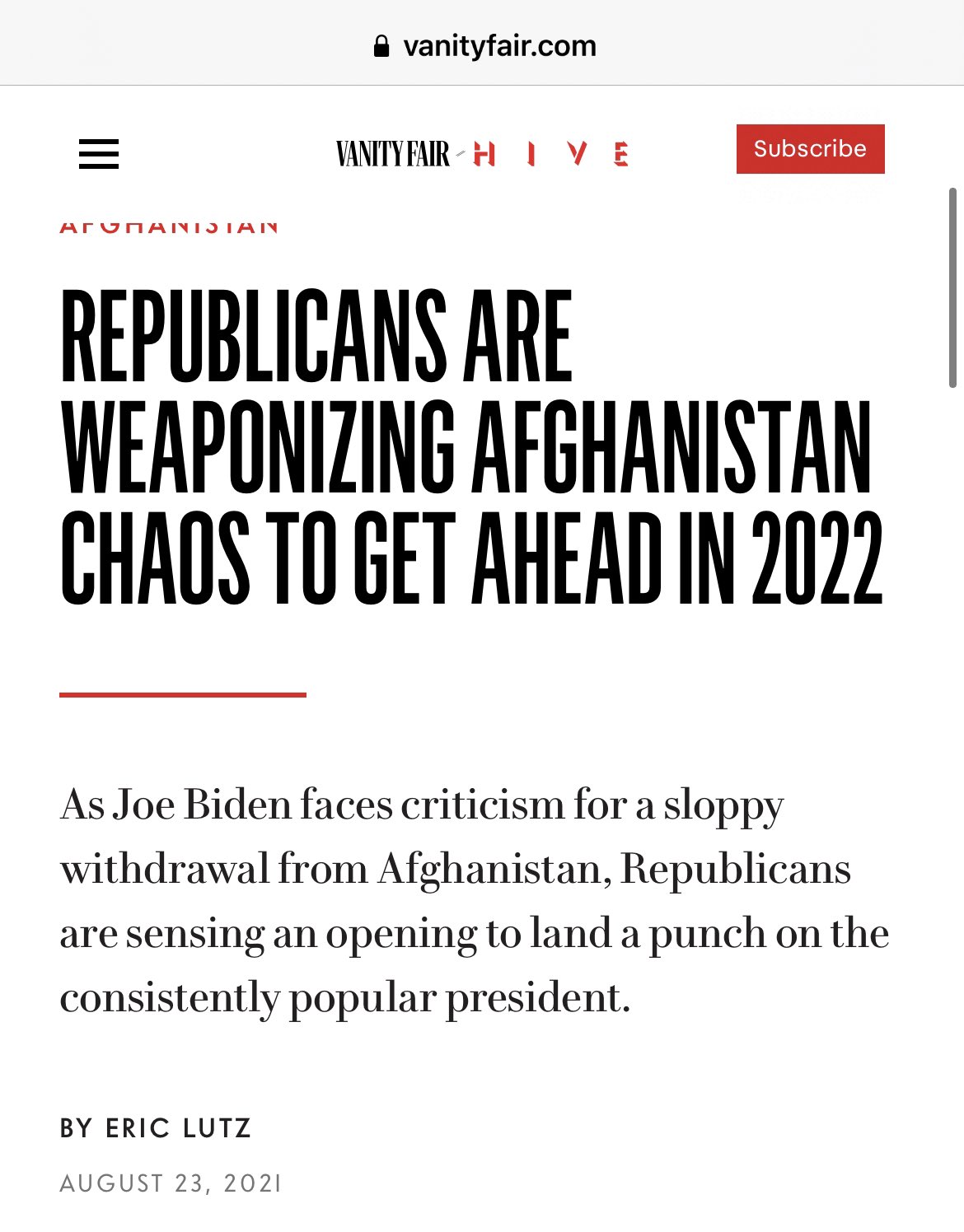 Just a few years ago: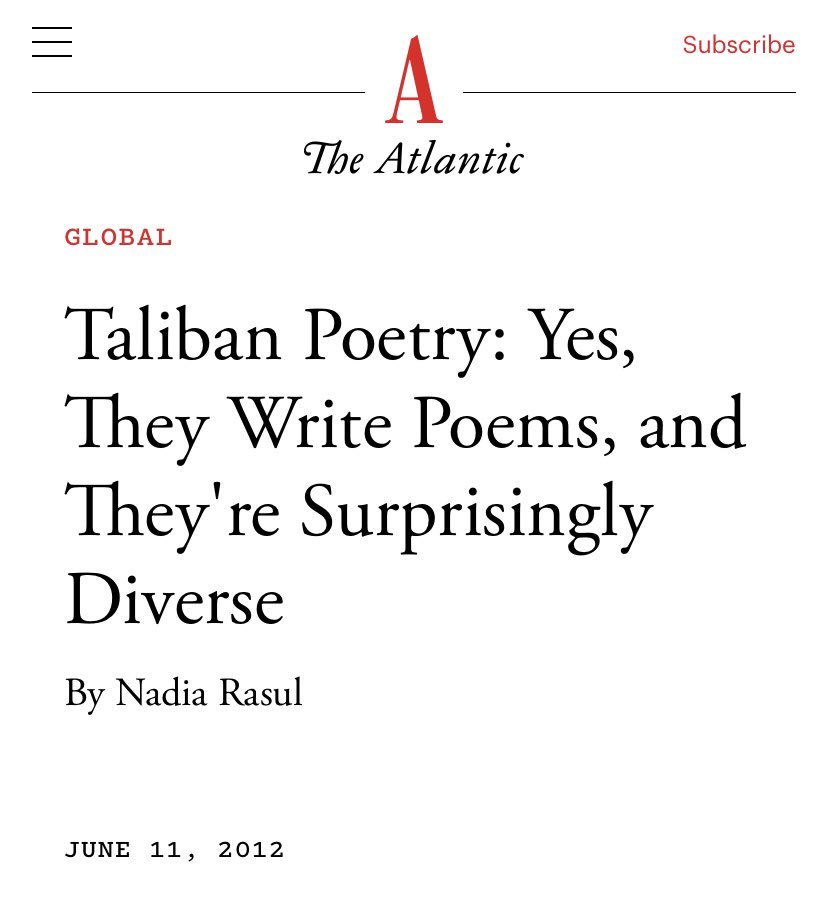 Biden heroically, masterfully walked away from reporters at the scripted press conference rather than answer the obvious, pressing question of whether he'd keep troops in Kabul until all Americans were evacuated: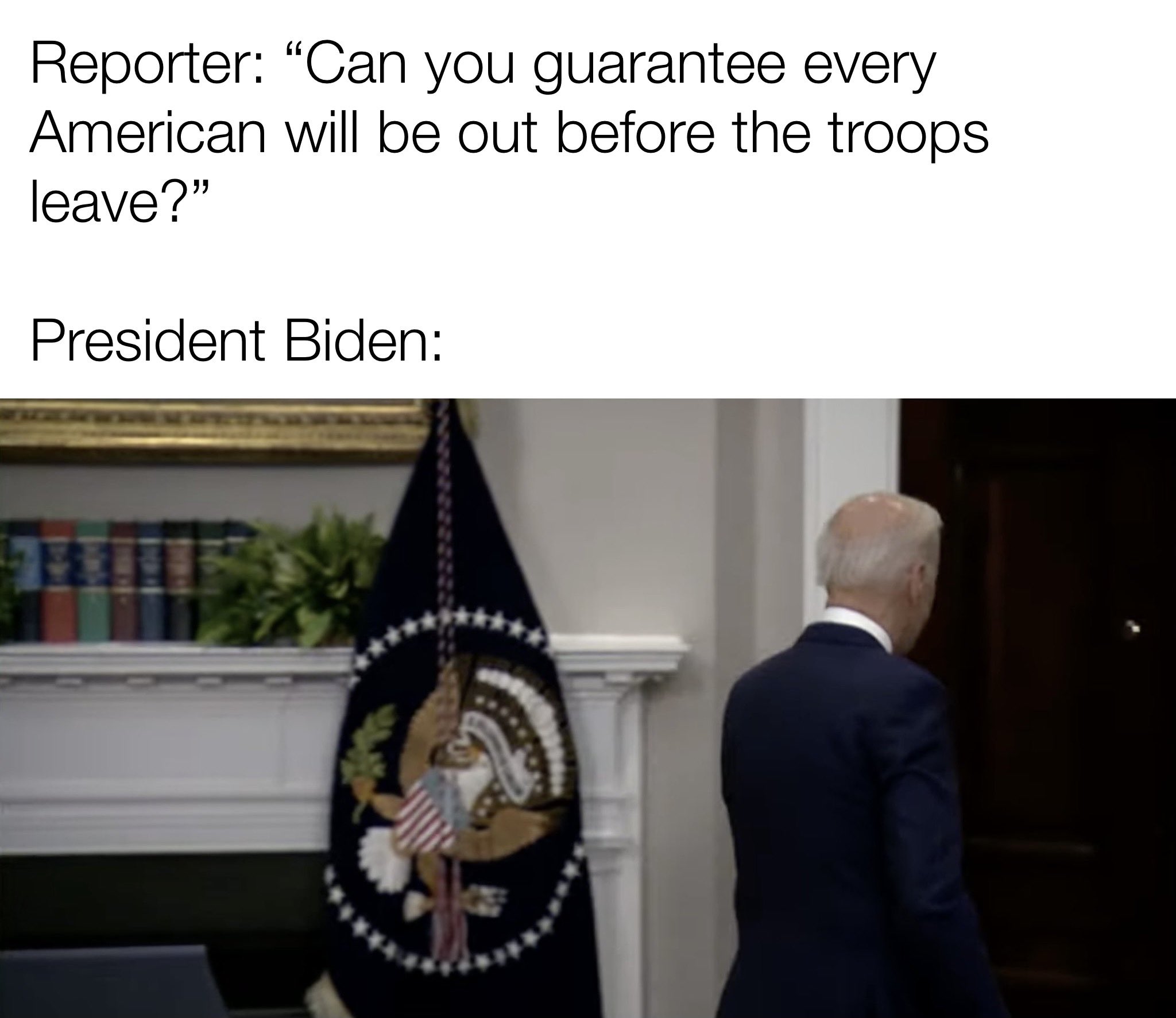 That right there is a picture of a man hurrying off to Restore Precious Democratic Norms.
Update: Joey Runaway gets snarky:
101 Normz and Thivility restored~~!

@PeterAlexander 28m

I asked President Biden what he will do if Americans are still in Afghanistan after the 8/31 deadline.
His response: "You'll be the first person I call."
Took no questions.


Posted by: weft cut-loop
Joey Runaway did take time during the briefing to praise himself:
Juanita Broaddrick @atensnut

Biden: "I have more foreign policy experience that all the previous Presidents in recent memory... put together".

What the F?
Do you not remember the steel he showed in the tense negotiations with the People's Republic of Corn-Pop?
Corn-Pop was a bad dude, man.
Biden touted his call with his G7 partners.
The length of this very substantive, wide-ranging call?
Seven minutes.
One minute for each G in the G7!
TheLastRefuge @TheLastRefuge2

The Biden teleconference with the G7 lasted a sum total of 7 minutes. Pure propaganda.

That conference call was for two reasons: (1) the White House talking point of a 'collaboration with G7 leaders'; and (2) a photo-op. That's it folks, nothing more.
It depends on what the definition of "stranded" is:
@RNCResearch

PSAKI YESTERDAY: "It's irresponsible to say that Americans are stranded. They are not"

PSAKI TODAY: "We expect there could be some" Americans left behind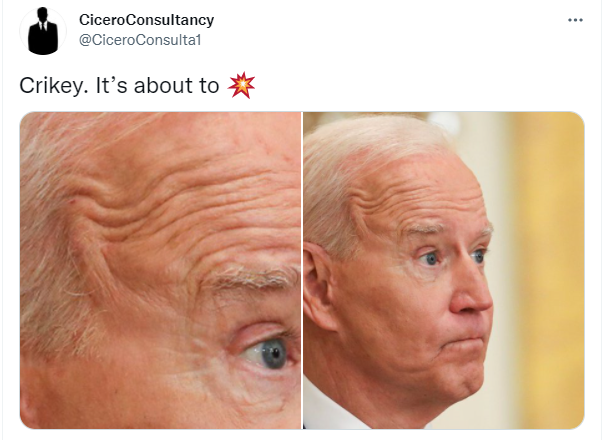 Tucker Carlson blasts liberal Democrat-in-GOP-clothing Lindsey Graham for voting in favor of every single "lunatic" judge Biden nominates.
The reason he does this, Tucker explains, quoting from Graham's own well-traveled mouth, is to "remain relevant," by working to advance Biden's agenda.
Tucker also blasts commentators for "promoting" Lindsey Graham.
Coincidentally -- or, you know, not coincidentally -- Tucker did this segment just before the hand-off to Sean Hannity.
Sean Hannity's guest that night, for the 858th night running? That's right, Lindsey Graham.
The Democrats are just about to roll out a gerrymandered redistricting map which will eliminate Adam Quislinger's seat.
Former President Donald Trump would love to take down Adam Kinzinger, one of his chief House GOP antagonists, in next year's midterms. But Democrats might beat him to it.

Illinois lawmakers are on the verge of rolling out a new congressional map that will very likely gut Kinzinger's exurban Chicago seat, according to several sources close to the redistricting process, leaving him with just a few bleak options for remaining in office next year.

The elimination of his district would force the veteran Republican congressman to choose between running in unfamiliar territory, possibly against another incumbent, or making a long shot run for governor or Senate in a blue state -- and that assumes Kinzinger could prevail in a GOP primary after spending the last year criticizing a former president who remains beloved by the base.
Eat a dick, Quislinger. Eat all the dicks. Take all the dicks and make a mountain of dicks and then ski down that dick-mountain with your mouth open like you're catching snowflakes but nope, they're sweet, sweet dicks. (Adapted from a line gotten from Ethan Van Sciver.)
Beta Orbiter to cvcks Heath Mayo -- seriously, all this guy does is Yass Kween the NeverTrump Conservative, Inc. media all day long; it's pathetic -- has thoughts: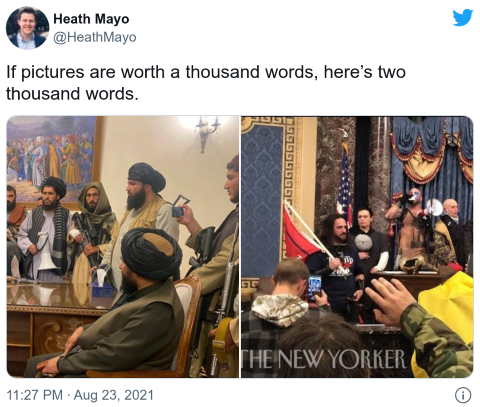 A seventeen pound -- 17! Pounds! -- baby was just delivered.
The picture is here, but mild content warning because the baby is fresh from delivery, umbillicus attached. It's huge.
He was just recruited by the University of Nebraska football program.

posted by Ace at
02:33 PM
|
Access Comments