« Saturday Gardening and Puttering Thread, August 28
|
Main
|
Saturday Afternoon Chess thread 08-28-2021 »
August 28, 2021
Ace of Spades Pet Thread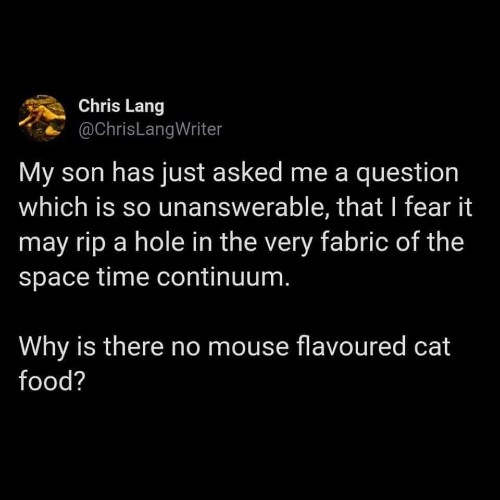 ***

Good afternoon and welcome to the almost world famous Ace of Spades Pet Thread. Thanks for stopping by. Kick back, relax and enjoy the world of animals.
***
A Little of This. A Little of That.
***

This little kitteh was saved by a 7 year old. 2 little sweethearts.

Sometimes, we are so busy with life we don't notice the things that are happening right around us. Maybe we are running late for the next meeting or appointment, or trying to make the subway on time. Either way, I urge you to slow down and enjoy this life; it already goes by so fast. There is no need to make it go by any faster. Unfortunately that is the case in Istanbul. Day in and day out people passed a trash can and avoided the crying coming from inside. Nobody is sure about the amount of time this creature was left in there, it could have been days or even weeks. Thousands of people passed by it though and not one curious person stopped to find out what the horrific cries were. Except for one 7-year-old girl who decided to stop and see what was making all of that noise.
***
It isn't often that Congress does the right thing.

Congress Passes Bill To Help Veterans With PTSD Get Service Dogs

A bill to connect more veterans with service dogs trained to support mental health conditions is headed to the President's desk.
***
Meet The PetMorons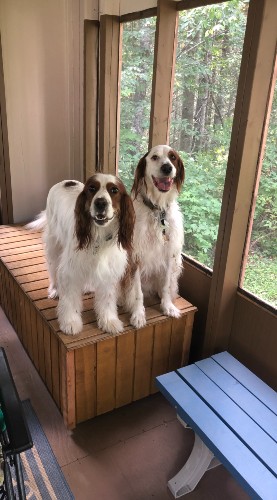 The Dream Team, Izzy (2) & Dreamer (7) Irish Red & White Setters hanging out at Camp Misanthrope. - Misanthropic Humanitarian
***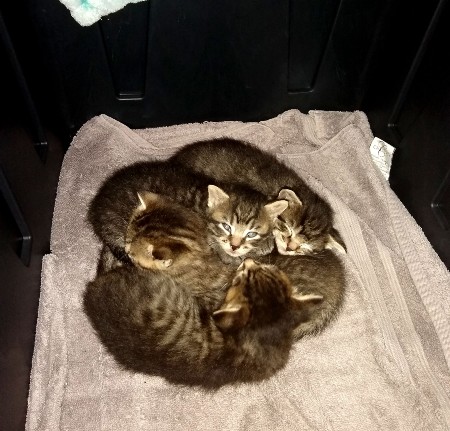 Following up, a few weeks ago I mentioned a stray cat who moved in with us, and that she was pregnant. Well, Bean gave birth three weeks ago. I thought I would post a follow up and mention that mother and babies are available to good homes and any morons in the Indiana-Kentucky-Ohio area would like to adopt one or more, they are welcome to contact me. - Victor Tango Kilo
What adorable little kittens. Good luck in finding loving homes for those critters.
***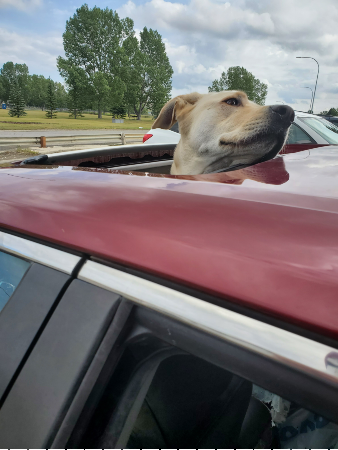 You've carried far too many pictures of Paisley but I think this photo of her checking out my car's moonroof is cute.
I wasn't driving at the time. - Northernlurker
One can never post too many pet photos. Thanks for sharing this cute photo of Paisley with us. Yes, we are glad you weren't driving.
***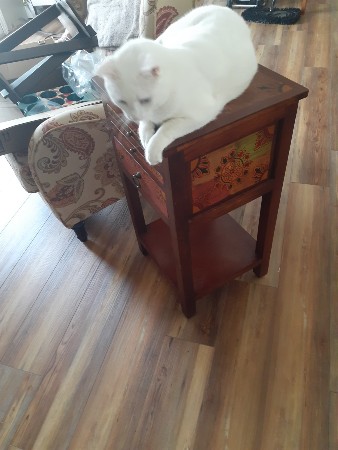 Hi, Mis Hum! Thank you for all your fine work on the blog. I am having a new floor laid, which explains all the extraneous crap in the background. This is my youngest of three cats, Bing Crosby, trying to decide if he likes it or not. I like it much better than the junky carpet it replaced. - Longtime lurker, iamfelix
Thank you for your kind words. And thanks for submitting Bing's photo. Once he get's use to the new flooring he'll be fine. I think you'll like it as well.
***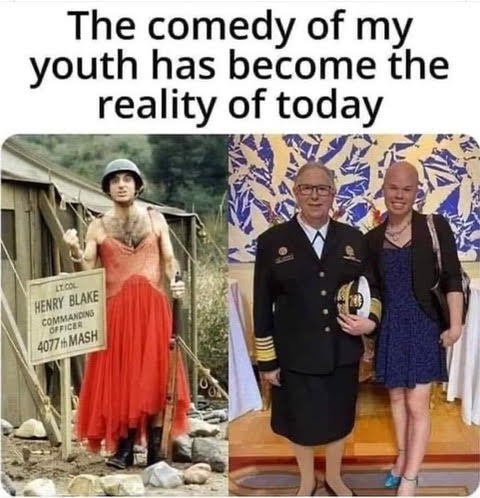 his beautiful bundle of energy joined our Ohio-based rescue a few weeks ago from the overcrowded Atlanta Fulton County shelter. He's about 4 years old, has horrible manners, drools everywhere, and doesn't like to share.

Oh, and by the way, his name is "Ace of Spades." He's no Ewok, but he'd make a great mascot.
My oh my what a long tongue this character has. "Ace" certainly looks friendly and full of energy. Best wishes in finding him a forever home.
***
A great group of pets today. Good luck to those kittens and Ace in finding forever homes. Thank you to all who contributed today.
If you have something animal/pet related you would like to contribute, you can reach us here at petmorons at gmail dot com.
God willing and the creeks don't rise we will see you next Saturday. Have a great week.


posted by Misanthropic Humanitarian at
03:00 PM
|
Access Comments