« Zoom Calls Foreseen in 1930
|
Main
|
Ace of Spades Pet Thread »
August 28, 2021
Saturday Gardening and Puttering Thread, August 28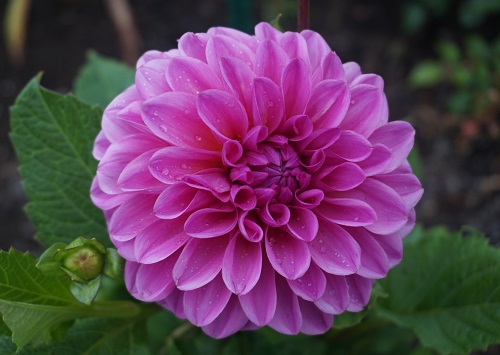 Good Saturday, everyone! Are you getting to spend some time outdoors? About the lovely photo above, and the one just below the fold:
. . shots I've taken of dahlias from the gardens on Stacy Blvd along Gloucester Harbor (MA). These planters are maintained by a group called Generous Gardeners and they do a fabulous job every year - tulips, lillies, dahlias - such beauty throughout the Spring and Summer for those of us who don't or can't garden. More info about them here: Generous Gardeners - Philanthropy through gardening

Cheers,

Lizzy
What a great way to engage with your community!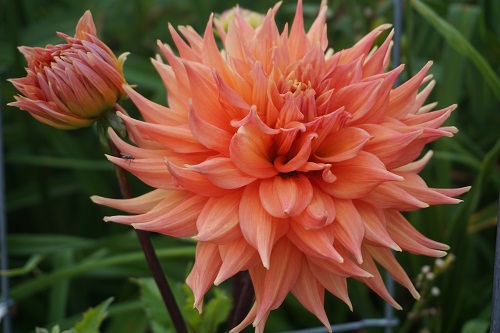 Edibles and other fun things
Lizzie sent more content, too!
Hi KT!

I don't usually stop by the garden thread because we currently don't have any space for gardening. However, thought I'd pass this along if it is of any interest.

The horde sometimes discusses plans to get more self-sufficient: "Grow a lot on a small plot - Blueprints for a thriving garden, permaculture food forest on your urban lot or homestead - GetRawMilk.com"
August 20, 2021

Photo dump of diagrams, blueprints, books, and other materials for producing food on a small plot to get your creativity flowing.

Thanks to everyone who answered the call and sent these in via Facebook and Twitter.
Lots of fun and interesting plans at the link. Some retro stuff, too.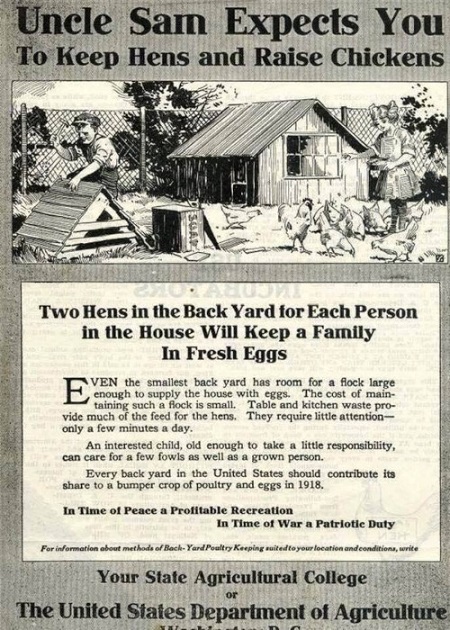 Some things have changed!
Dear K.T.,

Harvest time is starting here in Kenosha. Last Friday, I dug up my patch
of potatoes, and harvested ~20 lb. of Yukon Golds - enough to keep my
wife and me in potatoes for a couple of months. And yes, freshly
harvested potatoes do taste better - I never would have thought that the
lowly spud could taste so good.

Tomatoes are coming in - Romas for sauce and cherry tomatoes for salads.
I am also harvesting beans; this year, I planted a variety of heirloom
bush beans, for soup. They're very colorful, and I'm sure they'll taste
great when cooked into soup with a smoked ham hock.

I did have an accident in the garden on Friday. I was stung on my left
hand by a wasp. I didn't think much of it at the time - I've been stung
any number of times before, no big deal - but this time, within a few
hours, my hand and forearm started swelling a lot. There was no pain,
but it was alarming enough to warrant a trip to the ER. So, now I have a
steroid and an antibiotic, and the hand is returning to normal. Thank
God for modern medicine! A hundred years ago, that wasp sting might have
cost me my arm.

Nemo
YIPES!
Be careful out there! Nice harvest, though. The tomatoes look great! Wonder what the beans are like as fresh shellies (before drying)?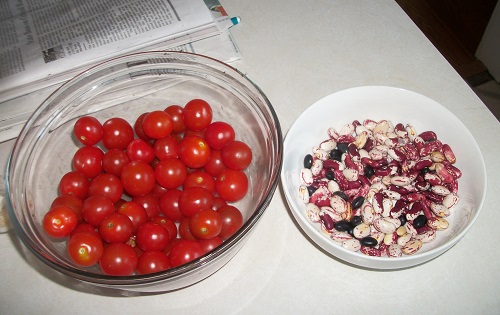 The taters look like they will be tasty, too.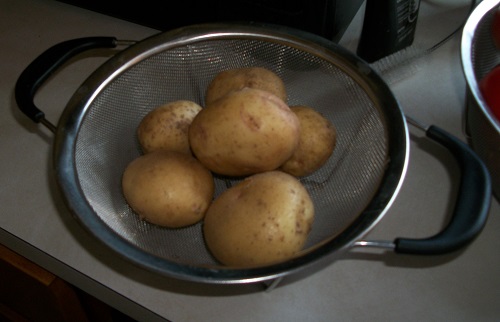 Travel and Food
CBD thinks of us even while away. He took a photo of an edible plant for us during a visit to lovely Cambria, California. Incidentally, some Monarch butterflies generally hang out in Cambria during the winter. Not as many as in Pismo Beach or Pacific Grove.
But back to CBD's photo. You may have seen this plant if you have driven along the Pacific Coast Highway: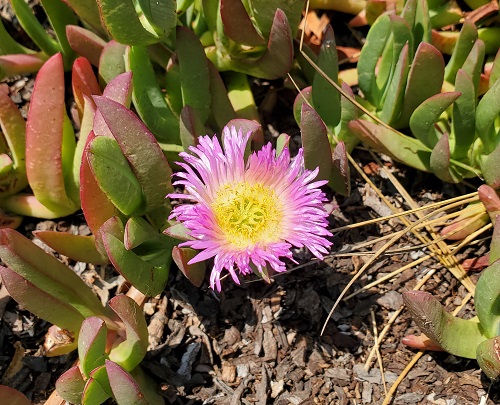 Carpobrotus edulis. . . is a member of the fig-marigold family Aizoaceae, one of about 30 species in the genus Carpobrotus. . . It is a creeping, mat-forming herb native to South Africa, but has established in many cooler, very sandy soiled, Mediterranean regions of California and Australia. Few of the popular common names of the plant are Cape fig, Fig-marigold, Highway ice plant, Hottentot fig, Ice plant, Sour fig, Pigface, Yellow-flowering sour fig, Freeway iceplant, kaffir fig and introduced pigface.
Pigface. Hmmmm.
Health benefits and medicinal uses are described. Here is a photo of the mature fruit. Some people recommend that you allow them to start "turning" before harvest, to avoid astringency. They are sour and generally salty because they grow near the ocean.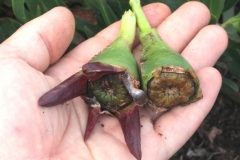 There are two pink-flowered species which are supposed to have tastier fruit, Carpobrotus acinaciformis and Carpobrotus deliciosus. Maybe CBD's plant is one of those. Sometimes farmed in South Africa.
From this South African site, we learn that:
Leaves are eaten by tortoises. Puff-adders and other snakes such as the Cape Cobra are often found in Carpobrotus clumps where they ambush the small rodents that are attracted by the fruits. Flowers are pollinated by solitary bees, honey bees, carpenter bees and many beetle species. Flowers are eaten by antelopes and baboons. The clumps provide shelter for snails, lizards and skinks. Fruits are eaten by baboons, rodents, porcupines, antelopes and people, who also disperse the seeds.
I want zero puff-adders in my garden.
The plants can serve as a fire-resistant barrier if maintained, and are sometimes planted near citrus groves in California as hosts to predators of a citrus pest. Here are some jam recipes and culinary tips.
I can't be sure without a taste-test, but I might actually prefer this Vanilla Bean Peach Jam that a friend made. You can probably figure out a recipe from a pectin package. She also makes Peach Pit Jam from pits, peels and cuts left over from canning peaches, if any canners want that recipe. It might be closer in appearance to the Cape Fig Jam in appearance, and maybe in flavor. A lot of people love it.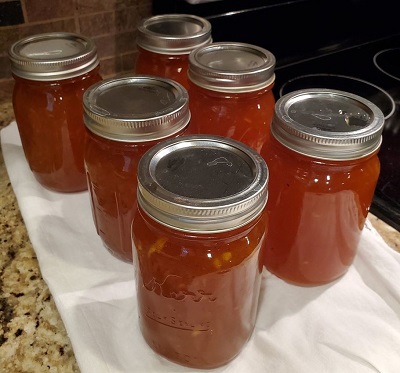 As ice plants go, the edible Carpobrotus species are some of the more husky-looking ones. It is considered to be an invasive plant in some places, including the UK.
It appears a couple of times in book 1, Dead in the Water - in one instance as the arch nemesis of Tony Guille, who is tasked with limiting its spread as part of his job with States Works.
A body on a beach, an impossible alibi and an unstoppable race against time!

Hottentot Fig appears in The Sarnian, the explosive adventure series in which the discovery of a dead body on one of Guernsey's most secluded beaches blows the lid on a world of intrigue and deceit.

Click below to download your copy today...
You can imagine that this plant would take over grazing areas for Guernsey Cattle.
For comparison, here are a couple of other ice plants. This one looks kind of delicate:
Don't know if this is one of the edible ones: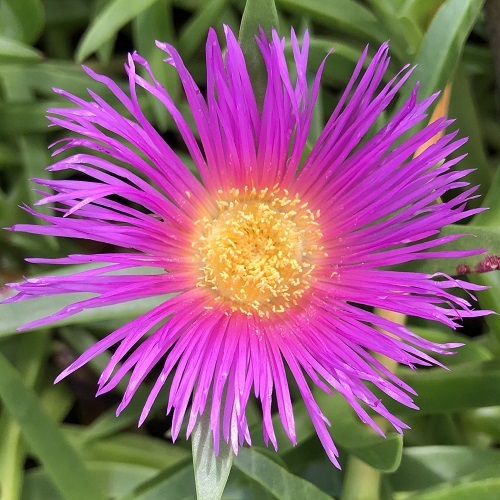 More Carnivorous Plants
We have recently seen a carnivorous bromeliad doing a high wire act. Now, more Pitcher Plants. Here are just a few from our outdoor carnivorous plant specialist:
Just wanted to send you some pics of my Sarracenia Leucophylla varieties which sends out two crops of pitchers a year with the ones in the Spring usually small and spindly and then the ones from now till November their best pitchers, which these are. Each pic is marked as to what it is, and I still have many more that haven't sent up their Fall pitchers yet and when they do, I'll send you the pics. Anyway I hope you like them. Take care. Tony Litwin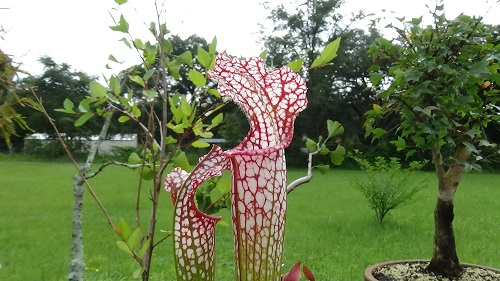 S. l. 'unnamed cultivar'
I like the plants in the background in the photo above.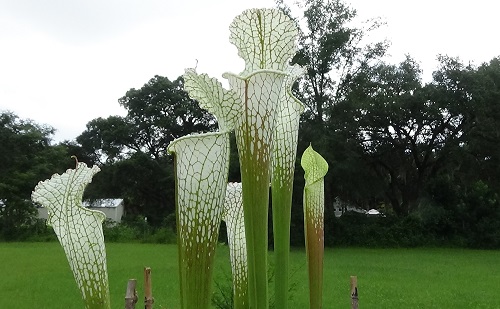 S. l. 'Alba'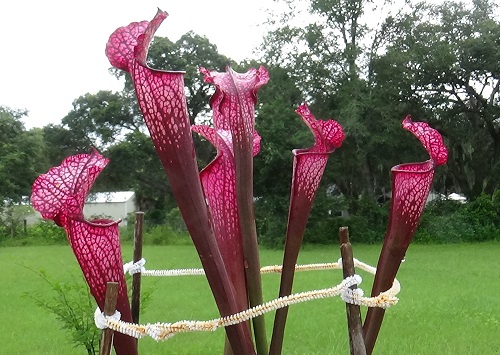 S. l. 'All Red'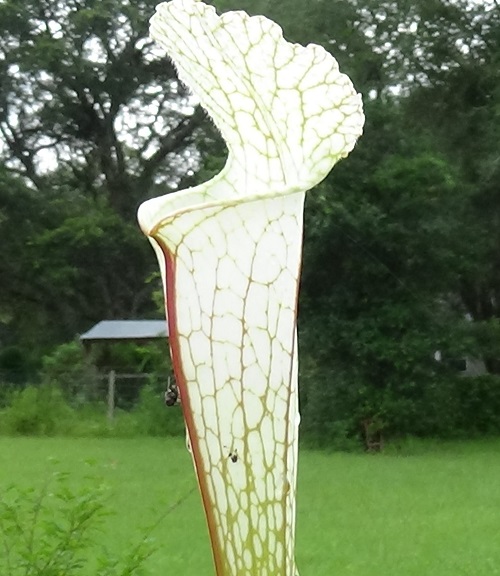 S. l. 'Hurricane Creek'
Some of these cultivars have great names.
BTW, the pic titled Pink Lips, that pitcher is 3 feet tall, I have the plant on a table and that's why the angle is looking up.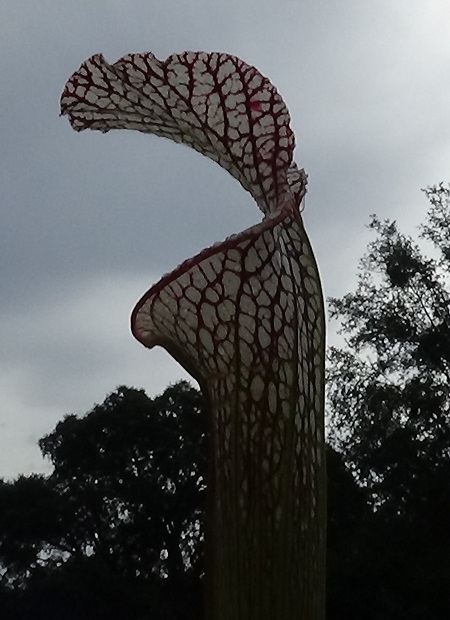 S. l. 'Pink Lips'
3 feet tall! Sounds dangerous to critters.
Here is a little video about a different genus of pitcher plants. It grows pitchers in a different way.
Gardens of The Horde
Special recognition to neverenoughcaffeine for dedication to gardening in the Bitterroot of Montana, despite several challenges including high heat and water. Planting 63 "ditch daylilies" is a big job, too!
We had some discussion of morning glories in the comments last week, too. We got a response.
Morning glories in the garden. The other picture is of some vines growing on the edge of the woods.

f'd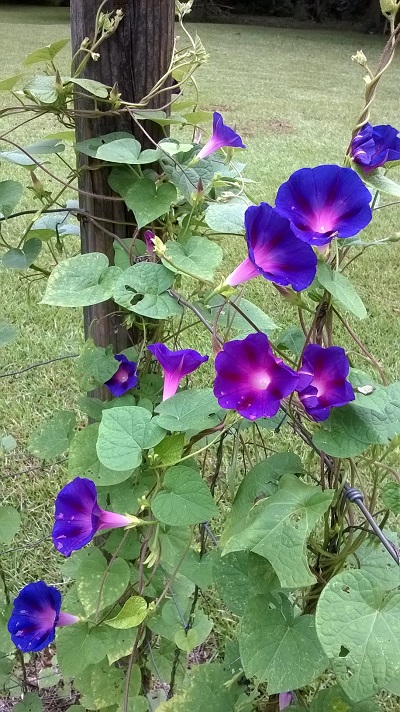 Looks like a perfect spot for morning glories.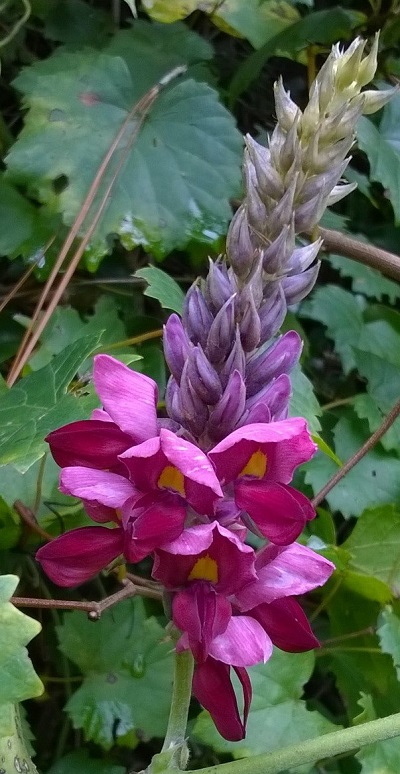 Anybody want to identify this one?
Puttering
We've been de-cluttering.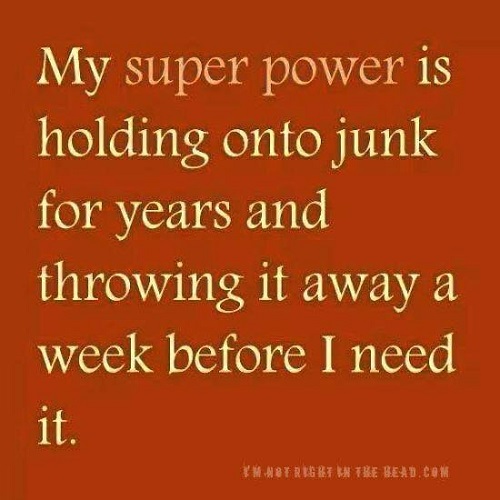 If you would like to send information and/or photos for the Saturday Gardening Thread, the address is:
ktinthegarden
at that g mail dot com place
Include the nic by which you wish to be known when you comment at AoSHQ,
unless you want to remain a lurker.

posted by K.T. at
12:54 PM
|
Access Comments