« Saturday Morning Coffee Break
|
Main
|
Saturday Gardening and Puttering Thread, August 28 »
August 28, 2021
Zoom Calls Foreseen in 1930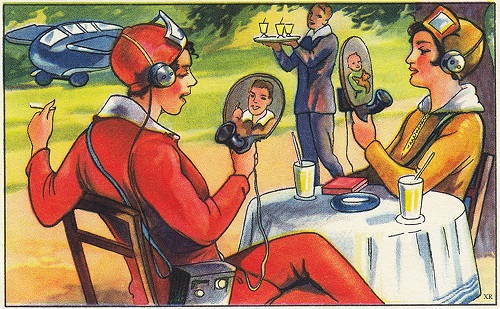 What an unbelievable time we are going through. I ran across a bunch of "future fantasy collectible cards" from Germany, between the Great Wars. What did people dream about during that difficult time?
What did they get right?
What did they get wrong?
Check out the details of the card above, depicting elements of today's Zoom calls:
Wireless Private Phone and Television. Translation of the verso: Each person has their own transmitter and receiver and can communicate with friends and relatives using certain wavelengths. But television technology has become so advanced that people can talk and watch their friends in real-time. The transmitter and receiver are no longer bound to the location but are carried in a box the size of a photo apparatus.
What other details in the artwork stand out to you?
These future fantasy collectible cards were published by the German company Echte Wagner in the first half of the 20th century. Originally Echte Wagner made margarine, and it made a lot of trade cards that were distributed all over Central Europe.

In 1930, the True Wagner Margarine created a series of books designed as a display for a collection of stickers made available separately. In this book, there's a section called Future Fantasy which has no artist or author credited. . .

There were hundreds of Echte Wagner trading cards, and they were focused on numerous topics, including folklore, transportation, culture, universe, futurism, and more. The most fascinating ones are the cards depicting visions of the future. Many of those ideas came true a hundred years later!
A couple more cards are included below the fold: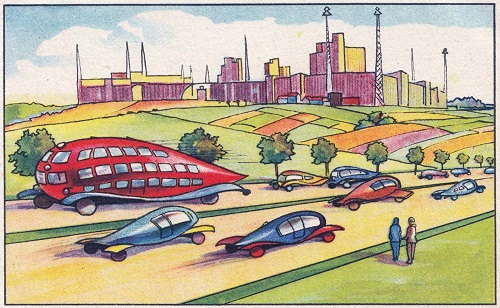 Translation of the verso: The future cars are powered by tiny engines that use nuclear power. The speed of cars has grown accordingly. The reach speed of 200 to 300 kilometers an hour on city roads. On highways, speeds of 1,000 km/h are quite common!
Has someone told AOC about this?
Retrofuturism is first and foremost based on modern but changing notions of "the future". As Guffey notes, retrofuturism is "a recent neologism", but it "builds on futurists' fevered visions of space colonies with flying cars, robotic servants, and interstellar travel on display there; where futurists took their promise for granted, retro-futurism emerged as a more skeptical reaction to these dreams".

In its more popular form, futurism (sometimes referred to as futurology) is "an early optimism that focused on the past and was rooted in the nineteenth century, an early-twentieth-century 'golden age' that continued long into the 1960s' Space Age".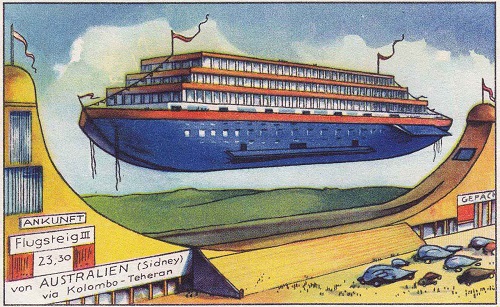 Translation of the verso: The airship displayed above is about to land in its giant pad. It is no longer lifted by gas and driven by engines, it has a built-in transformer that is able to harness gravity into repulsive force. Now it's possible to raise, lower, and move huge payloads.
From Sydney, via Colombo, Sri Lanka and Tehran?
Okay, this is artwork. But what did the Powers that Be get right and wrong in 1930?
Can you pick out some things that people in power are getting right today (from among the things they are getting wrong)? Or should we be looking elsewhere?
Music

This is the Thread before the Gardening Thread.
Serving your mid-day open thread needs
Hope you have something nice to do this weekend.

posted by K.T. at
11:14 AM
|
Access Comments