« Kabul Collapse Cafe: Mischief and Mayhem Edition
|
Main
|
Daily Tech News 25 August 2021 »
August 25, 2021
Wednesday Overnight Open Thread (8/25/21)
***
The Quotes of The Day
Quote I

"Our industry is fast becoming a breeding ground for mental health illness. … What sort of twisted standard of beauty are we creating for the younger generations and how does it affect those with mental health disorders such as Body Dysmorphic Disorder?" Dr. Steven Harris owner of the Harris Clinic in London
Quote II

"Being who I am, I think people at the least will be interested in what my work will sound like, which is very nice. But on the other hand, if it's not exactly what they want to hear, or if I don't try to sound Van Halen-y enough for them, they'll hate me and won't give me the time of day. I'm fully prepared for a wave of hate when my music releases because it won't be what people think it'll be. I'm not trying to be my father, I'm trying to be me." Wolfgang Van Halen
Quote III

"We never should have been debating the budget at this moment. While Afghanistan was falling, while Americans are stuck there, while young Afghans were falling, clinging to our airplanes, this is what they were focused upon,"Rep. Kevin McCarthy
Quote IV

"I don't think any human being who has a heart and soul would support efforts to profit off of people's agony and pain if they're trying to depart a country and fearing for their lives. We are evacuating people free of cost because that is the right step to take and certainly we wouldn't be supportive of profiting off people who are desperate to get out of a country.White House press secretary Jen Psaki

Spoken like a true government teat sucker "Free of cost". Honey, nothing is free of cost. Besides they aren't stranded correct?
***

Instead of using rulers she learned a subtle craft. The last nun brew-master.

It seems that every town in the southern German state of Bavaria — no matter how small — has a brewery, and beer is brewed by all sorts of people. And before you judge farmer Zausinger for his morning beer run, consider who he bought it from: Sister Doris Engelhard, a 72-year-old Franciscan nun. She claims to be the world's last nun brewmeister, and woe unto anyone who would argue that title.

Sister Doris has strong opinions about her beer and when people should drink it. In short: Always, especially during the 40-day penance period leading up to Easter. "During Lent, fasting is difficult for me," she says. "Eating one meal a day is tough. But beer is liquid — it doesn't count as food when you fast. A strong beer gives me strength!"
***

Multi-million dollar enterprise holds multi-billionaire to his pledge. Billionaire Ron Perelman is losing the naming rights to a new residential college at Princeton after he stiffed the university on a promised $65 million gift.

He and his daughter Debra, the CEO of beauty company Revlon—in which Perelman's firm, MacAndrews and Forbes, has an 86 percent stake—had pledged $65 million to the school in 2018 through their foundation. Evidently they never fully followed through.

"The University has terminated the gift agreement with the Perelman Family Foundation, Inc. to name a residential college because the Foundation has not made payments due under that agreement," a Princeton spokesperson told The Daily Beast. "We remain grateful for the Perelman family's long-standing support," he added.
***
According to WH Spokesbitch, Jen Psaki: About 1,500 Americans including 23 California students stranded hanging around in Afghanistan

As many as 1,500 Americans including about a dozen students from California are still stuck in Afghanistan with less than a week before the US intends to end its evacuation mission.

Secretary of State Antony Blinken announced the numbers during a press conference on Wednesday and said the US has been in 'direct contact' with about 500 Americans to give them 'specific instructions for how to get to the airport safely' in Kabul.

The status of the remaining 1,000 Americans is still being determined, according to the State Department.

'We're aggressively reaching out to them multiple times a day… to determine whether they still want to leave and to get them the most up-to-date information and instructions for them on how to do so,' Blinken said.
***
If you've been paying attention to the EV industry, you'll know that Chevrolet has just issued a recall of the Bolt EV. It's the third Bolt recall that's taken place over the past several months, and they're all related to a string of battery fires.

The big thing is that this recall is far more encompassing than the last two. The earlier events focussed on a handful of Bolt models, but this time Chevrolet has issued a recall of every single Bolt and Bolt EUV. And that's arguably the absolute worst thing to happen to the electric car industry right now.
***
Last night we covered OnlyFans and their new upcoming business model. Hold on a cotton picking minute. That didn't last long.

OnlyFans reverses porn ban after public backlash
The porn ban was widely criticized for endangering the livelihoods of sex workers on OnlyFans.

After widespread public outcry, OnlyFans has canceled its plan to ban sexually explicit content on the site.
***

Plaintiff attorneys. What are they good for?

Spencer Elden, 30, has an unique claim to fame: he was the naked, swimming baby whose photo graces the cover of Nirvana's seminal 1991 album Nevermind. He's made a lot of his youthful fame over the years, but is now suing the band claiming that the image was pornographic.

Guess Mommy & Daddy don't have deep pockets. Click Bang Kurt Cobain doesn't.
***
***

If I were the LEO who pulled over this vehicle doing 12 over. I would have gladly ticketed this asshole. Or at least call my supervisor to respond and make the scene bigger.

***

Family reunions will be a hoot.

KEEPING FAITH This Morning fans' horror as woman marries her brother's killer and vows to prove his innocence after 32 years in jail

AN American woman who married her brother's killer after he served 32 years in prison has horrified This Morning viewers.

Crystal Straus married John Tiedjen at his home in Cleveland, Ohio at the weekend as he awaits a retrial over the death of Brian McGary in June 1989.
***

Missing a package? It isn't always the usual suspect pilfering your stuff.

Aug. 24 (UPI) -- A Connecticut homeowner who reviewed security camera footage to find out what happened to her missing Amazon package was shocked to see the thief was a black bear.

Kristin Levine, of Bristol, posted a video to Facebook showing the bear taking the package from her front step and walking down her driveway with the pilfered parcel.
***
***
The ONT Musical Interlude
On this day: 25 Aug 2000
Academy Award-winning film score composer and record producer Jack Nitzsche died of a heart attack. He produced The Rolling Stones, Neil Young, Buffalo Springfield and The Walker Brothers. Musical scores including The Exorcist, One Flew Over the Cuckoo's Nest, co-wrote 'Up Where We Belong' with Buffy Sainte-Marie from 1982 film An Officer and a Gentleman. via thisdayinmusic.com
&&&
Born on this day: 25 Aug 1954
Elvis Costello, (Declan McManus), singer, songwriter. Had the 1979 UK No.2 single with The Attractions 'Olivers Army' and his 1979 UK No.2 album Armed Forces spent 28 weeks on the chart. Costello has won multiple awards in his career, including a Grammy Award, and has worked with Paul McCartney, Tony Bennett, Lucinda Williams, Kid Rock, and Brian Eno. via thisdayinmusic.com
***

If you didn't want the job, why didn't you just say so?Genius Award Winner.

Paul Marcum, who witnesses say flashed a Nazi salute and chanted "Heil Hitler" at a raucous Birmingham Board of Education meeting last week, has lost his job as a tennis instructor at the Sports Club of West Bloomfield.

Marcum worked at the health and fitness club every fall but he won't be allowed to return this year, the owner tells Metro Times, declining further comment.
***
What a remarkable story and what an incredible human being. Tonight's Feel Good Story of The Day.

Recently retired Sgt. Ezra Maes first made headlines for his 2018 heroism after he amputated his own leg in a crumpled M1 Abrams tank in order to help the other members of his crew.

Maes, who at the time of the accident was participating in an Atlantic Resolve exercise in Slovakia, was awakened when his tank began careening downhill after multiple brake failures.
***

Tonight's ONT has been brought to you by Umbrellas.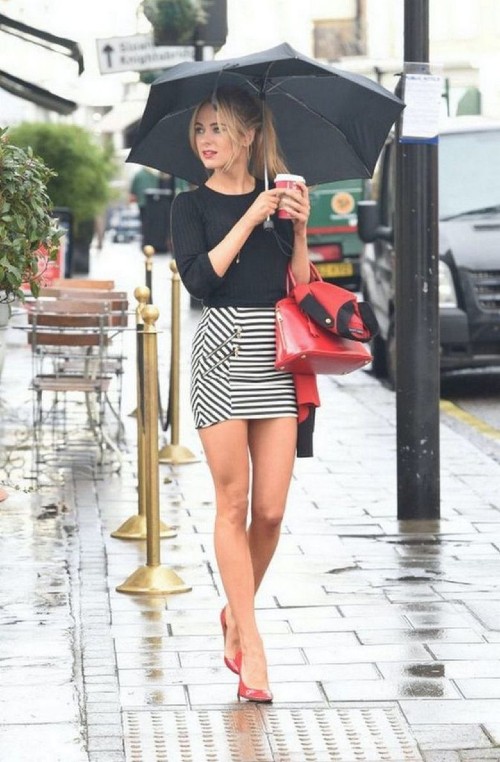 Notice: Posted with permission by the Ace Media Empire and AceCorp, LLC. The ONT often imitated, never replicated. Serving your ONT needs since 2008.

posted by Misanthropic Humanitarian at
10:05 PM
|
Access Comments