ę Biden's Approval Continues to Fall - The Baris National Poll
[Dave in Fla]
|
Main
|
Covid Spikes to Recent Record Levels In Martha's Vineyard, But The Ruling Class Continues Ignoring Obama's Party As a Super-Spreader Ľ
August 20, 2021
Ahoy, Maties! The SS NeverTrump Runs Aground on a Reef of Reality and Castaway Cvcks Spiral Down Into the Depths of their Own Vortex of Self-Righteous Delusion
Then: JOE BIDEN WILL SAVE US!!!
Now: Joe Biden has fled! WHO WILL SAVE US NOW?!
🚢 🚢 🚢
NeverTrumpers are emotionally, psychologically, and of course physically healthy beings: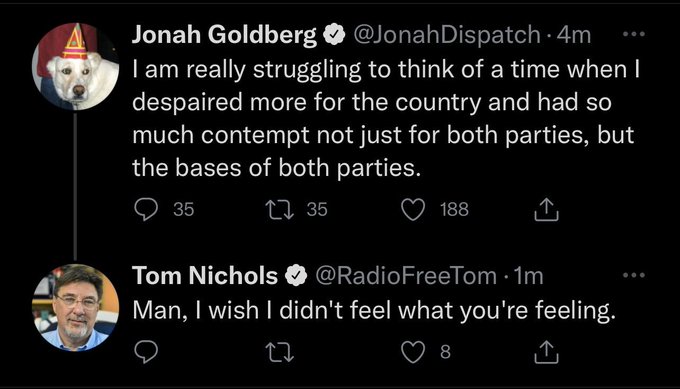 No lie, as I slim down I get more emotionally tranquil and as I pork up I get more touchy and angry.
Try to get some GAINZZZ, you fat sacks of venomous hatred. And also, you fat sacks of fat.
🚢 🚢 🚢
Even the "man" I know by the codename "AHOY ONE" finds Biden to be "not reassuring."
A very weak expression of disapproval from AHOY ONE, who staked his reputation on liberal internationalism and promiscuous interventionism.
I guess his Democrat donors will only allow him to say so much.
🚢 🚢 🚢

Some people have had enough of the Alcoholic Shut-In who views lockdowns as nice equalizer, as it forces healthy, normal people to live sad agoraphobic lives more similar to his own:
I'll link AllahPundit for the first time in years. Flow your tears, the policeman said.
Sources: White House believes scenes of slaughter in Afghanistan will boost support for Biden's withdrawal decision
So wait, does that mean Biden won't be restoring our precious norms, KarenPundit?
Incredibly cynical and depressing. And quite possibly correct.

"The public opinion is pretty damn clear that Americans wanted out of the ongoing war and don't want to get back in. It's true today and itís going to be true in six months," said one Biden ally. "It isn't about not caring or being empathetic about whatís going on over there, but worrying about whatís happening in America..."

White House officials believe Americans' horror over graphic images of the chaos in Kabul and pleas from Afghans who fear they will be killed by the Taliban will morph into support for the presidentís decision to pull troops from the country by Aug. 31 after a 20-year war.


They expect the Afghanistan story to recede from the headlines, replaced by the resurgence in COVID-19 cases, the economic recovery and other issues, people familiar with the matter said.
KarenPundit gets that dig in about the American people -- this cynical strategy will probably work, Xhe says -- still bitter and butthurt that America doesn't share his passion for neoliberal internationalism any longer.
Even in a post about the callous cynicism of the Administration xhe voted for, xhe still has to get a dig in on Americans generally. And of course Trump voters.
It's always about Trump. And Trump voters. Always, always, always.
Just like fellow liberals Jonah Goldberg and Tom Nichols, KarenPundit shifts his anger and disgust away from the man he supported for president -- the man who is actually doing these things -- to the American people.
Anything to avoid confessing that they made a stupid, egotistical, immoral choice in 2020. (And in 2016, too.)
It's not me who screwed up -- it's these damn American voters!
By the logic of "the worse, the better," maybe it makes sense that they're seemingly prepared to leave Americans behind on August 31. If the public is pro-withdrawal now, imagine how supportive they'll be when the Taliban is posting videos of Americans being beheaded.
Karen's talking about Biden choosing to leave Americans to be beheaded.
No mention of possible impeachment over such a heinous, cowardly decision. Just examining the politics of it. Wondering if Americans are dumb enough and savage enough to applaud it.
Well, I don't know about you, but my precious norms have certainly been restored.
🚢 🚢 🚢
Someone said that Joe Biden could shoot someone on 5th Avenue, and he wouldn't lose Jen Rubin's support:
What a nasty, batty hag.
🚢 🚢 🚢
The neocons have given up any pretense of caring about the American national interest. Like the left among whom they are embedded (and whom they occasionally embed), they believe American interests are always subordinate to the interest of foreigners.
Such a childish manipulation -- "Allow hundreds of thousands of Afghan migrants to OWN THE LIBS!!! That appeals to you monsters, right?!"
Like Obama's attempt to gin up support for a Syrian war -- "And you conservatives love killing brown people, right?"
These people are liberals. Period.
Fuck off and die.
🚢 🚢 🚢
Meghan McCain starts eyeing up Joe Biden as a late-afternoon snack.
The news comes after McCain suggested during the presidential election cycle that she would vote for Biden and appeared to celebrate after his victory in November. However, McCainís husband has said that she did not vote for Biden.

"I have been physically ill, more depressed than I have been since the beginning stages of the pandemic and filled nothing short of pure rage and anger since the calamity of a 'pull out' which will be seen as one of the greatest foreign policy catastrophes of my lifetime," McCain wrote on Instagram. "I am furious our President was so incompetent not to see what every expert on the planet could have seen coming. I am furious for my friends and family who have been fighting in these wars since I was 16 (many who have lost limbs, had their life terrorized by PTSD from their experiences in war and deployments, or worse)."

"I am furious seeing our allies and innocent Afghan citizens who trusted us are being left to be slaughtered or so desperate to escape the pure evil the Taliban will bring in that they are falling out of f***king planes," she continued. "This is not who America is; this is not the values this country was founded in."
All of these liberals love quoting that infamous Obama attack line.
" Our veterans deserve better; the innocent Afghan people and our allies and translators who have stood by us for the past 20 years deserve better. The shame, dishonor and embarrassment the Biden administration has brought to our country will take generations to undo. Not to mention our standing in the world and the cruel reality that the likelihood of another significant domestic terror attack has now risen to the highest levels since 9/11 and will usher in ISIS 3.0. -- I could say so much more (and have been raging on Twitter), but please reach out to your veteran friends and their families -- everyone I know is struggling. May God have mercy for what we have done to these people abandoning them."

Biden is unfit to lead and I am nothing short of disgusted he and his staff can't seem to be bothered to leave their vacation during an international crisis of our own creation," she concluded. "There should be an emergency congressional hearing before more innocent lives are lost. My heart is broken, this tragedy will absolutely haunt our country. Also -- every single Afghan refugee fleeing must be granted a safe haven in America!"
You voted for him, Daddy-Do-Me.
And of course, ending with the flourish that of course we must invite in the entire population of Afghanistan.
Say is your mom going to resign from the minor political payoff she got from Biden? Being appointed as the UN Special Envoy for Stealing Pills from Clients or whatever?
🚢 🚢 🚢

posted by Ace at
04:18 PM
|
Access Comments