« Ahoy, Maties! The SS NeverTrump Runs Aground on a Reef of Reality and Castaway Cvcks Spiral Down Into the Depths of their Own Vortex of Self-Righteous Delusion
|
Main
|
Quick Hits: Robot Parkour Edition »
August 20, 2021
Covid Spikes to Recent Record Levels In Martha's Vineyard, But The Ruling Class Continues Ignoring Obama's Party As a Super-Spreader
Below, the red dot is approximately the date of Obama's Super-Spreader Soiree. The main party took place on Saturday, August 7th. However, it was widely reported that Obama was hosting a three day party, meaning it started August 6th and continued to August 8th.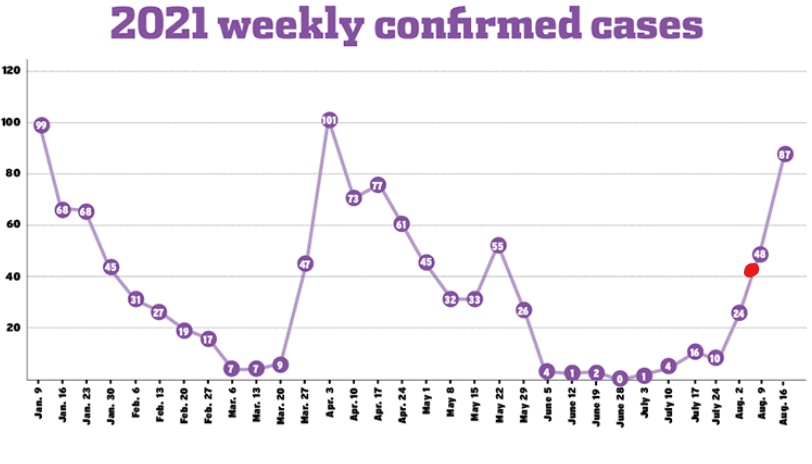 At last count, the island had 87 cases, up from around 24 before the party.
I know some of you push back against stories like this, saying that cases don't matter and that there is always going to be some spread, but that's not the point.
The point is that the Ruling Class imposes these rules on us, telling us that we're murderers if we don't mask up indoors and if we have gatherings of more than 6-8 people, while hosting enormous luxury parties whenever they feel like dancing maskless with near-strangers.
COVID-19 cases crescendoed last week with 87 new cases reported by the Martha's Vineyard boards of health — 39 more cases than the previous week.

Of the 87 new cases, 72 were reported at the Martha's Vineyard Hospital, seven at TestMV, six at the Wampanoag Tribe of Gay Head (Aquinnah), and two at other providers. There are 74 cases still being monitored by public health officials, six that have recovered, and seven lost to follow up from health officials.

There were 43 symptomatic cases, five asymptomatic, and 39 unknown. Of last week's cases 42 were fully vaccinated, 20 unvaccinated, and 25 unknown.

...

This is the third week in a row that cases have nearly doubled from the previous week. Last week's 87 cases are the third highest weekly total reported this year, behind 101 cases in late March and 99 cases in early January.
The emergency room of Martha's Vineyard hospital is "jammed" due to the "covid case spike."
From Wednesday, August 18th:
The Martha's Vineyard Hospital is seeing its largest numbers of Covid and non-Covid related patients since the pandemic began, testing emergency room capacity as cases spike on-Island during the peak of summer.

...

Meanwhile, the hospital currently has three patients hospitalized with Covid-19 and a fourth patient under investigation showing Covid-like symptoms. A fifth Covid-positive patient was critically airlifted to Boston last week, hospital officials said during the media briefing Wednesday morning.

According to head of hospital operations and chief nurse Clair Seguin, one of the hospitalized patients is in serious condition, two are in fair condition and one is in good condition. The airlifted patient was in critical condition, Ms. Seguin said.

"This is the highest amount of Covid-positive patient activity that we've had since the onset of the pandemic," Ms. Seguin said at the briefing.
They continue claiming that while there are covid clusters around the island, they haven't been traced back to Obama's Celebrity-Studded Super-Spreader Soiree.
Well... a lot of those people flew in and flew out.
And all of those people have private doctors. All of them have concierge doctors.
I'm sure that there have been a lot of covid cases that aren't being reported, to spare Zero the embarrassment.
The lavish bash for Obamazyandias drew criticism even from reliably left-wing shills like Maureen Dowd.
Jay Gatsby gave big, lavish, new-money parties at his sprawling mansion on the water because he wanted to seem cool. He wanted Daisy to notice him.

Barack Obama gave a big, lavish, new-money party at his sprawling mansion on the water because he wanted to seem cool. Being cool is important to him.

One difference is that Gatsby opened his house to the uninvited. Obama closed his house to many of the invited after getting flak for hosting "a celebrity mosh pit," as Stephen Colbert called it, while officials were telling people to mask back up.

It's hard to stop thinking about the over-the-top fete the former president held at his Martha's Vineyard manse for his 60th birthday. It is such a perfect taxonomy of the Obama arc.

As president, he didn't try hard enough on things we needed. He was a diffident debutante with a distaste for politics. Post-presidency, he is trying too hard on things we don'tt need. The culture is already swimming in Netflix deals, celebrity worship, ostentatious displays of wealth, not to mention podcasts. Did the world really need "Renegades," his duet with Bruce Springsteen?

We already knew Obama gravitated to stars but it was disillusioning to see it on such a grand scale last weekend.

...

Colbert, who was disinvited, joked that he was axed because the president had to limit the guest list to "only his closest Beyonces."
Leftwing Matt Taibbi -- who, of course, is leftwing but despises the neoliberals nearly as intensely as we do -- was even more unsparing, referring to Obama as the "Fat Elvis of neoliberalism."
"Even Scaled Back," wrote Vanity Fair, "Barack Obama's Birthday Bash Is the Event of the Season." Not even the famed glossy Bible of the unapologetic rich seemed sure of whether to write Obama's Birthday bash straight or as an Onion headline: what did the "Event of the Season" mean during a pandemic?

A former president flying half the world's celebrities to spend three days in a maskless ring-kissing romp at a $12 million Martha's Vineyard mansion, at a moment when only a federal eviction ban prevented the outbreak of a national homelessness crisis, was already an all-time "Fuck the Optics" news event, and that was before the curveball. Because of what even the New York Times called "growing concerns" over how gross the mega-party looked, not least for the Joe Biden administration burdened with asking the nation for sober sacrifice while his ex-boss raised the roof with movie stars, advisers prevailed upon the 44th president to reconsider the bacchanal. But characteristically, hilariously, Obama didn't cancel his party, he merely uninvited those he considered less important, who happened to be almost entirely his most trusted former aides.


Cast out, the Times said, were "the majority of former Obama administration officials... who generally credit themselves with helping create the Obama legacy," including former top aide David Axelrod, who'd just called Obama an "apostle of hope" in the Washington Post and sat for a three-hour HBO documentary deep-throat of his ex-boss. Remaining on the list were celeb couples Chrissy Teigen and John Legend, as well as Dwyane Wade and Gabrielle Union, along with Steven Spielberg, George Clooney, Tom Hanks, Bruce Springsteen, Questlove, Jay-Z, Beyonce', Don Cheadle, and other Fabulous People, who drank "top shelf liquor," puffed stogies, and hit the links at the Vineyard Golf Club (membership fee: $350,000). An early report that Pearl Jam had been hired to perform was later refuted. Eddie Vedder would be there, but not to play.

One attendee called it the "party of all parties," while another added, "Y'all never seen Obama like this," by which he might have meant Obama reportedly dancing as Trap Beckham, performing live, substituted "Prez" for "Bitch" in this classic:


It's all about you
Girl tonight it's about you...
Fuck it up if it's your birthday bitch!

There's a glorious moment in the life of a certain kind of politician, when either because their careers are over, or because they're so untouchable politically that it doesn't matter anymore, they finally get to remove the mask, no pun intended. This Covid bash was Barack Obama's "Fuck it!" moment.

He extended middle fingers in all directions: to his Vineyard neighbors, the rest of America, Biden, the hanger-on ex-staffers who'd stacked years of hundred-hour work weeks to build his ballyhooed career, the not quite A-listers bounced at the last minute for being not famous enough (sorry, Larry David and Conan O'Brien!), and so on. It'd be hard not to laugh imagining Axelrod reading that even "Real Housewife of Atlanta" Kim Fields got on the party list over him, except that Obama giving the shove-off to his most devoted (if also scummy and greedy) aides is also such a perfect metaphor for the way he slammed the door in the faces of the millions of ordinary voters who once so desperately believed in him.

...

Obama was set up to be the greatest of American heroes, but proved to be a common swindler and one of the great political liars of all time -- he fooled us all. Moreover, his remarkably vacuous post-presidency is proving true everything Trump said in 2016 about the grasping Washington politicians whose only motives are personal enrichment, and who'd do anything, even attend his wedding, for a buck. Trump's point was that he, Trump, was already swinishly rich, while politicians have only one thing to sell to get the upper class status they crave: us.

Obama did that. He sold us out, and it's time to start talking about the role he played in bringing about the hopeless cynical mess that is modern America.

He notes that Obama routinely tagged Hillary Clinton as a "corporate Democrat" in 2008 while at the same time "hoovering up" campaign donations from the exact same corporate, financial, and banking interests she was.
...

Many Democrats remember vaguely that the early Obama years were a disappointment, but the memory has been glazed over by a propaganda point: it wasn't his fault. Tilting at the windmill of a corrupt Washington establishment, his talk about learning to "disagree without being disagreeable" shattered by viciously obstructionist Republicans and race-baiting Fox audiences, Obama accomplished what he could, which wasn't much.

The reality is much more grotesque. Obama sold out the instant he moved into the White House, before the likes of Mitch McConnell even had a chance to figure in the picture.

posted by Ace at
05:10 PM
|
Access Comments