« The Morning Rant
|
Main
|
Biden's National Security Advisor Jake Sullivan: Don't Even Worry About It, the Taliban Has Promised They'd Provide Safe Passage to Those Fleeing the Country
6 Hours Later: Taliban Is Beating Women and Children Attempting to Flee the Country »
August 20, 2021
Moderate, Centrist, Decent Man Who Will Restore Our Norms Can't Remember if His Son Was in the Army or Navy, or Served in Afghanistan or Iraq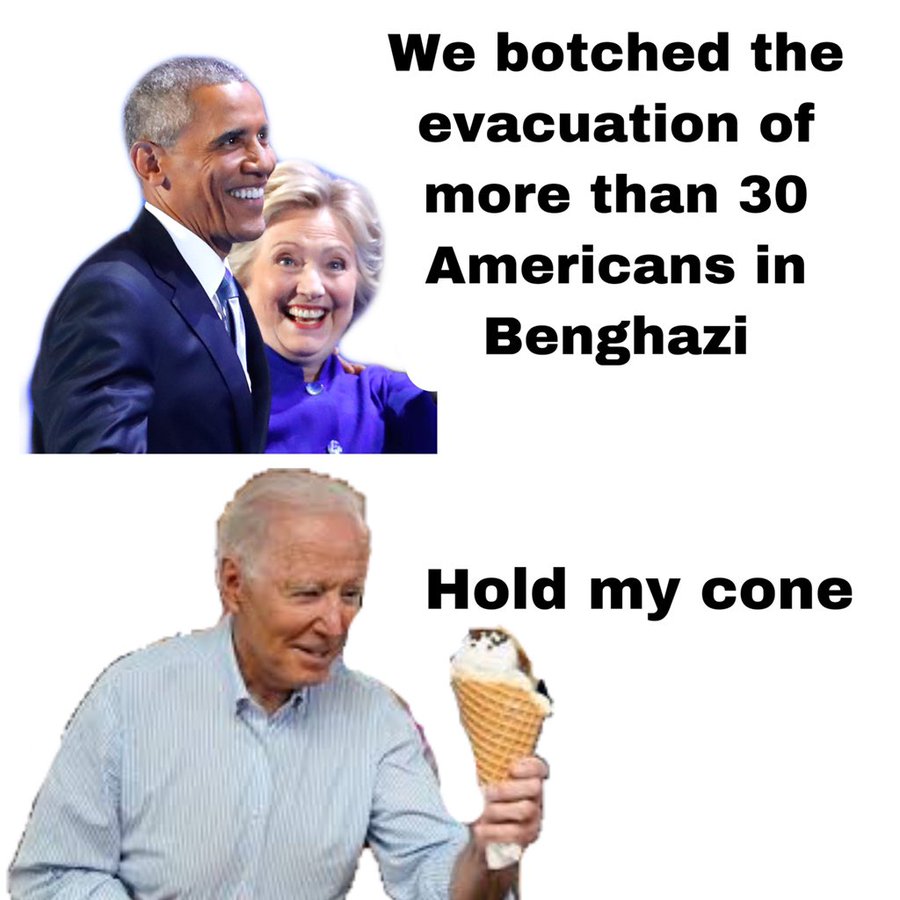 Here's an answer from the George Stephanopolous interview with Joe Biden, whom the highly-educated gifted analysts of the Daily Twitter Circle Jerk just decided might have something wrong with his brain:
He can't remember whether his son was in the Navy or Army, or whether he was in Iraq or Afghanistan, or whether he just ordered the withdrawal from Iraq or Afghanistan.
This is a totally-new phenomenon which suddenly emerged as an issue on August 19th, 2021.

Via Twitchy, a guy calling himself @politicalsock points out Joe Biden's many lapses of memory and confabulations.
And his deflections. Which might be political gaslighting, or might be the coping mechanism of a demented old man who can't remember much anymore and uses deflections to stop others from asking about the holes in his memory.
Also note in that second paragraph, Biden seems to lose time and speak of his son Beau as if he's still alive.
First, Biden retreats (again) to his dead son Beau. This is his first refuge anytime someone questions him about duty or honor.

But he does so incoherently.

He says Beau "spent 6 months in Kosovo." He did, after the war there had ended. He trained prosecutors. 2/6

Next he says Beau was a navy captain in Iraq. Beau was in the army, and he actually achieved the rank of major. Biden corrects himself.

Next he says Beau served in Afghanistan. (He didn't.) Then corrects himself again.

He then says Beau "had regrets...to how it's going."

Beau died from cancer several years ago. He has no idea how it's going.

Finally, Biden pivots to Russia & China for some reason but then just trails off in mid-thought: "They'd love us to continue to have to...."

Maybe he realized that both of those nations are thrilled?

They want us out of Afghanistan so that they can have greater influence there -- especially China.

Biden never even attempted to answer the actual question: Why did we leave in such a dishonorable *fashion*, with such poor planning?

But the answer he gave was incoherent, rambling and mistake filled with almost every word.

This man is not up to the job.
It gets worse.

And it gets even worse. Biden was apparently telling the truth when he said he had not spoken to any world leaders for a full day after this catastrophe began to unfold.
What he didn't mention is that world leaders were trying to get him on the phone -- and he blew them off.
He did not get back to Boris Johnson until more than 36 hours after the UK PM called him.
Bonchie from Red State is perplexed:
Was Biden incapacitated? It's not like this was a request from the president of Thailand. We are talking about our oldest and closest ally in the British. And Biden took almost two days to even return their phone call as Afghanistan descended into absolute chaos?

Further, the UK military was reportedly left completely in the dark about what the US was doing as far as pulling out. Timelines were not given, no preparations were made with NATO forces (which had more personnel on the ground than we did), and when the time came, pandemonium predictably broke out. Why was there no communication?

Not only is Britain our most important and reliable ally, but Britain also has troops in Kabul right now at this very moment, and might have questions for Biden regarding Biden's intentions and whether British troops will be safe.
But apparently Sundown called a lid for a day and a half and didn't feel like telling Boris Johnson whether British troops could count on American troops.
Someone had reported that the British troops had ordered lookouts to watch the American troops, to spy on them, so that British troops would have a heads up if the American troops suddenly bugged out.
That's the sort of thing Boris Johnson undoubtedly wanted to discuss.
But Sundown called a lid.
I'm so glad we finally have Permission from the Respectable Wing of the Party to discuss Biden's long-obvious dementia.
I'm not sure if America is now basking in the respect of the international community -- The British Parliament actually censured Joe Biden both over his decision to withdraw and for throwing the Afghan Army under the bus.
Frankly, the Afghan Army is a basket-case. Or was a basket-case -- it dissolved within hours.
But still, here's your "Respect in the eyes of the international community."

Calls are growing for ABC News to release the entire, raw footage of the interview with Joe Biden:
Tucker Carlson says that the footage was edited to avoid parts where Biden looked "unpresidential." Note that the babbling quoted above was not broadcast. The transcript was released, but not the video of Biden babbling incoherently.
Given the parts we've already seen -- how bad would the censored parts have to be?
We need to see Proof of Mental Competency. Biden won't take a test, so let's see how he performed in the moment during the interview.
Is the below a case of the fishing rotting from its demented head, or is everyone in this Administration simply an incompetent with Alzheimer's?
200 @Breaking911 9m

BREAKING: Biden administration considering launching airstrikes on equipment left behind by US troops in Afghanistan
Via Tami, who replies: "No hurry... take your time guys."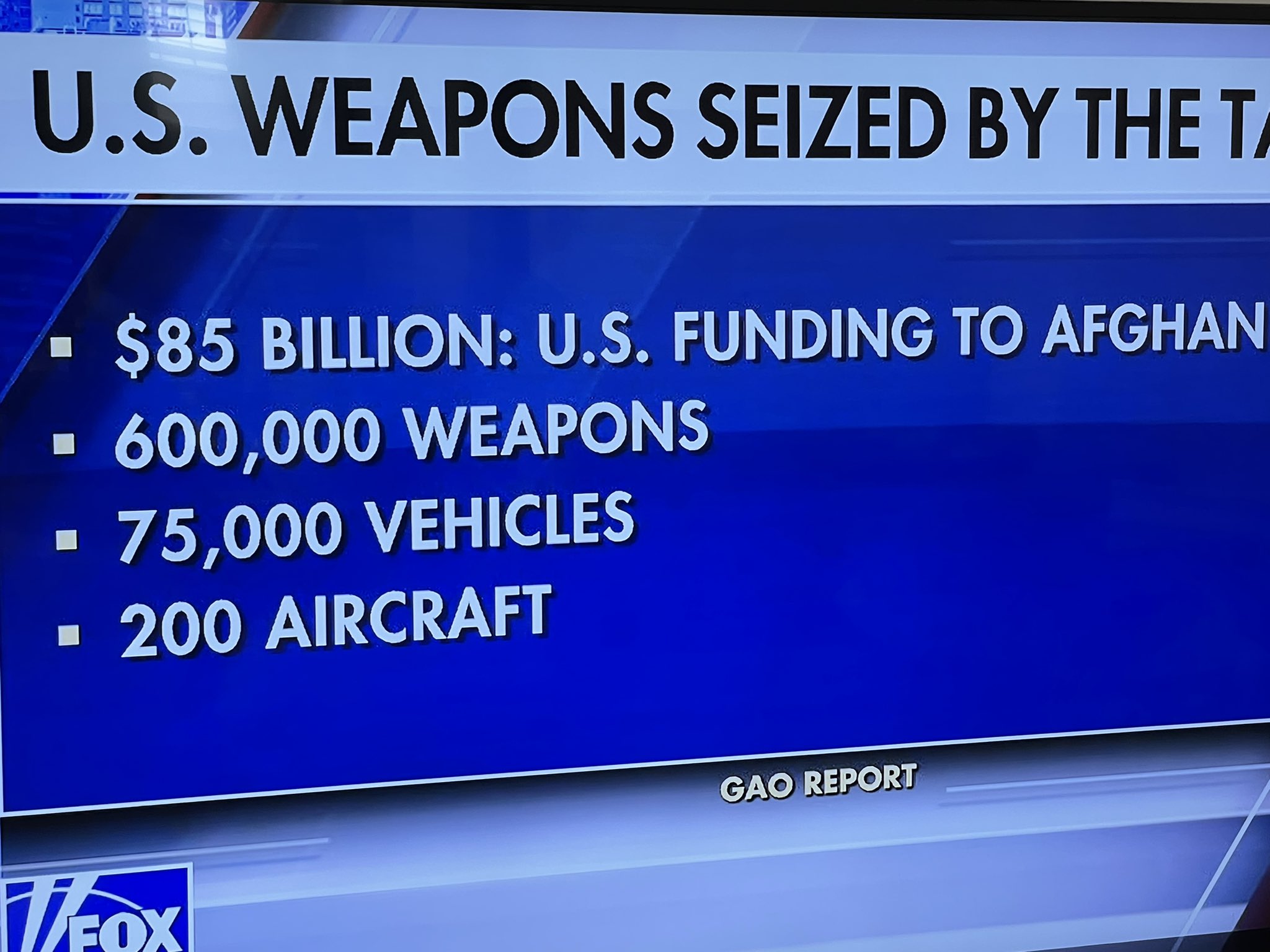 posted by Ace at
12:08 PM
|
Access Comments