« Daily Tech News 19 August 2021
|
Main
|
Mid-Morning Art Thread »
August 19, 2021
The Morning Report - 8/19/21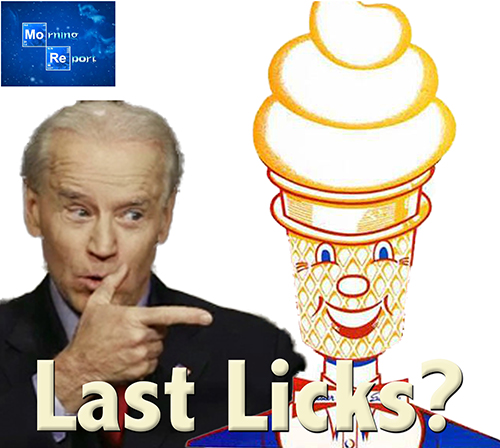 Good morning, kids. Thursday and the disaster unfolding in Afghanistan with a fudge-ripple effect in Joey Biden's ice cream dish and what's left of America continues, as it no doubt will for perhaps weeks to come. This is not going to be just a drive-by event in the daily soap opera that passes for news as Rush Limbaugh, PBUH, would describe it. This is something the media will not be able to control because they did not create it. And now, as is painfully evident by Biden's interview with Greek fireplug George Stephanopoulos and an horrendous press conference, the Left is desperate to try and change the narrative. Spoiler alert: it's failing miserably even as they try.
With now a potential hostage crisis that makes the one that befell the hapless Jimmy Carter in the wake of Iran falling to - what a coincidence - medieval Islamic fanatics, there are some revelations that are just beyond the pale. Yesterday, Ace covered the scoop from the National Pulse about the DC junta trashing a Trump administration contingency plan in the event of a situation just like what is unfolding in Afghanistan. It is beyond insane that they axiomatically oppose anything and everything associated with Trump just because, Trump. But with thousands of Americans and westerners stranded in what is about to become a circle of hell on earth, how the hell did we lose Bagram Air Base, which is or at least was one of the most heavily defended American bastions in Afghanistan, if not on that side of the globe? The answer to that is going to make blood shoot out of your eyes.
The decision to abandon Bagram in favor of HKIA could result in a massive, unprecedented hostage crisis, should the Taliban decide to attack and then overcome the U.S. forces defending HKIA. If that happens, the possibilities grow grimmer from there. Black Hawk Down, the Iran hostage crisis, ISIS beheadings, all possible, all by the thousands. The U.S. military will be doing very well to avoid that. The Taliban would also be wise to avoid it, as going hot would force Biden to redeploy a massive number of forces to retaliate. The possibilities spiral out of control from there.

In any case, Milley clearly says the plan to abandon Bagram came from the commander in Afghanistan, Gen. Austin "Scottie" Miller, in response to orders from Washington.

It's tempting to call for Miller's firing now, but there's a problem with that. He already left.

NBC ran this story about Miller stepping down from command of U.S.-NATO forces on July 12. It's poignant now to read the quotes he and his commander, CENTCOM's Gen. Frank McKenzie, offered Afghanistan at the time of Miller's departure. . .

. . . Clearly, they could not count on that support. McKenzie knew so at the time. Miller's plan would have been in development and briefings since April at the time of his departure on July 12. In fact, the United States abandoned Bagram Air Base a full week prior, the AP reported at the time. Miller's plan had already been initiated on July 5. . .

. . . This was the plan: bug out of the largest U.S. base in the dead of night without even telling our allies, then a week later reassure them that we were always going to stand by them -- when the military knew Biden had no intention of doing so. . .

. . . They still, in my estimation, managed to make everything even worse by choosing to defend the wrong patch of ground. They had a choice and chose very poorly. That's not hindsight, it's a recognition of how things are playing out right now. Again, Bagram provided capabilities that HKIA does not.

But the choice was forced on them by a man in the White House who never served in uniform, who foisted his drug-addict son on the military, and who set arbitrary dates for withdrawal without any regard for the conditions and facts on the ground. Biden's MO since taking office has been to fling executive orders and edicts with no regard for the real-world consequences, and then blame Trump or someone else when it blows up in his face.
My first reaction to reading this involved the phrases "court martial" and "summary execution." You can start with Vanilli Milley and Lloyd Austin and go from there. But, as the saying goes, the fish stinks from the head. And in this case it's an empty one that is maintained at a near constant 20 degrees farenheit that is giving the world the biggest ice cream headache in history.
The other day, I had a long conversation with a friend and we were debating whether or not this is incompetence or intentional or what. It mirrors conversations with another friend about the mind, such as it is, of NYC's hideous Wilhelm Klink DeBolshevik, who my friend (who see things in purely partisan political terms) insists is incompetent. I tried telling him, and I think at least it is sinking in, that his incompetence is driven by his worldview. Even if someone were incompetent, a bad decision or even a string of bad decisions would not create societal chaos and breakdown. Some inkling of common sense would prevent wholehearted support and cheerleading of abolishing police forces, or in this case, just leaving an entire nation, and a strategically important one, that you spent 20 years trying to prop up that cost trillions of dollars and thousands of lives in the hands of bestial dark age monsters. Worse, sending a signal to every criminal, be it muggers and rapists or tyrannical nuclear-armed regimes, that you apologize for being such a poor excuse of a victim.
It is a fact that the Chi-Coms have infiltrated every aspect of our society all the way up to and including the highest levels of government. With that as a set-up, the estimable Lara Logan was on with TuCa yesterday and said it out loud:


What she told Tucker will confirm your worst fears: Things are playing out as they are, complete with violence, death, chaos, and a massive risk of a hostage crisis because that's what the government wants, much as it wants an open border:

Investigative journalist Lara Logan, host of "No Agenda" on Fox Nation, said Wednesday it is clear the United States government prefers the chaotic outcome in Afghanistan as well as the criminal and humanitarian crises at the U.S. southern border.

Logan told Fox Nation's "Tucker Carlson Today" that whoever in Washington is truly "pulling the strings" of the government intends for these crises to intensify, given their oft-unstated ability to stop them from worsening.

[snip]

"Whoever is in power right now, whoever is really pulling the strings -- and I don't know that -- they could do anything they want to change this. And they're not.

Debate about intentional or incompetent or both or what . . .

. . . "The NSA and the [NGIA] are watching this happen in real time," she claimed.

"And they're doing nothing to stop it. Why not? So what the Afghans will tell you is that the United States chose this outcome."

"The United States government could change this even today. And they don't do it. They don't use the leverage they have with Pakistan. They'll give you 5,000 reasons, but it doesn't matter."

. . . America is at a very dangerous crossroads. It appears that she is being led by an incompetent moron but it's probably worse than that: She is led by people who wish to "fundamentally transform" America, place purported global goals above American well-being, and don't care how many people die to achieve their goals.
So, where the hell do I even begin? What Logan postulated even a few years ago would have gotten her thrown into a psycho ward. After everything we've seen especially since last November, what she is saying is the sum of all of our fears, so to speak.
It's not incompetence. It's not even politics. It's insanity. And it is every bit as insane and ruthless as the Taliban. Yes, of course, sick bastards like Stephen Colbert or Michael Moore slime us with that comparison but it is pure projection. They're just too out of their minds to recognize it. As Raymond Ibrahim noted yesterday in his lead piece, Islam has been on the march for 1,600 years and they have a singular goal - world conquest. The same thing with those who control Biden, despite being on the march for just over a century.
They do not tire, they do not give in, even when they suffer setback after setback. Look where they are now and look where we are. It's going to take becoming as ruthless and singleminded as they are just to survive, let alone restore peace and sanity.
On a completely different, yet as with most things, not unrelated note, this week marks the 30th anniversary of the Al Sharpton-led Crown Heights pogrom, or "riots." The Washington Free Beacon is doing extensive coverage on it if you want to escape this madness. Meh, some escape, right?


ABOVE THE FOLD, BREAKING, NOTEWORTHY
BIDEN AFGHANISTAN BUG-OUT DISASTER
NOTE: The opinions expressed in some links may or may not reflect my own. I include them because of their relevance to the discussion of a particular issue.
ALSO: The Morning Report is cross-posted at CutJibNewsletter.com if you want to continue the conversation all day.
Follow us on Twitter: @CutJibNews
Follow us on Instagram: @Cutjibnewsletter


posted by J.J. Sefton at
07:46 AM
|
Access Comments