ę Australia Deploys Soldiers, Choppers, and Police Dogs to Enforce Its Policy of Imprisoning the Law-Abiding
|
Main
|
National Pulse: Biden's State Department Halted a Trump-Crafted Crisis Response Plan for Getting People Out of Hot Zones Ľ
August 18, 2021
Rasmussen, Reuters: Biden's Ratings Plummet After Bloody Fiasco in Kabul, Falling to 46%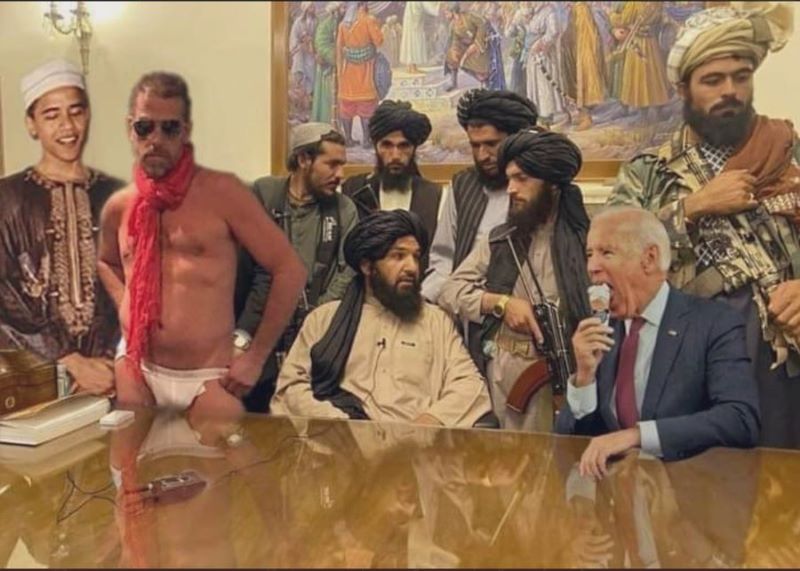 AllahPundit and The Bulwark are going have to work extra hard to spin for their demented r@p!st.
The Rasmussen Reports daily Presidential Tracking Poll... for Wednesday shows that 46% of Likely U.S. Voters approve of President Bidenís job performance. Fifty-four percent (54%) disapprove.

The latest figures include 26% who Strongly Approve of the job Biden is doing and 45% who Strongly Disapprove. This gives him a Presidential Approval Index rating of -19. (Rasmussen)

A Reuters poll also sees Biden slipping. I mean, slipping in the polls.
President Joe Biden's approval rating dropped by 7 percentage points and hit its lowest level so far as the U.S.-backed Afghan government collapsed over the weekend here in an upheaval that sent thousands of civilians and Afghan military allies fleeing for their safety, according to a Reuters/Ipsos poll.

The national opinion poll, conducted on Monday, found that 46% of American adults approved of Bidenís performance in office, the lowest recorded in weekly polls that started when Biden took office in January.


It is also down from the 53% who felt the same way in a similar Reuters/Ipsos poll that ran on Friday. (Reuters)

This is even better: If we held a snap election today, Biden would only get 37% of the vote.
Stunning new poll numbers from Rasmussen Reports suggest nearly 1 in 10 Democrats regret their vote in the 2020 Presidential election, with 12 percent of 'Moderates' saying the same, and 14 percent of Black Americans expressing regret. Furthermore, asked how people would vote if a presidential election were held today, just 37 percent said they would vote for Joe Biden, down from 45 percent who said they did. Forty-three percent said they would vote for Donald Trump.
The National Pulse adds:
Joe Biden's approval numbers continue to decline, while numbers from Real Clear Politics reveal that while up to 55 percent of Americans thought the country was on the right track in March, that number has plummeted to 31 percent today.
NeverTrumpers are talking up how outraged and shocked they are that Joe Biden -- known as the stupidest man in the Senate for 40 years, which is no easy feat, as well as a Senator even more liberal than Barack Hussein Obama -- turns out to be an incompetent, stupid, reckless leftwinger.
You voted for him, assholes.
Hope it was worth it to dunk on your Twitter Enemies!
By the way: A commenter linked a tweet by Raheem Kassam.
Raheem J. Kassam @RaheemKassam

1h

Big story coming today.

I mean real big.

Bye-den (Waving hand emoji)
I have no idea what that is. I hope it's good.

posted by Ace at
03:10 PM
|
Access Comments