« Man Sent to Prison For Almost Three Years After Being Mistakenly Identified as a Wanted Man; Every Time He Insisted He Wasn't the Man They Claimed He Was, They Sent Him to a Mental Hospital to be Injected with Anti-Psychotic Drugs
|
Main
|
Rasmussen, Reuters: Biden's Ratings Plummet After Bloody Fiasco in Kabul, Falling to 46% »
August 18, 2021
Australia Deploys Soldiers, Choppers, and Police Dogs to Enforce Its Policy of Imprisoning the Law-Abiding
This, from James Lindsey, is important information from New South Wales, Australia: How to safely masturbate a partner while keeping safe from covid.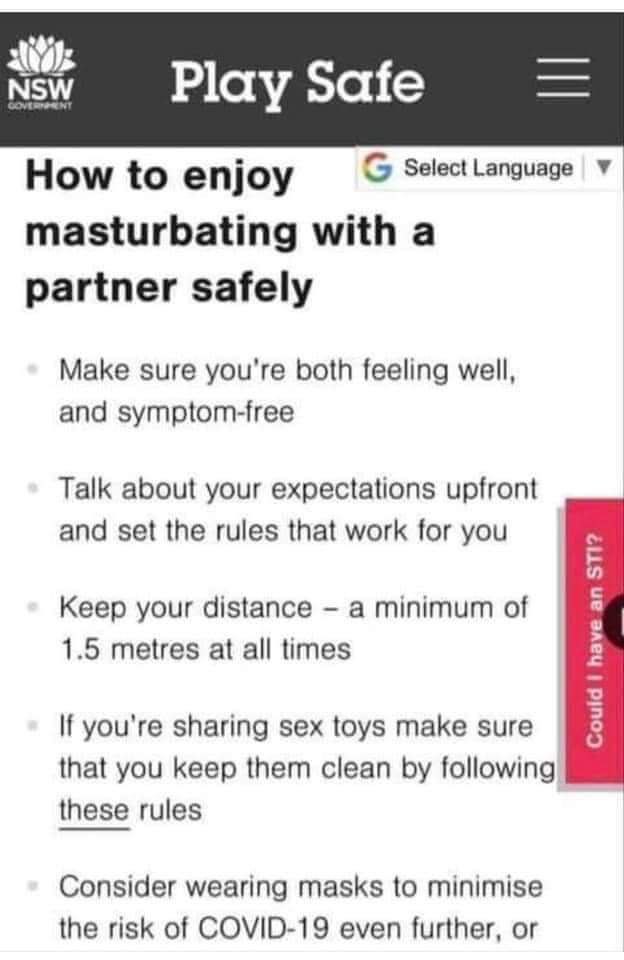 Remember to keep 1.5 meters away from your partner while you're masturbating them. With... with a dildo duck-taped to a broomstick, I guess.
Those who give up freedom for a little security will have neither.
The government of the state of New South Wales (NSW), announced the measures after it reported 466 new locally-transmitted cases of COVID-19, breaking the previous record of 390 set just the day before.

"We have to accept that this is the worst situation New South Wales has been in since day one," Gladys Berejiklian, the state's premier, told reporters at a news conference, The Australian reported.

"This is literally a war and we know it has been a war for some time -- but never to this extent," added Ms. Berejiklian, 50, the leader of the NSW Liberal Party, according to the regional news report.
In Australia, the "Liberal Party" is the conservative-leaning one.
We shouldn't be surprised. The British Tories are left-leaning panic-pushers, and of course the American GOP is in bed with the authoritarian left.
To slow the spread of COVID-19, the contagious disease caused by the novel coronavirus, Ms. Berejiklian said that all of NSW would go into a seven-day lockdown starting at 5 p.m. local time on Saturday.

NSW ordered all pubs, restaurants and cafes to close to the public for seven days, except for takeaway customers, and told all non-essential retail businesses in the state to shutter for the week as well.

Australians have also been asked to remain at their residence unless they have a "reasonable excuse," such as shopping locally at an essential business authorized to operate or seeking medical attention.
The Declaration of Independence is a long list of "reasonable excuses" to throw off tyrannical rule.
"Everyone must stay at home unless they have a reasonable excuse to leave. They also cannot have visitors in their home from outside their household, including family and friends," the government said.

"This means the whole state is in strict lockdown," Ms. Berejiklian stressed on social media. There are some exceptions, including for exercise and for individuals who cannot work or learn from home.

The NSW Police Force announced it will launch "Operation STAY AT HOME" on Monday. It will involve assigning 1,400 traffic officers to "COVID-19 compliance" duties to ensure the lockdown is enforced.

Under new penalties being imposed as part of the operation, Australians risk being fined $5,000, or roughly $3,700 U.S. dollars, for lying on a permit, lying to a contract tracer or breaching quarantine.

...

In addition to the 1,400 traffic officers, NSW Police announced that an additional 500 Australian Defense Force troops will join 300 previously deployed members of the military to help compliance efforts.
The police are encouraging citizens to inform on each other over Unauthorized Exhibitions of Freedom.
New South Wales Police Minister David Elliott is urging the community to report breaches of COVID-19 public health orders, deeming it a critical measure in managing the pandemic. Mr Elliott has called on state residents to report illegal family gatherings or any household visitors and to consider Crime Stoppers one of the most important weapons in the war against COVID. Households remain one of the leading sources of transmission in NSW as 478 cases were recorded on Monday.
Australia's capital city Canberra was put into a snap lockdown because of... four cases of covid.
Australia's capital city, Canberra, announced a snap one-week lockdown from Thursday evening after reporting its first locally acquired case of Covid-19 in more than a year.

Authorities later confirmed an additional three cases, all close contacts of the first case, an unnamed man.

The move came as the New South Wales state government said extra military personnel may be called in to ensure compliance with lockdown rules in Sydney, around 160 miles to the northwest of Canberra.

"We are making sure that we do not leave any stone unturned in relation to extra (military) resources," New South Wales (NSW) state Premier Gladys Berejiklian told a media conference in Sydney, the state capital.
This Australian writer argues that all these police enforced lockdowns, assisted by soldiers patrolling the streets and surveillance helicopters buzzing overhead, is causing stress and anxiety... for refugees.
Who cares about the natives am i rite?
Syrian refugee Najla Sbei became an Australian citizen on her 40th birthday, a day she'd hoped would mark an end to the uncertainty and anxiety that dogged her since fleeing Damascus in 2012.

Not long after that, though, Liverpool in Sydney's south-west went into strict lockdown because of the spread of COVID-19, and she was confined to her apartment, triggering memories and fears.

Australian research to be published on Wednesday in the European Journal of Psychotraumatology, finds refugees and asylum seekers like Ms Sbei are particularly vulnerable to stress during the pandemic. It found COVID-related worries brought back memories of events in the past, leading to higher levels of post-traumatic stress disorder (PTSD), depression and anxiety.
The Ruling Class really gets off on targeting children:
A casual slander about an inn violating covid lockdowns -- they didn't -- enrages the Karen mobs:
This cannot continue.
And yet the Ruling Class insists it go on literally forever -- Australia is debating keeping covid lockdowns in place even if the country hits a vaccination rate of 80%.
Scotland debates keeping its covid emergency powers -- forever.
And of course New Zealand warns you never to speak to another person.
Several stories from SC Review, an Australian who's had it with this s***.

posted by Ace at
02:13 PM
|
Access Comments