« Daily Tech News 18 August 2021
|
Main
|
Mid-Morning Art Thread »
August 18, 2021
The Morning Report - 8/18/21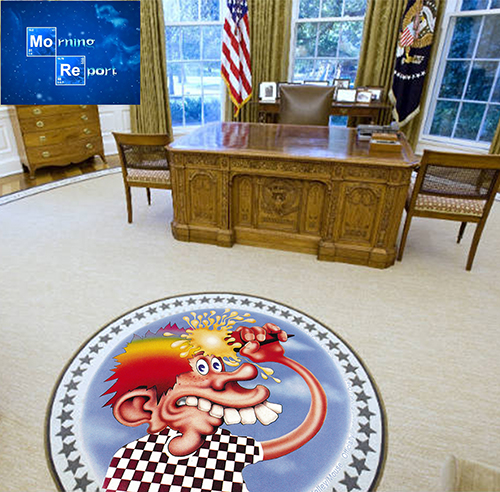 Good morning, kids. Wednesday and the nightmare of America completely out of control and the world catching fire continues. I don't even know where to begin with this insanity but here's a not so obvious place to start. As the 10,000 or so American nationals still in Kabul are soiling their underwear because Joe Biden's controllers have decided to abandon them to the dark age savages that once again control that G-d-forsaken hell hole, 3,000-odd miles away, the residents of Taiwan are equally incontinent at the prospect of the evil junta less than 100 miles across the Taiwan Strait dropping in unannounced. Well, they'd be uninvited but they've announced their intentions quite clearly since the US military grabbed its stiletto heels and pregnancy flight suit and abandoned Kabul for the nearest Ibram X. Krement critical race struggle session.
Chinese state-controlled media and Communist Party loyalists gloated on Sunday over America's "humiliation" as the Taliban marched into the Afghan capital, Kabul, forcing U.S.-backed president Ashraf Ghani to flee the country while his government crumbled. China is now offering to fund post-war construction efforts in Afghanistan as part of its Belt and Road Initiative, a sweeping Communist Party infrastructure project that has helped the CCP gain a foothold in many countries across the globe.

The catastrophe in Afghanistan provides China another opportunity to subvert U.S influence and power in critical regions such as the Middle East. While the Biden administration scrambles to secure the safety of Americans stationed in the country, China is exploiting the situation to send a warning to its regional enemies, primarily Taiwan. The CCP is also promoting Afghanistan as an example of American decline across the world: "The US lost. It was a no-brainer," tweeted Chen Weihua, editor of the Communist-controlled China Daily, on Monday.

"From what happened in Afghanistan, those in Taiwan should perceive that once a war breaks out in the Straits, the island's defense will collapse in hours and U.S. military won't come to help," the Global Times, an official CCP mouthpiece, tweeted on Monday. "As a result, the [Democratic Progressive Party of Taiwan] will quickly surrender."
Those 10,000 Americans abandoned by the illegitimate junta in DC are not only bargaining chips for the Taliban, but also for the Chi-Coms should Biden's handlers decide to come to the aid of Taiwan in the event of what only a year ago would have been unthinkable.
According to a new report in the Jamestown Foundation's China Brief, since 2019, the roll-on/roll-off ferry Bang Chui Dao has been fitted with a modified ramp capable of launching and recovering amphibious armored vehicles while offshore.

This means that the ship can launch and recover vehicles without port facilities. This is different from typical roll-on/roll-off vessels, which have straight hydraulic ramps for vehicles to drive on or off while ships are in port . . .

. . . Indeed, exercises with civilian RO/RO ferries aren't uncommon in China. The Bang Chui Dao took part in training exercises in August of 2020, and more exercises continued this year.

China's relatively modest high-end amphibious assault capabilities have been viewed as a key impediment to its ability to invade Taiwan. The conversion of more civilian ferries with the modified ramp would ultimately improve the People's Liberation Army's ability to surge its amphibious forces in a contingency, per Defense News.

The report identified 63 vessels that could potentially be converted.

If successful, the nation "could potentially increase its [cross-Taiwan Strait] sealift capacity immensely, removing one of the major obstacles to [an] invasion of Taiwan," Thomas Shugart, an adjunct senior fellow at the Center for a New American Security, said.
Sorry, Taiwan. . . and Japan, South Korea, Philippines, Australia, New Zealand, Vietnam, Indonesia, Malaysia, Hawaii. You're on your own. That goes for Israel, the rest of the Middle East, Africa, and South America and whatever the hell is left of the allegedly free world. Over my 29 (plus 32) years on this planet, I've come to realize that the last thing America should have been was the world's policeman. But the one thing that should be painfully obvious is since the end of the Second World War, the longest period of relative peace, prosperity and stability has only been possible because of the economic and military pre-eminence of the United States of America. Our horrendous foreign policy blunders notwithstanding.
With the overthrow of our government as of last January 6th, the world is in mortal danger of descending into what Winston Churchill described on the eve of the Battle of Britain as a "Dark Age made more sinister, and perhaps more protracted, by the lights of perverted science." Let that line sink in (full disclosure, I started crying when I pulled the excerpt) especially in light of human garbage Jack Dorsey allowing the Taliban to utilize Twitter to coordinate its forces in seizing control of Kabul and the rest of that country - so long as they obey the rules and be nice.
Did they break the rules, Jack, by executing a woman because she was not wearing the burqa?
Of course, anyone who questions the election, or the efficacy of lockdowns and vaccine passports or who mocks men who call themselves women or that all whites are racists and that there is no such thing as Palestine are to be muzzled, shunned or worse. And then there's the social credit scoring that the Chi-Coms use to control their own suffering people -- invented by Microsoft and Google and coming to your own hometown very soon now. See: Passports, Vaccine. Perverted science indeed. Recall how IBM 80 years ago developed the systems that helped the Nazis exterminate at least 6 million Jews. Plus ca change. . .

Well, my friends, we are in free fall. Is it like the poor guy in the wheel well of that C-17 two days ago and the one who hurled himself off the roof of one of the Twin Towers almost exactly 20 years ago (both of whom in a a sickening ironic twist are directly connected), or do we have a parachute? As we are painfully aware, the institutions, people and safeguards we have relied on or that we trusted to keep us safe are gone. Worse, they are now taking direct aim at us here at home.
. . . My friend wasn't exaggerating, reading the most recent Department of Homeland Security issuance on Friday of a nationwide terrorism alert message titled "National Terrorism Advisory System Bulletin."

To be frank, I was stunned and found myself asking, have we, the United States of America, sunk to a new low? Although we are approaching the 20th anniversary of the 9/11 attacks against our nation, this terrorism alert does not say one word about Muslim extremism being a threat and it barely mentions al-Qaida.

Rather, this terrorism bulletin focuses on the Bidens' political opponents. Its sweeping rhetoric was so broad that it could put under suspicion more than half of all Americans. Is the Biden administration redefining domestic terrorism? Will having a pro-American set of beliefs and using the word "patriot" get you labeled a domestic terrorist?

. . . This would not be the first administration that used a "false flag" event to gain power.

Every American should know what "false flags" are, and when acts of violence are blamed on American patriots to gain new government powers, especially with this gang in charge of the government and the FBI, this should be the first explanation we look at. Consider the role of the FBI in the claimed effort to kidnap Michigan Gov. Gretchen Whitmer.

I had no illusions about who the Democrats put on their national ticket in 2020, but the Biden administration is proving itself to be so much worse than even I thought. We have survived ineffective presidents in U.S. history. This administration is acting recklessly -- dangerously -- both at home and abroad. And it is acting against our own people.

DHS claims there are calls for violence against officials, law enforcement, government and religious buildings and people with opposing ideological views -- but the bulletin casually admits it has no specific information about any of these threats of violence.

If you wonder about the timing, this bulletin came out the day after Mike Lindell's cyber symposium in South Dakota ended. Such are the strategies of the rulers we're now living under. God help us.
If there is one man in uniform that I do trust, and certainly one person who has felt the now ungloved iron fist of post-American totalitarian tyranny it's General Mike Flynn, Ashli Babbitt being unavailable for comment.
G-d help us, indeed.


ABOVE THE FOLD, BREAKING, NOTEWORTHY
BIDEN AFGHANISTAN BUG-OUT DISASTER
NOTE: The opinions expressed in some links may or may not reflect my own. I include them because of their relevance to the discussion of a particular issue.
ALSO: The Morning Report is cross-posted at CutJibNewsletter.com if you want to continue the conversation all day.
Follow us on Twitter: @CutJibNews
Follow us on Instagram: @Cutjibnewsletter

posted by J.J. Sefton at
07:31 AM
|
Access Comments