« Daily Tech News 16 August 2021
|
Main
|
Mid-Morning Art Thread »
August 16, 2021
The Morning Report - 8/16/21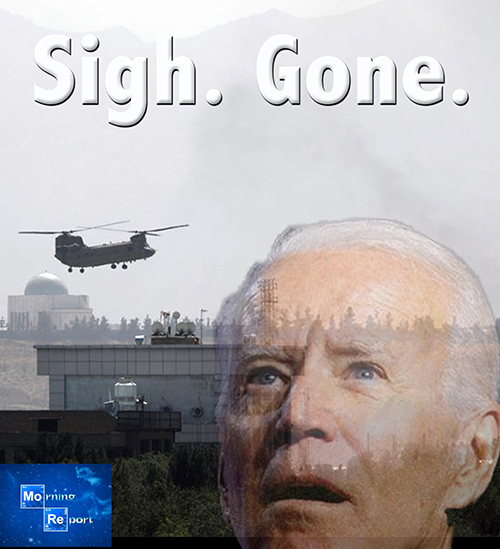 Good morning, kids. Monday and of course the top story is the absolute unmitigated disaster that is the fall of Afghanistan to the Taliban. Fall is actually a woefully inadequate and really a highly misleading term. It presupposes that there was an actual battle going on between the medieval Islamic terrorists who once again control that pile of rubble and the US-backed Afghani military. By all accounts there was no defeat because there was no battle. The only shots that were fired were not in anger but evidently in celebration as our erstwhile "allies" literally handed over their weapons, bought and paid for by your tax dollars, to the jihadis.
Hollie McKay, a foreign policy expert and war crimes investigator who covered war, terrorism, and crimes against humanity for Fox News Digital for more than a decade, is reporting today from Afghanistan that the Taliban is paying off military commanders to abandon their posts and surrender their cities . . .

. . . "The level of corruption that has enabled the Taliban to come back to power is just mind-blowing," she explained. "To see that and to see all the weapons that have gone to the Taliban's hands when the Afghan army runs away -- that we paid for." "I always saw terrorism to be a secondary problem to the corruption," McKay continued. "Afghanistan is a classic example of that. You have many elements that are pro-Taliban within the government and military factions that will sell off information that hurts the cause."
I'm shocked - shocked! - to discover that a culture that hasn't even remotely resembled a modern western society for nearly 50 years (if at all, really) would so easily and gladly throw themselves over to stone-age tyranny and oppression despite it being in their DNA since time immemorial.
As the Taliban moves into Kabul and demands the unconditional surrender of the central government, Taliban commander Muhammed Arif Mustafa told CNN: "It's our belief that one day, mujahedin will have victory, and Islamic law will come not to just Afghanistan, but all over the world. We are not in a hurry. We believe it will come one day. Jihad will not end until the last day." The CNN "journalist," demonstrating yet again its spectacular misunderstanding of the conflict (which, of course, is shared by the U.S. foreign policy establishment), followed that with "It's a chilling admission from a group that claims it wants peace." The Taliban does indeed want peace. It wants the peace that will follow the world's submission to the hegemony of Islamic law.

Muhammed Arif Mustafa was stating plainly what the U.S. State Department steadfastly ignored for twenty years: the fact that the Taliban views itself as the exponents in 21st-century Afghanistan of a fourteen-hundred-year-old conflict, one that is as old as Islam itself . . .

. . . This is not to say that jihadis have never been defeated, or can never be defeated . . . But it is highly questionable that Joe Biden's America, in which any discussion of Islam's jihad imperative earns one the sobriquet of "Islamophobe" and high-level vilification and deplatforming, has that kind of patience. It is good that we are getting out of Afghanistan, although Biden's handlers have disastrously bungled the withdrawal, with consequences we will no doubt be suffering in the coming months, but State and Defense Department wonks should have a steady and sober regard for the fact that the jihad has not ended, and that jihadis will continue to come after the United States and American citizens.
In noting the estimable Robert Spencer's thoughts on the kind of "peace" Islam seeks for the world, aside from the fancy calligraphy and intricate geometric decor, the G-dless heathen Socialists want the very same "peace" - the peace of the mass grave for apostates and heretics of its own pseudo-religion. But I digress. Yes, de-assing from Afghanistan was the right goal as we should never have been there in the first place. The question has always been how do we leave without putting America and its legitimate national security interests at even greater risk than if we maintain a military presence? I may not know the answer to that question but I do know, and the entire world knows exactly what not to do. Declare "Mission Accomplished" and just bug out.
Raging imbeciles like Tony Blinken and his attack chihuahua Chris Wallace tried blaming President-in-Exile Trump for this and former Secretary of State Mike Pompeo wasn't having any of it.
"Were I still the secretary of state with a commander in chief like President Trump, the Taliban would have understood that there were real costs to pay if there were plots against the United States of America from that place," Pompeo said. "Qassem Soleimani learned that lesson, and the Taliban would have learned it as well. . . "

". . . it's worth noting this did not happen on our watch. We reduced our forces significantly and the Taliban didn't advance on capitals all across Afghanistan. So it's just a plain old fact that this is happening under the Biden administration's leadership now almost a quarter of our way into his first term, this is not the way leaders lead, by pointing backwards."

"We had a bad deal we inherited -- the JCPOA [Iran nuclear deal]; we got out of it," Pompeo continued. "We secured America from the risk from Iran. We inherited a horrible deal in Syria where ISIS controlled real estate the size of Great Britain. We crushed them. Every president confronts challenges. This president confronted a challenge in Afghanistan. He has utterly failed to protect the American people from this challenge."
What's that old saying, "weakness is provocative." Along with the Islami-kazes of this world, the Russians, Iranians, Cubans, NorKs and most of all the Chi-Coms are laughing their asses off and champing at the bit. Aside from the fact that Joe Biden is a visibly demented near-octogenarian whose cognitive function is deteriorating now on a daily basis, he and his handlers are hell bent on doing anything and everything both domestically and internationally to weaken us, our citizenry and allies while emboldening, kowtowing and appeasing our enemies. He's taken a wrecking ball to our economy, our fossil fuel industry, our nuclear arsenal, our borders and national identity and the notion of comity, compromise and the rule of a just, stable law. And where is so-called quote-unquote "president" Joey Soft-Serve Custard? Why, he's on vacation at Camp David, totally incommunicado. Not to worry, though. We're told he plans on maybe addressing the nation in the "next few days" ("First, address the nation. 'Hello, nation!'").
Look, I'd be lying to you if I said that I believed we should never have been in Afghanistan in the first place. But like all but the wisest of you, I too was deceived by the intelligence community - the same intelligence community that worked overtime to sabotage Trump in 2016 and finally succeeded in 2020 - as well as those who want endless wars for the sole purpose of enriching themselves. But doing what Biden and his handlers did is just the height of irresponsibility and cluelessness. Yet that is the left; everything they believe in is 180 degrees out of phase with reality because they see the world as they want to see it, without any clue as to how it actually operates.
With Biden and that bloated disgrace to the uniform Vanilli Milli claiming the Afghan government can handily defeat the Taliban, and Malig-Nancy Pelosi saying Biden is "to be commended," somewhere Baghdad Bob is shaking his head and having a good chuckle. It's cold comfort knowing that anyone with more than two brain cells to rub together can see that they look like abject idiots. But lest we forget how we got here in the first place.
When Bush won, he brought with him a cabal of staffers broadly known as "neoconservatives" who distinguished themselves from traditional Republicans by ignoring deficit spending and strongly supporting interventionist foreign policy with a heavy emphasis on protecting and advancing America's petro-allies in the Middle East. Months after September 11, 2001, the Bush Administration diverted America's response to terrorism by seeking a revenge war in Iraq.

Oh, what a bitter harvest we have reaped.

History acquitted those chicken-little voices that warned of never-ending wars, ballooning deficits, and the dangers of bloated and politicized intelligence agencies. I admit it. I was wrong about Bush. He was a disaster.

We're reminded of this point as we watch the humiliating withdrawal of U.S. forces in Afghanistan. Bush's critics, who seemed so wrong at the time, have been proven right in the sweep of history. The Iraq and Afghanistan wars turned into the very quagmires that the liberals predicted. The Intelligence Agencies were allowed to pursue and harass Muslims in the United States -- even setting some up in "Truman Show"-style prosecutions in which the FBI planned and financed almost every detail of terrorism plots to ensnare lonely, mentally disabled Muslim men. The civil liberties of these "terrorists" didn't seem very important at the time. The liberals warned that these tactics set dangerous precedents that might later be applied to larger and larger swaths of the public.So would any of this have been different had Al Gore been elected president? . . .

. . . The awful legacy of George Bush split the Republican party during the 2016 presidential campaign. When Trump correctly criticized neocons for their fruitless wars, they became enraged. Until Trump, the pseudo-intellectual near-imperialists wrapped themselves in a protective costume of patriotic rhetoric. Then Trump said the obvious truth that nobody dared speak: these wars are bad for American interests abroad and at home. The Bush Republicans became Hillary Clinton supporters. . .

. . . What did nearly two decades in Afghanistan and Iraq buy us? Thousands of American dead and trillions more in debt, and Afghanistan is swiftly returning to its pre-invasion configuration. Lots of government contractors and retired generals grew very rich pouring American treasure into the land-locked and barren land. The Bushes themselves have become fabulously wealthy, worth hundreds of millions of dollars. Meanwhile it will take many more years for America to recover from their endless wars and crippling debt.
We can debate the "what-ifs" from now until Armageddon, which by all appearances could be any day now. That said, after 20 years we are left with our blood and treasure wasted, America coming apart at the seams, an elitist oligarchy in concert with a growing surveillance state, feral intel and law enforcement and woke corporatists as its enforcers and global jihad and Marxist-Leninism on the march.
What are our prospects? Over dinner late last week, CBD reminded me that we are now a fundamentally unserious nation. Not looking good around here, my friends.


ABOVE THE FOLD, BREAKING, NOTEWORTHY
"Amid an ongoing political crisis brought about by the assassination of President Jovenel Moise last month, Haiti was hit by a magnitude 7.2 earthquake -- one of the most powerful temblors in the western hemisphere this century. It follows a 7.0 earthquake that struck the country in 2010, resulting in more than a quarter-million deaths. At least 1800 were injured in the latest calamity." (just keep the damned Clintons the hell away so they can't loot the rubble and set up another multi-billion-dollar aid grift - jjs)
Massive Quake Strikes Haiti, Kills Hundreds as the Country Struggles With Multiple Woes

* * * * *

"For all his faults, Al Gore couldn't have been worse."
How Bush Ruined Everything

"Irrespective of whether Kolfage is guilty of the charges against him, if these allegations are true, what's being done to him is cruel."
Is the Federal Government Torturing Brian Kolfage?

"Understanding the origins of the administrative state goes a long way towards grasping how policy is really made today in American government."
The Tyranny of Experts
BIDEN AFGHANISTAN DISASTER
NOTE: The opinions expressed in some links may or may not reflect my own. I include them because of their relevance to the discussion of a particular issue.
ALSO: The Morning Report is cross-posted at CutJibNewsletter.com if you want to continue the conversation all day.
Follow us on Twitter: @CutJibNews
Follow us on Instagram: @Cutjibnewsletter

posted by J.J. Sefton at
07:39 AM
|
Access Comments