« Food Thread: When Life Gives You Oceans Of Basil; Make Gimlets!
|
Main
|
Sunday Overnight Open Thread (8/15/21) »
August 15, 2021
Gun Thread: Pre-Monday Edition!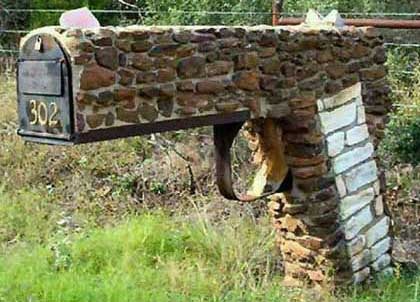 image courtesy WTM
Howdy, Y'all! Welcome to the wondrously fabulous Gun Thread! As always, I want to thank all of our regulars for being here week in and week out, and also offer a bigly Gun Thread welcome to any newcomers who may be joining us tonight. Howdy and thank you for stopping by! I hope you find our wacky conversation on the subject of guns 'n shooting both enjoyable and informative. You are always welcome to lurk in the shadows of shame, but I'd like to invite you to jump into the conversation, say howdy, and tell us what kind of shooting you like to do!
Still no trip to the farm, and now the weather is to blame. Rain has been in the forecast pretty much daily for the last week, and also for the next ten or so days going forward. I'm having major organic tree farming withdrawal, and need to get back to my roots on the land. Soon. Truth be told, it is not much fun being down there in the rain and slopping around in the mud. My little remote weather station there is saying we have had over an inch and a half of rain this week so it needs at least one day to dry out. I reckon I'm just a fair weather farmer.
With that, let's get to the gun stuff below, shall we?
*******
I often get questions on custom rifles, and whether or not they make a difference for the casual shooter. A custom rifle made by a competent riflesmith will cost $5,000 or more, excluding optics, so you need to balance your need for accuracy with that number. Are they inherently more accurate than a stock rifle? Yes, without question. Will an average shooter notice any difference using mass produced commercial ammunition? Probably not.
I did not invest in a custom rifle until I had learned to both shoot and reload custom ammunition with a high degree of consistency. I started with a stock Savage Model 10 using Federal Gold Medal Match ammo. Absolutely bone stock. Once I began to see the accuracy limits with commercial ammo, I focused on precision reloading. Once my skills behind the rifle and at the reloading bench were sufficiently advanced, only then did I upgrade my equipment. When I began coaching, I would advise new team members to focus on marksmanship and reloading skills first, leaving more expensive gear for later when it could make a difference. I have seen more than one new competitive shooter both surprised and dejected when their fancy new custom rifle doesn't shoot any better than the one it replaced. There is nothing wrong with either rifle, the problem is behind the gun.
Learn to shoot and reload first, then buy the gun. What sort of accuracy differences on target are we talking about? Ultimately, a few inches at 1,000 yards, all things being equal. Again, you will see much greater and faster improvement by investing in your marksmanship and reloading skills first. Do you really require that level of accuracy for your intended application? Do your skills match the potential of the rifle? There is no substitute for experience and the very best way to gain that is club level match shooting where scores are kept and you can measure your performance improvement under all sorts of conditions. There are no shortcuts, and you aren't going to buy your way to a better score. Believe me, if there were an easier way, I would have found it. Instead, I did what everyone else had to do, and that was to spend hundreds and hundreds and hundreds of hours at the range over a period of years.
So, yeah, yeah - whatever, Weasel, just tell us how custom rifles are different or better than stock rifles, m'kay?
Welp, there are a number of differences. The short answer is the tolerances are much closer than is possible with a mass produced example and all of the bearing surfaces are precisely aligned. A custom rifle is hand made and fitted by a machinist, whereas stock rifles are produced on an assembly line. Stock rifles are still capable of remarkable accuracy in the right hands, but custom rifles deliver more consistent results, where consistency is key. What are the actual improvements? The actions and other mating surfaces are trued, as the following videos will show, among other things such as stock bedding. There are more than 90 minutes of video covering four areas of major differences below. If you're interested, I suggest you watch them later and come to class prepared to discuss next week.
It all starts with bolt truing:
Then moves along to receiver truing:
Next we have chambering:
And finally we have bedding of the stock
The guys in the video aren't completely annoying, so you can probably get through most of these if you're interested in the subject matter. The explanations are generally straightforward, and they is plenty of nifty work shown on the lathe. Let me know what you think!
*******
And speaking of shooting, our pal 10 Gallon Hat has been to the range!
Well, I finally got to the range. This was the first time since before the KungFlu hit, so I'm guessing 2+ years, but I did manage to go twice this weekend.

Day 1:
The first trip was to try out my new 3" Smith & Wesson 686 Plus .357 revolver. It's a very nice revolver, and I like the trigger even in double action. I started with a box of .38 Special and then a few .357 personal defense rounds. I was shooting at 30 feet due to the settings on the target settings and shooting double action.

Shooting a revolver is a bit different than a semi-auto and it took a little getting used to. I did ok with it, but sure can use some more practice. The spreads were wide, but for the first time out with it, I am satisfied. The last target was a type of card game and I was shooting for hitting the spades. Well, I was sort of close.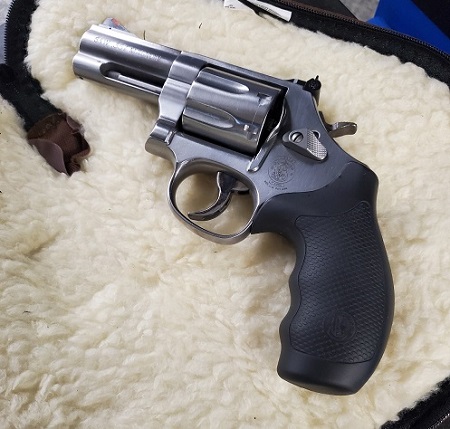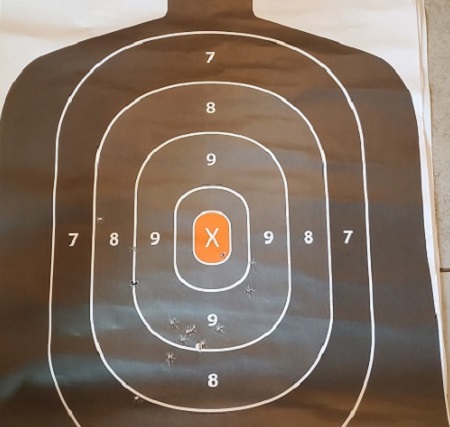 Day 2: This time out was to continue the break-in of a compact 1911-A1 that I started about 3 years ago. For various reasons, getting out with this one was delayed. I had run about 300 rounds through it and was having last round failure to eject problems. When I contacted the manufacturer about the problem, they told me it takes a minimum of 500 rounds to fully break it in and to let them know if there were still problems after that time. It is a lifetime guaranteed weapon, so I wasn't in a panic to complete the break-in procedure.

I was able to get another hundred or so rounds through it, and was still experiencing the last round FTE. Along with that, I had one instance of the firing pin retaining block dislodge, slip down, capturing the hammer and locking up the action. That was a weird one, but after I figured out what had happened, I was able to get it back in operation.

I have had people tell me that the FTE could be letting my wrist flex too much during recoil, which can interfere with the cycling of the action, so I was concentrating on that to make sure I was holding the pistol firmly enough. The FTE was about 80% of the time, so more research and testing is needed. Meanwhile, this pistol will not be my defense weapon due to the problems. I sure do like the platform though. It's a good size for my hands and conceals well.

Accuracy wise, it is very good. I was shooting at 21 feet and was able to group ok for not having shot for a couple years.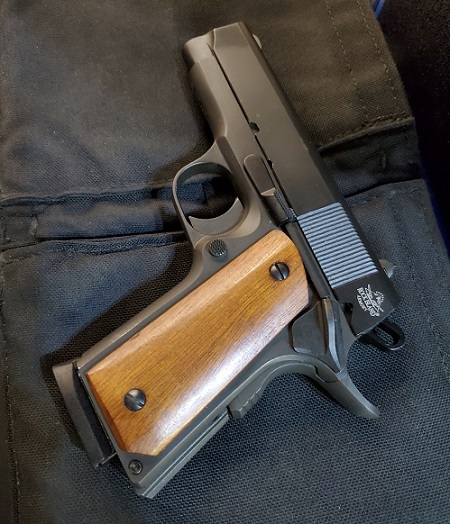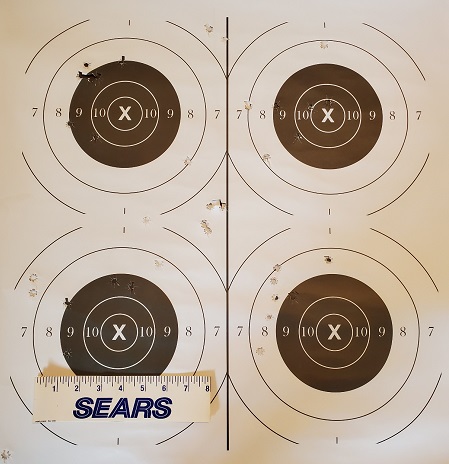 It was good getting out there shooting again. Overall I feel I had some good success. Now that I have gotten back out shooting, I am ready to go again. My biggest issue is shooting ammo that I can't really afford to replace right now, but I enjoy the sport too much so I will continue to go.

What did I learn?
- I need to practice more often, because I can do better
- Test your weapon to make sure it operates properly
- Buy more ammo
Very nice report, 10 Gallon Hat, and welcome to the Gun Thread! And yes, buy ammo!
*******
Next we have a follow-up on our 6.5 Creedmoor shortcut last week from our pal GWB:
This showed up on The Truth About Guns on Saturday, and I thought it went right along with that 6.5 Creedmoor SWAG bit. It's an article on practical riflery for the shooter looking to stretch their effective range a bit.

How accurate is this? It seems pretty simple for fairly common loads.
Thanks GWB! What do you all think?
*******
This seems to fit the definition of "practical riflery" as far as I can tell.
*******
Our pal redc1c4 reminded me we had a semi-willowed comment from last week from out other pal Primis!
OK, oddball Horde question, I'm looking at 16 gauges. Already have an old Browning (Savage) Fox side-by-side, my favorite upland gun, and a Citori Lightning (I am NOT worthy), which will never been seen with my clunky, cardboard, clumsy ass in the brush to wreck any piece of its finish. Short 16ga story: Franchi or Browning? I'm aiming (ha!) for the latter. Thoughts? Ammo price is not an issue, this is where I don't care about return versus expense. Posted by: Primis! at August 08, 2021 08:54 PM (BnOvL)
Anyone? Bueller? Bueller?
*******
Next up, our pal and mostly lurker Toni sends us the following warning on some 9mm ammo which may have problems.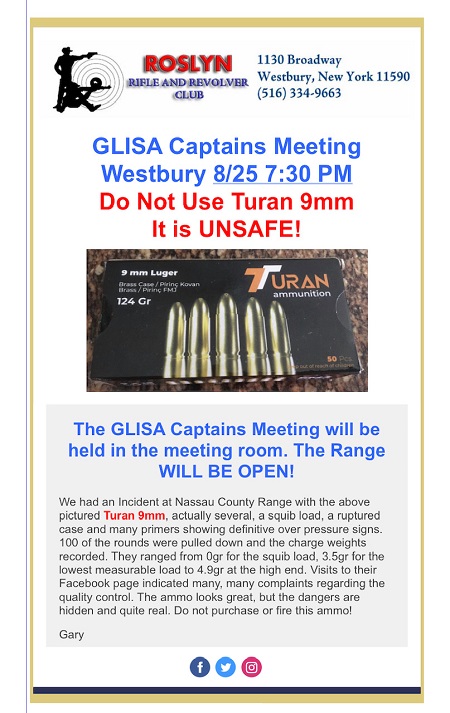 Anyone using Turan 9mm? We need to be careful with what we're shooting even in these difficult times that we're still all in together. Thanks Toni, if that is your real name!
*******
Link-O-Rama
I'm really very seriously not kidding around anymore. Buy Ammo
AmmoSeek - online ammo search tool
GunBot - online ammo search tool
SG Ammo
Palmetto State Armory
Georgia Arms
AmmoMan
Target Sports USA
Bud's Gun Shop
***Mail Bag***
This week's Mail Bag entry is courtesy of our pal hogmartin. WeaselDog approves!
******
Please note the new and improved protonmail account gunthread at protonmail dot com. An informal Gun Thread archive can be found HERE. Future expansion plans are in the works for the site Weasel Gun Thread. If you have a question you would like to ask Gun Thread Staff offline, just send us a note and we'll do our best to answer. If you care to share the story of your favorite firearm, send a picture with your nic and tell us what you sadly lost in the tragic canoe accident. If you would like to remain completely anonymous, just say so. Lurkers are always welcome!
That's it for this week - have you been to the range?


posted by Weasel at
07:00 PM
|
Access Comments