« Open Thread And Graveyard Of Empires
|
Main
|
Gun Thread: Pre-Monday Edition! »
August 15, 2021
Food Thread: When Life Gives You Oceans Of Basil; Make Gimlets!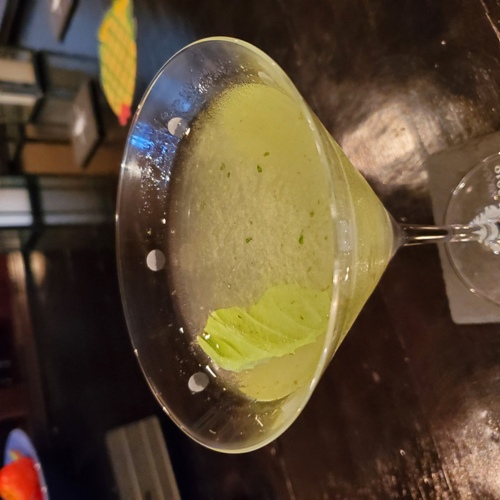 I didn't have to resort to napalm and a chain saw, but it was a near thing. Luckily I remembered that basil and gin and lime juice go very well together, especially with a splash of simple syrup! The bright vegetal flavor of basil meshes nicely with the herbaceousness of the gin, and it is all held in check by the lime juice and sugar.
It's not complicated. Four ounces of gin, one ounce of lime juice, ¾ ounce of simple syrup, and four-six basil leaves...depending on how big they are. Bruise the leaves, toss everything into a shaker with lots of ice, shake the hell out of it, and filter into a martini glass with a fresh basil leaf garnish.
This makes one adult drink or two kid's drinks.
******
Ultraprocessed foods now comprise 2/3 of calories in children and teen diets
There was good news: Calories from sugar-sweetened beverages dropped from 10.8% to 5.3% of overall calories, a 51% drop.

"This finding shows the benefits of the concerted campaign over the past few years to reduce overall consumption of sugary drinks," said Zhang. "We need to mobilize the same energy and level of commitment when it comes to other unhealthy ultraprocessed foods such as cakes, cookies, doughnuts and brownies."
Or you could shut the fvck up and stop nagging us with your social engineering, and simply report the results of your study. Because it is people like you...(possibly) well-meaning scolds who think they know better than the collective wisdom of traditional America, so you agitate and manipulate and advocate for a generations-long effort by the government to change our diets based on the flimsiest of evidence that has long since been debunked.
[Hat Tip: Misanthropic Humanitarian]

******
I've had my share of collard greens...some great and some not so great. I wanted to duplicate a version I had in Savannah a few months ago that was excellent: a bit on the sweet side and not bitter at all! It didn't have bacon in it, so the plan was to fix that glaring error.
Bacon, onion, garlic, some red pepper, a fair amount of brown sugar and a splash or two of vinegar, and away I went!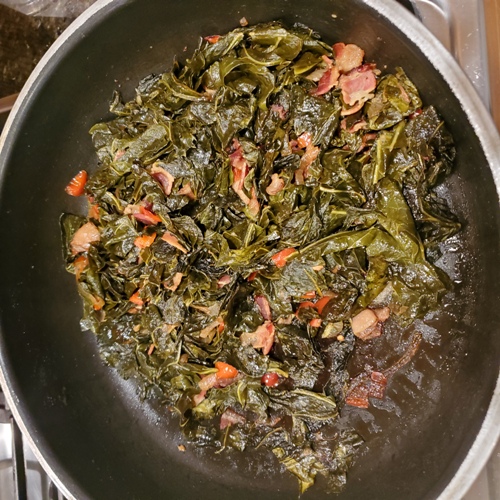 Looks good...huh! But they sucked. I sauteed everything except the greens, then added the greens with some chicken stock, and realized after the fact that by the time the greens were tender the other ingredients would be mush, contrary to what a few recipes said.
They actually tasted okay, but the greens were tough and stringy and not nearly what I wanted. The good news is that greens are cheap, so I will be trying this again, but this time asking a Southern grandma instead of some asshole "chef" who fancies himself a Southern cook.

***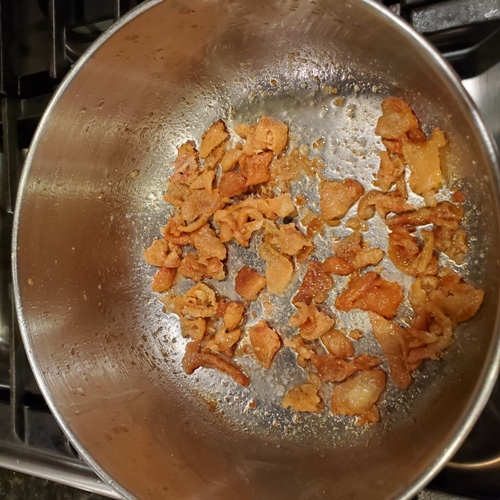 They're called "gribenes" in Yiddish, or chicken cracklin's in American, but in both languages they are easy to make and absolutely delicious. And Keto too!
I had a bunch of chicken thighs I was making Sous Vide, and I trimmed them of the extra skin that they invariably have. Sometimes I toss it into the stock bag, but the last few times I have made...whatever you want to call it...and as a quick snack or tossed into scrambled eggs they are hard to beat.
Cut the skin/fat into 1" squares or strips or whatever, put them in a pot with some water so they don't stick, and poach them until all of the fat is rendered and the water has evaporated. As soon as they start to brown pour off the fat through a mesh filter. And for God's sake, don't throw it out! Then return the skin to the pot and crisp them gently. It will take a long time, but be patient and don't crank the heat. When they are crispy, toss in a little Kosher salt, stir, and eat. Or refrigerate.

***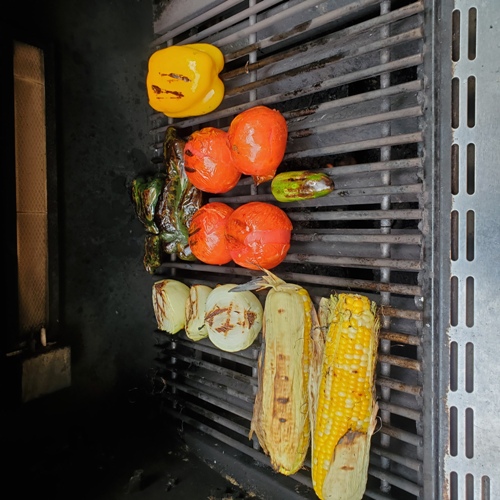 Summer! That means corn and tomatoes and all sorts of good stuff that can be grilled and made into salsas. Not just traditional ones; the one in the photo is simply what looked good at the market. We have been having a banner year for corn here in the People's Republic of New Jersey, and the overrated New Jersey Tomatoes are actually pretty damned good eating this year, so why not use those in a salsa? But anything will work, and the grilling does two things; it adds flavor (duh), and also drives off some of the moisture so your end result isn't a messy puddle of slush.

******
It's official: Misanthropic Humanitarian is trolling me. He keeps sending me links that I am confident he knows will irritate me and send me off on some ranting tangent about...whatever. In this case it is silly click-bait lists, but this one is just dumb. It doesn't have many recognizable sandwiches, and I suspect that they were dredged up from someone's dusty notes from some long discarded article.
But it won't work. I am immune to his trolling!
Our 50 Best Sandwiches from Around the World

******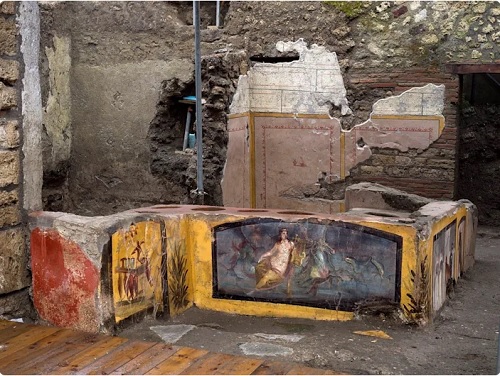 A 2,000 year-old fast-food joint discovered by archaeologists in Pompeii will open to tourists this summer.
Yeah...I'm not sure it really is a fast-food joint, but it is interesting nonetheless.
[Hat Tip: Sharon(willow's apprentice)]

******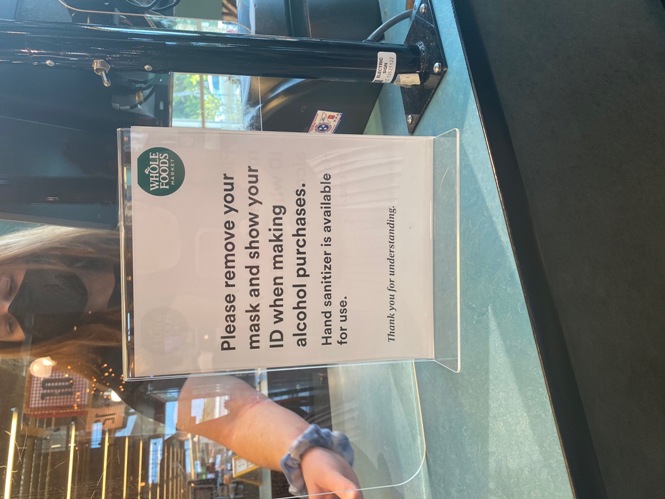 [Hat Tip: Rondinella Momma]

******
Avocados sans thumbprints, beef short ribs that have meat on them (not the stupid little sliver of bone they sneak into the packages), carrots that don't taste like stalky chalk, spare bottles of Van Winkle Special Reserve 12 Year Old Bourbon, an herb garden that actually produces herbs, well-marbled NY strip steaks and elk backstrap to:
cbd dot aoshq at gmail dot com.
And don't think that you are off the hook with maple syrup and French Toast: I'm watching you...all of you! And I am watching you perverts who shake Manhattans and keeping a list for the Burning Times.


posted by CBD at
04:00 PM
|
Access Comments