« Daily Tech News 11 August 2021
|
Main
|
Mid-Morning Art Thread »
August 11, 2021
The Morning Report - 8/11/21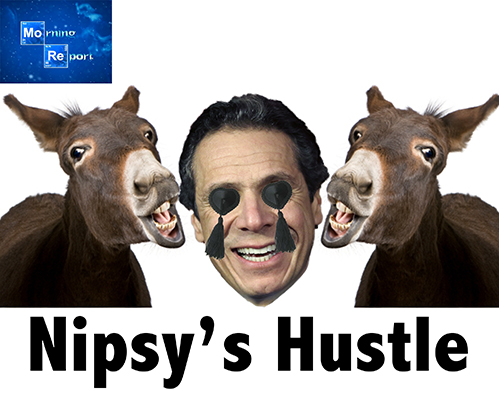 Good morning, kids. Wednesday and the big three stories are, in no special order of appearance:
- - the resignation of Angel of Death Cuomo as governor of New York
- - the Senate passing of this monstrous $1 trillion robbing of the American citizen of his wealth and of whatever little freedom he yet retains under the euphemism of "infrastructure"
- - the assault on individual liberty under the pretext of stopping the spread of a virus provably to be marginally more dangerous than seasonal flu, this time via forcible vaccination or societal ostracism
Let's start with the greasy bastard who finally was removed from office for what I consider all the wrong reasons; the alleged multiple accusations of sexual assault/abuse. Daniel Greenfield' wit and wisdom kicks it off:
All over Southeast Asia, there are women and little girls bent over sewing machines in sweatshops churning out "Cuomosexual" t-shirts that no leftist letch will buy anymore. You can't buy a Confederate flag on Amazon, or a copy of a book challenging transgender identity, but the site is littered with $20 "I Identify as Cuomosexual" t-shirts and rainbow Cuomosexual face masks. Like Andrew Cuomo, his Cuomosexual crap has no future. . .

. . . Last year, former Governor Cuomo endorsed tearing down President Teddy Roosevelt's statue. Now his cult of personality icons are the ones falling on his walk of shame out of Albany. Not so long ago, they worshiped him. . .

. . . The race is on to replace Cuomo with another scumbag who will quit before being impeached. Cuomo wasn't just afraid of impeachment. There are much worse things lurking in his closet than the knobby grabby hands and the maniacal leer that splits his leathery face. The Democrats didn't want to open that door and neither did Andrew Cuomo. Call it a cover-up. That's what it is.

Andrew Cuomo brought half a century of Cuomo clan politics to an end with his shameful resignation. Ever since Mario Cuomo ran for office in 1974, there's been a Cuomo robbing taxpayers somewhere in New York or D.C. Before Mario lost his last race, he got his son Andrew a job as HUD Secretary in the Clinton administration as a payoff for not opposing him.

A world without Cuomos is almost as unthinkable for New York as a world without Kennedys for Massachusetts. The two inbred political clans even briefly intermarried when Andrew Cuomo wed one of RFK's daughters as part of his presidential ambitions. Those are as dead as the thousands of senior citizens who perished after Cuomo ordered nursing homes to accept hospital patients infected with the coronavirus while blaming the outbreak on the Jews.
Just a reminder for those unaware or too young to remember, Cuomo as HUD chief was instrumental along with Jamie Gorelick (oh boy), Franklin Raines, Barney Frank and Janet Reno in weaponizing the Community Reinvestment act to force banks into giving home loans to people who could never afford to repay them, thereby touching off a chain reaction that ultimately brought about the 2008 financial crisis. You see, it was all because of "fairness" and "equity" and a massive vote-buying scheme. But I digress. Tucker Carlson had a rather interesting take on Sausage Boy Nipsy's downfall:
Carlson prefaced his comments by saying that he was loathed to defend Cuomo but noted that there were a few key questions that people ought to be asking -- specifically with regard to Democratic New York Attorney Gen. Letitia James' motives. . .

. . . "If Andrew Cuomo was harassing so many women, and doing it at the state capital in New York, how come we just learned he's been doing it? Andrew Cuomo has been in office for almost 11 years. . . "

. . . "Why did Lindsay Boylan wait two years to tell us what happened? This guy's the governor of one of the most important states in the country, so why didn't she pipe up before, say before the Emmy Awards? We can't know the answer to that but it's clear she picked a significant moment to share her allegations on Twitter," Carlson said. "Could it be that the second that call was made, Andrew Cuomo had outlived his usefulness and it might be time to crush him and move on to someone who's easier to control? If you think that's a conspiracy theory, you don't live in New York, where that kind of thinking is common. . . "

. . . "Andrew Cuomo was an awful governor. It pains us to raise any voice in his defense," Carlson concluded. "He was a vicious partisan, he was a thug, but if we are being honest, he was not completely insane -- He wasn't, say, Letitia James. He wasn't Al Sharpton, he wasn't even, pause and catch a breath there because it's so horrifying, he wasn't even Bill de Blasio. The most reckless and incompetent human being ever to hold elected office, a man who single-handedly discredits the idea of self-government. These people, just being honest, are worse than Andrew Cuomo. But because someone sat in Andrew Cuomo's lap, they may soon run the state of New York.
Of course the 15,000-plus capacity mass grave in the room that people are ignoring, and for good reason, is Andrew Cuomo's actions in forcing Peking Pox-infected people into nursing homes with uninfected yet highly vulnerable residents and killing them, all in an effort to either save Medicaid/Medicare funds or even worse, to try and use it as a means to damage President Trump's re-election. You can add governors Newsome, Murphy, Whitmer and Lamont onto a gallows for following his lead and killing off thousands of elderly people in their states as well. But, of course, judgement in this regard will likely be in the hands of the Lord when Cuomo joins the Choir Invisible; there is just no way in hell he will see a prison cell for the sex abuse, the financial shenanigans with that book deal and least of all his culpability in mass murder.
Right now Lt. Gov Kathy Hochul will be sworn in to finish out the term until the 2022 midterms. Aside from being a doctrinaire leftist, Hochul was with Cuomo from the very beginning and remained silent throughout. It's a Roman farce at this point.
Moving on, you'll be thrilled to know that this $1 trillion insanity called "infrastructure" passed thanks to the cooperation of 19 Republicans. I went over this yesterday so I'm not going to vent my spleen any further. It's a total catastrophe and a massive power grab on many levels. It also paves the way for the Green New Deal, which will be building a bridge - or more accurately a mass grave - back to the 11th century.
Ironically, while the GOP sold us down the river, it might very well be the insane Maoists who pull our chestnuts out of an even more massive fire - the upcoming $3.5 trillion reconciliation bill:
A majority of the Congressional Progressive Caucus, according to chairwoman Pramila Jayapal (D., Wash.), deputy chair Katie Porter (D., Calif.), and whip Ilhan Omar (D., Minn.), will refrain from voting on the $1 trillion bill unless the Senate passes the Democrats' $3.5 trillion spending package. The costlier bill would fund programs for child care, health care, education, and green energy initiatives. The caucus's leadership, who warned of their intentions in a letter sent to the House speaker's office and obtained by the New York Times, pushed for the legislation to be passed by reconciliation, bypassing the Senate's 60-vote filibuster threshold.

Speaker of the House Nancy Pelosi (D., Calif.) on Friday tethered the fate of the two bills together, saying the first was "not going forward" without the second.

"Whatever you can achieve in a bipartisan way -- bravo, we salute it," Pelosi said. "But at the same time, we're not going forward with leaving people behind. . . "

. . . Though Senate Democrats have greenlighted a blueprint for the larger Senate bill, it has yet to be finalized. If House progressives are successful, it will delay the passage of the bipartisan infrastructure bill until the fall at the earliest.
Under normal circumstances, it's the GOP that does the kabuki/bukkake theater of "opposing irresponsible Democrat taxing and spending" or some such rot, but ultimately give them at least 75% of what they demand and then they call it a great bipartisan victory in sticking to conservative principles. But the Democrat Party is being taken over by strident virulent Marxists who want the whole pie and have no time for political niceties and this theater of the absurd. They hate America, they hate procedure, they hate anything that stands in the way of what they are demanding. Our only shot at stopping this is if they feel it's more important right now to take total control of the party rather than a pretty big - but not absolute - victory in the expansion of the Leviathan into an unstoppable monster.
Kind of reminds me of Obama's huge blunder in not going for amnesty when he controlled congress for 24 months. We staved off that catastrophe more or less for a decade. We'll see if the Maoists actually do the right thing albeit for the absolute wrong reasons. And, death to the GOP.
UPDATE: Commenter Moron Robbie correctly observes:
And remember, it's not just $1T or $3.5T.

It's $1T or $3.5T in perpetuity, year after year after year, added to the baseline and spent in perpetuity via continuing resolutions.
Finally, the ramping up of rhetoric in forcing vaccinations on the public. While Biden's puppet masters have directed the military to jab all personnel and some private sector companies are following suit, surprisingly three of the four major airlines will not demand employees and crew be vaccinated. That is kind of a big 'effin' deal, but really, how long before this junta sicks the FAA, IRS, ICC and every other damn bureaucracy on them and forces them to comply? Wayne Allyn Root is not pulling punches.


This is the most important commentary I've ever written.

It's time for alarm bells. It's time for me to play the part of Paul Revere: "The communist tyrants and dictators are coming! The communist tyrants and dictators are coming!" They're coming first for unvaccinated Americans. This is 1938. I'm a Jew. I now understand just a little of what it felt like to be a Jew in 1938. No, it's not the Holocaust. Nothing can be compared to the Holocaust. Ever. But 1938 was not the Holocaust. It was the pre-Holocaust. It was the time before the nightmare, when the foundation was being laid to destroy the freedom, free speech, businesses and lives of millions of Jews.

Everything happening today to the American people ... to the U.S. Constitution ... to freedom ... and particularly to unvaccinated Americans reminds me of 1938. This is only the beginning. It gets much worse from here. . .

. . . If government can force us to close our businesses, to kill our jobs, to decide who is nonessential, then this is 1938. Stars on clothing. It's coming. The vaccinated get into restaurants, bars, concerts, supermarkets, planes and trains. They keep their jobs. The rest of us are marked as "subhuman" for life. That's the star. That's 1938. . .

. . . Only days ago, a former Department of Homeland Security official said the unvaccinated should be on the federal no-fly list. That's exactly how Nazis attacked the Jews and others who disagreed with their agenda. It was always lists. Lists of people to be disappeared in the middle of the night; lists of those to be sent to reeducation camps; lists of those to be sent to concentration camps; lists of enemies of the state. It's happening again. Maybe this time you'll only lose your job or free speech. This is, again, 1938.
Maybe they'll declare anyone not vaccinated a "white supremacist insurrectionist." Which is funny because the majority of people who are vaccine averse happen to be black. Just like the Mayor of Boston, and she is not happy at all.
PS: Be sure to get your papers in order, nudge-nudge wink-wink.

CIVIL WAR 2.0: LEFTIST PERSECUTIONS, CAPITOL HILL BLACK WEDNESDAY PROTEST AFTERMATH, DEMOCRAT PUTSCH, AMERICAN DISSOLUTION
NOTE: The opinions expressed in some links may or may not reflect my own. I include them because of their relevance to the discussion of a particular issue.
ALSO: The Morning Report is cross-posted at CutJibNewsletter.com if you want to continue the conversation all day.
Follow us on Twitter: @CutJibNews
Follow us on Instagram: @Cutjibnewsletter

posted by J.J. Sefton at
07:38 AM
|
Access Comments