« Food Thread: The Old Ways Are The Good Ways -- When It Comes To Eggs And Bacon And Sausage, They Are The Real Breakfast Of Champions
|
Main
|
Sunday Overnight Open Thread (8/8/21) »
August 08, 2021
Gun Thread: Another Sunday Edition!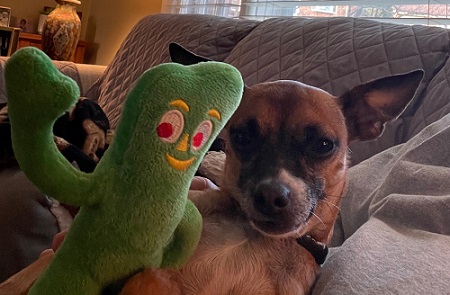 Fun Size Joe and Gumby Welcome You!
Howdy, Ya'll! Welcome to the wonderously fabulous Gun Thread! As always, I want to thank all of our regulars for being here week in and week out, and also offer a bigly Gun Thread welcome any newcomers who may be joining us tonight. Howdy and thank you for stopping by! I hope you find our conversation on the subject of guns 'n shooting both enjoyable and informative. You are always welcome to lurk in the shadows of shame, but I'd like to invite you to jump into the conversation, say howdy, and tell us what kind of shooting you like to do!
Welp, I was stuck here at Casa of Weasel again this week, due partly to work obligations and partly to chores around the house. I do need to get to the farm and beat back the grass and vegetation, and do a bunch of routine maintenance on all of the equipment down there. Also, some shooting would be fun. I always take a bag of handguns including a 9mm, a .357 Magnum and my .45ACP carry pistol, and would like to rattle off 50 rounds or so just to stay in practice. I usually take at least one rifle to shoot if I have the time. I suppose I'm at the point where it doesn't take much to shake off the cobwebs, but it's been about six weeks since I've done any practice, which is not bueno.
With that, let's get to the gun stuff below, shall we?
******
WWYD Pt. III


When I wrote the WWYD article a couple of weeks back covering what steps to take immediately after being involved in a self-defense use of force, I really did not intend for it to become a three part series, and yet here we are! I continue to receive excellent comments and email on the topic which I think are worth review and discussion.
From our pal BifBewalski on recording audio and video.

Friend of mine sent me this link. It's from a lawyer's perspective that has successfully defended self defense victims that were arrested by police after shooting in self defense.
Don't let recording an incident get in the way of the actual self-defense part of self defense!
**
From our pal Navig8r

Is there a reason that you did not mention Armed Citizens' Legal Defense Network in your discussion of legal defense options? They offer what I regard as excellent value in terms of representation coverage, as well as an abundance of training material (some free, some members only) on their web page.

This from one of the sub-pages "Currently serving on the Advisory Board are Massad Ayoob, John Farnam, Tom Givens, Dennis Tueller and attorneys James Fleming and Emanual Kapelsohn." speaks volumes to me.
Please check out their web page and see what you think.
Another good option, thank you for sending this in, Navig8r! There is no good reason it wasn't included before other than we've been having trouble with the Gun Thread Research Staff guy, who has a bad attitude and likes to cut corners. Rest assured we've taken corrective action by placing a note into his permanent record! Thank you for correcting our oversight.
**
From our pal Unnamed Moronette:

I checked out CCW Safe's site. Seems like a good org. However they have text splashed across the page that NY, NJ, and WA do not allow coverage for self-defense incidents. Not sure if that means they will insure everything BUT self-defense, or if they just don't offer policies in those states, but here I am in Washington state with no insurance options.

So, for another Gun Thread question, how DO you proactively find a good self-defense attorney if you live in one of those states?
Whoa! Great question! First, I recommend someone experienced with the law as it applies to self-defense, rather than the guy that handled your cousin's divorce. I dunno, maybe someone with a company named The Law of Self Defense. Seriously, I encourage everyone to check out Andrew Branca's work; he' an acknowledged expert in the field and offers legal consulting services with his Platinum Protection Program. He has a blog and offers a 14 day free membership trial, and I bet you will find some ideas on finding competent counsel discussed there. Best of all, he reads the Gun Thread so you know he's really smart! Lastly, there are online lawyer finder tools such as Martindale which may be useful, and most attorneys will spend a few minutes on the phone with you making referrals if you're looking for help outside their area of practice.
**
Next I received this from our pal MikeCLT:

Retailer Sportsman's Guide is offering a $75 gift card to those registering a new USCCA Membership. If you're considering USCCA, then this is an attractive offer! Thanks MikeCLT!
**
From our pal JerseyDevilRider:
I have US Law Shield, picked solely because they came into my sportsman's club in I believe 2017. When back through the different companies last year with a friend who's a new shooter. I stayed with and he chose them. I never thought about the civil liability, just criminal defense, and I may have to readdress this.

The presentation was good because I did get something out of it. The various colored check marks, Xs, and dots/periods changed meaning which made it confusing. Scrolling up and down didn't help.
Good point, JerseyDevilRider. The comparison in last week's video could be a little confusing. Thank You!
******
If you have been around guns for any length of time, you've likely heard of blowback and recoil pistols, but what do the terms mean and how are they different? Here's a short video explaining the operating theories.
******
Next up our pal Nato sends in a great video on a ballistic shortcut when shooting the popular 6.5 Creedmoor. I absolutely believe there is no substitute for accurately computed elevation data, but you're not always going to be shooting in circumstances where you can set up leisurely, measure atmospheric conditions and consult your notes. Sometimes you just need to send it, and this method appears to get you close to correct elevation data.
The video isn't long, but if you have ants in your pants and want to pass on the tacti-cool shootin' hombre bro discussion stuff, skip ahead to 2:30 for the nugget.
Nifty, huh? I know we have some 6.5 Creed shooters in the gang, would one of you mind sharing your elevation data and let us know how close this method would get you?
******
Next up our pal Ed L shares the results of a recent range trip.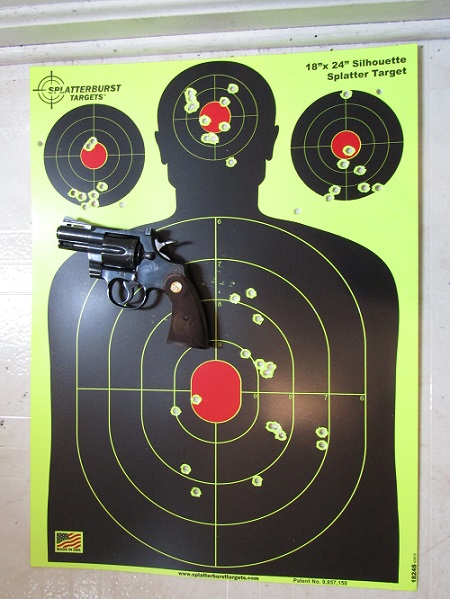 Pic of my trip to range Friday. Ammo was Norma .38 Special, 158 grain full metal jacket. Gun is a Colt Python w/ a 2 1/2 inch barrel. Range was 10 yards. Top row of targets were fired in single action. Torso target fired in double action. The groups show that there's nothing wrong with the gun itself, just that the shooter is out of practice. As one would expect, the Python is a gun that will let you that you suck, and fast.
Looks like you have the Python figured out, Ed L! Nice shooting and a beautiful gun. Thanks for sharing!
******
Next up, yet another Lurker, Ron Stevens of Bismark, North Dakota, shares some thoughts on last week's video on shotgun patterning.
The shotgun patterning work is spot on! Settle on a round, and know what it is going to do.

One thing Thunder Ranch did not fully develop, you REALLY need to know what round works best in your shotgun. That means shooting multiple rounds at multiple distances with multiple different brands. Just assuming: 5 rounds, 5 brands, at seven and fifteen yards with 50 rounds shot! First - OUCH!, second how are you going to measure? To make it easier, consider using self adhesive flip chart paper ruled in 1 inch squares with an adhesive dot for an aiming point. A new sheet for each round - you may be able to get multiple hits on one sheet, but remember - you do not know what is going to work or where it is going to hit. (think also about the yards you are going to walk - 7 down and 7 back, 25 times, also think about the shooting range rules, are they going to let you do this?). Once the shooting is done, now is the time to measure. I was trying to get the smallest pattern at each range, so I took the area (H x W of the pattern - and the reason for the ruled paper - a LOT quicker) and averaged them. Then I compared the averages to determine the smallest groups. That determined the ammo I would use. I was less concerned about POA vs POI, as I have adjustable ghost ring sights on my "work" shotguns, and can adjust to center.

The ruled flip chart paper works wonders with rifle work too, again 1 inch squares, makes adjustments dirt simple.
Great comments! Thanks Lurker Ron!
******
Mr. Theodore A. Nugent is out at the NRA.
Anyone care to hazard a guess what this is all about?
******
Widener's is a company I have used for reloading supplies over the years and I have been receiving emails from them lately on, believe it or not, ammo specials. Huh?? What?? Check out the Widener's site for specials and bulk orders.
******
Link-O-Rama
I'm really very seriously not kidding around anymore. Buy Ammo
AmmoSeek - online ammo search tool
GunBot - online ammo search tool
SG Ammo
Palmetto State Armory
Georgia Arms
AmmoMan
Target Sports USA
Bud's Gun Shop
***Mail Bag***
This week's mail bag entry is from our pal WTM. Amen, brother.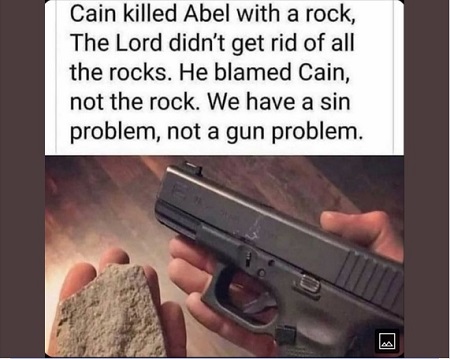 ******
Please note the new and improved protonmail account gunthread at protonmail dot com. An informal Gun Thread archive can be found HERE. Future expansion plans are in the works for the site Weasel Gun Thread. If you have a question you would like to ask Gun Thread Staff offline, just send us a note and we'll do our best to answer. If you care to share the story of your favorite firearm, send a picture with your nic and tell us what you sadly lost in the tragic canoe accident. If you would like to remain completely anonymous, just say so. Lurkers are always welcome!
That's it for this week - have you been to the range?


posted by Weasel at
07:00 PM
|
Access Comments