« First-World Problems...
|
Main
|
Gun Thread: Another Sunday Edition! »
August 08, 2021
Food Thread: The Old Ways Are The Good Ways -- When It Comes To Eggs And Bacon And Sausage, They Are The Real Breakfast Of Champions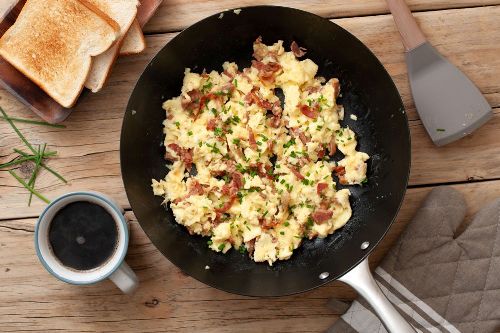 As I get older, and further and further away from those halcyon days when I could eat whatever the hell I wanted and still be lithe and trim, I have cut back on the home fries and toast that are a natural accompaniment to bacon and eggs, or sausage and eggs, or when the stars are in alignment, bacon and eggs and sausage!
But I am not a fool, so if anything I have increased my intake of eggs and pig meat, and I am a better man for it! It is amazing what a good breakfast of protein and fat will do. I can go several hours without even the slightest hunger pangs after three eggs and six slices of bacon or a couple of nice fat sausages.
I'm not going to dip my toes in the insane, roiling rapids of dietary tribalism, but for me? That is the perfect breakfast, and while I do miss the bread, most of the time it was merely a placeholder...something to have on the plate. Most restaurants have pretty pedestrian bread for their breakfast service, so I rarely miss anything special. And because "everything in moderation, including moderation," if the bread looks that good, I will happily chow down, but only if I can balance the carbs with tons of butter!
******
Someone mentioned Michael Pollan in the comments recently, and I was struck by my complete disagreement with his outlook on food and eating.
Eat food. Not too much. Mostly plants.
That is not to say that I didn't enjoy his first book,
"The Omnivore's Dilemma,"
but I will not sacrifice my earthly pleasure in service to some twisted esthetic that requires us to give up primacy.
Read his book. It's excellent. Then go have a steak.

******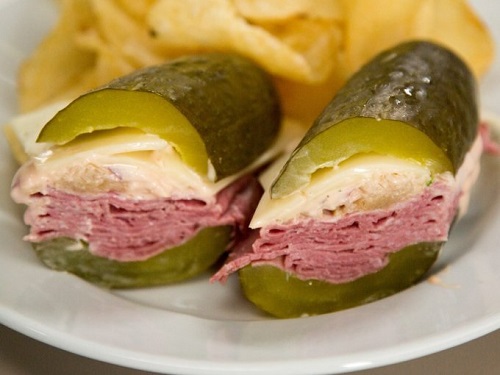 I'll try most things, and yes, I would give this a shot. But damn...it's really weird! I'm not sure what the point is, other than some exaggerated keto/no-carb exercise.
I just don't think that the flavors go together. Nice fatty corned beef with a juicy and very tart pickle? Uh...nope!
[Hat Tip: Sharon(willow's apprentice)]

******
I got a nice email a few weeks ago from a Midwest Moron who had just returned from a very long drive to Caputo's Grocery Chicago to stock up on some essentials. A lot of essentials! Like gallons of olive oil and tons of pasta and garlic paste...stuff that many of us take for granted, but for those of you who live far from this sort of stuff, some long-distance drives are in order.
Anyway, he also included a really fun recipe, one that I will be trying soon.

PENNE with RICOTTA & AVOCADO

12 oz penne
1 avocado
1 lime
3-5 Roma tomatoes
7 oz ricotta
Chilli / cayenne powder

Directions:
Cook the pasta in plenty of boiling salted water, drain when 'al dente'

Wash the tomatoes, then cut a cross-shaped incision into the tomatoes and parboil until the skin peels and splits around the cross then run under cold water until cool enough to handle. Peel the tomatoes and cut the outside flesh into petals.

Flavor ricotta with salt, olive oil, and grated lime peel and lime juice.

Mix the pulp of half the avocado with olive oil, salt and chili powder. Peel the other half of the avocado, cut into medium-small pieces.

Mix pasta with the avocado puree then toss with the tomato petals. Transfer the pasta to plates and finish off with pieces of avocado, dollops of ricotta and sprinkles of chili powder

******
Here is Chef John of the Irritating Lilting Voice with a very quick and easy banana bread recipe. It's stupidly easy and fast, so any of you with spare ripe bananas should give it a shot and get back to us.
Yeah...I don't like banana bread very much, even though I used to make a kick-ass one for the brats. luckily they don't live here any more so I don't have to contend with their nefarious plots to take advantage of my parsimony. They would ask for bananas to eat, then the little bastards wouldn't eat them, knowing that I am a cheap bastard and would make banana bread with the over-ripe bananas.
Banana Bread Mug Cake in a Minute

******
I mentioned this last week, and I think this recipe is worth a try for those of you who enjoy baking. And magic and incantations to the bread gods to ensure success, because just like most baking, it isn't quite as straightforward as it might seem.
Greatest Dinner Rolls
I enjoy Weissman's videos, even though he is very likely insane. But that's okay, because he sure does like to eat, and that is a very big deal among today's popular chef's, who seem to be more interested in sustainability and politics than making food that's good to eat.
I am confident that I know his politics, and would not enjoy a political discussion with him, but luckily he is a grownup and doesn't plague me with that sort of crap when all I want is to see him cook something interesting!

******

[Hat Tip: Blake]
******
Avocados sans thumbprints, beef short ribs that have meat on them (not the stupid little sliver of bone they sneak into the packages), carrots that don't taste like stalky chalk, spare bottles of Van Winkle Special Reserve 12 Year Old Bourbon, an herb garden that actually produces herbs, well-marbled NY strip steaks and elk backstrap to:
cbd dot aoshq at gmail dot com.
And don't think that you are off the hook with maple syrup and French Toast: I'm watching you...all of you! And I am watching you perverts who shake Manhattans and keeping a list for the Burning Times.

posted by CBD at
04:00 PM
|
Access Comments