« The Morning Rant
|
Main
|
After Biden Announces He Will Keep an Obviously-Unconstitutional Imposition of Communism In Place by Filing Bad Faith Appeals, NeverTrump and Conservative, Inc., Who Supported Biden, Pretend to Be Surprised »
August 06, 2021
Shock (?) Poll: A Majority of Likely Voters Say They Intend to Vote Gavin Newsom Out of Office
Remember, we just had two polls showing the "Recall" side within the margin of error of beating the "Keep" side.
A new poll suggests that they might have missed out on some angry voters.
Or, perhaps, that there's been a preference cascade as people realized they really could be rid of Gavin Newsom forever.
So this poll finds that 51% would recall Newsom.
Doesn't sound like a big lead-- except that the "Keep" side gets only 40%.
11 point lead.
More than half of likely voters in California say they would vote to recall Gov. Gavin Newsom next month, according to a statewide survey released Wednesday.

The poll, conducted by SurveyUSA for The San Diego Union-Tribune, KGTV 10News in San Diego and KABC-TV in Los Angeles, said 51 percent of those asked indicated they would vote to remove Newsom from office.

Forty percent of respondents said they would vote no on the recall.

The findings come as Newsom is trying to convince voters that the recall drive is a product of right-wing Republicans and supporters of former President Donald Trump.

...

According to SurveyUSA, registered Republican voters overwhelmingly support removing the incumbent first-term governor, by a ratio of 8 to 1.

Democrats oppose the recall effort 3-to-1, the poll found. Independent voters supported the notion of recalling Newsom by a ratio of 5 to 3, the survey said.

It might be too early to get a good bead on who'd get elected if Newsom is recalled, especially because 20% of the voters are undecided.
But a Democrat leads the field at 27%, followed not too far behind by Larry Elder at 23%. A raft of Republicans split a lot of the vote.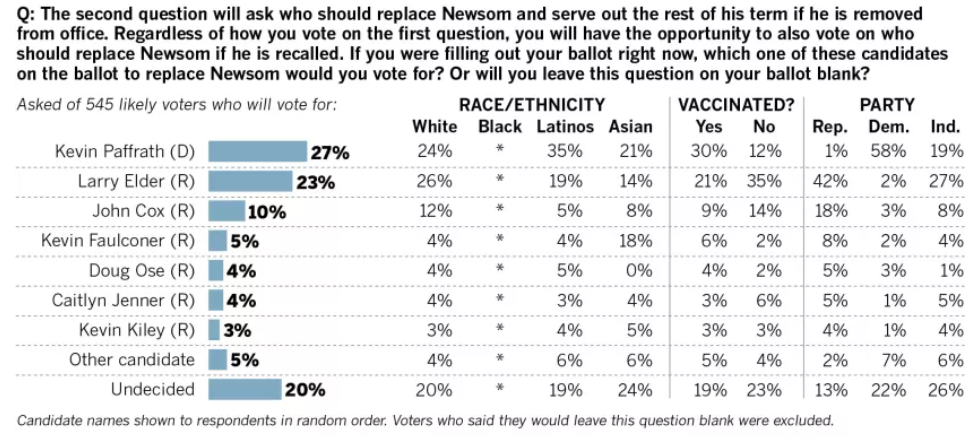 And what is the "best reason" for recalling Newsom?
Covid, covid, covid. "Covid restrictions" is the best reason for recall cited by 34%, but a bunch of people also name "closure of businesses" and "closure of schools" as reasons.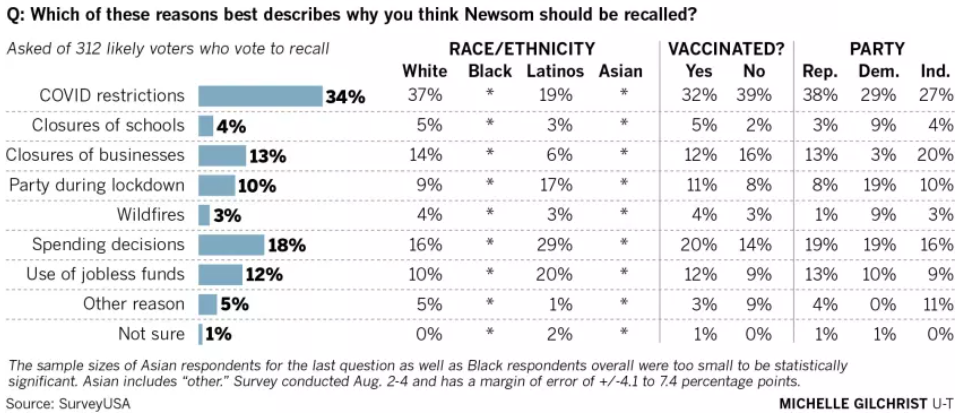 "Party during lockdown," I believe, refers to Gavin Newsom attending an unmasked birthday party with medical lobbyist "friends" while he had the whole state shut down.
So that's a lot of covid-lockdown-related matters driving this.
"Use of joblessness funds" is also a covid-related concern, though indirectly. California's Department of Unemployment has been slow in getting out payments for joblessness during the lockdowns.
And while it hasn't been getting out payments for legitimate claims, it has been paying out billions in fraudulent claims.
California's unemployment department has consistently been one of Gov. Gavin Newsom's biggest political liabilities during the COVID-19 pandemic. Hundreds of thousands of jobless residents' claims have been backlogged for weeks at a time even as EDD paid out an estimated $31 billion in fraudulent claims, including $1 billion to prison and jail inmates. With account freezes, jammed phone lines and pervasive tech glitches blocking unemployed Californians from the funds they needed to stay afloat, many called their lawmakers for help, desperate and even on the brink of suicide.

After forming a strike team in July 2020 to overhaul EDD's outdated technology, Newsom largely avoided commenting directly on the beleaguered department. But his administration has begun to do so, suggesting he's aware EDD's shortcomings could be top of mind for a potentially sizable number of voters in the Sept. 14 recall election.
Interestingly, Latinos support recalling him:
Among Latinos, recall supporters outpaced opponents 47 percent to 41 percent; and 56 percent of Whites said they would vote to recall the governor while 35 percent said they opposed replacing Newsom.
Let's hope.

posted by Ace at
12:23 PM
|
Access Comments