« Food Thread: Pork-Crusted Pork...A Match Made In Heaven!
|
Main
|
Sunday Overnight Open Thread (8/1/21) »
August 01, 2021
Gun Thread: Sunday Evening Edition!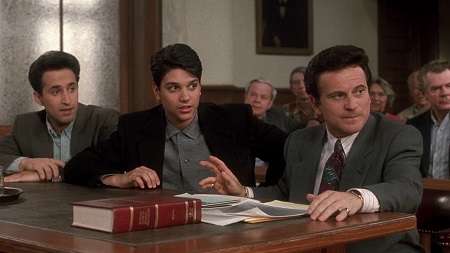 Howdy, Ya'll! Welcome to the wonderously fabulous Gun Thread! As always, I want to thank all of our regulars for being here week in and week out, and also a big welcome any newcomers who may be joining us tonight. Howdy and thank you for stopping by! I hope you find our conversation on the subject of guns 'n shooting both enjoyable and informative. You are always welcome to lurk in the shadows of shame, but I'd like to invite you to jump into the conversation, say howdy, and tell us what kind of shooting you like to do!
So wrapping up kind of a crazy week. The NoVaMoMe is behind us, and I have had a few things going on that have kept me at home rather than down at the farm doing some much needed shooting practice. It's 'pointy-end' downrange, right? The weather this coming week seems to be reasonable, so maybe I'll make it down there for a few days. I really need to check on things, do some chores, and spend a little time behind a few guns.
With that, let's get to the gun stuff below, shall we?

******
Lately we've been talking about the aftermath of a self-defense use of force, and what to say and what not to say to the responding police officers. There are a lot of videos available on what to expect at the scene, and later when being questioned at the police station, where you are almost certainly going to be taken. I think it's safe to say the first person you want to have a conversation with is an attorney, and with the possible exception of our pal bluebell, most of us do not have defense attorneys on retainer. That's a problem.
So what do you do? Who do you call with that one phone call you're allowed to make? It's probably a good idea to think about this before you're in the pokey and staring blankly at the phone.
The cost of your defense is probably going to be significant, and you are going to want someone representing you who has very specific and relevant experience, and that is not your cousin Vinny. It's very easy for me to believe some of the six-digit estimates of what your self-defense defense might ultimately cost you, and you need to get it right the first time. This is also probably not a great time to start clipping coupons and trying to save a few dollars. Competent counsel is going to be expensive. So what do you do? Start looking through the yellow pages? Do they even have yellow pages anymore?
Here is a 15 minute video on the legal defense cost question.
In order to mitigate the risk of giving all of your money to an attorney and going to prison anyway, many people have turned to self-defense insurance for a solution. There are three main providers of this type of product.
- USCCA or U.S. Concealed Carry Association
- CCW Safe
Here's a video comparing the three:

Not all companies and coverages are the same, and each have programs designed to sell you additional add-on products once you become a member. Have you chosen one, and are you covered? Which one did you choose and why? Let's go back to the earlier question; you've just been involved in a self defense shooting and have invoked your right to counsel. Who are you going to call? It seems to me to be a really good idea to have this planned in advance, with a 24 hour telephone number for your first call to an attorney in your wallet next to your concealed carry license.
Our pal and occasional Gun Thread commenter Andrew Branca is a recognized expert on the Law of Self Defense and offers a Platinum Membership which includes legal consulting services. I encourage you to check out his site also.
WeaselThoughts
Insurance exists to protect you from catastrophic economic losses. It does not eliminate risk altogether, but rather shares the risk with an insurer. I have a $500 deductible on my automobile policies, because I can afford the $500 should a loss occur. I wouldn't be happy about it, but I'm probably not going to miss many meals if I have to cough up that amount to get the car fixed with the insurer picking up the rest. Keeping your ass out of prison seems like a really very good idea, unfortunately, you could quickly end up needing to sell everything you own to pay for even barely adequate legal representation, and depending on your circumstances even that may not be enough. If you are going to carry a gun, you really owe it to yourself to think about these things to protect yourself and your assets after the shooting stops.
At a minimum, these plans offer the opportunity to speak with an attorney immediately, which is clearly something you need to do. Beyond that, the levels of coverage vary, and you may find later in the process you need to engage subject matter expert witnesses on your own dime, but some level of initial coverage seems to me like a very good idea.
So, am I full of shit? Are any of you willing to go it alone and face the possible economic consequences should the unthinkable occur? Again, have you insured yourself, who did you choose, and why did you choose them?
******
First up, we have an interesting issue with surplus ammunition from our pal rhomboid.
Last duty day at the range, an older guy had a beautiful (honest wear/tear) 1911, WWII issue, that he said his father, an Army physician, had used. He also had some 45ACP ammo he'd inherited from his father. Remington commercial production, dated April 1941.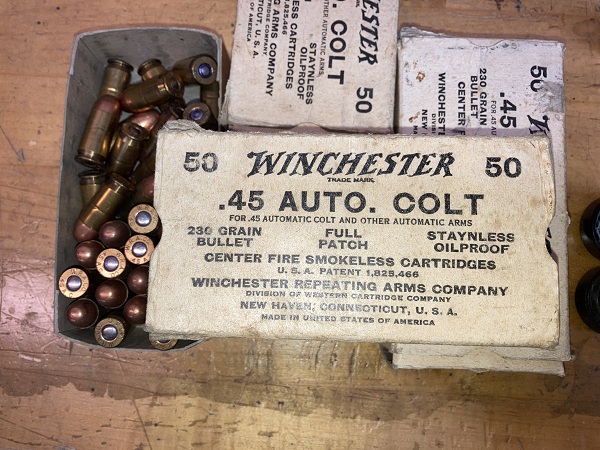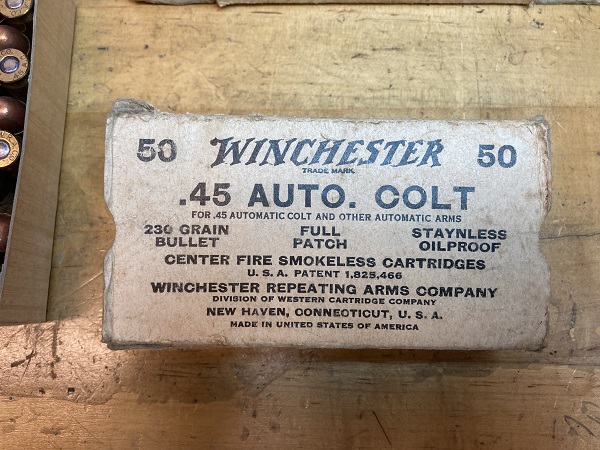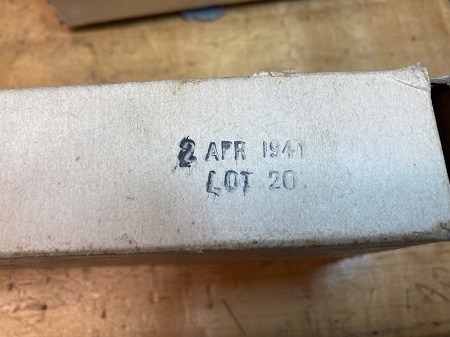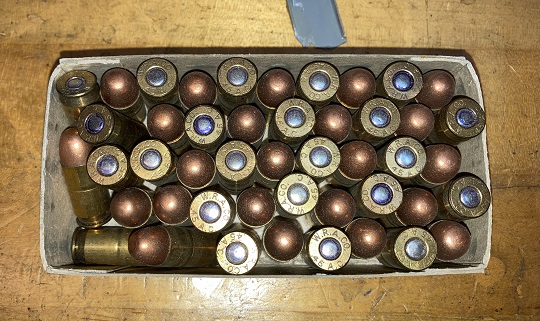 The ammo looks fine, a bit of patina on it, no sign of water or other damage to boxes, which are also in excellent condition. However - all this ammo was a dud, when fired not just from his 1911, but those of two other shooters next to him on the bench, who also tried it out. Nice big dimples on the primers from firing pin strikes. Perhaps some more expert Moron can comment on the interesting terms on the boxes: "Full Patch" and "Staynless Oilproof". Intriguing, and there's no "patch" of any kind, I'm disassembling the rounds to use the bullets.
Very interesting rhomboid. I do not think I have ever had a single dud that I can recall when shooting surplus ammunition. I have to think the most likely culprit was improper storage at some point. Anyone else?
******
Next up we have a great range & match report from our pal Blake
Definition of a gun nut: A guy who will drive 75 minutes to spend a minute and a half shooting.

Today saw my first rifle/pistol combo shoot at the Kern River Valley Gun Range. Very low round count: 10 rifle, 20 pistol, but it was a fun match, though arguably it was an event that involved guns, so no way to avoid having fun. Because I cannot pass up a chance to shoot my Garand in a competition, naturally, that was the rifle I brought. Surprisingly, I didn't do too badly.

The match opened with the rifle, shooting roughly 25 yards, through a doorway, at two balloons. The balloons, after bursting, released two swinging targets, each of which required two rounds on target.

But wait, there's more! The balloons were set up so one partially covered the other, about 30%, but, one was required to shoot them individually, or, a penalty was involved. Yeah, I pulled off the balloon sequence, and managed to make the shots. After that, meh what did I care, because hey, I pulled off a shot most of the competitors struggled with.

Unfortunately, I misunderstood the rules, and, didn't realize this was a limited match so I lost some points due to procedural errors, i.e., too many rounds on targets.

This was a great match for me to shoot, as I was unfamiliar with the people, setup, etc., so a bit of adrenaline was pumping. Yet, I still managed to make my shots which was good.

One thing to note: Even if at a match where you don't know anyone, don't be afraid to speak up and get clarity on safety rules. Sometimes, the smaller clubs don't do a good job of articulating safety rules, so, don't be afraid to speak up!

Even though the match didn't involve a lot of shooting, it was still a lot of fun.
Excellent report, blake! As some of you will recall, I have often advocated match shooting as training tool. When I was shooting competitively, I would use club-level matches as training opportunities, or sometimes mid-range matches as a warm up for more important long range events. With a little planning, any range time can be productive!
******
Here's a very good and short video on on considerations for patterning your shotgun for self-defense. [h/t] redc1c4
Really interesting - anyone else doing this?
******
Some of Jerry Miculek's favorite guns, in case you were wondering.
How much fun would it be to have 'Jer' at the TXMoMe?
******
Wyoming DOT gets a Howitzer!
Well that looks like fun!
******
Link-O-Rama
I'm really very seriously not kidding around anymore. Buy Ammo
AmmoSeek - online ammo search tool
GunBot - online ammo search tool
SG Ammo
Palmetto State Armory
Georgia Arms
AmmoMan
Target Sports USA
Bud's Gun Shop
***Mail Bag***
Our pal WTM shares a great photo. Is that cool, or what?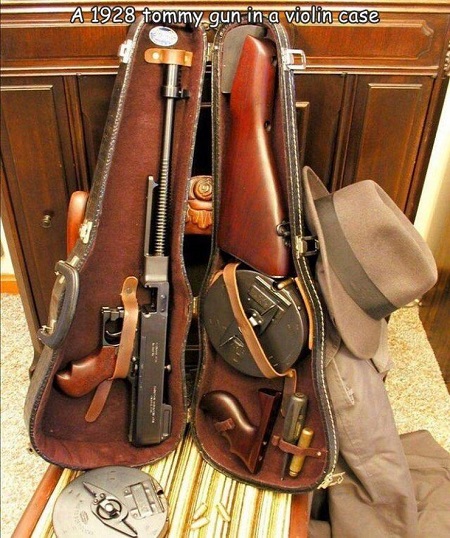 ******
Please note the new and improved protonmail account gunthread at protonmail dot com. An informal Gun Thread archive can be found HERE. Future expansion plans are in the works for the site Weasel Gun Thread. If you have a question you would like to ask Gun Thread Staff offline, just send us a note and we'll do our best to answer. If you care to share the story of your favorite firearm, send a picture with your nic and tell us what you sadly lost in the tragic canoe accident. If you would like to remain completely anonymous, just say so. Lurkers are always welcome!
That's it for this week - have you been to the range?


posted by Weasel at
07:00 PM
|
Access Comments