« A time when men could keep their heads
|
Main
|
Ace of Spades Pet Thread »
August 07, 2021
Saturday Gardening and Puttering Thread, August 7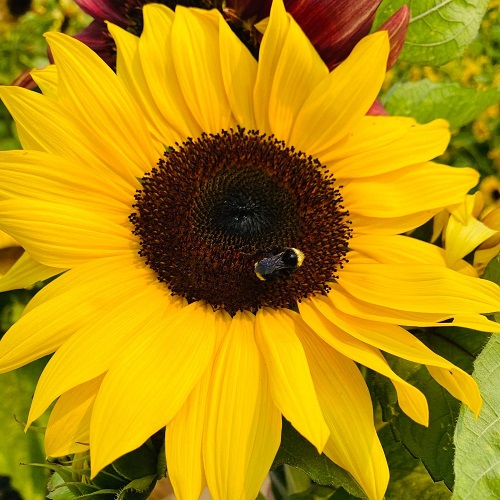 Above, a trip to a sunflower farm in Washington State. Below, other interesting things. Have you been able to spend some time gardening or puttering?

Plant and Insect ID
Hi KT,

I'm hoping you or someone at the HQ can identify this plant for me. I planted two of them at the end of last summer and I'll be damned if I can remember what they are. The buds have been swelling slowly over the past two weeks and the bushes themselves are about three feet tall and just as wide. The larger leaves are approximately 6 inches stem to tip and maybe 3 inches at the widest point.

Thanks in advance,
IrishEi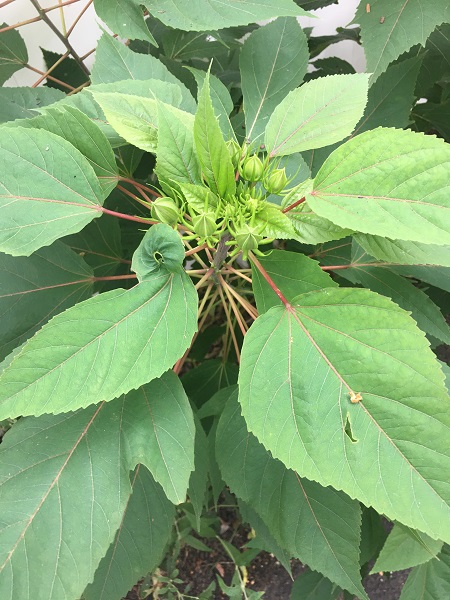 Here's something delightful:
I found these guys working on a oak tree in the yard. I've never seen them around here and don't know what they are.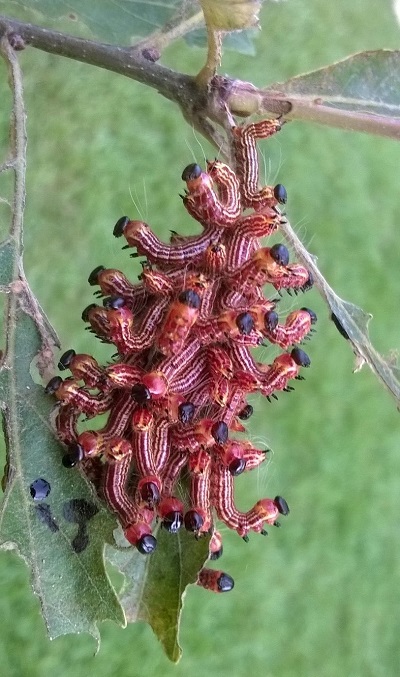 They were absolutely still, frozen in position as shown in the pictures, even after I broke the branch off..

Had to decide whether to send the picture to the Garden Thread or the Food Thread.

- f'd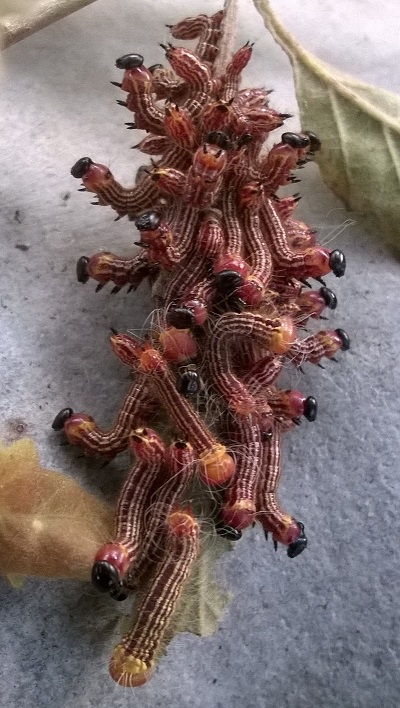 I didn't check with CBD. Hope he's OK with including them here rather than in the Food Thread. When you eat insects, it's a bonus to when they don't move, I think.
Our outdoor carnivorous plant expert, Tony Litwin, identified the plant in the photo last week which was growing on an electrical wire:
For those interested, that pic of that Bromeliad growing on the wires under the heading Houseplants, is a Catopsis Berteroniana, one of only 3 carnivorous Bromeliads in the entire world, and is native from South Florida to South America where it grows on electric wires and trees, sometimes at ground level.

I had one of the others called Brocchinia Reducta from Venezuala and had it for several years, however this past year was so cold that while the cold was good for my other carnivores, the Brocchinia died. The problem with keeping Catopsis long term is nobody sells it and if you take it out of the wild, it has to stay on it's branch and placed up in the air or it dies if placed in a pot or on the ground. The only one I have ever observed for sale is Brocchinia Reducta, and if I ever get another I will have to bring it in during the winter which does the plant no good. Some carnivores just aren't worth growing, so that is why I stick to the ones from the US. A lot easier on the collection and the wallet. Anyway, wanted to let you know.

All the best,
Tony Litwin
Edible Gardening and Farming
It's peach and blackberry season for lots of folks. Our July Elberta peaches are done (they were great this year), but there are others coming on. And who has blackberries in their yard? Or boysenberries?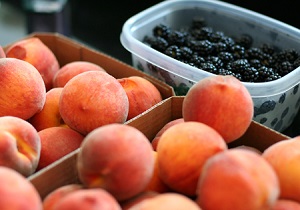 Here's a recipe for Blackberry Buckle, with a somewhat entertaining video. You have any recipes named after zippers?
My friend's all-time favorite dessert is vanilla bean peach pie
This writer won't shame you for struggling with the crust.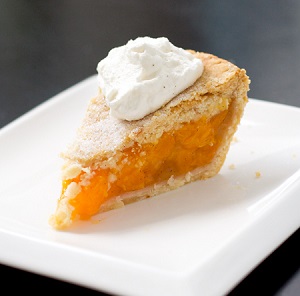 My friend lives in Washington State. It is too hot to bake here, so here's a no- cook recipe, Peach Gazpacho. It's savory, with the peaches taking the place of tomatoes.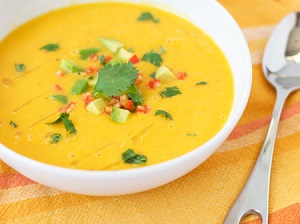 For a sweet stove-free recipe, here's peach soup.
Desert Update
Hi KT,

Gone back to being HOT here but hopefully more rain will show up next week.

A picture of my Asian pear crop this year. This has been a long time coming. This tree, but really more like a bush, was one of the first fruit trees I planted here about 16 years ago, and frankly I didn't know what I was doing. I had it in the wrong place and it almost died so I moved it into a large pot so I could baby it a few years later, then when it was doing well I put it into the ground.

At that point it became sort of a wild bush but it never flowered or gave fruit. I think when I bought it it said self pollinating however about three years ago I read something that said it would still need another pear within a mile or so for the bees to help it make fruit. Well no one within many miles of me has a pear tree so I went and bought another Asian pear 3 years ago. Last year I hand pollinated and got about 4 pears which things pecked at and ruined before they were ripe.

This year I again hand pollinated and the bees must have helped out because as you can see the branches are loaded with pears. I should at least get some kind of crop this year. I wish I knew what tree this one was but the tag has gone missing. The other pear I got is a Tsu Li pear, which blooms before the other one and so I haven't gotten fruit forming on that one yet but it is good for pollinating this one.

I am still figuring out when to pick them. I have read that you have to pick them when still hard and let them ripen inside, still doing research but if anyone else in the horde is growing pears I would love some knowledge. Hope you are all getting some great gardening in.

Wee Kreek Farm Girl
European pears should be picked hard and ripened indoors. At least most of them. Anybody have experience with Asian pears?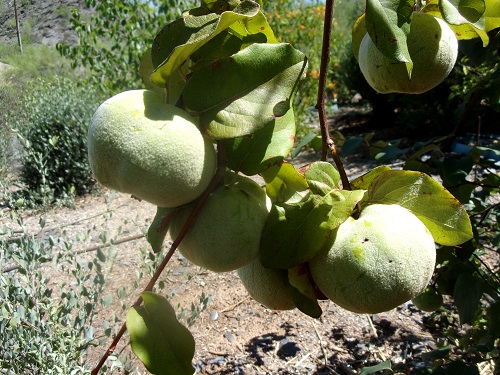 A couple of pictures of the Agave pups that I have tucked into different pots here and there. I did 6 and so far they are all looking good. I keep them in smaller pots until they have established some roots and can go into some bigger pots or in the ground.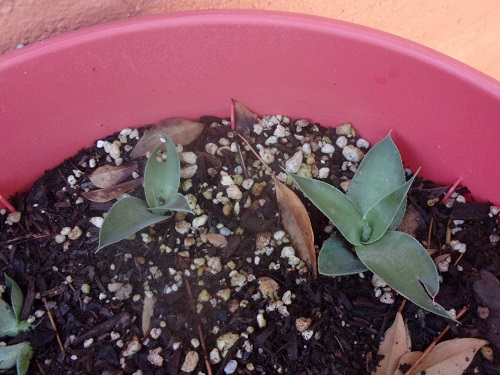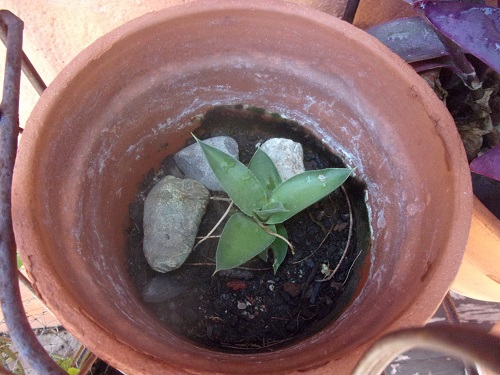 Thanks for the update on the babies.
Gordon sent in some remarkable photos of blue-eyed bees sleeping in desert flowers, from Epoch Times.
Puttering
I loved the interchange between Skip and Kindltot about free library projects and such last week. There are always challenges.
Here's one summary of steps to take to survive in the wilderness. One of our friends survived in the wilderness at Yosemite for several days, with not much more than a water bottle. This summary assumes that you would be somewhat more prepared. Take heed. Maybe you could make a kit.
Gardens of The Horde
Saved a couple of photos from Jerry in Alaska for The Broiling Times.
We had a tough winter as a number of our nice perennials did not make it to 2021. Emoji Summer so far has been dry and cool so plants are adjusting their bloom cycle. As we approach solstice we have 24 hours of visible daylight. Sun up to sun down is over 19 hours. Our early Primrose are fading and the last one to bloom was the Cowslip. Caught a bee in the Bleeding Heart Photo.

Jerry in Alaska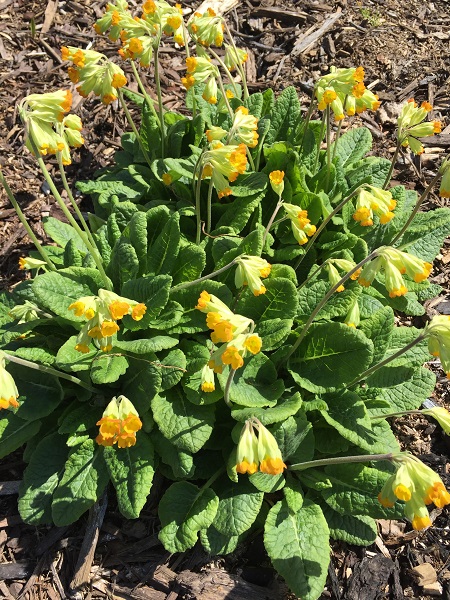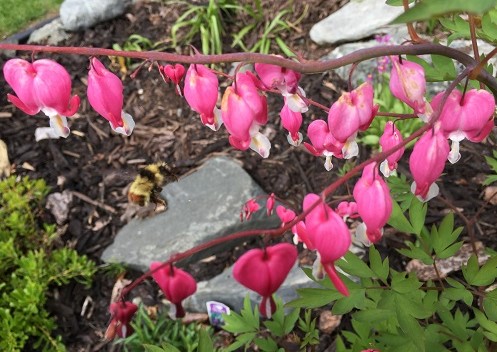 Love those. The Cowslip Primrose looks kinda "wild".
If you would like to send information and/or photos for the Saturday Gardening Thread, the address is:
ktinthegarden
at that g mail dot com place
Include the nic by which you wish to be known when you comment at AoSHQ,
unless you want to remain a lurker.


posted by K.T. at
01:19 PM
|
Access Comments