« American Optimism For the Future Drops Twenty Points In Three Months
|
Main
|
Historical Echoes [Dave in Fla] »
July 30, 2021
There Are No Ruling Class Tears for the Arsons, Riots, and Assault Antifa and BLM Visited Upon DC In the Summer of 2020
Some violence The Regime calls the equivalent of 9/11.
Other violence The Regime approves of. It protects it, it nurtures it.
This is the violence The Regime supports to cow citizens into fear and obedience.
Benny @bennyjohnson

Where was the weepy testimony from our ruling class elite as our nation's capital burned for months this summer?

My family lived through the Left turning DC into a warzone hellscape.

Here is the mega thread of Democrat violence sanctioned by Nancy Pelosi:
Important to remember: When rioters breached the White House fence -- and set fire to a Secret Service guard tower -- this disrupted the government.
Trump was rushed to the bunker, per normal protocol when violent intruders are on the White House grounds.
How did the media react? Did they decry the violence and chaos and terrorist disruption of the operation of our precious democratic government?
NO. THEY CALLED TRUMP A COWARD FOR "HIDING" IN THE BUNKER.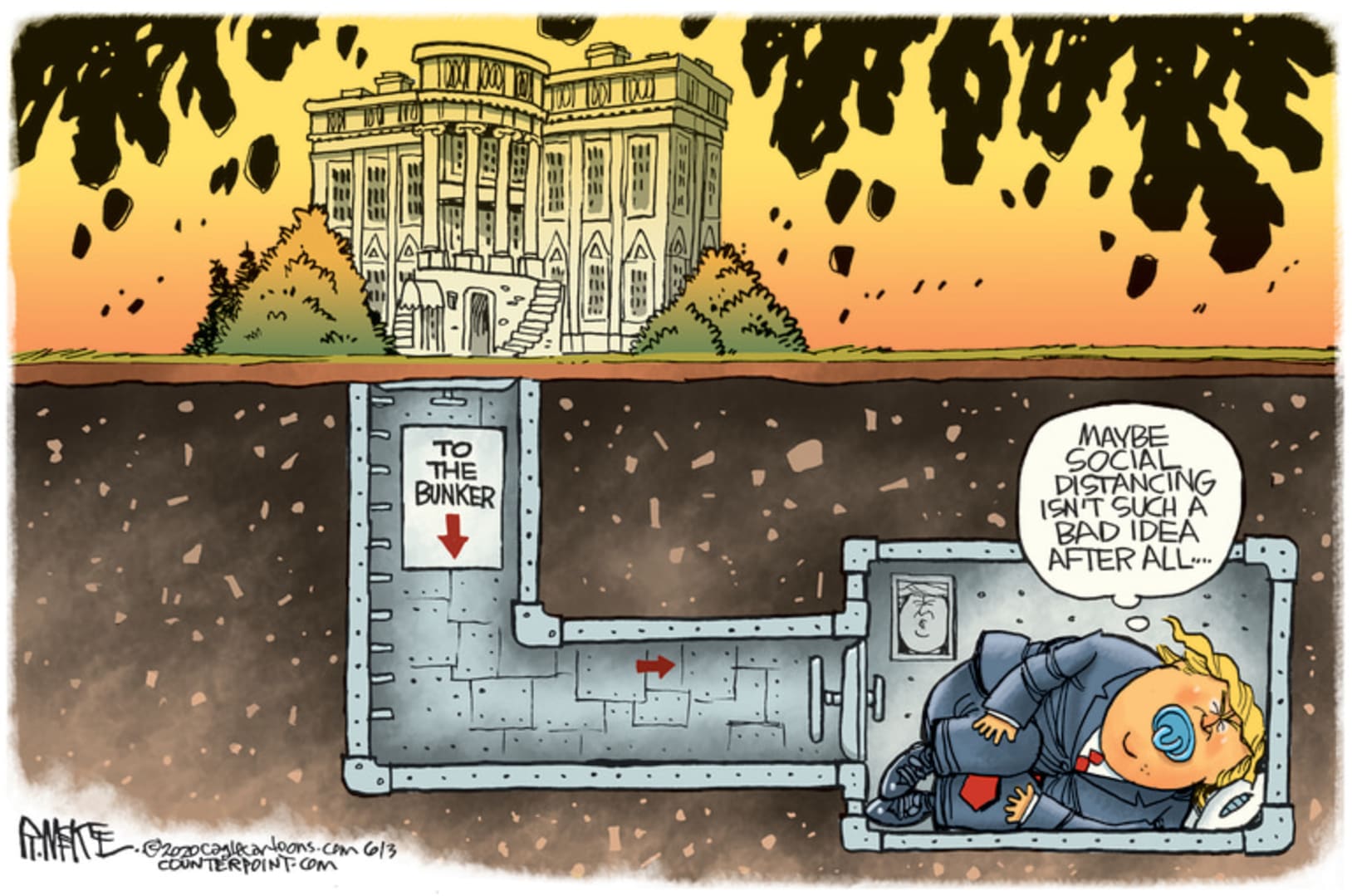 Biden himself attempted to mock Trump for being in the bunker, due to Biden's violent paramilitaries:
And of course the leftwing propaganda site Twitter endlessly called Trump a "bunker baby."
Here's the Huffington Post giggling about the left's favorite meme of the summer of 2020: Trump the "Bunker Baby" or "Bunker Bitch."
Strange... no worries about the pillars of our democracy then.
No impassioned speeches about "insurrectionists."
No worries about the pillars of our precious democracy being shaken.
But we're all supposed to take the lies of a delusional hysteric like AOC seriously. We're supposed to believe she was in dire fear of being r@ped, despite the fact that when she says she had this fear, not a single "insurrectionist" had breached the fences outside the Capitol and in fact Congress was carrying on normally with its work.
But let's get back to the political violence actively supported, encouraged, justified, and legally sanctioned by The Regime:
After Trump was nominated by the RNC -- a vital part of our democratic process, note -- The Regime's paramilitaries attacked the attendees, wounding Secret Servicemen and attempting to hurt (or kill) Senator Ron Paul:
I have friends in DC. Some have left the shithole warzone. Others stay, but report the streets are overrun with the homeless, shops and restaurants remain closed -- and we can assume most of those will soon go out of business, now that PPP has run out -- and citizens remain virtual prisoners in their homes.
All this brought on by The Regime's approved violent insurrectionists and paramilitaries.
No tears from The Regime for them.
Meanwhile, the obese c***s***er Henry Dunn who claimed that he was never called the n-word, ever, except on January 6th also claims that white supremacy is so rampant that it justifies defending BLM's arson and riots.
How can this be? If he was called the n-word once in his career as someone who arrests people, usually drunk or criminal or both, how can he claim we're so ridden with racism that it justifies arson and murder?
And if we're so ridden by racism that he's often the target of racist abuse -- then why did he testify to Congress on the oath that it just happened that one day?
He's a BLM militant and he is spreading BLM propaganda. Period.
Harry Dunn, the teary-eyed U.S. Capitol police officer who testified in Speaker of the House Nancy Pelosi's politicized January 6 committee, previously defended the violent riots that shook the nation last summer and caused billions of dollars in damage.

In a tweet directed at Fox News's Tucker Carlson last August, Dunn asked "why is murder an appropriate response to property damage but property damage isn't an appropriate response to murder?"
Since this guy is so sensitive about racism, you'd think he'd know that his antifa and BLM paramilitary allies routinely hurl racist abuse against black cops and Asian cops:
No regime tears for regime-approved racist abuse, I guess.
Although, Officer Finocch' did go on Don LeMon to cry about his "horrific" voice mail.
He got called a "f@ggot" and a "fvcker." THIS UNPRECEDENTED HATE CRIME MUST NOT STAND.
Because that was a military victory for The Regime, of course.

posted by Ace at
03:14 PM
|
Access Comments