« Saturday Morning Coffee Break
|
Main
|
Saturday Gardening and Puttering Thread, July 31 »
July 31, 2021
Delta vs. the Delta Response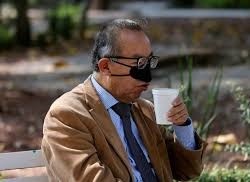 Nose-only face mask
This week, I have been thinking about our government's frenetic, irrational response to the "Delta Variant". The narrative changes moment to moment. I can't keep up.
Somewhat coincidentally, I have been thinking a little about the current state of Delta Airlines, which is apparently not the airline it used to be.
Back in 2017, I mentioned a book I had read years before in a post. This book changed my understanding of how the world worked. It was written in 1989, with a paperback edition coming out in 1990. The first subtitle is "Corporate Life Cycle Strategies". But it is applicable to organizations other than corporations, up to the size of civilizations. The model in this book describes six general stages in the life cycle of a typical organization, with the different strategies required from (successful) leadership at each stage:
1. The Prophetic Age
2. The Barbarian Age
3. The Building and Exploring Age
4. The Administrative Age
5. The Bureaucratic Age
6. The Aristocratic Age
Here's what I wrote in 2017:
Years ago, I read a book called Barbarians to Bureaucrats about the rise and fall of corporations. Parallels were drawn to the rise and fall of civilizations throughout history. At the end of the typical corporate life cycle, the corporate leadership was described as proceeding from a corrupt bureaucratic stage to an insanity-tinged aristocratic stage. Fiscally irrational behavior and extravagant monument-building are common features of the aristocratic stage.

When I first read the book, I was working for a corporation, but also dealing with a corrupt State agency. I kind of wished that the author had written a similar book about government entities. It occurred to me that infusions of tax money kept the corrupt bureaucratic apparatus, and sometimes some aristocratic insanity, going far longer than would be possible in a market-driven organization. So creative destruction is delayed as the mess gets bigger and bigger.
I think that this kind of corruption in our bureaucracies is one part of the ridiculous response we are currently seeing to the "Delta Variant".
The subject of the 2017 post was high-speed rail in California, a project which continues on its irrational and destructive path, while crises in water supplies continue to be largely ignored, especially by State Government (though water restrictions are imposed).
The State of California seems to have pretty much graduated from a corrupt bureaucracy to the insane aristocratic stage. . .

In summary, officials continue pushing projects like the Transbay Transit Center bus station along with a bullet train from Shafter to Merced even though they have just evacuated roughly 200,000 people because they neglected warnings about the condition of a dam. Additional water storage (like back-up dams) could have avoided current emergency actions around the state to prevent disasters due to spring runoff. Do they think the drought year/flood year cycle is going to end in California? Why isn't water management a higher priority than managing the movement of people?
But at least now Gavin Newsom is facing a recall election. Even if he were recalled, California would be left with a giant mess. But there is at least a mechanism for some kind of change.
What is the equivalent in our federal bureaucracies?
In corporations, when the insane aristocratic stage is reached, the organization often becomes a target for takeover by a "barbarian", as when Victor Kiam took over Remington.
The "Barbarian" in this book's model generally follows a mission laid out by a "Prophet". Sometimes these roles overlap. Often, the barbarian is not a real nice guy.
It is ridiculous to call this an industry. This is rat eat rat. Dog eat dog. I'll kill 'em and I'm going to kill 'em before they kill me. You're talking about the American way of survival of the fittest.

---Ray Kroc, builder of the MacDonalds Empire, 1973
In the book, examples of civilizations which had become susceptible to the invasion of barbarians were unsettling.
I was reminded of this book again by a post at Powerline by Scott Johnson entitled My Day with Delta.
I feel about Delta Air Lines approximately the way I feel about the Delta variant. It's far from the worst thing on earth, but life would be better without it.
This is just a small snippet from the terrible experience Mr. Johnson endured on that day:
It is not possible to reach Delta through its so-called "customer service" number. I tried on Saturday and again on Sunday. On Sunday I was advised by Delta's automated system that there would be a 7-and-a-half hour wait. Now that's what I call customer service.
Remarkably, Delta was one of the corporations called out as good examples of avoiding the decline into corrupt bureaucracy, then insane aristocracy in Barbarians to Bureaucrats back in 1989. Management was described as having avoided unionization of their work force with the "Delta Family Feeling". The work force actually bought a plane for the corporation.
On teamwork or synergy at Delta:
The culture at Delta Airlines is the result neither of any short-term effort nor any specific program. It is the result of consistent management practices, beliefs, and behavior, from top to bottom.
Again, from 1989:
In days past, property, capital, or technology were significant elements of competitive advantage. But today all of those factors are easily transferred from one organization to another, hence lessening the advantage. The culture, the habits of the people, are not so easily transferred, however. The culture of Honda, IBM, or Delta is not easily created in either a young emerging company or an old declining company. That in large part is what gives these companies their competitive edge.
So, what happened to Delta Airlines? Scott Johnson got a personal response, but not before Ann Coulter chimed in with a creative suggestion:
Couldn't some hedge fund guy buy Delta Airlines, chop it up and sell it for parts? #DeltaSucks
In other words, she is suggesting that Delta Airlines is ripe for the Invasion of a Barbarian.
Back to the Delta Variant: We are mired in a crises caused, in part, by a myriad of government bureaucracies with overlapping responsibilities - the CDC, NIH, FDA, WHO just to name a few. I would like to focus on just one, the National Institute of Allergy and Infectious Diseases, part of the NIH, the organization headed up by Anthony Fauci.
This organization has been falling short in its mission for decades. Anthony Fauci has been there WAY too long. Where is the mechanism which allows for a barbarian to come in, chop it up and sell it for parts? Who needs an organization which lies in order to fund gain-of-function studies in bat viruses?
Scott Johnson continues with his Delta Airlines Experience:
Having shared a few of my complaints about Delta, I feel obligated to post the very personal email message I received from Delta CEO Ed Bastian last night. Bastian's message is actually part of an email blast to members of Delta's Sky Miles program. (Not knowing I had received my own, a friend forwarded a blank copy.)

The message comes with the subject line We Know You Expect More - We're Taking Action: Your Update from Ed. And here I didn't even know I was on a first-name basis with the Delta CEO. I wanted to respond to Ed, but the return address is Marketing Email Reply Inbox. As far as I am concerned, Marketing can call me Mr. Johnson.

In substance, Bastian's message coincidentally confirms my complaints (other than my specific billing issues). One readily infers from Bastian's message what a miserable experience Delta has on offer for its customers like me. Maybe Delta should apologize to its customers and abandon the great awokening while it sets its own house in order.
They're still talking about the Delta Family at Delta, apparently.
How personal a response do you think you would get if you wrote a complaint to the NIAID?
This organization still does revere a "prophet", in memory, if not in always in deed:
The National Institute of Allergy and Infectious Diseases traces its origins to a small laboratory established in 1887 at the Marine Hospital on Staten Island, New York.

In the 1880s, boatloads of immigrants were heading towards America, some of them unknowingly bringing with them cholera and other infectious diseases. No one knew what caused most of these diseases, and physicians relied on clinical signs alone to determine whether someone might be carrying an infectious agent.

During this time, Dr. Joseph J. Kinyoun, a young medical officer with the Marine Hospital Service, was learning about the new science of bacteriology. Dr. Kinyoun set up one of the first bacteriologic laboratories in the United States. Using his microscope and newly acquired medical research techniques, Dr. Kinyoun was able to isolate the cholera organism from an arriving passenger in New York. For the first time, American physicians could actually see the organisms causing the disease.
That was in 1887. Time for a barbarian? Now this organization blocks people from learning about their early treatment options if they are infected with COVID.
Music

Art
This sort of thing can happen when there is a mismatch between your strategies and the stage your organization is in:
This is the Thread before the Gardening Thread.
Serving your mid-day open thread needs
Hope you have a great weekend.


posted by K.T. at
11:15 AM
|
Access Comments