« Buckhead Rhymes With F&%*head GOPe
|
Main
|
Food Thread: Get Some Tail...You Know You Want Some »
July 18, 2021
First-World Problems...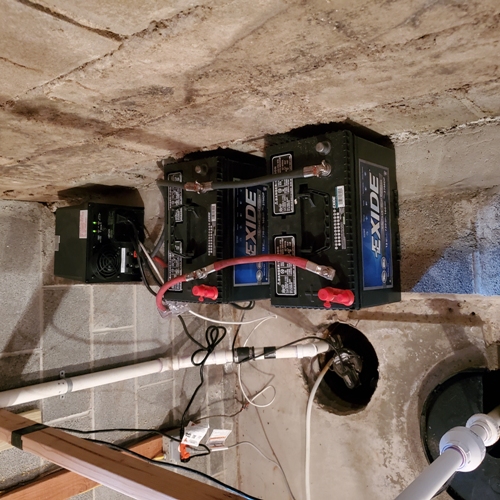 I have touched on this topic before, but we have gotten a huge amount of rain in the last couple of weeks, so the topic is germane.
Sump pumps are great. We had two of them: one in the original basement into which the French drains ran, and one in a lower basement where most of the water appears. That's because it is cut into red rock, so there is very little natural drainage.
But sump pumps work much less effectively when they don't have electrical power...like when there is a ton of rain and trees fall onto power lines. And after three long power outages I got sick of it. But most battery back-up pumps are small 12 volt units that can't really do the job I need, which is lifting a large amount of water eight feet, and doing it for hours, or perhaps a day or two.
So what you see in the photo is two marine deep discharge batteries connected to an inverter, which converts 12V DC to 120 AC to run a secondary pump in a second sump.
It works flawlessly. Except...I have run into the typical situation when after solving a significant problem with work and a fair amount of cash, the problem NEVER REAPPEARS!
I have had this thing for three years, and it has cycled the secondary pump a total of...never.
It's like buying a big new snowblower: that is an ironclad guarantee that it will not snow for that year.

posted by CBD at
02:00 PM
|
Access Comments