« Lego Tactical Assault Squad Cafe: Go Pro Animals-Eye-View Edition
|
Main
|
Daily Tech News 14 July 2021 »
July 13, 2021
Tuesday Overnight Open Thread (7/13/21) The ONT Has All-Star Content Edition
(Of course there is a mystery click)
***
(A 2nd mystery click?)
***
The Quotes of The Day
Quote I

We are fast approaching the stage of the ultimate inversion: the stage where the government is free to do anything it pleases, while the citizens may act only by permission; which is the stage of the darkest periods of human history, the stage of rule by brute force. Ayn Rand
Quote II

A government big enough to give you everything you want is a government big enough to take from you everything you have. Gerald R. Ford
Quote III

"I pay my tax, I pay my insurance, I pay my water, I do my own repair," she said. "So I don't see why I have to give them half of what I get.Leonora Wright,82-year-old Jersey City resident
Quote IV

"What's happening in Washington these days is a disgrace. Democrats have been taken over by radical socialists, and too many Republicans just go along to get along,"Former NFL player Jake Bequette
***
While you are in the kitchen, could you bring me a cup of coffee, please?
This what it looks like when a paratrooper crashes through your roof

Miraculously, this British paratrooper survived without serious injury.


The photos, which were first shared by the popular military social media group U.S. Army WTF! Moments on July 10, appear to show the results of a recent airborne jump on the West Coast which ended with a British paratrooper falling through the roof of someone's home in Atascadero, a suburb in San Luis Obispo, California, according to multiple news reports.

The paratrooper was purportedly taking part in a High Altitude Low Opening (HALO) jump, reports the Daily Mail. Designed as an infiltration technique, a HALO jump typically involves a parachutist in full gear jumping out of an airplane at high altitudes and then opening their parachute once they're closer to the ground. Here's how they're described in a 2005 Army manual on military free-fall techniques: "High-altitude low-opening (HALO) operations are jumps made with an exit altitude of up to 35,000 feet mean sea level (MSL) and a parachute deployment altitude at or below 6,000 feet above ground level (AGL). HALO infiltrations are the preferred MFF method of infiltration when the enemy air defense posture is not a viable threat to the infiltration platform. HALO infiltrations require the infiltration platform to fly within several kilometers of the drop zone."
***
Courtesy certainly didn't work out for Marcelo Rocha Santos. Think twice before urinating in the ocean.

Drunk Man Killed In Shallow-Water Shark Attack After He Went Waist-Deep In Sea To Urinate

KEY POINTS

Marcelo Rocha Santos, 51, was drinking with his friend at the beach

The shark tore off his arm and bit a chunk of flesh out of his leg

At least 12 shark attacks have taken place at the same location on the beach
***

It's turning out there was quite the conspiracy to assassinate the Haitian dictator. I find it amazing how US LEO can assist Haitian authorities, locate and arrest the conspirators but they can't locate the leaders of the Burn, Loot, Murder crowd. Guess they don't have any snitches.

A former Drug Enforcement Administration (DEA) informant accused of being involved in the assassination of Haitian President Jovenel Moïse has been identified.

Two U.S. government sources told Reuters that the former DEA informant who was arrested is Joseph Vincent of Florida. Vincent and fellow Haitian American and Florida resident James Solages were arrested by Haitian officials and charged with taking part in the assassination.

Vincent reportedly became an informant for the DEA about 20 years ago after he was arrested for filing false information on a U.S. passport application, according to the Miami Herald.


A DEA official had confirmed on Monday that one of the suspects arrested in connection with the assassination was a former informant but did not share his identity at the time.
***

Too little, too late, IMHO. Larry Elder to enter CA recall election. How long before the Diversity crowd starts calling him racist names?
Conservative radio host Larry Elder has entered the California recall election in an attempt to unseat Governor Gavin Newsom.

Elder says on his Website. "I'm running for governor because the decline of California isn't the fault of its people. Our government is what's ruining the Golden State. Our schools are closed to both students and their parents. Our streets aren't safe from rising violent crime or the disaster of rising homelessness. And the scandals of Sacramento aren't going to stop on their own."

"It's time to tell the truth. We've got a state to save," he adds.
***
I'm sure he can find gainful employment and a better barber in Lebanon or in the Gaza Strip.Cornel West resgins from Harvard.

West held a dual appointment in the Harvard University Divinity School and Department of African and African-American Studies.

He cited several reasons for his resignation, including a denial of tenure that he has previously pinned, in part, on his pro-Palestinian activism.


"To witness a faculty enthusiastically support a candidate for tenure then timidly defer to a rejection based on the administration's hostility to the Palestinian cause was disgusting," West wrote in the resignation letter. "We all knew the mendacious reasons given had nothing to do with academic standards."
Divinity? That must have been quite an interesting course to take.
***

Oh FFS. Apple, it's just fine to use Chinese slave labor. But can't say 69. I'll say it, 69, 69, 69.

If you're an iPhone user, the weather is always a particularly nice 70 degrees. Or 68 degrees. Any temperature but 69 degrees, actually, because it turns out that the built-in weather app on some versions of iOS — including the current version, iOS 14.6 — will refuse to display the internet's favorite number, even if the actual temperature in a given location is, in fact, 69 degrees, along with several other (less meme-able) numerals like 65 and 71 degrees.
***

Government ineptitude can never be recognized or admitted to. That's why the flunkies of Econ 101 are controlling the economy and blaming the justice system.

Fed President Blames Neverending QE On High Incarceration Rates Of Blacks And Latinos

Over the past year, Fed watchers have observed a deeply ironic and circular paradox: the Fed, which has been engaged in $120 billion in monthly QE ever since the covid crisis, has vowed it will continue to inject $120 billion in monthly liquidity - in the process making the rich richer, the poor poorer and decimating the middle class while pushing inflation higher - until such time as there is "substantial progress" on the employment front, meaning there will be no taper as long as the unemployment and labor participation rates remain elevated.

And yet, it is the Fed itself that is enabling this lack of "substantial progress" whatever it actually means, by monetizing the trillions in US deficit which makes it possible for Biden to send out periodic stimmy checks to the population, which eliminates the urgency for millions of Americans to go back to work, and also keeps the unemployment and labor participation rates artificially elevated even as there is a record number of job openings in the US at this moment.

Of course, the Fed knows this - it knows that most finance professionals (at least those who don't merely play finance professionals as finance tv anchors) know this - but so far the Fed's role in enabling this pernicious economic cycle has been kept out of the public view as the outcry would be vicious and would also risk a popular backlash against the central bank, something which the establishment needs to avoid at all costs, or else.

That's why the Fed has been especially focused on finding diversions and distractions to its own role in perpetuating this circular scheme, distractions which include global warming, LGBTQ activism and now - minorities in jail.

In a lamentable excuse for economic analysis, today Atlanta Fed President Raphael Bostic said that it was the high level of incarceration in the US especially among black, hispanics and indigenous people, that constrains the labor market and the economy's ability to reach its full potential. Not the Fed, not the Fed's monetization of trillions in stimmy checks. No - it's criminals in prison that have caused the biggest labor shortage in modern US history.

"Incarceration is a drag on our ability achieve our maximum-employment goal," Bostic said Tuesday at the start of the latest iteration of the Fed's Racism and the Economy series, this one focused on the criminal justice system. And since it is the Fed's inability to hit its maximum-employment goal that is greenlighting the Fed's $120 billion monthly injections month after month indefinitely, Bostic effectively blamed the continuation of QE on minorities in prison.

What is bizarre about this argument is that the U.S. has - and has had long before covid struck - the world's highest incarceration rate. Somehow this did not prevent unemployment from hitting 3% last January. But now it's somehow different, and the formerly incarcerated people are less likely to find employment and have much lower lifetime earnings, factors that weigh on the economy at large, Bostic said, blaming minority crime for the Biden's administration's catastrophic labor crisis.
***
Can't he just eat shit and die?
***
Democrats in Texas as elsewhere are pond scum bottom feeding dregs of society.

Texas House Republicans Vote to Track Down Absent Democrats, Potentially Arrest Them

Texas House Republicans on Tuesday voted to track down and possibly arrest absent Democratic lawmakers who fled the state to avoid voting on an election bill.

House Speaker Dade Phelan, in a statement from the Texas Capitol floor, said that "members, the sergeant-at-arms and the officers appointed by him are directed to send for all absentees whose attendance is not excused for the purpose of securing and maintaining their attendance—under warrant of arrest, if necessary."


"Any member who wishes to leave the hall must have the written permission of the Speaker of the House," he added.

But state Rep. Jim Murphy, a Houston Republican who chairs the House GOP Caucus, said Texas Republicans cannot force the Democrats to return to the state.

"We want them to come back—that's our message," Murphy told the Texas Tribune.

The dramatic change of events drew comments from White House officials and top congressional Democrats.
Democracy only counts when "they" win appear to win.
***
Old enough to vote. Old enough to die for their country. Now 18 - 20 year olds may own handguns. That is until the SCOTUS's John Roberts decides its a tax or some such nonsense.

BREAKING: Fourth Circuit Rules Federal Law Banning Handgun Sales to Adults Under 21 is Unconstitutional
***
***

Some people call this disturbing. I call it a Resume enhancer.

St. Paul police have released the bodycam footage of the July 4 traffic stop of state representative John Thompson. I have embedded it below. The first minute and the last minute. He was driving with a Wisconsin driver's license at a time when his driving privileges had been suspended as a result of an unmet child support payment.

The officer asks him "Why in such a hurry?" Thompson responds: "I don't think I took off like a bot out of hell. I just drove off."

Thompson tells him he's "a state representative in this district right here, man." The officer responds: "With a Wisconsin license?" Good question!

Thompson puts his racial hustle into overdrive when the officer returns with a ticket for driving with a suspended license. Tom Hauser adds that he has Minnesota addresses outside his legislative district (tweet at bottom). R-a-a-a-cism!

Speaking of Minnesota: C'mon Mudducks, you can do better than this.

Authorities in Minnesota have appealed to aquarium owners to stop releasing pet fish into waterways, after several huge goldfish were pulled from a local lake.

Officials in Burnsville, about 15 miles south of Minneapolis, said released goldfish can grow to several times their normal size and wreak havoc on indigenous species.

"Please don't release your pet goldfish into ponds and lakes!" the city tweeted on Friday. "They grow bigger than you think and contribute to poor water quality by mucking up the bottom sediments and uprooting plants."

Last November, officials in nearby Carver county removed as many as 50,000 goldfish from local waters. The county water management manager, Paul Moline, said goldfish "are an understudied species" with "a high potential to negatively impact the water quality of lakes".
***
Ace covered the US Navy going full Wienie Mode earlier today. The Army isn't too far behind.

MILFORD, Mich. — The U.S. Army is wading into the murky waters of fielding electric vehicles, and industry stands ready to make that happen, but it's been difficult for the experienced commercial world to convince the hesitant service to take the plunge.

For the last several years, the Army ramped up efforts to strategize a potential transition away from classic fuels like JP-8 to power its vehicles, allowing industry to bring working vehicles to demonstrate what is possible today and in the future.

But there is still little funding applied to efforts to find alternative fuel to power its current and future combat and tactical vehicle fleets.
***
The ONT Musical Interlude
On this day: 13 Jul 2004
Arthur 'Killer' Kane, bass player with The New York Dolls, died aged 55 after checking himself in to a Los Angeles emergency room, complaining of fatigue. He was quickly diagnosed with leukemia, and died within two hours. The influential American band formed in 1972 and made just two albums, the 1973 'New York Dolls' and 1974 'Too Much Too Soon'. His estranged wife wanted to honour her late husband's wishes and bury him next to former Dolls stars Johnny Thunders and Jerry Nolan in Mount St Mary's cemetery in Brooklyn, New York, but officials at the morgue refused to release his body for burial because his remains were so decomposed. (His body had laid in a morgue for over a month). via thisdayinmusic.com
&&&
On this day: 13 Jul 1985
At 12.01 Status Quo started the Live Aid extravaganza, held between Wembley Stadium, London and The JFK Stadium, Philadelphia. The cream of the world's biggest rock stars took part in the worldwide event, raising over £40million. TV pictures beamed to over 1.5bn people in 160 countries made it the biggest live broadcast ever known. Artists who appeared included Paul McCartney, Phil Collins, The Who, U2, David Bowie and Mick Jagger, Queen, Tina Turner, The Cars, Neil Young, Tom Petty, Bob Dylan, Bryan Adams, Hall and Oates, Lionel Richie and Led Zeppelin. via thisdayinmusic.com
***
Necessity the mother of invention. Tonight's Feel Good Story of The Day.

A UK college senior is doing his part to 'stop the bleeding' of violent knife crime by inventing a device that can help first responders better seal wounds.

Depending on the location, the victim of a stabbing doesn't have long without proper first aid to stop blood loss, but if Joseph Bentley's new invention is on the scene it could significantly reduce that possibility.

Sounds like they need some "Common Sense Knife Control" over there.
***
Misdemeanor larceny. Felony fashion and Genius Award Winner all wrapped into one.


When attempting to steal from Walmart at 7:50 AM, it is best to dress in an inconspicuous manner so as not to draw the attention of store security.

Or you can wear a revealing, skintight "Baby Girl" catsuit like Taejah Clay.

The 20-year-old Louisiana woman was arrested late last month after she and a teenage accomplice allegedly switched the price tags on hats and shorts in a Walmart in Pensacola, Florida. The duo was detained after checking out with the illegally discounted merchandise (which was valued at about $50).
***

Hoorah! Tonight's Feel Good Story of The Day.
A Marine Corps member is the first recipient of the Defense Department's first jaw reconstruction using 3D-printed teeth, the Pentagon said on Friday.

A tumor prompted the removal of most of Cpl. Jaden Murry's jaw in a November 2020 surgery.
***
Hopefully a smile before commenting............
***

Tonight's ONT has been brought to you by Fashion Statements.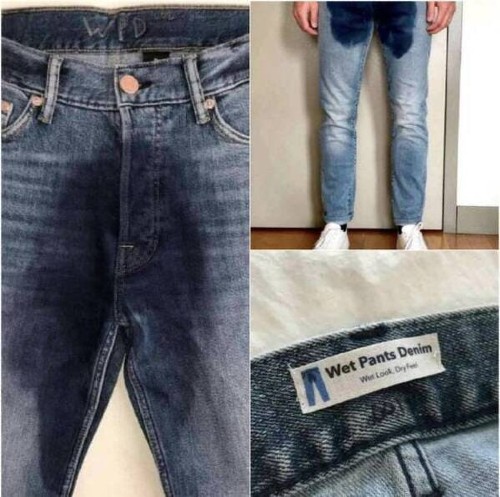 Notice: Posted with permission by the Ace Media Empire, AceCorp, LLC. and The Status Quo Fan Club. The Dynamic Dental Insurance Co. home of sky-high deductibles concurs.


posted by Misanthropic Humanitarian at
09:45 PM
|
Access Comments